Abstract
Uncovering the functional relationship between temporal lobe amnesia and diencephalic amnesia depends on determining the role of the fornix, the major interlinking fiber tract. In this study relating fornix volume with memory, we made magnetic resonance imaging–based volume estimates of 13 brain structures in 38 individuals with surgically removed colloid cysts. Fornix status was assessed directly by overall volume and indirectly by mammillary body volume (which atrophies after fornix damage). Mammillary body volume significantly correlated with 13 out of 14 tests of episodic memory recall, but correlated poorly with recognition memory. Furthermore, as the volumes of the left fornix and the left mammillary bodies decreased, the difference between recall and recognition scores increased. No other structure was consistently associated with memory. These findings support models of diencephalic memory mechanisms that require hippocampal inputs for recall, but not for key elements of recognition.
Access options
Subscribe to this journal
Receive 12 print issues and online access
$209.00 per year
only $17.42 per issue
Rent or buy this article
Prices vary by article type
from$1.95
to$39.95
Prices may be subject to local taxes which are calculated during checkout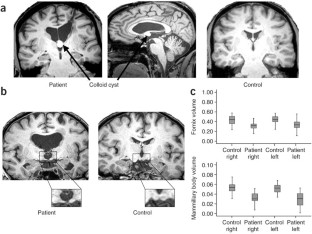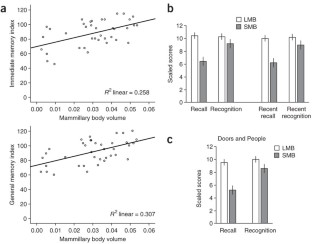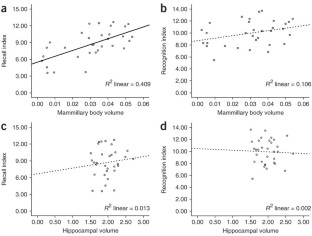 Similar content being viewed by others
References
Garcia-Bengochea, F. & Friedman, W.A. Persistent memory loss following section of the anterior fornix in humans: a historical review. Surg. Neurol. 27, 361–364 (1987).

Woolsey, R.M. & Nelson, J.S. Asymptomatic destruction of the fornix in man. Arch. Neurol. 32, 566–568 (1975).

D'Esposito, M., Verfaellie, M., Alexander, M.P. & Katz, D.I. Amnesia following traumatic bilateral fornix transection. Neurology 45, 1546–1550 (1995).

Park, S.A., Hahn, J.H., Kim, J.I., Na, D.L. & Huh, K. Memory deficits after bilateral anterior fornix infarction. Neurology 54, 1379–1382 (2000).

Poreh, A., Winocur, G., Moscovitch, M., Backon, M., Goshen, E., Ram, Z. & Feldman, Z. Anterograde and retrograde amnesia in a person with bilateral fornix lesions following removal of a colloid cyst. Neuropsychologia 44, 2241–2248 (2006).

Hodges, J.R. & Carpenter, K. Anterograde amnesia with fornix damage following removal of IIIrd ventricle colloid cyst. J. Neurol. Neurosurg. Psychiatry 54, 633–638 (1991).

McMackin, D., Cockburn, J., Anslow, P. & Gaffan, D. Correlation of fornix damage with memory impairment in six cases of colloid cyst removal. Acta Neurochir. (Wien) 135, 12–18 (1995).

Aggleton, J.P. et al. Differential cognitive effects of colloid cysts in the third ventricle that spare or compromise the fornix. Brain 123, 800–815 (2000).

Aggleton, J.P. & Brown, M.W. Episodic memory, amnesia and the hippocampal anterior thalamic axis. Behav. Brain Sci. 22, 425–466 (1999).

Squire, L.R., Stark, C.E.L. & Clark, R.E. The medial temporal lobe. Annu. Rev. Neurosci. 27, 279–306 (2004).

Yonelinas, A.P. The nature of recollection and familiarity: a review of 30 years of research. J. Mem. Lang. 46, 441–517 (2002).

Squire, L.R., Wixted, J.T. & Clark, R.E. Recognition memory and the medial temporal lobe: a new perspective. Nat. Rev. Neurosci. 8, 872–883 (2007).

Mayes, A.R. & Montaldi, D. The value of neuroradiological approaches in the study of organic amnesia. in Case Studies in the Neuropsychology of Memory (Parkin, A.J.) (Erlbaum Taylor and Francis, Hove, UK, 1997).

Gaffan, E.A., Gaffan, D. & Hodges, J.R. Amnesia following damage to the left fornix and to other sites: a comparative study. Brain 114, 1297–1313 (1991).

Kapur, N. et al. Mamillary body damage results in memory impairment, but not amnesia. Neurocase 4, 509–517 (1998).

Hildebrandt, H., Muller, S., Bussmann-Mork, B., Goebel, S. & Eilers, N. Are some memory deficits unique to lesions of the mammillary bodies? J. Clin. Exp. Neuropsychol. 23, 490–501 (2001).

Vann, S.D. & Aggleton, J.P. The mammillary bodies: two memory systems in one? Nat. Rev. Neurosci. 5, 35–44 (2004).

Loftus, M., Knight, R.T. & Amaral, D.G. An analysis of atrophy in the medial mammillary nucleus following hippocampal and fornix lesions in humans and nonhuman primates. Exp. Neurol. 163, 180–190 (2000).

Wechsler, D. Wechsler Adult Intelligence Test 3rd edn (The Psychological Corporation, San Antonio, Texas, 1997).

Wechsler, D. Wechsler Test of Adult Reading (The Psychological Corporation, New York, 2001).

Wechsler, D. Wechsler Memory Scale 3rd edn (The Psychological Corporation, San Antonio, Texas, 1997).

Denby, C. et al. MRI measurement of fornix pathology: evidence of extensive fornix damage following surgical removal of colloid cysts in the third ventricle. Neurosci. Imaging (in the press) (2008).

Baddeley, A., Emslie, H. & Nimmo-Smith, I. The Doors and People Test: A Test of Visual and Verbal Recall and Recognition (Thames Valley Test Company, Bury St Edmunds, UK, 1994).

Warrington, E.K. Recognition Memory Test (NFER-Nelson, Windsor, UK, 1984).

Aggleton, J.P. & Brown, M.W. Interleaving brain systems for episodic and recognition memory. Trends Cogn. Sci. 10, 455–463 (2006).

Carlesimo, G.A. et al. Bilateral damage to the mammillo-thalamic tract impairs recollection, but not familiarity in the recognition process: a single case investigation. Neuropsychologia 45, 2467–2479 (2007).

Poletti, C.E. & Creswell, G. Fornix system efferent projections in the squirrel monkey: an experimental degeneration study. J. Comp. Neurol. 175, 101–128 (1977).

Aggleton, J.P., Vann, S.D. & Saunders, R.C. Projections from the hippocampal region to the mammillary bodies in macaque monkeys. Eur. J. Neurosci. 22, 2519–2530 (2005).

Dusoir, H., Kapur, N., Brynes, D.P., McKinstry, S. & Hoare, R.D. The role of diencephalic pathology in human memory disorder. Brain 113, 1695–1706 (1990).

Saunders, R.C. & Aggleton, J.P. Origin and topography of fibers contributing to the fornix in macaque monkeys. Hippocampus 17, 396–411 (2007).

Kopelman, M.D. The Korsakoff syndrome. Br. J. Psychiatry 166, 154–173 (1995).

Victor, M. The irrelevance of mammillary body lesions in the causation of the Korsakoff amnestic state. Int. J. Neurol. 21–22, 51–57 (1987).

Harding, A., Halliday, G., Caine, D. & Kril, J. Degeneration of anterior thalamic nuclei differentiates alcoholics with amnesia. Brain 123, 141–154 (2000).

Von Cramon, D.Y., Hebel, N. & Schuri, U. A contribution to the anatomical basis of thalamic amnesia. Brain 108, 993–1008 (1985).

Van der Werf, Y.D. et al. Deficits of memory, executive functioning and attention following infarction in the thalamus: a study of 22 cases with localized lesions. Neuropsychologia 41, 1330–1344 (2003).

Vann, S.D., Saunders, R.C. & Aggleton, J.P. Distinct, parallel pathways link the medial mammillary bodies to the anterior thalamus in macaque monkeys. Eur. J. Neurosci. 26, 1575–1586 (2007).

Baxter, M.G. & Chiba, A.A. Cognitive functions of the basal forebrain. Curr. Opin. Neurobiol. 9, 178–183 (1999).

Eichenbaum, H., Yonelinas, A.P. & Ranganath, C. The medial temporal lobe and recognition memory. Annu. Rev. Neurosci. 30, 123–152 (2007).

Kopelman, M.D. et al. Recall and recognition memory in amnesia: patients with hippocampal, medial temporal, temporal lobe or frontal pathology. Neuropsychologia 45, 1232–1246 (2007).

Manns, J.R. & Squire, L.R. Impaired recognition memory on the doors and people test after damage limited to the hippocampal region. Hippocampus 9, 495–499 (1999).

Bowles, B. et al. Impaired familiarity with preserved recollection after anterior temporal-lobe resection that spares the hippocampus. Proc. Natl. Acad. Sci. USA 104, 16382–16387 (2007).

Dunn, J.C. Remember-know: a matter of confidence. Psychol. Rev. 111, 524–542 (2004).

Cruz-Orive, L.M. Systematic sampling in stereology. Bull. Int. Stat. Inst. 52, 451–468 (1993).

García-Fiñana, M., Cruz-Orive, L.M., MacKay, C.E., Pakkenberg, B. & Roberts, N. Comparison of MR imaging against physical sectioning to estimate the volume of human cerebral compartments. Neuroimage 18, 505–516 (2003).

Bilir, E. et al. Volumetric MRI of the limbic system: anatomical determinants. Neuroradiology 40, 138–144 (1998).

Zahajszky, J. et al. A quantitative MR measure of the fornix in schizophrenia. Schizophr. Res. 47, 87–97 (2001).

Cook, M.J., Fish, D.R., Shorvon, S.D., Straughan, K. & Stevens, J.M. Hippocampal volumetric and morphometric studies in frontal and temporal lobe epilepsy. Brain 115, 1001–1015 (1992).

Insausti, R. et al. MR volumetric analysis of the human entorhinal, perirhinal and temporopolar cortices. AJNR Am. J. Neuroradiol. 19, 659–671 (1998).

Pruessner, J.C. et al. Volumetry of temporopolar, perirhinal, entorhinal and parahippocampal cortex from high-resolution MR images: considering the variability of the collateral sulcus. Cereb. Cortex 12, 1342–1353 (2002).

Howard, M.A., Roberts, N., García-Finana, M. & Cowell, P.E. Volume estimation of prefrontal cortical subfields using MRI and stereology. Brain Res. Brain Res. Protoc. 10, 125–138 (2003).
Acknowledgements
The authors would like to thank the participants and their families for their generous contributions to this project and the neurosurgeons for facilitating access to their patients. The authors would also like to acknowledge the contribution of D. McMackin in the initial stages of this research project. This work was funded by the UK Medical Research Council (grant G0001371).
Supplementary information
About this article
Cite this article
Tsivilis, D., Vann, S., Denby, C. et al. A disproportionate role for the fornix and mammillary bodies in recall versus recognition memory. Nat Neurosci 11, 834–842 (2008). https://doi.org/10.1038/nn.2149
Received:

Accepted:

Published:

Issue Date:

DOI: https://doi.org/10.1038/nn.2149