Human pressures on coral reefs are giving macroalgae a competitive advantage over reef-building corals. These algae support larger, and potentially pathogenic, microbial populations that are metabolically primed for less-efficient, yet faster, carbohydrate remineralization, perpetuating a vicious cycle of reef degradation.
Access options
Subscribe to Journal
Get full journal access for 1 year
$119.00
only $9.92 per issue
All prices are NET prices.
VAT will be added later in the checkout.
Tax calculation will be finalised during checkout.
Buy article
Get time limited or full article access on ReadCube.
$32.00
All prices are NET prices.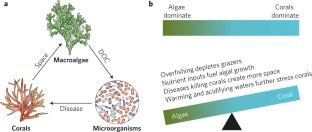 References
Azam, F. & Malfatti, F. Nature Rev. Microbiol. 5, 782–791 (2007).

Garren, M. & Azam, F. Environ Microbiol. 4, 833–844 (2012).

Ruiz-Morenol, D. et al. Dis. Aquat. Organ. 100, 249–261 (2012).

McDole, T. et al. PLoS ONE 7, e43233. (2012).

Haas, A. F. et al. Nature Microbiol. 1, 16042 (2016).

Barott, K. L. & Rohwer, F. L. Trends Microbiol. 20, 621–628 (2012).

Nelson, C. E. et al. ISME J. 7, 962–979 (2013).

Geller, A. Limnol. Oceanogr. 31, 755–764 (1986).

van Nugteren, P. et al. Mar. Biol. 156, 2277–2287 (2009).

Odum, H. T. & Pinkerton, R. C. Am. Sci. 43, 331–343 (1955).

Hughes, T. P. et al. Curr. Biol. 17, 360–365 (2007).
About this article
Cite this article
Garren, M. Microbial ecology: Algae feed a shift on coral reefs. Nat Microbiol 1, 16061 (2016). https://doi.org/10.1038/nmicrobiol.2016.61
Published:

DOI: https://doi.org/10.1038/nmicrobiol.2016.61