Rhythmic colonization of gut bacteria on mucosal surfaces is promoted by time-dependent feeding, and is now shown to drive circadian expression of host genes that are involved in functions such as drug detoxification in the liver.
This is a preview of subscription content
Access options
Subscribe to Journal
Get full journal access for 1 year
$119.00
only $9.92 per issue
All prices are NET prices.
VAT will be added later in the checkout.
Tax calculation will be finalised during checkout.
Rent or Buy article
Get time limited or full article access on ReadCube.
from$8.99
All prices are NET prices.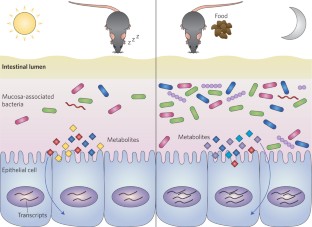 References
1

Huang, W., Ramsey, K. M., Marcheva, B. & Bass, J. J. Clin. Invest. 121, 2133–2141 (2011).

2

Thaiss, C. A. et al. Cell 167, 1495–1510 (2016).

3

Thaiss, C. A. et al. Cell 159, 514–529 (2014).

4

Leone, V. et al. Cell Host Microbe 17, 681–689 (2015).

5

Zarrinpar, A., Chaix, A., Yooseph, S. & Panda, S. Cell Metab. 20, 1006–1017 (2014).

6

Li, M. et al. Proc. Natl Acad. Sci. USA 105, 2117–2122 (2008).

7

Zhang, C. & Zhao, L. Genome Med. 8, 41 (2016).

8

Hatori, M. et al. Cell Metab. 15, 848–860 (2012).
About this article
Cite this article
Zhao, L., Zhang, C. Microbiome: Keeping rhythm with your gut. Nat Microbiol 2, 16273 (2017). https://doi.org/10.1038/nmicrobiol.2016.273