Growth of Candida albicans on different host carbon sources reveals that the cell wall is a live organelle that can respond to alterations in the environment by masking a cell surface epitope to protect the fungal cell from the host immune response.
This is a preview of subscription content
Access options
Subscribe to Journal
Get full journal access for 1 year
$119.00
only $9.92 per issue
All prices are NET prices.
VAT will be added later in the checkout.
Tax calculation will be finalised during checkout.
Rent or Buy article
Get time limited or full article access on ReadCube.
from$8.99
All prices are NET prices.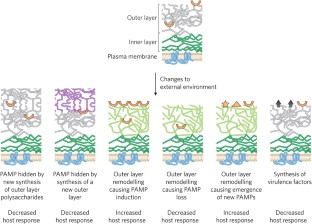 References
1

Ballou, E. R. et al. Nat. Microbiol. 2, 16238 (2017).

2

Ene, I. V. et al. Cell. Microbiol. 14, 1319–1335 (2012).

3

Ene, I. V. et al. mBio 6, e00986 (2015).

4

Latgé, J. P. & Beauvais, A. Curr. Opin. Microbiol. 20, 111–117 (2014).

5

Clavaud, C., Beauvais, A., Barbin, L., Munier-Lehmann, H. & Latgé, J. P. Antimicrob. Agents Chemother. 56, 3428–3431 (2012).

6

Rispail, N. et al. Fungal Genet. Biol. 46, 287–298 (2009).
About this article
Cite this article
Latgé, JP. Immune evasion: Face changing in the fungal opera. Nat Microbiol 2, 16266 (2017). https://doi.org/10.1038/nmicrobiol.2016.266