The threat of antimicrobial resistance causing drug-resistant infections and the escalating health, social and economic consequences are now becoming visible at a global level. Here, we discuss the economic and political considerations for creating a truly global and effective response to antimicrobial resistance.
Access options
Subscribe to Journal
Get full journal access for 1 year
$59.00
only $4.92 per issue
All prices are NET prices.
VAT will be added later in the checkout.
Rent or Buy article
Get time limited or full article access on ReadCube.
from$8.99
All prices are NET prices.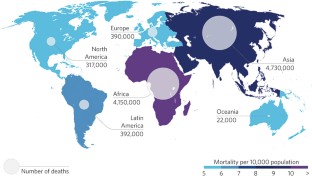 References
1

Tackling Drug-Resistant Infections Globally: Final Report and Recommendations (Review on Antimicrobial Resistance, 2016); http://amr-review.org/sites/default/files/160525_Final%20paper_with%20cover.pdf

2

Antimicrobial Resistance: Tackling a Crisis for the Health and Wealth of Nations (Review on Antimicrobial Resistance, 2014); http://amr-review.org/sites/default/files/AMR%20Review%20Paper%20-%20Tackling%20a%20crisis%20for%20the%20health%20and%20wealth%20of%20nations_1.pdf

3

Fleming-Dutra, K. E. et al. J. Am. Med. Assoc. 315, 1864–1873 (2016).

4

Van Boeckel, T. P. et al. Proc. Natl Acad. Sci. USA 112, 5649–5654 (2015).

5

Stalsby Lundborg, C. & Tamhankar, A. J. Upsala J. Med. Sci. 119, 125–133 (2014).

6

Heyman, G., Cars, O., Bejarano, M. T. & Peterson, S. Upsala J. Med. Sci. 119, 134–141 (2014).

7

Tackling AMR — a cross council initiative Medical Research Council; https://www.mrc.ac.uk/research/initiatives/antimicrobial-resistance/tackling-amr-a-cross-council-initiative/

8

Scale and Scope of Anti-Bacterial Resistance Research 2007–2013 (JPIAMR, 2015); http://www.jpiamr.eu/wp-content/uploads/2016/04/JPI-AMR-mapping-report-Final.pdf

9

Global Action Plan on Antimicrobial Resistance (WHO, 2015); http://www.who.int/antimicrobial-resistance/global-action-plan/en/
About this article
Cite this article
Sugden, R., Kelly, R. & Davies, S. Combatting antimicrobial resistance globally. Nat Microbiol 1, 16187 (2016). https://doi.org/10.1038/nmicrobiol.2016.187