A systems biology approach to analyse yeast auxotrophs shows that, even when supplemented, they have profoundly altered transcriptomic, proteomic and metabolic profiles.
Access options
Subscribe to Journal
Get full journal access for 1 year
$119.00
only $9.92 per issue
All prices are NET prices.
VAT will be added later in the checkout.
Tax calculation will be finalised during checkout.
Buy article
Get time limited or full article access on ReadCube.
$32.00
All prices are NET prices.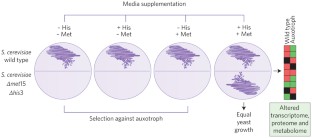 References
Hall, M. N. & Linder, P. (eds). The Early Days of Yeast Genetics (Cold Spring Harbor Laboratory Press, 1993).

Alam, M. T. et al. Nature Microbiol. 1, 15030 (2016).

Brachmann, C. B. et al. Yeast Chichester Engl. 14, 115–132 (1998).

Winzeler, E. A. et al. Science 285, 901–906 (1999).

Goffeau, A. et al. Science 274, 563–567 (1996).

Schena, M., Shalon, D., Davis, R. & Brown, P. Science 270, 467–470 (1995).

Wang, Z., Gerstein, M. & Snyder, M. Nature Rev. Genet. 10, 57–63 (2009).

Hughes, T. R. & de Boer, C. G. Genetics 195, 9–36 (2013).

Eisen, M. B., Spellman, P. T., Brown, P. O. & Botstein, D. Proc. Natl Acad. Sci. USA 95, 14863–14868 (1998).

Hughes, T. R. et al. Cell 102, 109–126 (2000).

Kemmeren, P. et al. Cell 157, 740–752 (2014).
About this article
Cite this article
Jacquier, A. Systems biology: Supplementation is not sufficient. Nat Microbiol 1, 16016 (2016). https://doi.org/10.1038/nmicrobiol.2016.16
Published:

DOI: https://doi.org/10.1038/nmicrobiol.2016.16