Parasite access to the central nervous system is a severe complication of infection. Toxoplasma gondii can achieve this by directly infecting, replicating in and lysing blood–brain barrier endothelial cells.
Access options
Subscribe to Journal
Get full journal access for 1 year
$119.00
only $9.92 per issue
All prices are NET prices.
VAT will be added later in the checkout.
Tax calculation will be finalised during checkout.
Buy article
Get time limited or full article access on ReadCube.
$32.00
All prices are NET prices.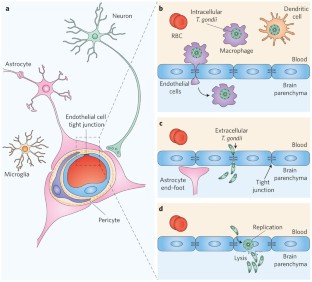 References
Konradt, C. et al. Nature Microbiol. 1, 16001 (2016).

Lambert, H. & Barragan, A. Cell. Microbiol. 12, 292–300 (2010).

Butler, N. J., Furtado, J. M., Winthrop, K. L. & Smith, J. R. Clin. Exp. Ophthalmol. 41, 95–108 (2013).

Harker, K. S., Ueno, N. & Lodoen, M. B. Parasite Immunol. 37, 141–149 (2015).

Ueno, N. et al. Immunol. Cell Biol. 93, 508–513 (2015).

Antonio, B., Brossier, F. & Sibley, L. D. Cell. Microbiol. 7, 561–568 (2005).

Fox, B. A. & Bzik, D. J. Nature 415, 926–929 (2002).

Harker, K. S. et al. mBio 5, e01111–e01113 (2014).

Sofroniew, M. V. Nature Rev. Neurosci. 16, 249–263 (2015).
About this article
Cite this article
Krishnan, A., Soldati-Favre, D. Parasite pathogenesis: Breaching the wall for brain access. Nat Microbiol 1, 16014 (2016). https://doi.org/10.1038/nmicrobiol.2016.14
Published:

DOI: https://doi.org/10.1038/nmicrobiol.2016.14