A transmembrane protein receptor that is critical for adeno-associated virus infection has been identified through an unbiased, genome-wide screen. Its role in viral entry could potentially be harnessed to develop enhanced gene therapy vectors and better animal models of human disease.
Access options
Subscribe to Journal
Get full journal access for 1 year
$119.00
only $9.92 per issue
All prices are NET prices.
VAT will be added later in the checkout.
Tax calculation will be finalised during checkout.
Buy article
Get time limited or full article access on ReadCube.
$32.00
All prices are NET prices.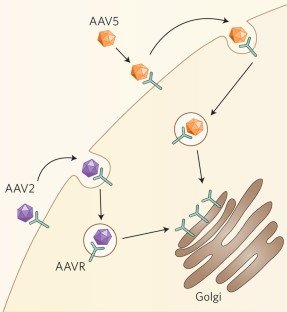 References
Grove, J. & Marsh, M. J. Cell Biol. 195, 1071–1082 (2011).

Nonnenmacher, M. & Weber, T. Gene Ther. 19, 649–658 (2012).

Qing, K. et al. Nature Med. 5, 71–77 (1999).

Kashiwakura, Y. et al. J. Virol. 79, 609–614 (2005).

Ling, C. et al. Hum. Gene Ther. 21, 1741–1747 (2010).

Pillay, S. et al. Naturehttp://dx.doi.org/10.1038/nature16465 (2016).

Santiago-Ortiz, J. & Ojala, D. S. et al. Gene Ther. 22, 934–946 (2015).

Zinn, E. et al. Cell Rep. 12, 1056–1068 (2015).

Poon, M. W., Tsang, W. H., Waye, M. M. & Chan, S. O. Histol. Histopathol. 26, 953–963 (2011).

Hawrylycz, M. J. et al. Nature 489, 391–399 (2012).

Kotterman, M. A. & Schaffer, D. V. Nature Rev. Genet. 15, 445–451 (2014).

Ahronian, L. G. & Lewis, B. C. Cold Spring Harb. Protoc. 2014, 1128–1135 (2014).
About this article
Cite this article
Sun, S., Schaffer, D. Viral infection: A key host receptor for AAV. Nat Microbiol 1, 15027 (2016). https://doi.org/10.1038/nmicrobiol.2015.27
Published:

DOI: https://doi.org/10.1038/nmicrobiol.2015.27