High-throughput population genomics reveals how the evolution of chromosome arrangement and sequence divergence followed by secondary contact upon glacier retreat initiates homoploid hybrid speciation in natural populations of the budding yeast Saccharomyces paradoxus.
Access options
Subscribe to Journal
Get full journal access for 1 year
$119.00
only $9.92 per issue
All prices are NET prices.
VAT will be added later in the checkout.
Tax calculation will be finalised during checkout.
Buy article
Get time limited or full article access on ReadCube.
$32.00
All prices are NET prices.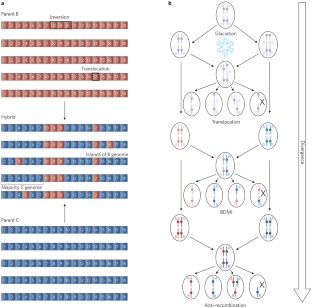 References
Leducq, J.-B. et al. Nature Microbiol. 1, 15003 (2016).

Schumer, M., Rosenthal, G. G. & Andolfatto, P. Evolution 68, 1553–1560 (2014).

Stelkens, R. B., Young, K. A. & Seehausen, O. Evolution 64, 617–633 (2010).

Greig, D. PLoS Genetics 3, 281–286 (2007).

Kao, K. C., Schwartz, K. & Sherlock, G. PLoS Genet. 6, e1001038 (2010).

Liti, G., Barton, D. B. H. & Louis, E. J. Genetics 174, 839–850 (2006).

Hou, J., Friedrich, A., de Montigny, J. & Schacherer, J. Curr. Biol. 24, 1153–1159 (2014).

Fischer, G., James, S. A., Roberts, I. N., Oliver, S. G. & Louis, E. J. Nature 405, 451–454 (2000).

Charron, G., Leducq, J.-B. & Landry, C. R. Mol. Ecol. 23, 4362–4372 (2014).

Stelkens, R. B., Brockhurst, M. A., Hurst, G. D. D., Miller, E. L. & Greig, D. J. Evol. Biol. 27, 2507–2519 (2014).

Chang, S.-L., Lai, H.-Y., Tung, S.-Y. & Leu, J.-Y. PLoS Genet. 9, e1003232 (2013).

Selmecki, A. M., Dulmage, K., Cowen, L. E., Anderson, J. B. & Berman, J. PLoS Genet. 5, e1000705 (2009).

Greig, D., Louis, E. J., Borts, R. H. & Travisano, M. Science 298, 1773–1775 (2002).
About this article
Cite this article
Stelkens, R., Greig, D. Fungal evolution: On the origin of yeast species. Nat Microbiol 1, 15017 (2016). https://doi.org/10.1038/nmicrobiol.2015.17
Published:

DOI: https://doi.org/10.1038/nmicrobiol.2015.17