Abstract
We have developed a high-resolution fluorescence microscopy method based on high-accuracy localization of photoswitchable fluorophores. In each imaging cycle, only a fraction of the fluorophores were turned on, allowing their positions to be determined with nanometer accuracy. The fluorophore positions obtained from a series of imaging cycles were used to reconstruct the overall image. We demonstrated an imaging resolution of 20 nm. This technique can, in principle, reach molecular-scale resolution.
Access options
Subscribe to Journal
Get full journal access for 1 year
$59.00
only $4.92 per issue
All prices are NET prices.
VAT will be added later in the checkout.
Tax calculation will be finalised during checkout.
Rent or Buy article
Get time limited or full article access on ReadCube.
from$8.99
All prices are NET prices.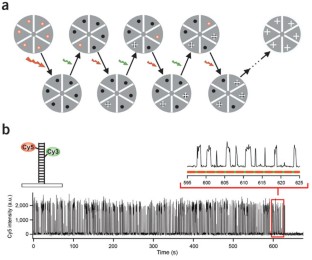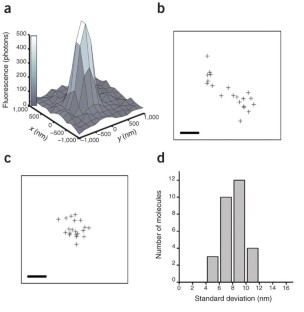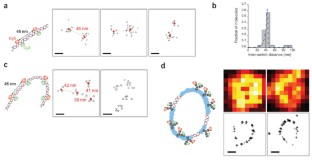 References
1

Pohl, D.W. & Courjon, D. Near Field Optics (Kluwer, Dordrecht, 1993).

2

Zipfel, W.R., Williams, R.M. & Webb, W.W. Nat. Biotechnol. 21, 1368–1376 (2003).

3

Hell, S.W. Nat. Biotechnol. 21, 1347–1355 (2003).

4

Gustafsson, M.G.L. Proc. Natl. Acad. Sci. USA 102, 13081–13086 (2005).

5

Hofmann, M., Eggeling, C., Jakobs, S. & Hell, S.W. Proc. Natl. Acad. Sci. USA 102, 17565–17569 (2005).

6

Gelles, J., Schnapp, B.J. & Sheetz, M.P. Nature 331, 450–453 (1988).

7

van Oijen, A.M., Kohler, J., Schmidt, J., Muller, M. & Brakenhoff, G.J. Chem. Phys. Lett. 292, 183–187 (1998).

8

Thompson, R.E., Larson, D.R. & Webb, W.W. Biophys. J. 82, 2775–2783 (2002).

9

Yildiz, A. et al. Science 300, 2061–2065 (2003).

10

Gordon, M.P., Ha, T. & Selvin, P.R. Proc. Natl. Acad. Sci. USA 101, 6462–6465 (2004).

11

Qu, X., Wu, D., Mets, L. & Scherer, N.F. Proc. Natl. Acad. Sci. USA 101, 11298–11303 (2004).

12

Lidke, K.A., Rieger, B., Jovin, T.M. & Heintzmann, R. Opt. Express 13, 7052–7062 (2005).

13

Ram, S., Ward, E.S. & Ober, R.J. Proc. Natl. Acad. Sci. USA 103, 4457–4462 (2006).

14

Bates, M., Blosser, T.R. & Zhuang, X. Phys. Rev. Lett. 94, 108101 (2005).

15

Heilemann, M., Margeat, E., Kasper, R., Sauer, M. & Tinnefeld, P. J. Am. Chem. Soc. 127, 3801–3806 (2005).
Acknowledgements
This work is supported by in part by the US National Institutes of Health, the Defense Advance Research Projects Agency and a Packard Science and Engineering Fellowship (to X.Z.). X.Z. is a Howard Hughes Medical Institute Investigator.
Ethics declarations
Competing interests
The authors declare no competing financial interests.
Supplementary information
About this article
Cite this article
Rust, M., Bates, M. & Zhuang, X. Sub-diffraction-limit imaging by stochastic optical reconstruction microscopy (STORM). Nat Methods 3, 793–796 (2006). https://doi.org/10.1038/nmeth929
Received:

Accepted:

Published:

Issue Date: