Abstract
We established a protocol to construct complete recombinant genomes from their small contiguous DNA pieces and obtained the genomes of mouse mitochondrion and rice chloroplast using a B. subtilis genome (BGM) vector. This method allows the design of any recombinant genomes, valuable not only for fundamental research in systems biology and synthetic biology but also for various applications in the life sciences.
Access options
Subscribe to Journal
Get full journal access for 1 year
$119.00
only $9.92 per issue
All prices are NET prices.
VAT will be added later in the checkout.
Tax calculation will be finalised during checkout.
Rent or Buy article
Get time limited or full article access on ReadCube.
from$8.99
All prices are NET prices.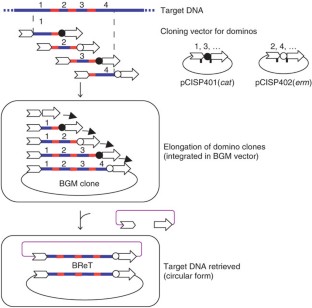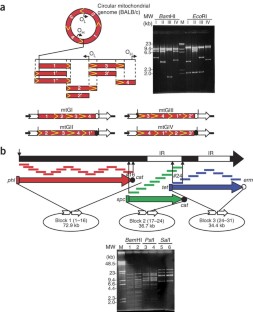 References
1

Itaya, M., Tsuge, K., Koizumi, M. & Fujita, K. Proc. Natl. Acad. Sci. USA 102, 15971–15976 (2005).

2

Lartigue, C. et al. Science 317, 632–638 (2007).

3

Tian, J. et al. Nature 432, 1050–1054 (2004).

4

Itaya, M. et al. J. Biochem. 134, 513–519 (2003).

5

Yoon, Y.G. & Koob, M. Nucleic Acids Res. 31, 1407–1415 (2003).

6

Yonemura, I. et al. Gene 391, 171–177 (2007).

7

Bibb, M.J., Van Etten, R.A., Wright, C.T., Walberg, M.W. & Clayton, D.A. Cell 26, 167–180 (1981).

8

Itaya, M. Mol. Gen. Genet. 248, 9–16 (1995).

9

Tang, J. et al. Plant Physiol. 135, 412–420 (2004).

10

Tsuge, K. & Itaya, M. J. Bacteriol. 183, 5453–5456 (2001).

11

Tsuge, K., Matsui, K. & Itaya, M. Nucleic Acids Res. 31, e133 (2003).

12

Tomita, S., Tsuge, K., Kikuchi, Y. & Itaya, M. Appl. Environ. Microbiol. 70, 2508–2513 (2004).

13

Kaneko, S., Akioka, M., Tsuge, K. & Itaya, M. J. Mol. Biol. 349, 1036–1044 (2005).
Acknowledgements
We thank Y. Tozawa, S. Kaneko, I. Yonemura and M. Ikeuchi for helpful discussions. We appreciate the technical help given by Y. Sakuma, and the crude rice DNA samples provided by S. Kosugi and H. Yanagawa (Institute for Advanced Biosciences, Keio Univ.).
Supplementary information
Supplementary Tables 1–2, Supplementary Figures 1–5, Supplementary Methods (PDF 3026 kb)
About this article
Cite this article
Itaya, M., Fujita, K., Kuroki, A. et al. Bottom-up genome assembly using the Bacillus subtilis genome vector. Nat Methods 5, 41–43 (2008). https://doi.org/10.1038/nmeth1143
Received:

Accepted:

Published:

Issue Date: