Abstract
Taking advantage of the phenomenon of bioluminescence resonance energy transfer (BRET), we developed a bioluminescent probe composed of EYFP and Renilla reniformis luciferase (RLuc)—BRET-based autoilluminated fluorescent protein on EYFP (BAF-Y)—for near-real-time single-cell imaging. We show that BAF-Y exhibits enhanced RLuc luminescence intensity and appropriate subcellular distribution when it was fused to targeting-signal peptides or histone H2AX, thus allowing high spatial and temporal resolution microscopy of living cells.
Relevant articles
Open Access articles citing this article.
Tomomi Kaku

,

Kazunori Sugiura

…

Takeharu Nagai

Scientific Reports Open Access 22 July 2021

Jiro Nomata

&

Toru Hisabori

Scientific Reports Open Access 07 August 2018

Naoki Komatsu

,

Kenta Terai

…

Michiyuki Matsuda

Scientific Reports Open Access 12 June 2018
Access options
Subscribe to Journal
Get full journal access for 1 year
$99.00
only $8.25 per issue
All prices are NET prices.
VAT will be added later in the checkout.
Tax calculation will be finalised during checkout.
Buy article
Get time limited or full article access on ReadCube.
$32.00
All prices are NET prices.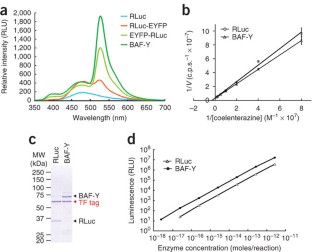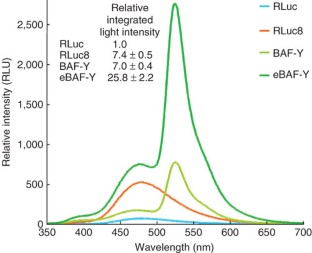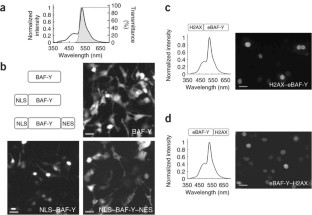 References
Welsh, D.K., Yoo, S.H., Liu, A.C., Takahashi, J.S. & Kay, S.A. Curr. Biol. 14, 2289–2295 (2004).

Welsh, D.K., Imaizumi, T. & Kay, S.A. Methods Enzymol. 393, 269–288 (2005).

Bertrand, L. et al. J. Recept. Signal Transduct. Res. 22, 533–541 (2002).

Jensen, A.A., Hansen, J.L., Sheikh, S.P. & Brauner-Osborne, H. Eur. J. Biochem. 269, 5076–5087 (2002).

Nakamura, H., Wu, C., Murai, A., Inouye, S. & Shimomura, O. Tetrahedr. Lett. 38, 6405–6406 (1997).

Gales, C. et al. Nat. Methods 2, 177–184 (2005).

Perroy, J., Pontier, S., Charest, P.G., Aubry, M. & Bouvier, M. Nat. Methods 1, 203–208 (2004).

De, A. & Gambhir, S.S. FASEB J. 19, 2017–2019 (2005).

Ward, W.W. & Cormier, M.J. J. Biol. Chem. 254, 781–788 (1979).

Lorenz, W.W., McCann, R.O., Longiaru, M. & Cormier, M.J. Proc. Natl. Acad. Sci. USA 88, 4438–4442 (1991).

Xu, Y., Piston, D.W. & Johnson, C.H. Proc. Natl. Acad. Sci. USA 96, 151–156 (1999).

Qing, G. et al. Nat. Biotechnol. 22, 877–882 (2004).

Loening, A.M., Fenn, T.D., Wu, A.M. & Gambhir, S.S. Protein Eng. Des. Sel. 19, 391–400 (2006).

Siino, J.S. et al. Biochem. Biophys. Res. Commun. 297, 1318–1323 (2002).

Hoffman, R.M. Nat. Rev. Cancer 5, 796–806 (2005).
Acknowledgements
We thank K. Ogoh, K. Niwa and C. Wu (AIST) for discussion, S. Ohgiya (AIST) and K. Igarashi (Tohoku University) for discussion and valuable advice, T. Ishihara, T. Enomoto and H. Kubota (ATTO Corp.), for technical support with single-cell imaging, and T. Ikura (Tohoku University) for histone H2AX cDNA and S. Tashiro (Hiroshima University) for experimental advice using H2AX. This study was supported in part by a NEDO grant (Dynamic Biology Project; to Y.O.) from the Ministry of Economy, Trade and Industry of Japan.
Ethics declarations
Competing interests
The authors declare no competing financial interests.
Supplementary information
Supplementary Figures 1–4, Supplementary Methods. (PDF 582 kb)
Time-lapse bioluminescence imaging of H2AX-eBAF-Y. Time-lapse images were acquired with 10 sec exposure at 1 min intervals using a Nikon S Fluor 40 × objective (N.A. 0.90). Sequential images were converted into a movie with MetaMorph software (Molecular Devices). Number in the movie represents the time point (min) when each image was obtained. Note that the bioluminescence images obtained using eBAF-Y gave high signal-to-noise ratio and high temporal resolution. (MOV 2496 kb)
About this article
Cite this article
Hoshino, H., Nakajima, Y. & Ohmiya, Y. Luciferase-YFP fusion tag with enhanced emission for single-cell luminescence imaging. Nat Methods 4, 637–639 (2007). https://doi.org/10.1038/nmeth1069
Received:

Accepted:

Published:

Issue Date:

DOI: https://doi.org/10.1038/nmeth1069