Abstract
We present a pilot enhancer trap screen using GAL4 to drive expression of upstream activator sequence (UAS)-linked transgenes in expression patterns dictated by endogenous enhancers in zebrafish. The patterns presented include expression in small subsets of neurons throughout the larval brain, which in some cases persist into adult. Through targeted photoconversion of UAS-driven Kaede and variegated expression of UAS-driven GFP in single cells, we begin to characterize the cellular components of labeled circuits.
Access options
Subscribe to Journal
Get full journal access for 1 year
$242.00
only $20.17 per issue
All prices are NET prices.
VAT will be added later in the checkout.
Rent or Buy article
Get time limited or full article access on ReadCube.
from$8.99
All prices are NET prices.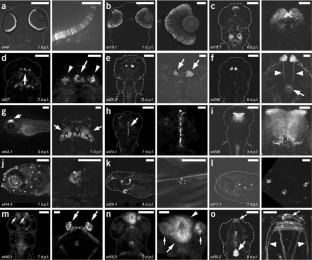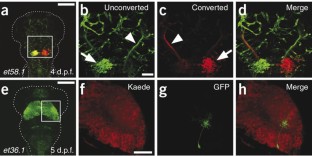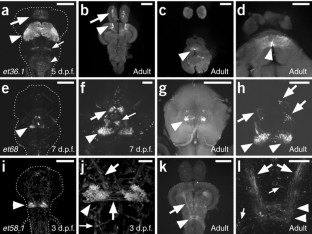 References
1

Ellingsen, S. et al. Development 132, 3799–3811 (2005).

2

Kawakami, K. et al. Dev. Cell 7, 133–144 (2004).

3

Parinov, S., Kondrichin, I., Korzh, V. & Emelyanov, A. Dev. Dyn. 231, 449–459 (2004).

4

Balciunas, D. et al. BMC Genomics 5, 62 (2004).

5

Scheer, N. & Camnos-Ortega, J.A. Mech. Dev. 80, 153–158 (1999).

6

Inbal, A., Topczewski, J. & Solnica-Krezel, L. Genesis 44, 584–588 (2006).

7

Urasaki, A., Morvan, G. & Kawakami, K. Genetics 174, 639–649 (2006).

8

Koster, R.W. & Fraser, S.E. Dev. Biol. 233, 329–346 (2001).

9

Ando, R., Hama, H., Yamamoto-Hino, M., Mizuno, H. & Miyawaki, A. Proc. Natl. Acad. Sci. USA 99, 12651–12656 (2002).

10

Halloran, M.C. et al. Development 127, 1953–1960 (2000).

11

Trevarrow, B., Marks, D.L. & Kimmel, C.B. Neuron 4, 669–679 (1990).

12

Sato, T., Takahoko, M. & Okamoto, H. Genesis 44, 136–142 (2006).
Acknowledgements
We thank A. Miyawaki for providing the Kaede open reading frame. N.C.C. thanks D. Stainier for support. This work was supported by a Sandler Opportunity Award and the 2006 Byers Award to H.B. and US National Institutes of Health National Research Service Award fellowship F32 EY015063 to E.K.S.
Ethics declarations
Competing interests
The authors declare no competing financial interests.
Supplementary information
About this article
Cite this article
Scott, E., Mason, L., Arrenberg, A. et al. Targeting neural circuitry in zebrafish using GAL4 enhancer trapping. Nat Methods 4, 323–326 (2007) doi:10.1038/nmeth1033
Received

Accepted

Published

Issue Date