Abstract
Presently there are no good assays for comparing somatic mutation frequencies and spectra between different vertebrate and invertebrate organisms. Here we describe a new lacZ mutation reporter system in D. melanogaster, which complements existing systems in the mouse. The results obtained with the new model indicate two-to threefold higher frequencies of spontaneous mutations than in the mouse, with most of the mutations characterized as large genome rearrangements.
Access options
Subscribe to Journal
Get full journal access for 1 year
$59.00
only $4.92 per issue
All prices are NET prices.
VAT will be added later in the checkout.
Tax calculation will be finalised during checkout.
Rent or Buy article
Get time limited or full article access on ReadCube.
from$8.99
All prices are NET prices.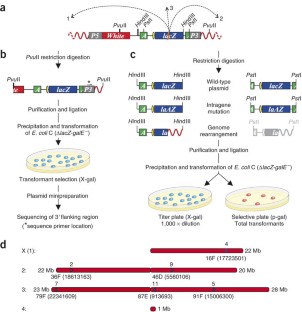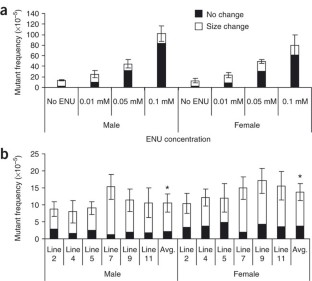 References
1

Vijg, J. Aging of the Genome (Oxford University Press, Oxford, 2007).

2

Russell, L.B., Selby, P.B., von Halle, E., Sheridan, W. & Valcovic, L. Mutat. Res. 86, 355–379 (1981).

3

Kaya, B., Marcos, R., Yanikoglu, A. & Creus, A. Mutat. Res. 557, 53–62 (2004).

4

Bielas, J.H. & Loeb, L.A. Nat. Methods 2, 285–290 (2005).

5

Castro, J.P. & Carareto, C.M. Genetica 121, 107–118 (2004).

6

Ranz, J.M., Casals, F. & Ruiz, A. Genome Res. 11, 230–239 (2001).

7

Curry, J., Karnaoukhova, L., Guenette, G.C. & Glickman, B.W. Genetics 152, 1065–1077 (1999).

8

Busuttil, R.A., Rubio, M., Dollé, M.E., Campisi, J. & Vijg, J. DNA Repair (Amst.) 5, 52–60 (2006).

9

Dollé, M.E. et al. Mutat. Res. 596, 22–35 (2006).
Acknowledgements
We thank P. Kapahi for critical comments and valuable suggestions. This work was supported by a grant from the US National Institutes of Health (AG20438).
Ethics declarations
Competing interests
The authors declare no competing financial interests.
Supplementary information
About this article
Cite this article
Garcia, A., Derventzi, A., Busuttil, R. et al. A model system for analyzing somatic mutations in Drosophila melanogaster. Nat Methods 4, 401–403 (2007). https://doi.org/10.1038/nmeth1027
Received:

Accepted:

Published:

Issue Date: