Abstract
Three teams of researchers have developed cell culture systems for the modeling of hepatitis C viral infection and the subsequent generation of infectious virus particles—an important breakthrough in the study of this disease.
Access options
Subscribe to Journal
Get full journal access for 1 year
$242.00
only $20.17 per issue
All prices are NET prices.
VAT will be added later in the checkout.
Rent or Buy article
Get time limited or full article access on ReadCube.
from$8.99
All prices are NET prices.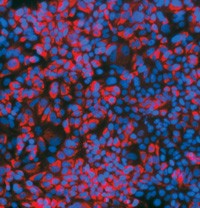 References
1

Wakita, T. et al. Production of infectious hepatitis C virus in tissue culture from a cloned viral genome. Nat. Med. 11, 791–796 (2005).

2

Zhong, J. et al. Robust hepatitis C virus infection in vitro. Proc. Natl. Acad. Sci. USA 102, 9294–9299 (2005).

3

Lindenbach, B.D. et al. Complete replication of hepatitis C virus in cell culture. Science; published online 9 June, 2005.
About this article
Cite this article
Eisenstein, M. Home-grown HCV. Nat Methods 2, 565 (2005) doi:10.1038/nmeth0805-565