This is a preview of subscription content
Access options
Subscribe to Journal
Get full journal access for 1 year
$119.00
only $9.92 per issue
All prices are NET prices.
VAT will be added later in the checkout.
Tax calculation will be finalised during checkout.
Buy article
Get time limited or full article access on ReadCube.
$32.00
All prices are NET prices.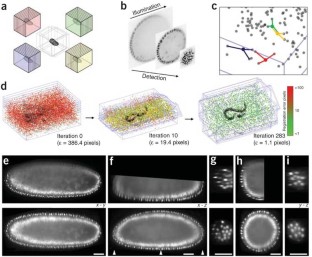 References
Huisken, J., Swoger, J., Del Bene, F., Wittbrodt, J. & Stelzer, E.H. Science 305, 1007–1009 (2004).

Huisken, J. & Stainier, D.Y. Development 136, 1963–1975 (2009).

Lindeberg, T. J. Appl. Stat. 21, 224–270 (1994).

Fischler, M.A. & Bolles, R.C. Commun. ACM 24, 381–395 (1981).

Preibisch, S., Saalfeld, S. & Tomancak, P. Bioinformatics 25, 1463–1465 (2009).

Preibisch, S., Rohlfing, T., Hasak M.P. & Tomancak P. SPIE Medical Imaging 2008 (eds., Reinhardt, J.M. & Pluim, J.P.W.) 6914 69140E-69140E-8 (2008).

Swoger, J. et al. Opt. Express 15, 8029–8042 (2007).
Acknowledgements
We thank Carl Zeiss Microimaging for access to the SPIM demonstrator; R.K. Ejsmont (Max Planck Institute of Molecular Cell Biology and Genetics, Dresden) for His-YFP flies; D. White, E. Dimitrova, M. Sarov and P. Campinho for help with imaging and B. Schmid for help with 3D viewer programming. S.P. and S.S. were supported by a Dresden International Graduate School for Biomedicine and Bioengineering doctorate stipend. J.S. and P.T. acknowledge funding from the Human Frontier Science Program Research grant RGY0084.
Ethics declarations
Competing interests
The authors declare no competing financial interests.
Supplementary information
About this article
Cite this article
Preibisch, S., Saalfeld, S., Schindelin, J. et al. Software for bead-based registration of selective plane illumination microscopy data. Nat Methods 7, 418–419 (2010). https://doi.org/10.1038/nmeth0610-418
Issue Date:

DOI: https://doi.org/10.1038/nmeth0610-418