Abstract
To understand stem cell differentiation along multiple lineages, it is necessary to resolve heterogeneous cellular states and the ancestral relationships between them. We developed a robotic miniaturized CEL-Seq2 implementation to carry out deep single-cell RNA-seq of ∼2,000 mouse hematopoietic progenitors enriched for lymphoid lineages, and used an improved clustering algorithm, RaceID3, to identify cell types. To resolve subtle transcriptome differences indicative of lineage biases, we developed FateID, an iterative supervised learning algorithm for the probabilistic quantification of cell fate bias in progenitor populations. Here we used FateID to delineate domains of fate bias and enable the derivation of high-resolution differentiation trajectories, thereby revealing a common progenitor population of B cells and plasmacytoid dendritic cells, which we validated by in vitro differentiation assays. We expect that FateID will improve understanding of the process of cell fate choice in complex multi-lineage differentiation systems.
Your institute does not have access to this article
Relevant articles
Open Access articles citing this article.
Parashar Dhapola

,

Johan Rodhe

…

Göran Karlsson

Nature Communications Open Access 08 August 2022

Yiming Lu

,

Aiqing Yang

…

Gangqiao Zhou

Nature Communications Open Access 06 August 2022

Yu Wei Zhang

,

Julian Mess

…

Nina Cabezas-Wallscheid

Nature Cell Biology Open Access 20 June 2022
Access options
Subscribe to Nature+
Get immediate online access to the entire Nature family of 50+ journals
Subscribe to Journal
Get full journal access for 1 year
$119.00
only $9.92 per issue
All prices are NET prices.
VAT will be added later in the checkout.
Tax calculation will be finalised during checkout.
Buy article
Get time limited or full article access on ReadCube.
$32.00
All prices are NET prices.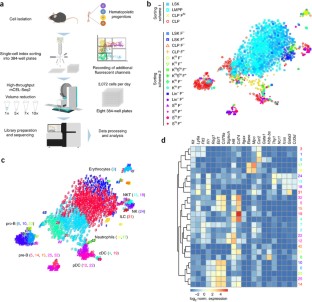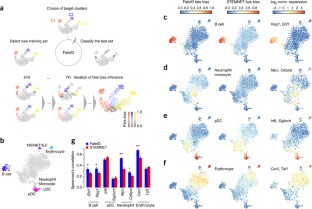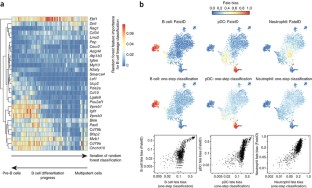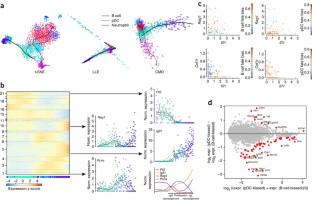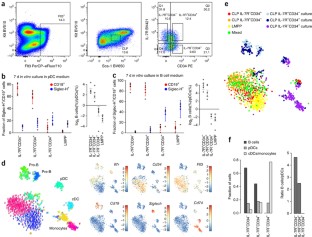 Accession codes
Primary accessions
Gene Expression Omnibus
References
Paul, F. et al. Transcriptional heterogeneity and lineage commitment in myeloid progenitors. Cell 163, 1663–1677 (2015).

Velten, L. et al. Human haematopoietic stem cell lineage commitment is a continuous process. Nat. Cell Biol. 19, 271–281 (2017).

Olsson, A. et al. Single-cell analysis of mixed-lineage states leading to a binary cell fate choice. Nature 537, 698–702 (2016).

Nestorowa, S. et al. A single-cell resolution map of mouse hematopoietic stem and progenitor cell differentiation. Blood 128, e20–e31 (2016).

Drissen, R. et al. Distinct myeloid progenitor–differentiation pathways identified through single-cell RNA sequencing. Nat. Immunol. 17, 666–676 (2016).

Perié, L., Duffy, K.R., Kok, L., de Boer, R.J. & Schumacher, T.N. The branching point in erythro-myeloid differentiation. Cell 163, 1655–1662 (2015).

Busch, K. et al. Fundamental properties of unperturbed haematopoiesis from stem cells in vivo. Nature 518, 542–546 (2015).

Yu, V.W.C. et al. Epigenetic memory underlies cell-autonomous heterogeneous behavior of hematopoietic stem cells. Cell 167, 1310–1322 (2016).

Orkin, S.H. & Zon, L.I. Hematopoiesis: an evolving paradigm for stem cell biology. Cell 132, 631–644 (2008).

Haghverdi, L., Büttner, M., Wolf, F.A., Buettner, F. & Theis, F.J. Diffusion pseudotime robustly reconstructs lineage branching. Nat. Methods 13, 845–848 (2016).

Setty, M. et al. Wishbone identifies bifurcating developmental trajectories from single-cell data. Nat. Biotechnol. 34, 637–645 (2016).

Marco, E. et al. Bifurcation analysis of single-cell gene expression data reveals epigenetic landscape. Proc. Natl. Acad. Sci. USA 111, E5643–E5650 (2014).

Chen, J., Schlitzer, A., Chakarov, S., Ginhoux, F. & Poidinger, M. Mpath maps multi-branching single-cell trajectories revealing progenitor cell progression during development. Nat. Commun. 7, 11988 (2016).

Hashimshony, T. et al. CEL-Seq2: sensitive highly-multiplexed single-cell RNA-Seq. Genome Biol. 17, 77 (2016).

Svensson, V. et al. Power analysis of single-cell RNA-sequencing experiments. Nat. Methods 14, 381–387 (2017).

Ziegenhain, C. et al. Comparative analysis of single-cell RNA sequencing methods. Mol. Cell 65, 631–643 (2017).

Zheng, G.X.Y. et al. Massively parallel digital transcriptional profiling of single cells. Nat. Commun. 8, 14049 (2017).

Grün, D. et al. De novo prediction of stem cell identity using single-cell transcriptome data. Cell Stem Cell 19, 266–277 (2016).

Satija, R., Farrell, J.A., Gennert, D., Schier, A.F. & Regev, A. Spatial reconstruction of single-cell gene expression data. Nat. Biotechnol. 33, 495–502 (2015).

Macosko, E.Z. et al. Highly parallel genome-wide expression profiling of individual cells using nanoliter droplets. Cell 161, 1202–1214 (2015).

Kiselev, V.Y. et al. SC3: consensus clustering of single-cell RNA-seq data. Nat. Methods 14, 483–486 (2017).

Li, H. et al. Reference component analysis of single-cell transcriptomes elucidates cellular heterogeneity in human colorectal tumors. Nat. Genet. 49, 708–718 (2017).

Breiman, L. Random forests. Mach. Learn. 45, 5–32 (2001).

Satpathy, A.T., Wu, X., Albring, J.C. & Murphy, K.M. Re(de)fining the dendritic cell lineage. Nat. Immunol. 13, 1145–1154 (2012).

Poltorak, M.P. & Schraml, B.U. Fate mapping of dendritic cells. Front. Immunol. 6, 199 (2015).

Welner, R.S. et al. Asynchronous RAG-1 expression during B lymphopoiesis. J. Immunol. 183, 7768–7777 (2009).

Corcoran, L. et al. The lymphoid past of mouse plasmacytoid cells and thymic dendritic cells. J. Immunol. 170, 4926–4932 (2003).

Inlay, M.A. et al. Ly6d marks the earliest stage of B-cell specification and identifies the branchpoint between B-cell and T-cell development. Genes Dev. 23, 2376–2381 (2009).

Qiu, X. et al. Reversed graph embedding resolves complex single-cell trajectories. Nat. Methods 14, 979–982 (2017).

Pietras, E.M. et al. Functionally distinct subsets of lineage-biased multipotent progenitors control blood production in normal and regenerative conditions. Cell Stem Cell 17, 35–46 (2015).

Notta, F. et al. Distinct routes of lineage development reshape the human blood hierarchy across ontogeny. Science 351, aab2116 (2016).

Cabezas-Wallscheid, N. et al. Identification of regulatory networks in HSCs and their immediate progeny via integrated proteome, transcriptome, and DNA methylome analysis. Cell Stem Cell 15, 507–522 (2014).

Sathe, P., Vremec, D., Wu, L., Corcoran, L. & Shortman, K. Convergent differentiation: myeloid and lymphoid pathways to murine plasmacytoid dendritic cells. Blood 121, 11–19 (2013).

Onai, N. et al. A clonogenic progenitor with prominent plasmacytoid dendritic cell developmental potential. Immunity 38, 943–957 (2013).

Onai, N. et al. Identification of clonogenic common Flt3+M-CSFR+ plasmacytoid and conventional dendritic cell progenitors in mouse bone marrow. Nat. Immunol. 8, 1207–1216 (2007).

Medina, K.L. et al. Separation of plasmacytoid dendritic cells from B-cell-biased lymphoid progenitor (BLP) and pre-pro B cells using PDCA-1. PLoS One 8, e78408 (2013).

Villani, A.-C. et al. Single-cell RNA-seq reveals new types of human blood dendritic cells, monocytes, and progenitors. Science 356, eaah4573 (2017).

See, P. et al. Mapping the human DC lineage through the integration of high-dimensional techniques. Science 356, eaag3009 (2017).

Naik, S.H. et al. Development of plasmacytoid and conventional dendritic cell subtypes from single precursor cells derived in vitro and in vivo. Nat. Immunol. 8, 1217–1226 (2007).

Li, H. & Durbin, R. Fast and accurate long-read alignment with Burrows-Wheeler transform. Bioinformatics 26, 589–595 (2010).

Grün, D., Kester, L. & van Oudenaarden, A. Validation of noise models for single-cell transcriptomics. Nat. Methods 11, 637–640 (2014).

Grün, D. et al. Single-cell messenger RNA sequencing reveals rare intestinal cell types. Nature 525, 251–255 (2015).

Ritchie, M.E. et al. limma powers differential expression analyses for RNA-sequencing and microarray studies. Nucleic Acids Res. 43, e47 (2015).

Anders, S. & Huber, W. Differential expression analysis for sequence count data. Genome Biol. 11, R106 (2010).

van der Maaten, L. & Hinton, G. Visualizing data using t-SNE. J. Mach. Learn. Res. 9, 2570–2605 (2008).
Acknowledgements
We thank A. Pospisilik for help in developing mCEL-Seq2. We acknowledge extensive support from S. Hobitz, K. Schuldes, and D. Wild in flow cytometry, and U. Boenisch in deep sequencing. We also thank T. Boehm, C. Happe, and R. Grosschedl for valuable input and support. We thank T. Boehm, N. Cabezas-Wallscheid, and E. Trompouki for critical reading of the manuscript and valuable feedback. S. acknowledges funding from the Behrens-Weise Foundation. This work was supported by the Max Planck Society.
Ethics declarations
Competing interests
The authors declare no competing financial interests.
Integrated supplementary information
Supplementary information
Supplementary Figures 1–15 and Supplementary Notes 1–5
About this article
Cite this article
Herman, J., Sagar & Grün, D. FateID infers cell fate bias in multipotent progenitors from single-cell RNA-seq data. Nat Methods 15, 379–386 (2018). https://doi.org/10.1038/nmeth.4662
Received:

Accepted:

Published:

Issue Date:

DOI: https://doi.org/10.1038/nmeth.4662