Abstract
The throughput of cell mechanical characterization has recently approached that of conventional flow cytometers. However, this very sensitive, label-free approach still lacks the specificity of molecular markers. Here we developed an approach that combines real-time 1D-imaging fluorescence and deformability cytometry in one instrument (RT-FDC), thus opening many new research avenues. We demonstrated its utility by using subcellular fluorescence localization to identify mitotic cells and test for mechanical changes in those cells in an RNA interference screen.
Access options
Subscribe to Journal
Get full journal access for 1 year
$59.00
only $4.92 per issue
All prices are NET prices.
VAT will be added later in the checkout.
Tax calculation will be finalised during checkout.
Rent or Buy article
Get time limited or full article access on ReadCube.
from$8.99
All prices are NET prices.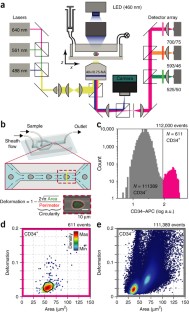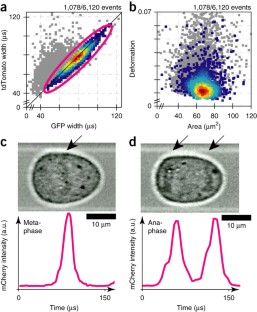 References
1

Shapiro, M.H. Practical Flow Cytometry (John Wiley & Sons, Inc., 2003).

2

Elson, E.L. Annu. Rev. Biophys. Biophys. Chem. 17, 397–430 (1988).

3

Fletcher, D.A. & Mullins, R.D. Nature 463, 485–492 (2010).

4

Matthews, H.K. et al. Dev. Cell 23, 371–383 (2012).

5

Otto, O. et al. Nat. Methods 12, 199–202 (2015).

6

Ekpenyong, A.E. et al. PLoS One 7, e45237 (2012).

7

Tse, H.T.K. et al. Sci. Transl. Med. 5, 212ra163 (2013).

8

Guck, J. et al. Biophys. J. 88, 3689–3698 (2005).

9

Worthen, G.S., Schwab, B.I., Elson, E.L. & Downey, G.P. Science 245, 183–186 (1989).

10

Bufi, N. et al. Biophys. J. 108, 2181–2190 (2015).

11

Toepfner, N. et al. eLife 7, e29213 (2018).

12

Gossett, D.R. et al. Proc. Natl. Acad. Sci. USA 109, 7630–7635 (2012).

13

Nyberg, K.D. et al. Biophys. J. 113, 1574–1584 (2017).

14

Ramdzan, Y.M. et al. Nat. Methods 9, 467–470 (2012).

15

Gray, J.W., Peters, D., Merrill, J.T., Martin, R. & Van Dilla, M.A. J. Histochem. Cytochem. 27, 441–444 (1979).

16

Basiji, D.A., Ortyn, W.E., Liang, L., Venkatachalam, V. & Morrissey, P. Clin. Lab. Med. 27, 653–670 (2007).

17

Lau, A.K.S., Shum, H.C., Wong, K.K. & Tsia, K.K. Lab Chip 16, 1743–1756 (2016).

18

Mietke, A. et al. Biophys. J. 109, 2023–2036 (2015).

19

Mokbel, M. et al. ACS Biomater. Sci. Eng. 3, 2962–2973 (2017).

20

Kräter, M. et al. Sci. Rep. 7, 2549 (2017).

21

Suzuki, S. Comput. Vis. Graph. Image Process. 46, 32–46 (1985).

22

Baum, B. & Cherbas, L. Methods Mol. Biol. 420, 391–424 (2008).

23

Herbig, M. et al. in Flow Cytometry Protocols (eds. Hawley, R. & Hawley, T.) 347–370 (Humana Press, 2017).

24

R Core Team. R: A Language and Environment for Statistical Computing (R Foundation for Statistical Computing, 2015).

25

Bates, D. R News 5, 27–30 (2005).

26

Mood, A.M., Graybill, F.A. & Boes, D.C. Introduction to the Theory of Statistics 3rd ed. 540–541 (McGraw-Hill, 1974).

27

Wilks, S.S. Annals of Mathematical Statistics 9, 60–62 (1938).
Acknowledgements
We thank D. Klaue, M. Urbanska, F. Rosendahl, and I. Richter for helpful discussions and technical support. We thank M. Schürmann for refractive index measurements of agarose. We thank M. Piel (Institute Curie, Paris, France) for donation of the HeLa H2B–mCherry cell line. We thank M. Bornhäuser (Department of Hematology and Oncology, University Clinic Carl Gustav Carus, Technische Universität Dresden, Dresden, Germany) for providing the apheresis blood samples. We received support from the Light Microscopy Facility for confocal microscopy, and from the Microstructure Facility for microfluidic chip production; both are core facilities of the Center for Molecular and Cellular Bioengineering (CMCB) at Technische Universität Dresden. We gratefully acknowledge financial support from the Alexander-von-Humboldt Stiftung (Humboldt Professorship to J.G.), Sächsisches Ministerium für Wissenschaft und Kunst (TG70 grant to O.O. and J.G.; European Fund for Regional Development–EFRE to S.G. and J.G.), the ERC (starting grant "LightTouch" 282060 to J.G.), the DFG Center for Regenerative Medicine of the Technische Universität Dresden (seed grant to J.G.), the DFG KFO249 (GU 612/2-2 grant to J.G.), DKMS ('Mechthild Harf Research Grant' DKMS-SLS-MHG-2016-02 to A.J.), and Cancer Research UK (C1529/A17343 grant to B.B.).
Ethics declarations
Competing interests
P.R., O.O., and C.H. are shareholders and employees of the company Zellmechanik Dresden GmbH, which sells devices based on RT-DC and RT-FDC technology. All other authors declare no competing interests.
Integrated supplementary information
Supplementary information
Supplementary Figures 1–14, Supplementary Discussion and Supplementary Tables 1–5
About this article
Cite this article
Rosendahl, P., Plak, K., Jacobi, A. et al. Real-time fluorescence and deformability cytometry. Nat Methods 15, 355–358 (2018). https://doi.org/10.1038/nmeth.4639
Received:

Accepted:

Published:

Issue Date: