Abstract
Cells use feedback regulation to ensure robust growth despite fluctuating demands for resources and differing environmental conditions. However, the expression of foreign proteins from engineered constructs is an unnatural burden that cells are not adapted for. Here we combined RNA-seq with an in vivo assay to identify the major transcriptional changes that occur in Escherichia coli when inducible synthetic constructs are expressed. We observed that native promoters related to the heat-shock response activated expression rapidly in response to synthetic expression, regardless of the construct. Using these promoters, we built a dCas9-based feedback-regulation system that automatically adjusts the expression of a synthetic construct in response to burden. Cells equipped with this general-use controller maintained their capacity for native gene expression to ensure robust growth and thus outperformed unregulated cells in terms of protein yield in batch production. This engineered feedback is to our knowledge the first example of a universal, burden-based biomolecular control system and is modular, tunable and portable.
Relevant articles
Open Access articles citing this article.
Roberto Di Blasi

,

Mara Pisani

…

Francesca Ceroni

Nature Communications Open Access 16 June 2023

Duncan Ingram

&

Guy-Bart Stan

Nature Communications Open Access 12 June 2023

Sebastián Sosa-Carrillo

,

Henri Galez

…

Gregory Batt

Nature Communications Open Access 25 May 2023
Access options
Access Nature and 54 other Nature Portfolio journals
Get Nature+, our best-value online-access subscription
$29.99 / 30 days
cancel any time
Subscribe to this journal
Receive 12 print issues and online access
$259.00 per year
only $21.58 per issue
Rent or buy this article
Prices vary by article type
from$1.95
to$39.95
Prices may be subject to local taxes which are calculated during checkout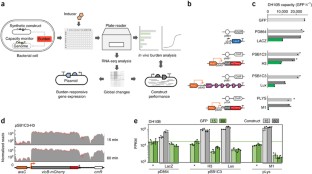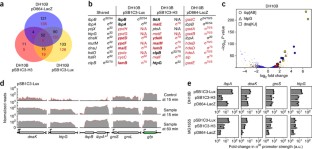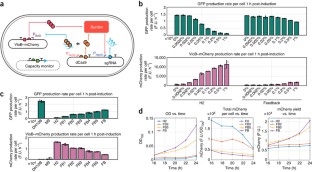 Accession codes
Primary accessions
Gene Expression Omnibus
References
Lynch, M. & Marinov, G.K. The bioenergetic costs of a gene. Proc. Natl. Acad. Sci. USA 112, 15690–15695 (2015).

Gyorgy, A. et al. Isocost lines describe the cellular economy of genetic circuits. Biophys. J. 109, 639–646 (2015).

Qian, Y., Huang, H.-H., Jiménez, J.I. & Del Vecchio, D. Resource competition shapes the response of genetic circuits. ACS Synth. Biol. 6, 1263–1272 (2017).

Weiße, A.Y., Oyarzún, D.A., Danos, V. & Swain, P.S. Mechanistic links between cellular trade-offs, gene expression, and growth. Proc. Natl. Acad. Sci. USA 112, E1038–E1047 (2015).

Kurland, C.G. & Dong, H. Bacterial growth inhibition by overproduction of protein. Mol. Microbiol. 21, 1–4 (1996).

Sleight, S.C. & Sauro, H.M. Visualization of evolutionary stability dynamics and competitive fitness of Escherichia coli engineered with randomized multigene circuits. ACS Synth. Biol. 2, 519–528 (2013).

Cardinale, S. & Arkin, A.P. Contextualizing context for synthetic biology—identifying causes of failure of synthetic biological systems. Biotechnol. J. 7, 856–866 (2012).

Moser, F. et al. Genetic circuit performance under conditions relevant for industrial bioreactors. ACS Synth. Biol. 1, 555–564 (2012).

Tan, C., Marguet, P. & You, L. Emergent bistability by a growth-modulating positive feedback circuit. Nat. Chem. Biol. 5, 842–848 (2009).

Borkowski, O., Ceroni, F., Stan, G.-B. & Ellis, T. Overloaded and stressed: whole-cell considerations for bacterial synthetic biology. Curr. Opin. Microbiol. 33, 123–130 (2016).

Nielsen, A.A.K. et al. Genetic circuit design automation. Science 352, aac7341 (2016).

Cameron, D.E. & Collins, J.J. Tunable protein degradation in bacteria. Nat. Biotechnol. 32, 1276–1281 (2014).

Segall-Shapiro, T.H., Meyer, A.J., Ellington, A.D., Sontag, E.D. & Voigt, C.A.A. A 'resource allocator' for transcription based on a highly fragmented T7 RNA polymerase. Mol. Syst. Biol. 10, 742 (2014).

Pasini, M. et al. Using promoter libraries to reduce metabolic burden due to plasmid-encoded proteins in recombinant Escherichia coli. N. Biotechnol. 33, 78–90 (2016).

Gorochowski, T.E., Avcilar-Kucukgoze, I., Bovenberg, R.A.L., Roubos, J.A. & Ignatova, Z. A minimal model of ribosome allocation dynamics captures trade-offs in expression between endogenous and synthetic genes. ACS Synth. Biol. 5, 710–720 (2016).

Carrera, J., Rodrigo, G., Singh, V., Kirov, B. & Jaramillo, A. Empirical model and in vivo characterization of the bacterial response to synthetic gene expression show that ribosome allocation limits growth rate. Biotechnol. J. 6, 773–783 (2011).

Ceroni, F., Algar, R., Stan, G.-B. & Ellis, T. Quantifying cellular capacity identifies gene expression designs with reduced burden. Nat. Methods 12, 415–418 (2015).

Shachrai, I., Zaslaver, A., Alon, U. & Dekel, E. Cost of unneeded proteins in E. coli is reduced after several generations in exponential growth. Mol. Cell 38, 758–767 (2010).

Wang, Z., Gerstein, M. & Snyder, M. RNA-Seq: a revolutionary tool for transcriptomics. Nat. Rev. Genet. 10, 57–63 (2009).

Houser, J.R. et al. Controlled measurement and comparative analysis of cellular components in E. coli reveals broad regulatory changes in response to glucose starvation. PLOS Comput. Biol. 11, e1004400 (2015).

Nonaka, G., Blankschien, M., Herman, C., Gross, C.A. & Rhodius, V.A. Regulon and promoter analysis of the E. coli heat-shock factor, σ32, reveals a multifaceted cellular response to heat stress. Genes Dev. 20, 1776–1789 (2006).

Guisbert, E., Herman, C., Lu, C.Z. & Gross, C.A. A chaperone network controls the heat shock response in E. coli. Genes Dev. 18, 2812–2821 (2004).

Farasat, I. & Salis, H.M. A biophysical model of CRISPR/Cas9 activity for rational design of genome editing and gene regulation. PLOS Comput. Biol. 12, e1004724 (2016).

Jiang, L. et al. Synthetic spike-in standards for RNA-seq experiments. Genome Res. 21, 1543–1551 (2011).

Arkin, A.P. & Cambray, G. Massive phenotypic measurements reveal complex physiological consequences of differential translation efficacies. bioRxiv Preprint at https://www.biorxiv.org/content/early/2017/10/25/209098 (2017).

Brar, G.A. & Weissman, J.S. Ribosome profiling reveals the what, when, where and how of protein synthesis. Nat. Rev. Mol. Cell Biol. 16, 651–664 (2015).

Lohman, B.K., Weber, J.N. & Bolnick, D.I. Evaluation of TagSeq, a reliable low-cost alternative for RNAseq. Mol. Ecol. Resour. 16, 1315–1321 (2016).

Zhang, X. et al. Heat-shock response transcriptional program enables high-yield and high-quality recombinant protein production in Escherichia coli. ACS Chem. Biol. 9, 1945–1949 (2014).

El-Samad, H., Kurata, H., Doyle, J.C., Gross, C.A. & Khammash, M. Surviving heat shock: control strategies for robustness and performance. Proc. Natl. Acad. Sci. USA 102, 2736–2741 (2005).

Kurata, H. et al. Module-based analysis of robustness tradeoffs in the heat shock response system. PLOS Comput. Biol. 2, e59 (2006).

Dragosits, M., Nicklas, D. & Tagkopoulos, I. A synthetic biology approach to self-regulatory recombinant protein production in Escherichia coli. J. Biol. Eng. 6, 2 (2012).

Gupta, A., Reizman, I.M., Reisch, C.R. & Prather, K.L.J. Dynamic regulation of metabolic flux in engineered bacteria using a pathway-independent quorum-sensing circuit. Nat. Biotechnol. 35, 273–279 (2017).

Nakahigashi, K., Yanagi, H. & Yura, T. Regulatory conservation and divergence of 32 homologs from Pseudomonas aeruginosa, and Agrobacterium tumefaciens. Microbiology 180, 2402–2408 (1998).

Casini, A. et al. R2oDNA designer: computational design of biologically neutral synthetic DNA sequences. ACS Synth. Biol. 3, 525–528 (2014).

Gertz, J. et al. Transposase mediated construction of RNA-seq libraries. Genome Res. 22, 134–141 (2012).

He, S. et al. Validation of two ribosomal RNA removal methods for microbial metatranscriptomics. Nat. Methods 7, 807–812 (2010).

Gorochowski, T.E. et al. Genetic circuit characterization and debugging using RNA-seq. Mol. Syst. Biol. 13, 952 (2017).

Myers, C.J. et al. A standard-enabled workflow for synthetic biology. Biochem. Soc. Trans. 45, 793–803 (2017).

Der, B.S. et al. DNAplotlib: programmable visualization of genetic designs and associated data. ACS Synth. Biol. 6, 1115–1119 (2017).

Love, M.I., Huber, W. & Anders, S. Moderated estimation of fold change and dispersion for RNA-seq data with DESeq2. Genome Biol. 15, 550 (2014).

Keseler, I.M. et al. The EcoCyc database: reflecting new knowledge about Escherichia coli K-12. Nucleic Acids Res. 45, D543–D550 (2017).

Edgar, R., Domrachev, M. & Lash, A.E. Gene Expression Omnibus: NCBI gene expression and hybridization array data repository. Nucleic Acids Res 30, 207–210 (2002).
Acknowledgements
This work was supported by EPSRC (grant EP/J021849/1 to F.C., G.-B.S. and T.E.; grant EP/M002306/1 to A.B., O.B. and C.G.; grant EP/P009352/1 to G.-B.S.; Fellowship EP/M002187/1 to G.-B.S.; Fellowship EP/M002306/1 to T.E.), BBSRC/EPSRC SBRC BrisSynBio (grant BB/L01386X/1 to T.E.G.), the Royal Society (Fellowship UF160357 to T.E.G.), the NIHR Imperial Biomedical Research Centre (Y.N.L.) and BBSRC (grant BB/K006290/1 to A.R.A.). F.C. acknowledges the support of the Imperial College London Junior Research Fellowship Scheme. All authors thank G. Cambray for useful discussions.
Ethics declarations
Competing interests
The authors declare no competing financial interests.
Integrated supplementary information
Supplementary information
About this article
Cite this article
Ceroni, F., Boo, A., Furini, S. et al. Burden-driven feedback control of gene expression. Nat Methods 15, 387–393 (2018). https://doi.org/10.1038/nmeth.4635
Received:

Accepted:

Published:

Issue Date:

DOI: https://doi.org/10.1038/nmeth.4635