Abstract
Single-cell RNA sequencing and high-dimensional cytometry can be used to generate detailed trajectories of dynamic biological processes such as differentiation or development. Here we present cellAlign, a quantitative framework for comparing expression dynamics within and between single-cell trajectories. By applying cellAlign to mouse and human embryonic developmental trajectories, we systematically delineate differences in the temporal regulation of gene expression programs that would otherwise be masked.
Access options
Subscribe to Journal
Get full journal access for 1 year
$119.00
only $9.92 per issue
All prices are NET prices.
VAT will be added later in the checkout.
Tax calculation will be finalised during checkout.
Rent or Buy article
Get time limited or full article access on ReadCube.
from$8.99
All prices are NET prices.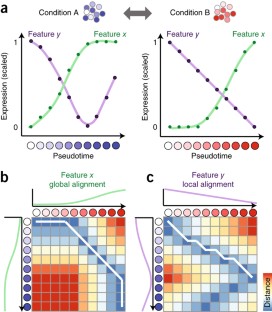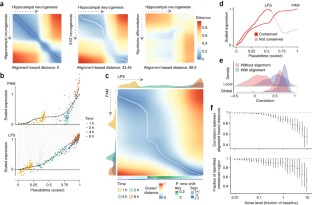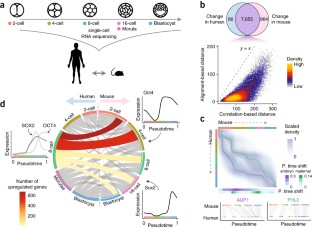 References
1

Trapnell, C. et al. Nat. Biotechnol. 32, 381–386 (2014).

2

Shin, J. et al. Cell Stem Cell 17, 360–372 (2015).

3

Haghverdi, L., Büttner, M., Wolf, F.A., Buettner, F. & Theis, F.J. Nat. Methods 13, 845–848 (2016).

4

Bendall, S.C. et al. Cell 157, 714–725 (2014).

5

Llorens-Bobadilla, E. et al. Cell Stem Cell 17, 329–340 (2015).

6

Shalek, A.K. et al. Nature 510, 363–369 (2014).

7

Yan, L. et al. Nat. Struct. Mol. Biol. 20, 1131–1139 (2013).

8

Deng, Q. et al. Science 343, 193–196 (2014).

9

Bouniol, C., Nguyen, E. & Debey, P. Exp. Cell Res. 218, 57–62 (1995).

10

Braude, P., Bolton, V. & Moore, S. Nature 332, 459–461 (1988).

11

Giorgino, T. J. Stat. Softw. 31, 1–24 (2009).

12

Yuan, Y. et al. BMC Bioinformatics 12, 347 (2011).

13

Kamburov, A., Stelzl, U., Lehrach, H. & Herwig, R. Nucleic Acids Res. 41, 793–800 (2013).
Acknowledgements
This study was supported by the Israel Science Foundation (ISF) grants 1365/12 and the Applebaum Foundation. We thank Y. Ofran, M. Drukker, N. Kaplan, K. Brennand, and members of the Shen-Orr lab for fruitful discussions, and D. Alpert for assistance in algorithmic design and technical support.
Ethics declarations
Competing interests
S.S.S.-O. is a scientific adviser and holds equity in CytoReason. All other authors declare no competing interests.
Integrated supplementary information
Supplementary information
About this article
Cite this article
Alpert, A., Moore, L., Dubovik, T. et al. Alignment of single-cell trajectories to compare cellular expression dynamics. Nat Methods 15, 267–270 (2018). https://doi.org/10.1038/nmeth.4628
Received:

Accepted:

Published:

Issue Date: