Abstract
We report the development of a 3D OrbiSIMS instrument for label-free biomedical imaging. It combines the high spatial resolution of secondary ion mass spectrometry (SIMS; under 200 nm for inorganic species and under 2 μm for biomolecules) with the high mass-resolving power of an Orbitrap (>240,000 at m/z 200). This allows exogenous and endogenous metabolites to be visualized in 3D with subcellular resolution. We imaged the distribution of neurotransmitters—gamma-aminobutyric acid, dopamine and serotonin—with high spectroscopic confidence in the mouse hippocampus. We also putatively annotated and mapped the subcellular localization of 29 sulfoglycosphingolipids and 45 glycerophospholipids, and we confirmed lipid identities with tandem mass spectrometry. We demonstrated single-cell metabolomic profiling using rat alveolar macrophage cells incubated with different concentrations of the drug amiodarone, and we observed that the upregulation of phospholipid species and cholesterol is correlated with the accumulation of amiodarone.
Relevant articles
Open Access articles citing this article.
Franziska Linke

,

James E. C. Johnson

…

Beth Coyle

Acta Neuropathologica Communications Open Access 11 January 2023

Wan-Chen Hsieh

,

Bugi Ratno Budiarto

…

Shih-Yu Chen

Journal of Biomedical Science Open Access 14 November 2022

Jovan Tanevski

,

Ricardo Omar Ramirez Flores

…

Julio Saez-Rodriguez

Genome Biology Open Access 14 April 2022
Access options
Subscribe to Nature+
Get immediate online access to Nature and 55 other Nature journal
Subscribe to Journal
Get full journal access for 1 year
$99.00
only $8.25 per issue
All prices are NET prices.
VAT will be added later in the checkout.
Tax calculation will be finalised during checkout.
Buy article
Get time limited or full article access on ReadCube.
$32.00
All prices are NET prices.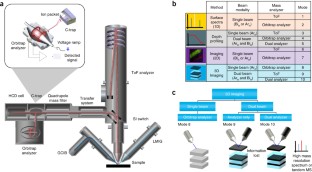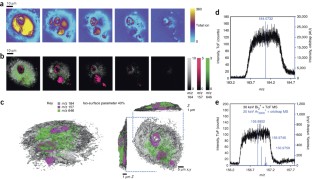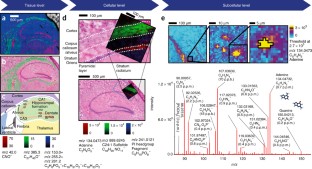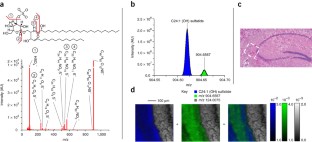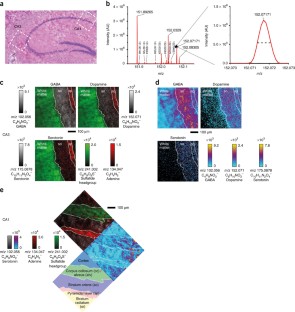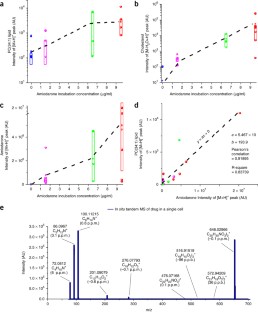 References
Elowitz, M.B., Levine, A.J., Siggia, E.D. & Swain, P.S. Stochastic gene expression in a single cell. Science 297, 1183–1186 (2002).

Zenobi, R. Single-cell metabolomics: analytical and biological perspectives. Science 342, 1243259 (2013).

Rubakhin, S.S., Lanni, E.J. & Sweedler, J.V. Progress toward single cell metabolomics. Curr. Opin. Biotechnol. 24, 95–104 (2013).

Passarelli, M.K. & Ewing, A.G. Single-cell imaging mass spectrometry. Curr. Opin. Chem. Biol. 17, 854–859 (2013).

Scannell, J.W., Blanckley, A., Boldon, H. & Warrington, B. Diagnosing the decline in pharmaceutical R&D efficiency. Nat. Rev. Drug Discov. 11, 191–200 (2012).

Dollery, C.T. Intracellular drug concentrations. Clin. Pharmacol. Ther. 93, 263–266 (2013).

Makarov, A. Electrostatic axially harmonic orbital trapping: a high-performance technique of mass analysis. Anal. Chem. 72, 1156–1162 (2000).

Hu, Q. et al. The Orbitrap: a new mass spectrometer. J. Mass Spectrom. 40, 430–443 (2005).

Kompauer, M., Heiles, S. & Spengler, B. Atmospheric pressure MALDI mass spectrometry imaging of tissues and cells at 1.4-μm lateral resolution. Nat. Methods 14, 90–96 (2017).

Zavalin, A., Yang, J., Hayden, K., Vestal, M. & Caprioli, R.M. Tissue protein imaging at 1 μm laser spot diameter for high spatial resolution and high imaging speed using transmission geometry MALDI TOF MS. Anal. Bioanal. Chem. 407, 2337–2342 (2015).

Fletcher, J.S. et al. A new dynamic in mass spectral imaging of single biological cells. Anal. Chem. 80, 9058–9064 (2008).

Fletcher, J.S. & Vickerman, J.C. A new SIMS paradigm for 2D and 3D molecular imaging of bio-systems. Anal. Bioanal. Chem. 396, 85–104 (2010).

Lee, J.L.S. et al. Organic depth profiling of a nanostructured delta layer reference material using large argon cluster ions. Anal. Chem. 82, 98–105 (2010).

Körsgen, M., Pelster, A., Dreisewerd, K. & Arlinghaus, H.F. 3D ToF-SIMS analysis of peptide incorporation into MALDI matrix crystals with sub-micrometer resolution. J. Am. Soc. Mass Spectrom. 27, 277–284 (2016).

Carado, A. et al. C60 secondary ion mass spectrometry with a hybrid-quadrupole orthogonal time-of-flight mass spectrometer. Anal. Chem. 80, 7921–7929 (2008).

Bruinen, A.L., Fisher, G.L. & Heeren, R.M.A. In Imaging Mass Spectrometry: Methods and Protocols (ed. Cole, L.M.) 165–173 (Springer, 2017).

Marshall, A.G., Hendrickson, C.L. & Jackson, G.S. Fourier transform ion cyclotron resonance mass spectrometry: a primer. Mass Spectrom. Rev. 17, 1–35 (1998).

Maharrey, S. et al. High mass resolution SIMS. Appl. Surf. Sci. 231–232, 972–975 (2004).

Smith, D.F., Robinson, E.W., Tolmachev, A.V., Heeren, R.M.A. & Paša-Tolic´ć, L. C60 secondary ion Fourier transform ion cyclotron resonance mass spectrometry. Anal. Chem. 83, 9552–9556 (2011).

Scheltema, R.A. et al. The Q Exactive HF, a Benchtop mass spectrometer with a pre-filter, high-performance quadrupole and an ultra-high-field Orbitrap analyzer. Mol. Cell. Proteomics 13, 3698–3708 (2014).

Michalski, A. et al. Mass spectrometry-based proteomics using Q Exactive, a high-performance benchtop quadrupole orbitrap mass spectrometer. Mol. Cell. Proteomics 10, M111.011015 (2011).

Seah, M.P., Havelund, R. & Gilmore, I.S. Universal equation for argon cluster size-dependence of secondary ion spectra in SIMS of organic materials. J. Phys. Chem. C 118, 12862–12872 (2014).

Passarelli, M.K. et al. Single-cell analysis: visualizing pharmaceutical and metabolite uptake in cells with label-free 3D mass spectrometry imaging. Anal. Chem. 87, 6696–6702 (2015).

Andersen, P. et al. (eds.) The Hippocampus Book (Oxford University Press, 2006).

Burgess, N., Maguire, E.A. & O'Keefe, J. The human hippocampus and spatial and episodic memory. Neuron 35, 625–641 (2002).

O'Keefe, J. & Dostrovsky, J. The hippocampus as a spatial map. Preliminary evidence from unit activity in the freely-moving rat. Brain Res. 34, 171–175 (1971).

Jones, A.R., Overly, C.C. & Sunkin, S.M. The Allen Brain Atlas: 5 years and beyond. Nat. Rev. Neurosci. 10, 821–828 (2009).

Fletcher, J.S., Rabbani, S., Henderson, A., Lockyer, N.P. & Vickerman, J.C. Three-dimensional mass spectral imaging of HeLa-M cells—sample preparation, data interpretation and visualisation. Rapid Commun. Mass Spectrom. 25, 925–932 (2011).

Jeon, S.-B., Yoon, H.J., Park, S.-H., Kim, I.-H. & Park, E.J. Sulfatide, a major lipid component of myelin sheath, activates inflammatory responses as an endogenous stimulator in brain-resident immune cells. J. Immunol. 181, 8077–8087 (2008).

Yanovsky, Y., Sergeeva, O.A., Freund, T.F. & Haas, H.L. Activation of interneurons at the stratum oriens/alveus border suppresses excitatory transmission to apical dendrites in the CA1 area of the mouse hippocampus. Neuroscience 77, 87–96 (1997).

Santarelli, L. et al. Requirement of hippocampal neurogenesis for the behavioral effects of antidepressants. Science 301, 805–809 (2003).

Kramar, C.P., Chefer, V.I., Wise, R.A., Medina, J.H. & Barbano, M.F. Dopamine in the dorsal hippocampus impairs the late consolidation of cocaine-associated memory. Neuropsychopharmacology 39, 1645–1653 (2014).

Papiris, S.A., Triantafillidou, C., Kolilekas, L., Markoulaki, D. & Manali, E.D. Amiodarone: review of pulmonary effects and toxicity. Drug Saf. 33, 539–558 (2010).

Anderson, N. & Borlak, J. Drug-induced phospholipidosis. FEBS Lett. 580, 5533–5540 (2006).

Mesens, N. et al. Phospholipidosis in rats treated with amiodarone: serum biochemistry and whole genome micro-array analysis supporting the lipid traffic jam hypothesis and the subsequent rise of the biomarker BMP. Toxicol. Pathol. 40, 491–503 (2012).

Shayman, J.A. & Abe, A. Drug induced phospholipidosis: an acquired lysosomal storage disorder. Biochim. Biophys. Acta 1831, 602–611 (2013).

Abe, A. & Shayman, J.A. The role of negatively charged lipids in lysosomal phospholipase A2 function. J. Lipid Res. 50, 2027–2035 (2009).

Jiang, H. et al. High-resolution sub-cellular imaging by correlative NanoSIMS and electron microscopy of amiodarone internalisation by lung macrophages as evidence for drug-induced phospholipidosis. Chem. Commun. (Camb.) 53, 1506–1509 (2017).

Lakhdar, A.A., Farish, E., Hillis, W.S. & Dunn, F.G. Long-term amiodarone therapy raises serum cholesterol. Eur. J. Clin. Pharmacol. 40, 477–480 (1991).

Zhang, D.S. et al. Multi-isotope imaging mass spectrometry reveals slow protein turnover in hair-cell stereocilia. Nature 481, 520–524 (2012).

Kraft, M.L., Weber, P.K., Longo, M.L., Hutcheon, I.D. & Boxer, S.G. Phase separation of lipid membranes analyzed with high-resolution secondary ion mass spectrometry. Science 313, 1948–1951 (2006).

Lovrić, J. et al. Nano secondary ion mass spectrometry imaging of dopamine distribution across nanometer vesicles. ACS Nano 11, 3446–3455 (2017).

Havelund, R. et al. Label-free imaging of biomolecules in murine brain sections using the 3D OrbiSIMS. Protocol Exchange doi:https://doi.org/10.1038/protex.2017.120 (2017).

Robinson, M.A., Graham, D.J. & Castner, D.G. ToF-SIMS depth profiling of cells: z-correction, 3D imaging, and sputter rate of individual NIH/3T3 fibroblasts. Anal. Chem. 84, 4880–4885 (2012).

Race, A.M. et al. SpectralAnalysis: software for the masses. Anal. Chem. 88, 9451–9458 (2016).
Acknowledgements
The authors thank N. Harrison, R. Reid, A. Harling and M. Skingle for their support during the project and T. Heller, M. Krehl, A. Dütting, P. Hörster, K. Strupat, S. Möhring, F. Czemper, A. Venckus, S. Kanngiesser, O. Lange and A. Kühn for excellent technical support. The authors also thank M. Tiddia for AFM measurement of frozen hydrated cell heights. This work forms part of the "3D nanoSIMS" project (ISG) in the Life-science and Health programme of the National Measurement System of the UK Department of Business, Energy and Industrial strategy. This work has received funding from the 3DMetChemIT project (ISG) of the EMPIR programme cofinanced by the Participating States and from the European Union's Horizon 2020 research and innovation programme.
Ethics declarations
Competing interests
EN is a director and shareholder of ION-TOF GmbH Muenster, Germany. AP, RM, FK, and HA are employees of ION-TOF GmbH. DG, SH and AM are employees of Thermo Fisher Scientific, the corporation that produces Orbitrap mass spectrometers. CN, PM, AW and CD (at the time of this study) are employees of GlaxoSmithKline.
Integrated supplementary information
Supplementary information
Supplementary Figures 1–15 and Supplementary Tables 1–9 (PDF 3454 kb)
Life Sciences Reporting Summary (PDF 160 kb)
Label-free Imaging of Biomolecules in Murine Brain Sections Using the 3D OrbiSIMS (PDF 682 kb)
About this article
Cite this article
Passarelli, M., Pirkl, A., Moellers, R. et al. The 3D OrbiSIMS—label-free metabolic imaging with subcellular lateral resolution and high mass-resolving power. Nat Methods 14, 1175–1183 (2017). https://doi.org/10.1038/nmeth.4504
Received:

Accepted:

Published:

Issue Date:

DOI: https://doi.org/10.1038/nmeth.4504