Abstract
The identification of genomic variants in healthy and diseased individuals continues to rapidly outpace our ability to functionally annotate these variants. Techniques that both systematically assay the functional consequences of nucleotide-resolution variation and can scale to hundreds of genes are urgently required. We designed a sensitive yeast two-hybrid-based 'off switch' for positive selection of interaction-disruptive variants from complex genetic libraries. Combined with massively parallel programmed mutagenesis and a sequencing readout, this method enables systematic profiling of protein-interaction determinants at amino-acid resolution. We defined >1,000 interaction-disrupting amino acid mutations across eight subunits of the BBSome, the major human cilia protein complex associated with the pleiotropic genetic disorder Bardet–Biedl syndrome. These high-resolution interaction-perturbation profiles provide a framework for interpreting patient-derived mutations across the entire protein complex and thus highlight how the impact of disease variation on interactome networks can be systematically assessed.
Access options
Subscribe to Journal
Get full journal access for 1 year
$259.00
only $21.58 per issue
All prices are NET prices.
VAT will be added later in the checkout.
Rent or Buy article
Get time limited or full article access on ReadCube.
from$8.99
All prices are NET prices.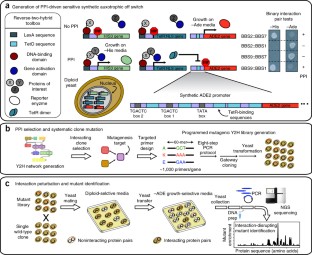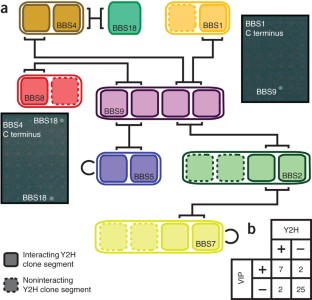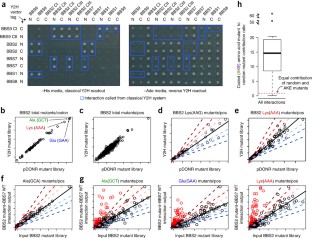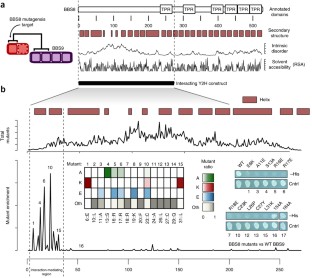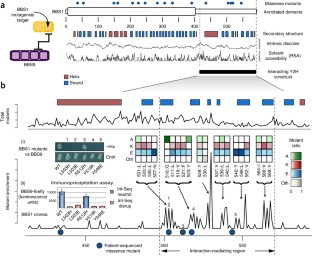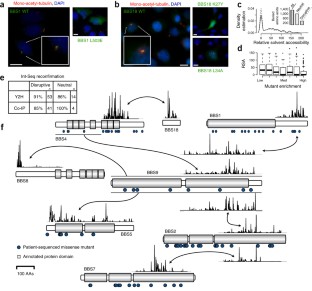 Accession codes
Primary accessions
BioProject
References
1

Kircher, M. et al. A general framework for estimating the relative pathogenicity of human genetic variants. Nat. Genet. 46, 310–315 (2014).

2

Creixell, P. et al. Pathway and network analysis of cancer genomes. Nat. Methods 12, 615–621 (2015).

3

Woodsmith, J. & Stelzl, U. Studying post-translational modifications with protein interaction networks. Curr. Opin. Struct. Biol. 24, 34–44 (2014).

4

Sahni, N. et al. Widespread macromolecular interaction perturbations in human genetic disorders. Cell 161, 647–660 (2015).

5

Wei, X. et al. A massively parallel pipeline to clone DNA variants and examine molecular phenotypes of human disease mutations. PLoS Genet. 10, e1004819 (2014).

6

Kitzman, J.O., Starita, L.M., Lo, R.S., Fields, S. & Shendure, J. Massively parallel single-amino-acid mutagenesis. Nat. Methods 12, 203–206 (2015).

7

Wrenbeck, E.E. et al. Plasmid-based one-pot saturation mutagenesis. Nat. Methods 13, 928–930 (2016).

8

Nachury, M.V. et al. A core complex of BBS proteins cooperates with the GTPase Rab8 to promote ciliary membrane biogenesis. Cell 129, 1201–1213 (2007).

9

Malicki, J.J. & Johnson, C.A. The cilium: cellular antenna and central processing unit. Trends Cell Biol. 27, 126–140 (2017).

10

Nachury, M.V., Seeley, E.S. & Jin, H. Trafficking to the ciliary membrane: how to get across the periciliary diffusion barrier? Annu. Rev. Cell Dev. Biol. 26, 59–87 (2010).

11

Shih, H.M. et al. A positive genetic selection for disrupting protein–protein interactions: identification of CREB mutations that prevent association with the coactivator CBP. Proc. Natl. Acad. Sci. USA 93, 13896–13901 (1996).

12

Ear, P.H. & Michnick, S.W. A general life-death selection strategy for dissecting protein functions. Nat. Methods 6, 813–816 (2009).

13

Vidal, M., Braun, P., Chen, E., Boeke, J.D. & Harlow, E. Genetic characterization of a mammalian protein–protein interaction domain by using a yeast reverse two-hybrid system. Proc. Natl. Acad. Sci. USA 93, 10321–10326 (1996).

14

Gronemeyer, T. et al. A split-ubiquitin based strategy selecting for protein complex-interfering mutations. G3 (Bethesda) 6, 2809–2815 (2016).

15

Gedvilaite, A. & Sasnauskas, K. Control of the expression of the ADE2 gene of the yeast Saccharomyces cerevisiae. Curr. Genet. 25, 475–479 (1994).

16

Worseck, J.M., Grossmann, A., Weimann, M., Hegele, A. & Stelzl, U. A stringent yeast two-hybrid matrix screening approach for protein-protein interaction discovery. Methods Mol. Biol. 812, 63–87 (2012).

17

Weimann, M. et al. A Y2H-seq approach defines the human protein methyltransferase interactome. Nat. Methods 10, 339–342 (2013).

18

Zhang, Q., Yu, D., Seo, S., Stone, E.M. & Sheffield, V.C. Intrinsic protein-protein interaction-mediated and chaperonin-assisted sequential assembly of stable bardet-biedl syndrome protein complex, the BBSome. J. Biol. Chem. 287, 20625–20635 (2012).

19

Mourão, A., Nager, A.R., Nachury, M.V. & Lorentzen, E. Structural basis for membrane targeting of the BBSome by ARL6. Nat. Struct. Mol. Biol. 21, 1035–1041 (2014).

20

Katoh, Y., Nozaki, S., Hartanto, D., Miyano, R. & Nakayama, K. Architectures of multisubunit complexes revealed by a visible immunoprecipitation assay using fluorescent fusion proteins. J. Cell Sci. 128, 2351–2362 (2015).

21

Boersma, M.D., Sadowsky, J.D., Tomita, Y.A. & Gellman, S.H. Hydrophile scanning as a complement to alanine scanning for exploring and manipulating protein-protein recognition. Application to the Bim BH3 domain. Protein Sci. 17, 1232–1240 (2008).

22

Chen, J. et al. Molecular analysis of Bardet–Biedl syndrome families: report of 21 novel mutations in 10 genes. Invest. Ophthalmol. Vis. Sci. 52, 5317–5324 (2011).

23

Beales, P.L. et al. Genetic interaction of BBS1 mutations with alleles at other BBS loci can result in non-Mendelian Bardet-Biedl syndrome. Am. J. Hum. Genet. 72, 1187–1199 (2003).

24

Hegele, A. et al. Dynamic protein-protein interaction wiring of the human spliceosome. Mol. Cell 45, 567–580 (2012).

25

Liew, G.M. et al. The intraflagellar transport protein IFT27 promotes BBSome exit from cilia through the GTPase ARL6/BBS3. Dev. Cell 31, 265–278 (2014).

26

Starita, L.M. et al. Massively parallel functional analysis of BRCA1 RING domain variants. Genetics 200, 413–422 (2015).

27

Melamed, D., Young, D.L., Miller, C.R. & Fields, S. Combining natural sequence variation with high throughput mutational data to reveal protein interaction sites. PLoS Genet. 11, e1004918 (2015).

28

Araya, C.L. et al. A fundamental protein property, thermodynamic stability, revealed solely from large-scale measurements of protein function. Proc. Natl. Acad. Sci. USA 109, 16858–16863 (2012).

29

Aakre, C.D. et al. Evolving new protein-protein interaction specificity through promiscuous intermediates. Cell 163, 594–606 (2015).

30

Raman, A.S., White, K.I. & Ranganathan, R. Origins of allostery and evolvability in proteins: a case study. Cell 166, 468–480 (2016).

31

Melamed, D., Young, D.L., Gamble, C.E., Miller, C.R. & Fields, S. Deep mutational scanning of an RRM domain of the Saccharomyces cerevisiae poly(A)-binding protein. RNA 19, 1537–1551 (2013).

32

Majithia, A.R. et al. Prospective functional classification of all possible missense variants in PPARG. Nat. Genet. 48, 1570–1575 (2016).

33

Trigg, S.A. et al. CrY2H-seq: a massively multiplexed assay for deep-coverage interactome mapping. Nat. Methods 14, 819–825 (2017).

34

Wang, X. et al. Three-dimensional reconstruction of protein networks provides insight into human genetic disease. Nat. Biotechnol. 30, 159–164 (2012).

35

Mosca, R. et al. dSysMap: exploring the edgetic role of disease mutations. Nat. Methods 12, 167–168 (2015).

36

Creixell, P. et al. Unmasking determinants of specificity in the human kinome. Cell 163, 187–201 (2015).

37

Perica, T. et al. Evolution of oligomeric state through allosteric pathways that mimic ligand binding. Science 346, 1254346 (2014).

38

Babu, M.M. The contribution of intrinsically disordered regions to protein function, cellular complexity, and human disease. Biochem. Soc. Trans. 44, 1185–1200 (2016).

39

Boycott, K.M., Vanstone, M.R., Bulman, D.E. & MacKenzie, A.E. Rare-disease genetics in the era of next-generation sequencing: discovery to translation. Nat. Rev. Genet. 14, 681–691 (2013).

40

Abu-Safieh, L. et al. In search of triallelism in Bardet––Biedl syndrome. Eur. J. Hum. Genet. 20, 420–427 (2012).

41

Davis, E.E. et al. TTC21B contributes both causal and modifying alleles across the ciliopathy spectrum. Nat. Genet. 43, 189–196 (2011).

42

Zhang, Y. et al. BBS mutations modify phenotypic expression of CEP290-related ciliopathies. Hum. Mol. Genet. 23, 40–51 (2014).

43

Lehner, B. Genotype to phenotype: lessons from model organisms for human genetics. Nat. Rev. Genet. 14, 168–178 (2013).

44

Apelt, L. et al. Systematic protein-protein interaction analysis reveals intersubcomplex contacts in the nuclear pore complex. Mol. Cell Proteomics 15, 2594–2606 (2016).

45

Murphy, K.F., Balázsi, G. & Collins, J.J. Combinatorial promoter design for engineering noisy gene expression. Proc. Natl. Acad. Sci. USA 104, 12726–12731 (2007).

46

Voth, W.P., Richards, J.D., Shaw, J.M. & Stillman, D.J. Yeast vectors for integration at the HO locus. Nucleic Acids Res. 29, E59 (2001).

47

Zhong, Q. et al. Edgetic perturbation models of human inherited disorders. Mol. Syst. Biol. 5, 321 (2009).

48

Woodsmith, J., Apelt, L., Casado-Medrano, V., Özkan, Z., Timmermann, B. & Stelzl, U. Protocol Exchange https://doi.org/10.1038/protex.2017.110.

49

Rumble, S.M. et al. SHRiMP: accurate mapping of short color-space reads. PLoS Comput. Biol. 5, e1000386 (2009).
Acknowledgements
We thank T. Schwartz and K. Knockenhauer (MIT, Boston) for providing cDNA fragments of BBsome subunits. We also thank members of the Sequencing Core Facility at the Max-Planck Institute for Molecular Genetics for technical assistance. The work was supported by the Max-Planck Society and the University of Graz.
Ethics declarations
Competing interests
The authors declare no competing financial interests.
Integrated supplementary information
Supplementary information
About this article
Cite this article
Woodsmith, J., Apelt, L., Casado-Medrano, V. et al. Protein interaction perturbation profiling at amino-acid resolution. Nat Methods 14, 1213–1221 (2017). https://doi.org/10.1038/nmeth.4464
Received:

Accepted:

Published:

Issue Date: