Abstract
Gene expression profiling by high-throughput sequencing reveals qualitative and quantitative changes in RNA species at steady state but obscures the intracellular dynamics of RNA transcription, processing and decay. We developed thiol(SH)-linked alkylation for the metabolic sequencing of RNA (SLAM seq), an orthogonal-chemistry-based RNA sequencing technology that detects 4-thiouridine (s4U) incorporation in RNA species at single-nucleotide resolution. In combination with well-established metabolic RNA labeling protocols and coupled to standard, low-input, high-throughput RNA sequencing methods, SLAM seq enabled rapid access to RNA-polymerase-II-dependent gene expression dynamics in the context of total RNA. We validated the method in mouse embryonic stem cells by showing that the RNA-polymerase-II-dependent transcriptional output scaled with Oct4/Sox2/Nanog-defined enhancer activity, and we provide quantitative and mechanistic evidence for transcript-specific RNA turnover mediated by post-transcriptional gene regulatory pathways initiated by microRNAs and N6-methyladenosine. SLAM seq facilitates the dissection of fundamental mechanisms that control gene expression in an accessible, cost-effective and scalable manner.
Relevant articles
Open Access articles citing this article.
Cornelia Rücklé

,

Nadine Körtel

…

Julian König

Nature Structural & Molecular Biology Open Access 18 May 2023

Hua Wang

,

Zheng Fan

…

Kristian Helin

Nature Open Access 01 March 2023

Bingnan Li

,

Patrice Zeis

…

Vicent Pelechano

Nature Communications Open Access 17 February 2023
Access options
Access Nature and 54 other Nature Portfolio journals
Get Nature+, our best-value online-access subscription
$29.99 / 30 days
cancel any time
Subscribe to this journal
Receive 12 print issues and online access
$209.00 per year
only $17.42 per issue
Rent or buy this article
Get just this article for as long as you need it
$39.95
Prices may be subject to local taxes which are calculated during checkout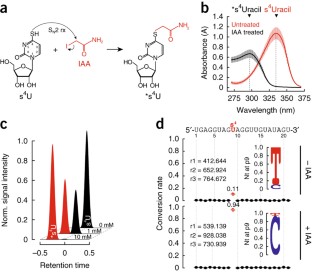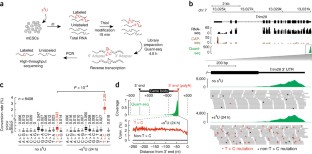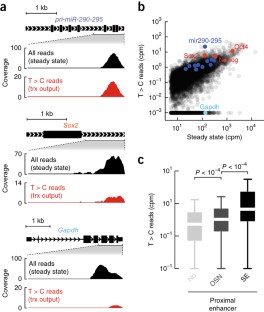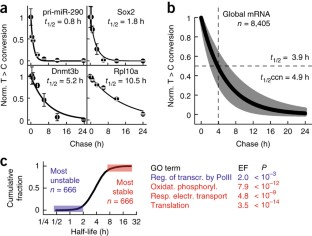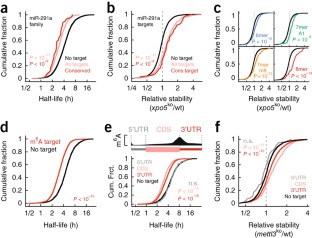 Accession codes
Primary accessions
Gene Expression Omnibus
References
Schwanhäusser, B. et al. Global quantification of mammalian gene expression control. Nature 473, 337–342 (2011).

Rabani, M. et al. High-resolution sequencing and modeling identifies distinct dynamic RNA regulatory strategies. Cell 159, 1698–1710 (2014).

Yao, S.Y.M., Ng, A.M.L., Cass, C.E., Baldwin, S.A. & Young, J.D. Nucleobase transport by human equilibrative nucleoside transporter 1 (hENT1). J. Biol. Chem. 286, 32552–32562 (2011).

Cleary, M.D., Meiering, C.D., Jan, E., Guymon, R. & Boothroyd, J.C. Biosynthetic labeling of RNA with uracil phosphoribosyltransferase allows cell-specific microarray analysis of mRNA synthesis and decay. Nat. Biotechnol. 23, 232–237 (2005).

Dölken, L. et al. High-resolution gene expression profiling for simultaneous kinetic parameter analysis of RNA synthesis and decay. RNA 14, 1959–1972 (2008).

Miller, C. et al. Dynamic transcriptome analysis measures rates of mRNA synthesis and decay in yeast. Mol. Syst. Biol. 7, 458 (2011).

Duffy, E.E. et al. Tracking distinct RNA populations using efficient and reversible covalent chemistry. Mol. Cell 59, 858–866 (2015).

Schwalb, B. et al. TT-seq maps the human transient transcriptome. Science 352, 1225–1228 (2016).

Miller, M.R., Robinson, K.J., Cleary, M.D. & Doe, C.Q. TU-tagging: cell-type-specific RNA isolation from intact complex tissues. Nat. Methods 6, 439–441 (2009).

Rabani, M. et al. Metabolic labeling of RNA uncovers principles of RNA production and degradation dynamics in mammalian cells. Nat. Biotechnol. 29, 436–442 (2011).

Gay, L. et al. Mouse TU tagging: a chemical/genetic intersectional method for purifying cell-type-specific nascent RNA. Genes Dev. 27, 98–115 (2013).

Sun, M. et al. Comparative dynamic transcriptome analysis (cDTA) reveals mutual feedback between mRNA synthesis and degradation. Genome Res. 22, 1350–1359 (2012).

Li, X., Xiong, X. & Yi, C. Epitranscriptome sequencing technologies: decoding RNA modifications. Nat. Methods 14, 23–31 (2016).

Heiss, M. & Kellner, S. Detection of nucleic acid modifications by chemical reagents. RNA Biol. 0, 1–9 (2016).

Shugart, L. Effect of selective chemical modification of 4-thiouridine of phenylalanine transfer ribonucleic acid on enzyme recognition. Arch. Biochem. Biophys. 148, 488–495 (1972).

Ong, C.-T. & Corces, V.G. Enhancer function: new insights into the regulation of tissue-specific gene expression. Nat. Rev. Genet. 12, 283–293 (2011).

Young, R.A. Control of the embryonic stem cell state. Cell 144, 940–954 (2011).

Whyte, W.A. et al. Master transcription factors and mediator establish super-enhancers at key cell identity genes. Cell 153, 307–319 (2013).

Pott, S. & Lieb, J.D. What are super-enhancers? Nat. Genet. 47, 8–12 (2015).

Min, I.M. et al. Regulating RNA polymerase pausing and transcription elongation in embryonic stem cells. Genes Dev. 25, 742–754 (2011).

Tani, H. & Akimitsu, N. Genome-wide technology for determining RNA stability in mammalian cells: historical perspective and recent advantages based on modified nucleotide labeling. RNA Biol. 9, 1233–1238 (2012).

Bartel, D.P. MicroRNAs: target recognition and regulatory functions. Cell 136, 215–233 (2009).

Huntzinger, E. & Izaurralde, E. Gene silencing by microRNAs: contributions of translational repression and mRNA decay. Nat. Rev. Genet. 12, 99–110 (2011).

Ameres, S.L. & Zamore, P.D. Diversifying microRNA sequence and function. Nat. Rev. Mol. Cell Biol. 14, 475–488 (2013).

Mullokandov, G. et al. High-throughput assessment of microRNA activity and function using microRNA sensor and decoy libraries. Nat. Methods 9, 840–846 (2012).

Meyer, K.D. & Jaffrey, S.R. The dynamic epitranscriptome: N6-methyladenosine and gene expression control. Nat. Rev. Mol. Cell Biol. 15, 313–326 (2014).

Yue, Y., Liu, J. & He, C. RNA N6-methyladenosine methylation in post-transcriptional gene expression regulation. Genes Dev. 29, 1343–1355 (2015).

Batista, P.J. et al. m(6)A RNA modification controls cell fate transition in mammalian embryonic stem cells. Cell Stem Cell 15, 707–719 (2014).

Geula, S. et al. Stem cells. m6A mRNA methylation facilitates resolution of naïve pluripotency toward differentiation. Science 347, 1002–1006 (2015).

Fu, Y., Dominissini, D., Rechavi, G. & He, C. Gene expression regulation mediated through reversible m6A RNA methylation. Nat. Rev. Genet. 15, 293–306 (2014).

Wang, X. et al. Structural basis of N(6)-adenosine methylation by the METTL3-METTL14 complex. Nature 534, 575–578 (2016).

Ke, S. et al. m(6)A mRNA modifications are deposited in nascent pre-mRNA and are not required for splicing but do specify cytoplasmic turnover. Genes Dev. 31, 990–1006 (2017).

Limbach, P.A., Crain, P.F. & McCloskey, J.A. Summary: the modified nucleosides of RNA. Nucleic Acids Res. 22, 2183–2196 (1994).

Burger, K. et al. 4-thiouridine inhibits rRNA synthesis and causes a nucleolar stress response. RNA Biol. 10, 1623–1630 (2013).

Hafner, M. et al. Transcriptome-wide identification of RNA-binding protein and microRNA target sites by PAR-CLIP. Cell 141, 129–141 (2010).

Herzog, V.A et al. Thiol-linked alkylation for the metabolic sequencing of RNA (SLAMseq). Protoc. Exch. https://doi.org/10.1038/protex.2017.105 (2017).

Spitzer, J. et al. PAR-CLIP (photoactivatable ribonucleoside-enhanced crosslinking and immunoprecipitation): a step-by-step protocol to the transcriptome-wide identification of binding sites of RNA-binding proteins. Methods Enzymol. 539, 113–161 (2014).

Nilsen, T.W. RNA sequencing by primer extension. Cold Spring Harb. Protoc. 2013, 1182–1185 (2013).

Elling, U. et al. Forward and reverse genetics through derivation of haploid mouse embryonic stem cells. Cell Stem Cell 9, 563–574 (2011).

Mohn, F., Sienski, G., Handler, D. & Brennecke, J. The rhino-deadlock-cutoff complex licenses noncanonical transcription of dual-strand piRNA clusters in Drosophila. Cell 157, 1364–1379 (2014).

Reimão-Pinto, M.M. et al. Uridylation of RNA hairpins by tailor confines the emergence of microRNAs in Drosophila. Mol. Cell 59, 203–216 (2015).

Hodgkins, A. et al. WGE: a CRISPR database for genome engineering. Bioinformatics 31, 3078–3080 (2015).

Sanjana, N.E., Shalem, O. & Zhang, F. Improved vectors and genome-wide libraries for CRISPR screening. Nat. Methods 11, 783–784 (2014).

Han, B.W., Hung, J.-H., Weng, Z., Zamore, P.D. & Ameres, S.L. The 3′-to-5′ exoribonuclease Nibbler shapes the 3′ ends of microRNAs bound to Drosophila Argonaute1. Curr. Biol. 21, 1878–1887 (2011).

Dobin, A. et al. STAR: ultrafast universal RNA-seq aligner. Bioinformatics 29, 15–21 (2013).

Liao, Y., Smyth, G.K. & Shi, W. featureCounts: an efficient general purpose program for assigning sequence reads to genomic features. Bioinformatics 30, 923–930 (2014).

Li, H. & Durbin, R. Fast and accurate short read alignment with Burrows-Wheeler transform. Bioinformatics 25, 1754–1760 (2009).

Trapnell, C., Pachter, L. & Salzberg, S.L. TopHat: discovering splice junctions with RNA-Seq. Bioinformatics 25, 1105–1111 (2009).

Sedlazeck, F.J., Rescheneder, P. & von Haeseler, A. NextGenMap: fast and accurate read mapping in highly polymorphic genomes. Bioinformatics 29, 2790–2791 (2013).

Koboldt, D.C. et al. VarScan 2: somatic mutation and copy number alteration discovery in cancer by exome sequencing. Genome Res. 22, 568–576 (2012).

Quinlan, A.R. BEDTools: The swiss-army tool for genome feature analysis 27, 11.12.1–11.12.34 (John Wiley & Sons, 2002).

Ramírez, F. et al. deepTools2: a next generation web server for deep-sequencing data analysis. Nucleic Acids Res. 44, W1, W160 (2016).

Thomas, P.D. et al. PANTHER: a library of protein families and subfamilies indexed by function. Genome Res. 13, 2129–2141 (2003).

Carbon, S. et al. AmiGO: online access to ontology and annotation data. Bioinformatics 25, 288–289 (2009).

Subramanian, A. et al. Gene set enrichment analysis: a knowledge-based approach for interpreting genome-wide expression profiles. Proc. Natl. Acad. Sci. USA 102, 15545–15550 (2005).

Mootha, V.K. et al. PGC-1alpha-responsive genes involved in oxidative phosphorylation are coordinately downregulated in human diabetes. Nat. Genet. 34, 267–273 (2003).

Friedman, R.C., Farh, K.K.-H., Burge, C.B. & Bartel, D.P. Most mammalian mRNAs are conserved targets of microRNAs. Genome Res. 19, 92–105 (2009).
Acknowledgements
We thank J. Jude (Research Institute of Molecular Pathology, IMP) for generously providing a modified version of pLenti-CRISPR-v2-GFP, G. Krssakova and K. Mechtler (IMP, Vienna) for high-performance liquid chromatography analysis, IMP/Institute of Molecular Biotechnology (IMBA) Biooptics facility for FACS support, and all laboratory members for support and discussions. Mass spectrometry was performed at the Vienna Biocenter Core Facilities (VBCF) Metabolomics unit (http://www.vbcf.ac.at), funded by the City of Vienna through the Vienna Business Agency. High-throughput sequencing was performed at the VBCF NGS Unit (http://www.vbcf.ac.at). This work was supported by grants from the European Research Council to S.L.A. (ERC-StG-338252) and J.Z. (ERC-StG-336860) and the Austrian Science Fund to S.L.A (Y-733-B22 START, W-1207-B09 and SFB F43-22) and A.v.H. (W-1207-B09). The IMP is generously supported by Boehringer Ingelheim.
Ethics declarations
Competing interests
V.A.H., B.R. and S.L.A. declare competing financial interest. A patent application related to this work has been filed.
Integrated supplementary information
Supplementary information
About this article
Cite this article
Herzog, V., Reichholf, B., Neumann, T. et al. Thiol-linked alkylation of RNA to assess expression dynamics. Nat Methods 14, 1198–1204 (2017). https://doi.org/10.1038/nmeth.4435
Received:

Accepted:

Published:

Issue Date:

DOI: https://doi.org/10.1038/nmeth.4435