Abstract
We present a tool that combines fast mapping, error correction, and de novo assembly (MECAT; accessible at https://github.com/xiaochuanle/MECAT) for processing single-molecule sequencing (SMS) reads. MECAT's computing efficiency is superior to that of current tools, while the results MECAT produces are comparable or improved. MECAT enables reference mapping or de novo assembly of large genomes using SMS reads on a single computer.
Access options
Subscribe to Journal
Get full journal access for 1 year
$119.00
only $9.92 per issue
All prices are NET prices.
VAT will be added later in the checkout.
Tax calculation will be finalised during checkout.
Rent or Buy article
Get time limited or full article access on ReadCube.
from$8.99
All prices are NET prices.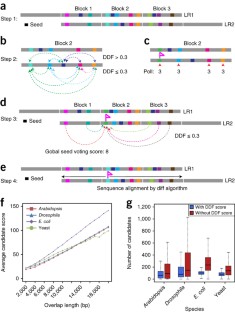 Accession codes
Primary accessions
Sequence Read Archive
References
1

Schadt, E.E., Turner, S. & Kasarskis, A. Hum. Mol. Genet. 19, R227–R240 (2010).

2

Eid, J. et al. Science 323, 133–138 (2009).

3

Chin, C.S. et al. Nat. Methods 10, 563–569 (2013).

4

Jain, M. et al. Nat. Methods 12, 351–356 (2015).

5

Sović, I. et al. Nat. Commun. 7, 11307 (2016).

6

Loman, N.J., Quick, J. & Simpson, J.T. Nat. Methods 12, 733–735 (2015).

7

Koren, S. et al. Nat. Biotechnol. 30, 693–700 (2012).

8

Seo, J.S. et al. Nature 538, 243–247 (2016).

9

Shi, L. et al. Nat. Commun. 7, 12065 (2016).

10

Gordon, D. et al. Science 352, aae0344 (2016).

11

Berlin, K. et al. Nat. Biotechnol. 33, 623–630 (2015).

12

Chin, C.S. et al. Nat. Methods 13, 1050–1054 (2016).

13

Koch, P., Platzer, M. & Downie, B.R. Nucleic Acids Res. 42, e80 (2014).

14

Koren, S., Walenz, B.P., Berlin, K., Miller, J.R. & Phillippy, A.M. Genome Res. 27, 722–736 (2017).

15

Chaisson, M.J. & Tesler, G. BMC Bioinformatics 13, 238 (2012).

16

Myers, E.W. Algorithmica 1, 251–266 (1986).

17

Myers, G. Algorithms in Bioinformatics, 52–67 (2014).

18

Li, H. Preprint at https://arxiv.org/abs/1303.3997 (2013).

19

Langmead, B. & Salzberg, S.L. Nat. Methods 9, 357–359 (2012).
Acknowledgements
We thank D.P. Wang for supplying the Chinese human data set. We thank the NCBI assembly group for the Han-1 Chinese annotation. This work was collectively supported by the National Natural Science Foundation of China (31471232, 31471789 and 31600667), the Fundamental Research Funds for the Central Universities (15ykjc23d), the Guangdong Natural Science Foundation (2015A030313127), the Joint Research Fund for the Overseas Natural Science of China (3030901001222), infrastructure support from Center for Precision Medicine (Sun Yat-sen University), China Postdoctoral Science Foundation (2017M612798), and the National Institute of Food and Agriculture (NIFA), USA (2017-70016-26051).
Ethics declarations
Competing interests
The authors declare no competing financial interests.
Supplementary information
About this article
Cite this article
Xiao, CL., Chen, Y., Xie, SQ. et al. MECAT: fast mapping, error correction, and de novo assembly for single-molecule sequencing reads. Nat Methods 14, 1072–1074 (2017). https://doi.org/10.1038/nmeth.4432
Received:

Accepted:

Published:

Issue Date: