Abstract
Förster resonance energy transfer (FRET)-based tension sensor modules (TSMs) are available for investigating how distinct proteins bear mechanical forces in cells. Yet, forces in the single piconewton (pN) regime remain difficult to resolve, and tools for multiplexed tension sensing are lacking. Here, we report the generation and calibration of a genetically encoded, FRET-based biosensor called FL-TSM, which is characterized by a near-digital force response and increased sensitivity at 3–5 pN. In addition, we present a method allowing the simultaneous evaluation of coexpressed tension sensor constructs using two-color fluorescence lifetime microscopy. Finally, we introduce a procedure to calculate the fraction of mechanically engaged molecules within cells. Application of these techniques to new talin biosensors reveals an intramolecular tension gradient across talin-1 that is established upon integrin-mediated cell adhesion. The tension gradient is actomyosin- and vinculin-dependent and sensitive to the rigidity of the extracellular environment.
This is a preview of subscription content
Access options
Subscribe to Journal
Get full journal access for 1 year
$119.00
only $9.92 per issue
All prices are NET prices.
VAT will be added later in the checkout.
Tax calculation will be finalised during checkout.
Rent or Buy article
Get time limited or full article access on ReadCube.
from$8.99
All prices are NET prices.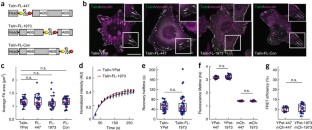 References
1

Petridou, N.I., Spiró, Z. & Heisenberg, C.P. Multiscale force sensing in development. Nat. Cell Biol. 19, 581–588 (2017).

2

Vogel, V. & Sheetz, M. Local force and geometry sensing regulate cell functions. Nat. Rev. Mol. Cell Biol. 7, 265–275 (2006).

3

Gordon, W.R. et al. Mechanical allostery: evidence for a force requirement in the proteolytic activation of notch. Dev. Cell 33, 729–736 (2015).

4

Rognoni, L., Stigler, J., Pelz, B., Ylänne, J. & Rief, M. Dynamic force sensing of filamin revealed in single-molecule experiments. Proc. Natl. Acad. Sci. USA 109, 19679–19684 (2012).

5

del Rio, A. et al. Stretching single talin rod molecules activates vinculin binding. Science 323, 638–641 (2009).

6

Buckley, C.D. et al. Cell adhesion. The minimal cadherin-catenin complex binds to actin filaments under force. Science 346, 1254211 (2014).

7

Finer, J.T., Simmons, R.M. & Spudich, J.A. Single myosin molecule mechanics: piconewton forces and nanometre steps. Nature 368, 113–119 (1994).

8

Grashoff, C. et al. Measuring mechanical tension across vinculin reveals regulation of focal adhesion dynamics. Nature 466, 263–266 (2010).

9

Austen, K. et al. Extracellular rigidity sensing by talin isoform-specific mechanical linkages. Nat. Cell Biol. 17, 1597–1606 (2015).

10

Wang, X. & Ha, T. Defining single molecular forces required to activate integrin and notch signaling. Science 340, 991–994 (2013).

11

Zhang, Y., Ge, C., Zhu, C. & Salaita, K. DNA-based digital tension probes reveal integrin forces during early cell adhesion. Nat. Commun. 5, 5167 (2014).

12

Morimatsu, M., Mekhdjian, A.H., Chang, A.C., Tan, S.J. & Dunn, A.R. Visualizing the interior architecture of focal adhesions with high-resolution traction maps. Nano Lett. 15, 2220–2228 (2015).

13

Freikamp, A., Cost, A.L. & Grashoff, C. The piconewton force awakens: quantifying mechanics in cells. Trends Cell Biol. 26, 838–847 (2016).

14

Borghi, N. et al. E-cadherin is under constitutive actomyosin-generated tension that is increased at cell–cell contacts upon externally applied stretch. Proc. Natl. Acad. Sci. USA 109, 12568–12573 (2012).

15

Chang, C.W. & Kumar, S. Vinculin tension distributions of individual stress fibers within cell–matrix adhesions. J. Cell Sci. 126, 3021–3030 (2013).

16

Krieg, M., Dunn, A.R. & Goodman, M.B. Mechanical control of the sense of touch by β-spectrin. Nat. Cell Biol. 16, 224–233 (2014).

17

Paszek, M.J. et al. The cancer glycocalyx mechanically primes integrin-mediated growth and survival. Nature 511, 319–325 (2014).

18

Hernández-Varas, P., Berge, U., Lock, J.G. & Strömblad, S. A plastic relationship between vinculin-mediated tension and adhesion complex area defines adhesion size and lifetime. Nat. Commun. 6, 7524 (2015).

19

Sun, Z., Guo, S.S. & Fässler, R. Integrin-mediated mechanotransduction. J. Cell Biol. 215, 445–456 (2016).

20

Fang, J. et al. Forced protein unfolding leads to highly elastic and tough protein hydrogels. Nat. Commun. 4, 2974 (2013).

21

Dietz, H. & Rief, M. Exploring the energy landscape of GFP by single-molecule mechanical experiments. Proc. Natl. Acad. Sci. USA 101, 16192–16197 (2004).

22

Critchley, D.R. Biochemical and structural properties of the integrin-associated cytoskeletal protein talin. Annu. Rev. Biophys. 38, 235–254 (2009).

23

Calderwood, D.A., Campbell, I.D. & Critchley, D.R. Talins and kindlins: partners in integrin-mediated adhesion. Nat. Rev. Mol. Cell Biol. 14, 503–517 (2013).

24

Mehlich, A., Austen, K., Ringer, P., Rief, M. & Grashoff, C. Evaluation of molecular tension sensors using single-molecule force spectroscopy and live cell FRET imaging. Protocol Exchange http://dx.doi.org/10.1038/protex.2015.095 (2015).

25

Geiger, B., Spatz, J.P. & Bershadsky, A.D. Environmental sensing through focal adhesions. Nat. Rev. Mol. Cell Biol. 10, 21–33 (2009).

26

Atherton, P. et al. Vinculin controls talin engagement with the actomyosin machinery. Nat. Commun. 6, 10038 (2015).

27

Demeautis, C. et al. Multiplexing PKA and ERK1&2 kinases FRET biosensors in living cells using single excitation wavelength dual colour FLIM. Sci. Rep. 7, 41026 (2017).

28

Murakoshi, H., Shibata, A.C.E., Nakahata, Y. & Nabekura, J. A dark green fluorescent protein as an acceptor for measurement of Förster resonance energy transfer. Sci. Rep. 5, 15334 (2015).

29

Shcherbakova, D.M., Hink, M.A., Joosen, L., Gadella, T.W.J. & Verkhusha, V.V. An orange fluorescent protein with a large Stokes shift for single-excitation multicolor FCCS and FRET imaging. J. Am. Chem. Soc. 134, 7913–7923 (2012).

30

Yao, M. et al. The mechanical response of talin. Nat. Commun. 7, 11966 (2016).

31

Haining, A.W.M., von Essen, M., Attwood, S.J., Hytönen, V.P. & Del Río Hernández, A. All subdomains of the talin rod are mechanically vulnerable and may contribute to cellular mechanosensing. ACS Nano 10, 6648–6658 (2016).

32

Chan, C.E. & Odde, D.J. Traction dynamics of filopodia on compliant substrates. Science 322, 1687–1691 (2008).

33

Elosegui-Artola, A. et al. Mechanical regulation of a molecular clutch defines force transmission and transduction in response to matrix rigidity. Nat. Cell Biol. 18, 540–548 (2016).

34

Besser, A. & Safran, S.A. Force-induced adsorption and anisotropic growth of focal adhesions. Biophys. J. 90, 3469–3484 (2006).

35

Bouchet, B.P. et al. Talin-KANK1 interaction controls the recruitment of cortical microtubule stabilizing complexes to focal adhesions. eLife 5, e18124 (2016).

36

Sun, Z. et al. Kank2 activates talin, reduces force transduction across integrins and induces central adhesion formation. Nat. Cell Biol. 18, 941–953 (2016).

37

Austen, K., Kluger, C., Freikamp, A., Chrostek-Grashoff, A. & Grashoff, C. Generation and analysis of biosensors to measure mechanical forces within cells. Methods Mol. Biol. 1066, 169–184 (2013).

38

von Hansen, Y., Mehlich, A., Pelz, B., Rief, M. & Netz, R.R. Auto- and cross-power spectral analysis of dual trap optical tweezer experiments using Bayesian inference. Rev. Sci. Instrum. 83, 095116 (2012).

39

Tolic´-Nørrelykke, S.F. et al. Calibration of optical tweezers with positional detection in the back focal plane. Rev. Sci. Instrum. 77, 103101 (2006).

40

Moffitt, J.R., Chemla, Y.R., Izhaky, D. & Bustamante, C. Differential detection of dual traps improves the spatial resolution of optical tweezers. Proc. Natl. Acad. Sci. USA 103, 9006–9011 (2006).

41

Wang, M.D., Yin, H., Landick, R., Gelles, J. & Block, S.M. Stretching DNA with optical tweezers. Biophys. J. 72, 1335–1346 (1997).

42

Stigler, J., Ziegler, F., Gieseke, A., Gebhardt, J.C. & Rief, M. The complex folding network of single calmodulin molecules. Science 334, 512–516 (2011).

43

Würflinger, T., Gamper, I., Aach, T. & Sechi, A.S. Automated segmentation and tracking for large-scale analysis of focal adhesion dynamics. J. Microsc. 241, 37–53 (2011).

44

Sprague, B.L. & McNally, J.G. FRAP analysis of binding: proper and fitting. Trends Cell Biol. 15, 84–91 (2005).

45

Verveer, P.J., Squire, A. & Bastiaens, P.I. Global analysis of fluorescence lifetime imaging microscopy data. Biophys. J. 78, 2127–2137 (2000).

46

James, F. Statistical Methods in Experimental Physics 2nd edn. (World Scientific Publishing Co., 2006).
Acknowledgements
The authors thank R. Fässler (MPI of Biochemistry, Department of Molecular Medicine) for providing talin-deficient cells, C. Schweizer for help with programming, the MPIB core facility for technical support, and the Microscopy Rennes Imaging Centre (MRic), where multiplex FRET experiments were performed. C.G. is supported by the German Research Council (DFG, GR3399/5-1 and GR3399/6–1), the Collaborative Research Centre SFB863 (B9), and the Max Planck Förderstiftung. M.R. acknowledges support from the German Research Council through the Collaborative Research Centre SFB863 (A2), and M.T. acknowledges funding by the Ligue Régionale Contre le Cancer. A.F. was supported by the Boehringer Ingelheim Fonds.
Ethics declarations
Competing interests
The authors declare no competing financial interests.
Integrated supplementary information
Supplementary information
Supplementary Figures 1–13
Raw data and statistical information
About this article
Cite this article
Ringer, P., Weißl, A., Cost, AL. et al. Multiplexing molecular tension sensors reveals piconewton force gradient across talin-1. Nat Methods 14, 1090–1096 (2017). https://doi.org/10.1038/nmeth.4431
Received:

Accepted:

Published:

Issue Date: