Abstract
Standard animal behavior paradigms incompletely mimic nature and thus limit our understanding of behavior and brain function. Virtual reality (VR) can help, but it poses challenges. Typical VR systems require movement restrictions but disrupt sensorimotor experience, causing neuronal and behavioral alterations. We report the development of FreemoVR, a VR system for freely moving animals. We validate immersive VR for mice, flies, and zebrafish. FreemoVR allows instant, disruption-free environmental reconfigurations and interactions between real organisms and computer-controlled agents. Using the FreemoVR platform, we established a height-aversion assay in mice and studied visuomotor effects in Drosophila and zebrafish. Furthermore, by photorealistically mimicking zebrafish we discovered that effective social influence depends on a prospective leader balancing its internally preferred directional choice with social interaction. FreemoVR technology facilitates detailed investigations into neural function and behavior through the precise manipulation of sensorimotor feedback loops in unrestrained animals.
Your institute does not have access to this article
Relevant articles
Open Access articles citing this article.
Leon Bonde Larsen

,

Iris Adam

…

Coen P. H. Elemans

Scientific Reports Open Access 04 August 2022

Clare T. M. Doherty

&

Mark E. Laidre

Scientific Reports Open Access 07 May 2022

Diego Alonso San Alberto

,

Claire Rusch

…

Jeffrey A. Riffell

Nature Communications Open Access 04 February 2022
Access options
Subscribe to Nature+
Get immediate online access to the entire Nature family of 50+ journals
Subscribe to Journal
Get full journal access for 1 year
$119.00
only $9.92 per issue
All prices are NET prices.
VAT will be added later in the checkout.
Tax calculation will be finalised during checkout.
Buy article
Get time limited or full article access on ReadCube.
$32.00
All prices are NET prices.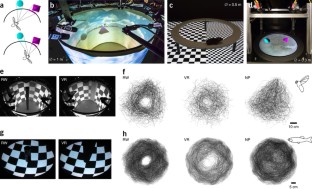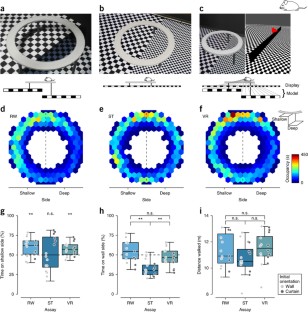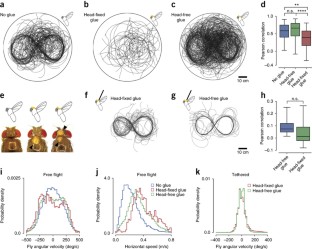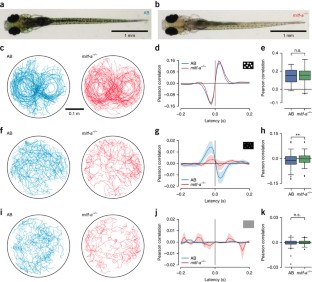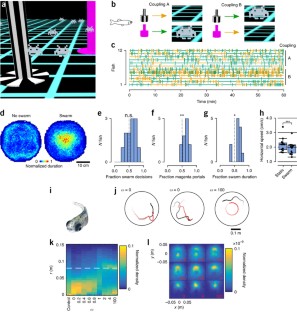 References
Aghajan, Z.M. et al. Impaired spatial selectivity and intact phase precession in two-dimensional virtual reality. Nat. Neurosci. 18, 121–128 (2015).

Chiappe, M.E., Seelig, J.D., Reiser, M.B. & Jayaraman, V. Walking modulates speed sensitivity in Drosophila motion vision. Curr. Biol. 20, 1470–1475 (2010).

von Holst, E. & Mittelstaedt, H. Das Reafferenzprinzip - Wechselwirkungen zwischen Zentralnervensystem und Peripherie. Naturwissenschaften 37, 464–476 (1950).

Jung, S.N., Borst, A. & Haag, J. Flight activity alters velocity tuning of fly motion-sensitive neurons. J. Neurosci. 31, 9231–9237 (2011).

Kim, A.J., Fitzgerald, J.K. & Maimon, G. Cellular evidence for efference copy in Drosophila visuomotor processing. Nat. Neurosci. 18, 1247–1255 (2015).

Leinweber, M. et al. Two-photon calcium imaging in mice navigating a virtual reality environment. J. Vis. Exp. 20, e50885 (2014).

Sperry, R.W. Neural basis of the spontaneous optokinetic response produced by visual inversion. J. Comp. Physiol. Psychol. 43, 482–489 (1950).

Ravassard, P. et al. Multisensory control of hippocampal spatiotemporal selectivity. Science 340, 1342–1346 (2013).

Acharya, L., Aghajan, Z.M., Vuong, C., Moore, J.J. & Mehta, M.R. Causal influence of visual cues on hippocampal directional selectivity. Cell 164, 197–207 (2016).

Harvey, C.D., Collman, F., Dombeck, D.A. & Tank, D.W. Intracellular dynamics of hippocampal place cells during virtual navigation. Nature 461, 941–946 (2009).

Schmidt-Hieber, C. & Häusser, M. Cellular mechanisms of spatial navigation in the medial entorhinal cortex. Nat. Neurosci. 16, 325–331 (2013).

Aronov, D. & Tank, D.W. Engagement of neural circuits underlying 2D spatial navigation in a rodent virtual reality system. Neuron 84, 442–456 (2014).

Sofroniew, N.J., Cohen, J.D., Lee, A.K. & Svoboda, K. Natural whisker-guided behavior by head-fixed mice in tactile virtual reality. J. Neurosci. 34, 9537–9550 (2014).

Hölscher, C., Schnee, A., Dahmen, H., Setia, L. & Mallot, H.A. Rats are able to navigate in virtual environments. J. Exp. Biol. 208, 561–569 (2005).

Dombeck, D.A., Harvey, C.D., Tian, L., Looger, L.L. & Tank, D.W. Functional imaging of hippocampal place cells at cellular resolution during virtual navigation. Nat. Neurosci. 13, 1433–1440 (2010).

Maimon, G., Straw, A.D. & Dickinson, M.H. Active flight increases the gain of visual motion processing in Drosophila. Nat. Neurosci. 13, 393–399 (2010).

Cushman, J.D. et al. Multisensory control of multimodal behavior: do the legs know what the tongue is doing? PLoS One 8, e80465 (2013).

Straw, A.D., Branson, K., Neumann, T.R. & Dickinson, M.H. Multi-camera real-time three-dimensional tracking of multiple flying animals. J. R. Soc. Interface 8, 395–409 (2011).

Fry, S.N., Rohrseitz, N., Straw, A.D. & Dickinson, M.H. Visual control of flight speed in Drosophila melanogaster. J. Exp. Biol. 212, 1120–1130 (2009).

Schuster, S., Strauss, R. & Götz, K.G. Virtual-reality techniques resolve the visual cues used by fruit flies to evaluate object distances. Curr. Biol. 12, 1591–1594 (2002).

Straw, A.D., Lee, S. & Dickinson, M.H. Visual control of altitude in flying Drosophila. Curr. Biol. 20, 1550–1556 (2010).

Stowers, J.R. et al. Reverse engineering animal vision with virtual reality and genetics. Computer 47, 38–45 (2014).

Del Grosso, N., Graboski, J., Chen, W., Blanco-Hernández, E. & Sirota, A. Virtual reality system for freely-moving rodents. Preprint at http://www.biorxiv.org/content/early/2017/07/10/161232 (2017).

Ellard, C.G., Goodale, M.A. & Timney, B. Distance estimation in the Mongolian gerbil: the role of dynamic depth cues. Behav. Brain Res. 14, 29–39 (1984).

Poggio, T. & Reichardt, W. A theory of the pattern induced flight orientation of the fly Musca domestica. Kybernetik 12, 185–203 (1973).

Duistermars, B.J., Care, R.A. & Frye, M.A. Binocular interactions underlying the classic optomotor responses of flying flies. Front. Behav. Neurosci. 6, 6 (2012).

Reiser, M.B. & Dickinson, M.H. Visual motion speed determines a behavioral switch from forward flight to expansion avoidance in Drosophila. J. Exp. Biol. 216, 719–732 (2013).

Kress, D. & Egelhaaf, M. Head and body stabilization in blowflies walking on differently structured substrates. J. Exp. Biol. 215, 1523–1532 (2012).

Schilstra, C. & Hateren, J.H. Blowfly flight and optic flow. I. Thorax kinematics and flight dynamics. J. Exp. Biol. 202, 1481–1490 (1999).

Lister, J.A., Robertson, C.P., Lepage, T., Johnson, S.L. & Raible, D.W. nacre encodes a zebrafish microphthalmia-related protein that regulates neural-crest-derived pigment cell fate. Development 126, 3757–3767 (1999).

Ahrens, M.B. et al. Brain-wide neuronal dynamics during motor adaptation in zebrafish. Nature 485, 471–477 (2012).

O'Malley, D.M. et al. Optical physiology and locomotor behaviors of wild-type and nacre zebrafish. Methods Cell Biol. 76, 261–284 (2004).

Antinucci, P. & Hindges, R. A crystal-clear zebrafish for in vivo imaging. Sci. Rep. 6, 29490 (2016).

Lange, M. et al. Inter-individual and inter-strain variations in zebrafish locomotor ontogeny. PLoS One 8, e70172 (2013).

Liu, Y. et al. Statistical analysis of zebrafish locomotor response. PLoS One 10, e0139521 (2015).

Barker, A.J. & Baier, H. Sensorimotor decision making in the zebrafish tectum. Curr. Biol. 25, 2804–2814 (2015).

Thibos, L.N., Still, D.L. & Bradley, A. Characterization of spatial aliasing and contrast sensitivity in peripheral vision. Vision Res. 36, 249–258 (1996).

Reynolds, C.W. Flocks, herds and schools: a distributed behavioral model. Computer Graphics 21, 25–34 (1987).

Couzin, I.D., Krause, J., Franks, N.R. & Levin, S.A. Effective leadership and decision-making in animal groups on the move. Nature 433, 513–516 (2005).

Couzin, I.D. et al. Uninformed individuals promote democratic consensus in animal groups. Science 334, 1578–1580 (2011).

Ioannou, C.C., Guttal, V. & Couzin, I.D. Predatory fish select for coordinated collective motion in virtual prey. Science 337, 1212–1215 (2012).

Naumann, E.A., Kampff, A.R., Prober, D.A., Schier, A.F. & Engert, F. Monitoring neural activity with bioluminescence during natural behavior. Nat. Neurosci. 13, 513–520 (2010).

Randlett, O. et al. Whole-brain activity mapping onto a zebrafish brain atlas. Nat. Methods 12, 1039–1046 (2015).

Szuts, T.A. et al. A wireless multi-channel neural amplifier for freely moving animals. Nat. Neurosci. 14, 263–269 (2011).

Ziv, Y. et al. Long-term dynamics of CA1 hippocampal place codes. Nat. Neurosci. 16, 264–266 (2013).

Bastien, R. et al. KymoRod: a method for automated kinematic analysis of rod-shaped plant organs. Plant J. 88, 468–475 (2016).

D'Azzo, J.J. Linear Control System Analysis and Design: Conventional and Modern (McGraw-Hill, 1995).

Fenk, L.M., Poehlmann, A. & Straw, A.D. Asymmetric processing of visual motion for simultaneous object and background responses. Curr. Biol. 24, 2913–2919 (2014).

Svoboda, T., Martinec, D. & Pajdla, T. A convenient multicamera self-calibration for virtual environments. PRESENCE Teleoperators Virtual Environ. 14, 407–422 (2005).
Acknowledgements
We thank M. Colombini, A. Fuhrmann, L. Fenk, E. Campione, S. Villalba, and the IMP/IMBA Workshop for help constructing FreemoVR hardware and software. We thank M. Dickinson and T. Klausberger for helpful discussions, V. Böhm for help with experiments, and the MFPL fish facility for fish care. The manual mouse behavior annotation was performed by the Preclinical Phenotyping Facility at Vienna Biocenter Core Facilities. This work was supported by European Research Council (ERC) starting grants 281884 to A.D.S., 311701 to W.H., 337011 to K.T.-R.; Wiener Wissenschafts-, Forschungs- und Technologiefonds (WWTF) grant CS2011-029 to A.D.S.; FWF (http://www.fwf.ac.at/) research project grants P28970 to K.T.-R. and P29077 to K.N.; NSF grants PHY-0848755 to I.D.C., IOS-1355061 to I.D.C., EAGER-IOS-1251585 to I.D.C.; ONR grants N00014-09-1-1074 to I.D.C., N00014-14-1-0635 to I.D.C; ARO grants W911NG-11-1-0385 to I.D.C., W911NF-14-1-0431 to I.D.C. A.D.S and W.H. were further supported by the IMP, Boehringer Ingelheim and the Austrian Research Promotion Agency (FFG). K.T.-R. is supported by grants from the University of Vienna (research platform "Rhythms of Life"). IDC acknowledges further support from the "Struktur- und Innovationsfonds für die Forschung (SI-BW)" of the State of Baden-Württemberg and from the Max Planck Society. I.D.C. and R.B. gratefully acknowledge fish care and technical support from C. Bauer, J. Weglarski, A. Bruttel, and G. Mazué.
Ethics declarations
Competing interests
J.R.S. and M.H. are executives with loopbio, gmbh, a company offering virtual reality services. The other authors declare no competing financial interests.
Integrated supplementary information
Supplementary information
About this article
Cite this article
Stowers, J., Hofbauer, M., Bastien, R. et al. Virtual reality for freely moving animals. Nat Methods 14, 995–1002 (2017). https://doi.org/10.1038/nmeth.4399
Received:

Accepted:

Published:

Issue Date:

DOI: https://doi.org/10.1038/nmeth.4399