Abstract
Light-field microscopy (LFM) is a scalable approach for volumetric Ca2+ imaging with high volumetric acquisition rates (up to 100 Hz). Although the technology has enabled whole-brain Ca2+ imaging in semi-transparent specimens, tissue scattering has limited its application in the rodent brain. We introduce seeded iterative demixing (SID), a computational source-extraction technique that extends LFM to the mammalian cortex. SID can capture neuronal dynamics in vivo within a volume of 900 × 900 × 260 μm located as deep as 380 μm in the mouse cortex or hippocampus at a 30-Hz volume rate while discriminating signals from neurons as close as 20 μm apart, at a computational cost three orders of magnitude less than that of frame-by-frame image reconstruction. We expect that the simplicity and scalability of LFM, coupled with the performance of SID, will open up a range of applications including closed-loop experiments.
This is a preview of subscription content
Access options
Subscribe to Nature+
Get immediate online access to the entire Nature family of 50+ journals
Subscribe to Journal
Get full journal access for 1 year
$119.00
only $9.92 per issue
All prices are NET prices.
VAT will be added later in the checkout.
Tax calculation will be finalised during checkout.
Buy article
Get time limited or full article access on ReadCube.
$32.00
All prices are NET prices.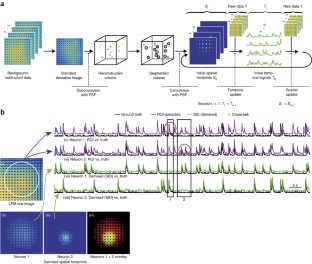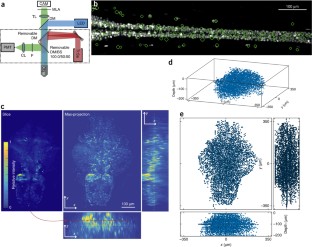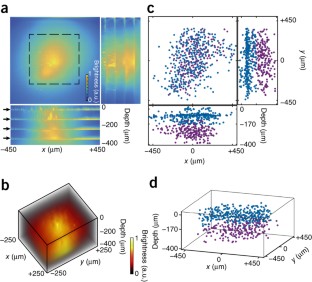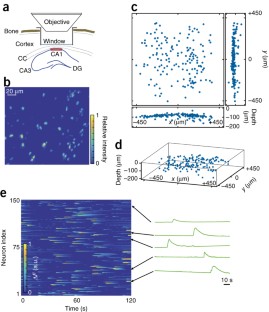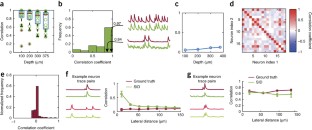 References
Chen, T.-W. et al. Ultrasensitive fluorescent proteins for imaging neuronal activity. Nature 499, 295–300 (2013).

Schrödel, T., Prevedel, R., Aumayr, K., Zimmer, M. & Vaziri, A. Brain-wide 3D imaging of neuronal activity in Caenorhabditis elegans with sculpted light. Nat. Methods 10, 1013–1020 (2013).

Nguyen, J.P. et al. Whole-brain calcium imaging with cellular resolution in freely behaving Caenorhabditis elegans. Proc. Natl. Acad. Sci. USA 113, E1074–E1081 (2016).

Prevedel, R. et al. Simultaneous whole-animal 3D imaging of neuronal activity using light-field microscopy. Nat. Methods 11, 727–730 (2014).

Ahrens, M.B., Orger, M.B., Robson, D.N., Li, J.M. & Keller, P.J. Whole-brain functional imaging at cellular resolution using light-sheet microscopy. Nat. Methods 10, 413–420 (2013).

Denk, W., Strickler, J.H. & Webb, W.W. Two-photon laser scanning fluorescence microscopy. Science 248, 73–76 (1990).

Ji, N., Freeman, J. & Smith, S.L. Technologies for imaging neural activity in large volumes. Nat. Neurosci. 19, 1154–1164 (2016).

Grewe, B.F., Langer, D., Kasper, H., Kampa, B.M. & Helmchen, F. High-speed in vivo calcium imaging reveals neuronal network activity with near-millisecond precision. Nat. Methods 7, 399–405 (2010).

Botcherby, E.J. et al. Aberration-free three-dimensional multiphoton imaging of neuronal activity at kHz rates. Proc. Natl. Acad. Sci. USA 109, 2919–2924 (2012).

Kirkby, P.A., Srinivas Nadella, K.M.N. & Silver, R.A. A compact acousto-optic lens for 2D and 3D femtosecond based 2-photon microscopy. Opt. Express 18, 13721–13745 (2010).

Kim, K.H. et al. Multifocal multiphoton microscopy based on multianode photomultiplier tubes. Opt. Express 15, 11658–11678 (2007).

Cheng, A., Gonçalves, J.T., Golshani, P., Arisaka, K. & Portera-Cailliau, C. Simultaneous two-photon calcium imaging at different depths with spatiotemporal multiplexing. Nat. Methods 8, 139–142 (2011).

Stirman, J.N., Smith, I.T., Kudenov, M.W. & Smith, S.L. Wide field-of-view, multi-region, two-photon imaging of neuronal activity in the mammalian brain. Nat. Biotechnol. 34, 857–862 (2016).

Yang, W. et al. Simultaneous multi-plane imaging of neural circuits. Neuron 89, 269–284 (2016).

Packer, A.M., Russell, L.E., Dalgleish, H.W.P. & Häusser, M. Simultaneous all-optical manipulation and recording of neural circuit activity with cellular resolution in vivo. Nat. Methods 12, 140–146 (2015).

Duemani Reddy, G., Kelleher, K., Fink, R. & Saggau, P. Three-dimensional random access multiphoton microscopy for functional imaging of neuronal activity. Nat. Neurosci. 11, 713–720 (2008).

Katona, G. et al. Fast two-photon in vivo imaging with three-dimensional random-access scanning in large tissue volumes. Nat. Methods 9, 201–208 (2012).

Fernández-Alfonso, T. et al. Monitoring synaptic and neuronal activity in 3D with synthetic and genetic indicators using a compact acousto-optic lens two-photon microscope. J. Neurosci. Methods 222, 69–81 (2014).

Prevedel, R. et al. Fast volumetric calcium imaging across multiple cortical layers using sculpted light. Nat. Methods 13, 1021–1028 (2016).

Song, A. et al. Volumetric two-photon imaging of neurons using stereoscopy (vTwINS). Nat. Methods 14, 420–426 (2017).

Lu, R. et al. Video-rate volumetric functional imaging of the brain at synaptic resolution. Nat. Neurosci. 20, 620–628 (2017).

Huisken, J., Swoger, J., Del Bene, F., Wittbrodt, J. & Stelzer, E.H. Optical sectioning deep inside live embryos by selective plane illumination microscopy. Science 305, 1007–1009 (2004).

Wu, Y. et al. Inverted selective plane illumination microscopy (iSPIM) enables coupled cell identity lineaging and neurodevelopmental imaging in Caenorhabditis elegans. Proc. Natl. Acad. Sci. USA 108, 17708–17713 (2011).

Chhetri, R.K. et al. Whole-animal functional and developmental imaging with isotropic spatial resolution. Nat. Methods 12, 1171–1178 (2015).

Bouchard, M.B. et al. Swept confocally-aligned planar excitation (SCAPE) microscopy for high speed volumetric imaging of behaving organisms. Nat. Photonics 9, 113–119 (2015).

Abrahamsson, S. et al. Fast multicolor 3D imaging using aberration-corrected multifocus microscopy. Nat. Methods 10, 60–63 (2013).

Levoy, M., Ng, R., Adams, A., Footer, M. & Horowitz, M. Light field microscopy. ACM Trans. Graph. 25, 924 (2006).

Broxton, M. et al. Wave optics theory and 3-D deconvolution for the light field microscope. Opt. Express 21, 25418–25439 (2013).

Cohen, N. et al. Enhancing the performance of the light field microscope using wavefront coding. Opt. Express 22, 24817–24839 (2014).

Pégard, N.C. et al. Compressive light-field microscopy for 3D neural activity recording. Optica 3, 517 (2016).

Liu, H.-Y. et al. 3D imaging in volumetric scattering media using phase-space measurements. Opt. Express 23, 14461–14471 (2015).

Helmchen, F. & Denk, W. Deep tissue two-photon microscopy. Nat. Methods 2, 932–940 (2005).

Mukamel, E.A., Nimmerjahn, A. & Schnitzer, M.J. Automated analysis of cellular signals from large-scale calcium imaging data. Neuron 63, 747–760 (2009).

Pnevmatikakis, E.A. et al. Simultaneous denoising, deconvolution, and demixing of calcium imaging data. Neuron 89, 285–299 (2016).

Dombeck, D.A., Harvey, C.D., Tian, L., Looger, L.L. & Tank, D.W. Functional imaging of hippocampal place cells at cellular resolution during virtual navigation. Nat. Neurosci. 13, 1433–1440 (2010).

Kaifosh, P., Lovett-Barron, M., Turi, G.F., Reardon, T.R. & Losonczy, A. Septo-hippocampal GABAergic signaling across multiple modalities in awake mice. Nat. Neurosci. 16, 1182–1184 (2013).

Graves, A.R. et al. Hippocampal pyramidal neurons comprise two distinct cell types that are countermodulated by metabotropic receptors. Neuron 76, 776–789 (2012).

Waller, L. & Tian, L. Computational imaging: machine learning for 3D microscopy. Nature 523, 416–417 (2015).

Zhou, P., Resendez, S.L., Stuber, G.D., Kass, R.E. & Paninski, L. Efficient and accurate extraction of in vivo calcium signals from microendoscopic video data. Preprint at http://arxiv.org/abs/1605.07266 (2016).

Apthorpe, N.J. et al. Automatic neuron detection in calcium imaging data using convolutional networks. In Advances in Neural Information Processing Systems 29 (eds. Lee, D.D., Sugiyama, M., Luxburg, U.V., Guyon, I. & Garnett, R.) 3270–3278 (Curran Associates, Inc., 2016).
Acknowledgements
We thank W. Haubensak and his lab members for sharing their animal facility and reagents, M. Colombini and the IMP workshop for manufacturing of mechanical components, and F. Schlumm and Q. Lin for help with zebrafish imaging. The computational results presented here were achieved in part through use of the Vienna Scientific Cluster (VSC). T.N. acknowledges the Leon Levy Foundation (Leon Levy Fellowship in Neuroscience). This work was supported in part through funding from the Vienna Science and Technology Fund (WWTF; project VRG10-11), the Human Frontiers Science Program (Project RGP0041/2012), the Institute of Molecular Pathology, and the Kavli Foundation, all to A.V.; and from the Intelligence Advanced Research Projects Activity (IARPA) via the Department of Interior/Interior Business Center (DoI/IBC; contract number D16PC00002). The US government is authorized to reproduce and distribute reprints for governmental purposes notwithstanding any copyright annotation thereon. The views and conclusions contained herein are those of the authors and should not be interpreted as necessarily representing the official policies or endorsements, either expressed or implied, of IARPA, DoI/IBC or the US government.
Ethics declarations
Competing interests
The authors declare no competing financial interests.
Integrated supplementary information
Supplementary information
About this article
Cite this article
Nöbauer, T., Skocek, O., Pernía-Andrade, A. et al. Video rate volumetric Ca2+ imaging across cortex using seeded iterative demixing (SID) microscopy. Nat Methods 14, 811–818 (2017). https://doi.org/10.1038/nmeth.4341
Received:

Accepted:

Published:

Issue Date:

DOI: https://doi.org/10.1038/nmeth.4341