Abstract
Developments in miniaturized microscopes have enabled visualization of brain activities and structural dynamics in animals engaging in self-determined behaviors. However, it remains a challenge to resolve activity at single dendritic spines in freely behaving animals. Here, we report the design and application of a fast high-resolution, miniaturized two-photon microscope (FHIRM-TPM) that accomplishes this goal. With a headpiece weighing 2.15 g and a hollow-core photonic crystal fiber delivering 920-nm femtosecond laser pulses, the FHIRM-TPM is capable of imaging commonly used biosensors (GFP and GCaMP6) at high spatiotemporal resolution (0.64 μm laterally and 3.35 μm axially, 40 Hz at 256 × 256 pixels for raster scanning and 10,000 Hz for free-line scanning). We demonstrate the microscope's robustness with hour-long recordings of neuronal activities at the level of spines in mice experiencing vigorous body movements.
Access options
Access Nature and 54 other Nature Portfolio journals
Get Nature+, our best-value online-access subscription
$29.99 / 30 days
cancel any time
Subscribe to this journal
Receive 12 print issues and online access
$259.00 per year
only $21.58 per issue
Rent or buy this article
Prices vary by article type
from$1.95
to$39.95
Prices may be subject to local taxes which are calculated during checkout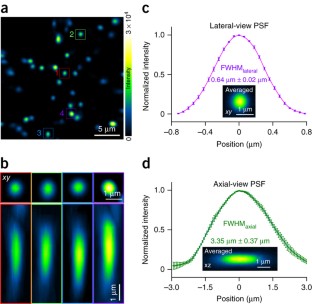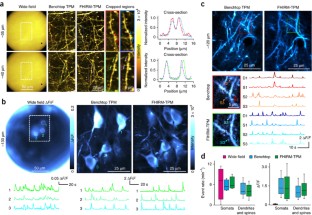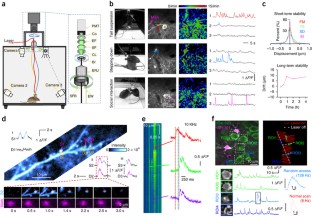 Similar content being viewed by others
References
Niell, C.M. & Smith, S.J. Live optical imaging of nervous system development. Annu. Rev. Physiol. 66, 771–798 (2004).

Alvarez, V.A. & Sabatini, B.L. Anatomical and physiological plasticity of dendritic spines. Annu. Rev. Neurosci. 30, 79–97 (2007).

Kerr, J.N. & Denk, W. Imaging in vivo: watching the brain in action. Nat. Rev. Neurosci. 9, 195–205 (2008).

Chen, C.C., Lu, J. & Zuo, Y. Spatiotemporal dynamics of dendritic spines in the living brain. Front. Neuroanat. 8, 28 (2014).

Aghajan, Z.M. et al. Impaired spatial selectivity and intact phase precession in two-dimensional virtual reality. Nat. Neurosci. 18, 121–128 (2015).

Minderer, M., Harvey, C.D., Donato, F. & Moser, E.I. Neuroscience: virtual reality explored. Nature 533, 324–325 (2016).

Jercog, P., Rogerson, T. & Schnitzer, M.J. Large-scale fluorescence calcium-imaging methods for studies of long-term memory in behaving mammals. Cold Spring Harb. Perspect. Biol. 8, a021824 (2016).

Helmchen, F., Fee, M.S., Tank, D.W. & Denk, W. A miniature head-mounted two-photon microscope: high-resolution brain imaging in freely moving animals. Neuron 31, 903–912 (2001).

Fu, L. & Gu, M. Double-clad photonic crystal fiber coupler for compact nonlinear optical microscopy imaging. Opt. Lett. 31, 1471–1473 (2006).

Jung, W. et al. Miniaturized probe based on a microelectromechanical system mirror for multiphoton microscopy. Opt. Lett. 33, 1324–1326 (2008).

Piyawattanametha, W. et al. In vivo brain imaging using a portable 2.9 2.9 g two-photon microscope based on a microelectromechanical systems scanning mirror. Opt. Lett. 34, 2309–2311 (2009).

Rivera, D.R. et al. Compact and flexible raster scanning multiphoton endoscope capable of imaging unstained tissue. Proc. Natl. Acad. Sci. USA 108, 17598–17603 (2011).

Sawinski, J. et al. Visually evoked activity in cortical cells imaged in freely moving animals. Proc. Natl. Acad. Sci. USA 106, 19557–19562 (2009).

Zhang, Y. et al. A compact fiber-optic SHG scanning endomicroscope and its application to visualize cervical remodeling during pregnancy. Proc. Natl. Acad. Sci. USA 109, 12878–12883 (2012).

Ghosh, K.K. et al. Miniaturized integration of a fluorescence microscope. Nat. Methods 8, 871–878 (2011).

Sofroniew, N.J., Flickinger, D., King, J. & Svoboda, K. A large field of view two-photon mesoscope with subcellular resolution for in vivo imaging. eLife 5, e14472 (2016).

Göbel, W., Nimmerjahn, A. & Helmchen, F. Distortion-free delivery of nanojoule femtosecond pulses from a Ti:sapphire laser through a hollow-core photonic crystal fiber. Opt. Lett. 29, 1285–1287 (2004).

Drobizhev, M., Makarov, N.S., Tillo, S.E., Hughes, T.E. & Rebane, A. Two-photon absorption properties of fluorescent proteins. Nat. Methods 8, 393–399 (2011).

Chen, T.W. et al. Ultrasensitive fluorescent proteins for imaging neuronal activity. Nature 499, 295–300 (2013).

Niell, C.M. & Stryker, M.P. Modulation of visual responses by behavioral state in mouse visual cortex. Neuron 65, 472–479 (2010).

Saleem, A.B., Ayaz, A., Jeffery, K.J., Harris, K.D. & Carandini, M. Integration of visual motion and locomotion in mouse visual cortex. Nat. Neurosci. 16, 1864–1869 (2013).

Sekiguchi, K.J. et al. Imaging large-scale cellular activity in spinal cord of freely behaving mice. Nat. Commun. 7, 11450 (2016).

Hochbaum, D.R. et al. All-optical electrophysiology in mammalian neurons using engineered microbial rhodopsins. Nat. Methods 11, 825–833 (2014).

Gong, Y. et al. High-speed recording of neural spikes in awake mice and flies with a fluorescent voltage sensor. Science 350, 1361–1366 (2015).

Prakash, R. et al. Two-photon optogenetic toolbox for fast inhibition, excitation and bistable modulation. Nat. Methods 9, 1171–1179 (2012).

Rickgauer, J.P., Deisseroth, K. & Tank, D.W. Simultaneous cellular-resolution optical perturbation and imaging of place cell firing fields. Nat. Neurosci. 17, 1816–1824 (2014).

Kerr, J.N. & Nimmerjahn, A. Functional imaging in freely moving animals. Curr. Opin. Neurobiol. 22, 45–53 (2012).

Chen, X., Leischner, U., Rochefort, N.L., Nelken, I. & Konnerth, A. Functional mapping of single spines in cortical neurons in vivo. Nature 475, 501–505 (2011).

Jia, H., Rochefort, N.L., Chen, X. & Konnerth, A. Dendritic organization of sensory input to cortical neurons in vivo. Nature 464, 1307–1312 (2010).

Bocarsly, M.E. et al. Minimally invasive microendoscopy system for in vivo functional imaging of deep nuclei in the mouse brain. Biomed. Opt. Express 6, 4546–4556 (2015).

Attardo, A., Fitzgerald, J.E. & Schnitzer, M.J. Impermanence of dendritic spines in live adult CA1 hippocampus. Nature 523, 592–596 (2015).

Zong, W. Assembly of a miniature two-photon microscope headpiece. Protocol Exchange http://dx.doi.org/10.1038/protex.2017.048 (2017).

Cichon, J. & Gan, W.-B. Branch-specific dendritic Ca2+ spikes cause persistent synaptic plasticity. Nature 520, 180–185 (2015).

Garaschuk, O., Milos, R.I. & Konnerth, A. Targeted bulk-loading of fluorescent indicators for two-photon brain imaging in vivo. Nat. Protoc. 1, 380–386 (2006).

Tada, M., Takeuchi, A., Hashizume, M., Kitamura, K. & Kano, M. A highly sensitive fluorescent indicator dye for calcium imaging of neural activity in vitro and in vivo. Eur. J. Neurosci. 39, 1720–1728 (2014).

Resendez, S.L. et al. Visualization of cortical, subcortical and deep brain neural circuit dynamics during naturalistic mammalian behavior with head-mounted microscopes and chronically implanted lenses. Nat. Protoc. 11, 566–597 (2016).

Lucas, B.D. & Kanade, T. in International Joint Conference on Artificial Intelligence 285–289 (1981).
Acknowledgements
We thank X. Li, D. Li, X. Chen, Z. Zhang, W. Gan, Y. Sun, S. Wang, and X. Chen for comments on the optics and biological experiments, and I.C. Bruce for manuscript editing. We also thank Mirrorcle Technologies for assistance with MEMS design and fabrication. The work was supported by grants from the National Natural Science Foundation of China (31327901, 31521062, 3142800018, and 31570839), the Major State Basic Research Program of China (2013CB531200 and 2012CB518200), and the National Science and Technology Major Project Program (2016YFA0500400).
Ethics declarations
Competing interests
The authors declare no competing financial interests.
Integrated supplementary information
Supplementary information
About this article
Cite this article
Zong, W., Wu, R., Li, M. et al. Fast high-resolution miniature two-photon microscopy for brain imaging in freely behaving mice. Nat Methods 14, 713–719 (2017). https://doi.org/10.1038/nmeth.4305
Received:

Accepted:

Published:

Issue Date:

DOI: https://doi.org/10.1038/nmeth.4305