Abstract
RNA-guided CRISPR–Cas9 endonucleases are widely used for genome engineering, but our understanding of Cas9 specificity remains incomplete. Here, we developed a biochemical method (SITE-Seq), using Cas9 programmed with single-guide RNAs (sgRNAs), to identify the sequence of cut sites within genomic DNA. Cells edited with the same Cas9–sgRNA complexes are then assayed for mutations at each cut site using amplicon sequencing. We used SITE-Seq to examine Cas9 specificity with sgRNAs targeting the human genome. The number of sites identified depended on sgRNA sequence and nuclease concentration. Sites identified at lower concentrations showed a higher propensity for off-target mutations in cells. The list of off-target sites showing activity in cells was influenced by sgRNP delivery, cell type and duration of exposure to the nuclease. Collectively, our results underscore the utility of combining comprehensive biochemical identification of off-target sites with independent cell-based measurements of activity at those sites when assessing nuclease activity and specificity.
Relevant articles
Open Access articles citing this article.
Masayuki Tanaka

,

Keiko Yokoyama

…

Masato Ohtsuka

Genome Biology Open Access 25 October 2022

Ruiting Li

,

Qin Wang

…

Yang Yang

Molecular Biomedicine Open Access 14 October 2022

M. Kyle Cromer

,

Valentin V. Barsan

…

Matthew H. Porteus

Nature Communications Open Access 11 August 2022
Access options
Subscribe to Nature+
Get immediate online access to Nature and 55 other Nature journal
Subscribe to Journal
Get full journal access for 1 year
$99.00
only $8.25 per issue
All prices are NET prices.
VAT will be added later in the checkout.
Tax calculation will be finalised during checkout.
Buy article
Get time limited or full article access on ReadCube.
$32.00
All prices are NET prices.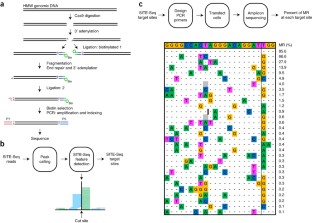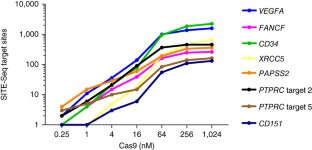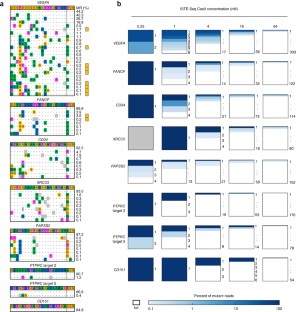 Accession codes
Primary accessions
BioProject
References
Hsu, P.D., Lander, E.S. & Zhang, F. Development and applications of CRISPR-Cas9 for genome engineering. Cell 157, 1262–1278 (2014).

Doudna, J.A. & Charpentier, E. Genome editing. The new frontier of genome engineering with CRISPR-Cas9. Science 346, 1258096 (2014).

Sternberg, S.H. & Doudna, J.A. Expanding the biologist's toolkit with CRISPR-Cas9. Mol. Cell 58, 568–574 (2015).

Jinek, M. et al. A programmable dual-RNA-guided DNA endonuclease in adaptive bacterial immunity. Science 337, 816–821 (2012).

Gasiunas, G., Barrangou, R., Horvath, P. & Siksnys, V. Cas9–crRNA ribonucleoprotein complex mediates specific DNA cleavage for adaptive immunity in bacteria. Proc. Natl. Acad. Sci. USA 109, E2579–E2586 (2012).

Anders, C., Niewoehner, O., Duerst, A. & Jinek, M. Structural basis of PAM-dependent target DNA recognition by the Cas9 endonuclease. Nature 513, 569–573 (2014).

Nishimasu, H. et al. Crystal structure of Cas9 in complex with guide RNA and target DNA. Cell 156, 935–949 (2014).

Hsu, P.D. et al. DNA targeting specificity of RNA-guided Cas9 nucleases. Nat. Biotechnol. 31, 827–832 (2013).

Pattanayak, V. et al. High-throughput profiling of off-target DNA cleavage reveals RNA-programmed Cas9 nuclease specificity. Nat. Biotechnol. 31, 839–843 (2013).

Fu, Y. et al. High-frequency off-target mutagenesis induced by CRISPR-Cas nucleases in human cells. Nat. Biotechnol. 31, 822–826 (2013).

Tsai, S.Q. et al. GUIDE-seq enables genome-wide profiling of off-target cleavage by CRISPR-Cas nucleases. Nat. Biotechnol. 33, 187–197 (2015).

Frock, R.L. et al. Genome-wide detection of DNA double-stranded breaks induced by engineered nucleases. Nat. Biotechnol. 33, 179–186 (2015).

Kim, D. et al. Digenome-seq: genome-wide profiling of CRISPR-Cas9 off-target effects in human cells. Nat. Methods 12, 237–243, 1 p following 243 (2015).

Kim, D., Kim, S., Kim, S., Park, J. & Kim, J.-S. Genome-wide target specificities of CRISPR-Cas9 nucleases revealed by multiplex Digenome-seq. Genome Res. 26, 406–415 (2016).

Fu, B.X.H., St Onge, R.P., Fire, A.Z. & Smith, J.D. Distinct patterns of Cas9 mismatch tolerance in vitro and in vivo. Nucleic Acids Res. 44, 5365–5377 (2016).

Fu, B.X.H., Hansen, L.L., Artiles, K.L., Nonet, M.L. & Fire, A.Z. Landscape of target:guide homology effects on Cas9-mediated cleavage. Nucleic Acids Res. 42, 13778–13787 (2014).

Wang, X. et al. Unbiased detection of off-target cleavage by CRISPR-Cas9 and TALENs using integrase-defective lentiviral vectors. Nat. Biotechnol. 33, 175–178 (2015).

Crosetto, N. et al. Nucleotide-resolution DNA double-strand break mapping by next-generation sequencing. Nat. Methods 10, 361–365 (2013).

Mali, P. et al. RNA-guided human genome engineering via Cas9. Science 339, 823–826 (2013).

Kim, S., Kim, D., Cho, S.W., Kim, J. & Kim, J.-S. Highly efficient RNA-guided genome editing in human cells via delivery of purified Cas9 ribonucleoproteins. Genome Res. 24, 1012–1019 (2014).

Liang, X. et al. Rapid and highly efficient mammalian cell engineering via Cas9 protein transfection. J. Biotechnol. 208, 44–53 (2015).

Richardson, C.D., Ray, G.J., Bray, N.L. & Corn, J.E. Non-homologous DNA increases gene disruption efficiency by altering DNA repair outcomes. Nat. Commun. 7, 12463 (2016).

Horlbeck, M.A. et al. Nucleosomes impede Cas9 access to DNA in vivo and in vitro. eLife 5, e12677 (2016).

Boyle, A.P., Guinney, J., Crawford, G.E. & Furey, T.S. F-Seq: a feature density estimator for high-throughput sequence tags. Bioinformatics 24, 2537–2538 (2008).

Stemmer, M., Thumberger, T., Del Sol Keyer, M., Wittbrodt, J. & Mateo, J.L. CCTop: an intuitive, flexible and reliable CRISPR/Cas9 target prediction tool. PLoS One 10, e0124633 (2015).

Bae, S., Park, J. & Kim, J.-S. Cas-OFFinder: a fast and versatile algorithm that searches for potential off-target sites of Cas9 RNA-guided endonucleases. Bioinformatics 30, 1473–1475 (2014).

Cameron, P. et al. SITE-Seq: a genome-wide method to measure Cas9 cleavage. Protocol Exchange http://dx.doi.org/10.1038/protex.2017.043 (2017).

Briner, A.E. et al. Guide RNA functional modules direct Cas9 activity and orthogonality. Mol. Cell 56, 333–339 (2014).

Langmead, B. & Salzberg, S.L. Fast gapped-read alignment with Bowtie 2. Nat. Methods 9, 357–359 (2012).

Li, H. et al. The Sequence Alignment/Map format and SAMtools. Bioinformatics 25, 2078–2079 (2009).

Zhang, Y. et al. Model-based analysis of ChIP-Seq (MACS). Genome Biol. 9, R137 (2008).

Bailey, T.L. & Elkan, C. Fitting a mixture model by expectation maximization to discover motifs in biopolymers. In Proc. Int. Conf. Intell. Syst. Mol. Biol. (eds. Altman, R. et al.) 28–36 (AAAI Press, 1994 ).

Blitzblau, H.G., Bell, G.W., Rodriguez, J., Bell, S.P. & Hochwagen, A. Mapping of meiotic single-stranded DNA reveals double-stranded-break hotspots near centromeres and telomeres. Curr. Biol. 17, 2003–2012 (2007).

Capes-Davis, A. et al. Check your cultures! A list of cross-contaminated or misidentified cell lines. Int. J. Cancer 127, 1–8 (2010).
Acknowledgements
The authors thank R. Haurwitz, S. Sternberg, B. McClung, and the members of Caribou Biosciences for providing helpful comments on the manuscript.
Ethics declarations
Competing interests
A.P.M., P.D.D., P.C., C.K.F., M.S.T., M.M.C., S.G., B.N.J., E.L., E.M.S., B.V., E.L., L.M.B., A.M.L., L.S.E., A.H.S., and D.C. are current or former employees of Caribou Biosciences, Inc., a company that develops and commercializes genome engineering technologies; and such individuals may own shares or stock options in Caribou Biosciences, Inc. J.K.Y., V.L., and S.D. are employees of DuPont Pioneer. Patent applications have been filed describing this methodology; see, for example, PCT publication no. WO2014/164466, published October 9, 2014.
Integrated supplementary information
Supplementary information
About this article
Cite this article
Cameron, P., Fuller, C., Donohoue, P. et al. Mapping the genomic landscape of CRISPR–Cas9 cleavage. Nat Methods 14, 600–606 (2017). https://doi.org/10.1038/nmeth.4284
Received:

Accepted:

Published:

Issue Date:

DOI: https://doi.org/10.1038/nmeth.4284