Abstract
The molecular and cellular signals that guide T-cell development from hematopoietic stem and progenitor cells (HSPCs) remain poorly understood. The thymic microenvironment integrates multiple niche molecules to potentiate T-cell development in vivo. Recapitulating these signals in vitro in a stromal cell-free system has been challenging and limits T-cell generation technologies. Here, we describe a fully defined engineered in vitro niche capable of guiding T-lineage development from HSPCs. Synergistic interactions between Notch ligand Delta-like 4 and vascular cell adhesion molecule 1 (VCAM-1) were leveraged to enhance Notch signaling and progenitor T-cell differentiation rates. The engineered thymus-like niche enables in vitro production of mouse Sca-1+cKit+ and human CD34+ HSPC-derived CD7+ progenitor T-cells capable of in vivo thymus colonization and maturation into cytokine-producing CD3+ T-cells. This engineered thymic-like niche provides a platform for in vitro analysis of human T-cell development as well as clinical-scale cell production for future development of immunotherapeutic applications.
Access options
Subscribe to Journal
Get full journal access for 1 year
$59.00
only $4.92 per issue
All prices are NET prices.
VAT will be added later in the checkout.
Tax calculation will be finalised during checkout.
Rent or Buy article
Get time limited or full article access on ReadCube.
from$8.99
All prices are NET prices.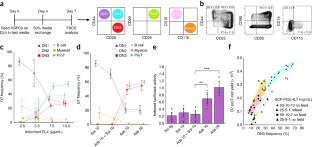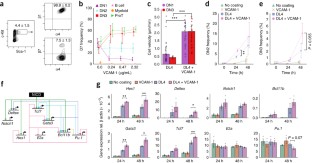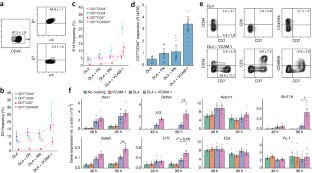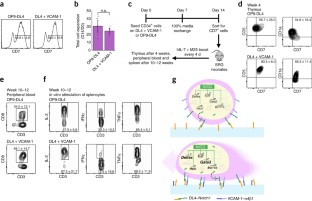 References
1

Komanduri, K.V. et al. Delayed immune reconstitution after cord blood transplantation is characterized by impaired thymopoiesis and late memory T-cell skewing. Blood 110, 4543–4551 (2007).

2

Ruggeri, A. et al. Outcomes, infections, and immune reconstitution after double cord blood transplantation in patients with high-risk hematological diseases. Transpl. Infect. Dis. 13, 456–465 (2011).

3

Menon, T. et al. Lymphoid regeneration from gene-corrected SCID-X1 subject-derived iPSCs. Cell Stem Cell 16, 367–372 (2015).

4

Zakrzewski, J.L. et al. Adoptive transfer of T-cell precursors enhances T-cell reconstitution after allogeneic hematopoietic stem cell transplantation. Nat. Med. 12, 1039–1047 (2006).

5

Schmitt, T.M. & Zúñiga-Pflücker, J.C. Induction of T cell development from hematopoietic progenitor cells by delta-like-1 in vitro. Immunity 17, 749–756 (2002).

6

Awong, G. et al. Characterization in vitro and engraftment potential in vivo of human progenitor T cells generated from hematopoietic stem cells. Blood 114, 972–982 (2009).

7

La Motte-Mohs, R.N., Herer, E. & Zúñiga-Pflücker, J.C. Induction of T-cell development from human cord blood hematopoietic stem cells by Delta-like 1 in vitro. Blood 105, 1431–1439 (2005).

8

Smith, M.J. et al. In vitro T-cell generation from adult, embryonic, and induced pluripotent stem cells: many roads to one destination. Stem Cells 33, 3174–3180 (2015).

9

Ikawa, T. et al. An essential developmental checkpoint for production of the T cell lineage. Science 329, 93–96 (2010).

10

Reimann, C. et al. Human T-lymphoid progenitors generated in a feeder-cell-free Delta-like-4 culture system promote T-cell reconstitution in NOD/SCID/γc(−/−) mice. Stem Cells 30, 1771–1780 (2012).

11

Fernandez, I., Ooi, T.P. & Roy, K. Generation of functional, antigen-specific CD8+ human T cells from cord blood stem cells using exogenous Notch and tetramer-TCR signaling. Stem Cells 32, 93–104 (2014).

12

Delaney, C. et al. Notch-mediated expansion of human cord blood progenitor cells capable of rapid myeloid reconstitution. Nat. Med. 16, 232–236 (2010).

13

Taqvi, S., Dixit, L. & Roy, K. Biomaterial-based notch signaling for the differentiation of hematopoietic stem cells into T cells. J. Biomed. Mater. Res. A 79, 689–697 (2006).

14

Petrie, H.T. & Zúñiga-Pflücker, J.C. Zoned out: functional mapping of stromal signaling microenvironments in the thymus. Annu. Rev. Immunol. 25, 649–679 (2007).

15

Besseyrias, V. et al. Hierarchy of Notch–Delta interactions promoting T cell lineage commitment and maturation. J. Exp. Med. 204, 331–343 (2007).

16

Hozumi, K. et al. Delta-like 4 is indispensable in thymic environment specific for T cell development. J. Exp. Med. 205, 2507–2513 (2008).

17

Calderón, L. & Boehm, T. Synergistic, context-dependent, and hierarchical functions of epithelial components in thymic microenvironments. Cell 149, 159–172 (2012).

18

Salomon, D.R. et al. Vascular cell adhesion molecule-1 is expressed by cortical thymic epithelial cells and mediates thymocyte adhesion. Implications for the function of alpha4beta1 (VLA4) integrin in T-cell development. Blood 89, 2461–2471 (1997).

19

Prockop, S.E. et al. Stromal cells provide the matrix for migration of early lymphoid progenitors through the thymic cortex. J. Immunol. 169, 4354–4361 (2002).

20

Csaszar, E. et al. Rapid expansion of human hematopoietic stem cells by automated control of inhibitory feedback signaling. Cell Stem Cell 10, 218–229 (2012).

21

Koch, U. et al. Delta-like 4 is the essential, nonredundant ligand for Notch1 during thymic T cell lineage commitment. J. Exp. Med. 205, 2515–2523 (2008).

22

Andrawes, M.B. et al. Intrinsic selectivity of Notch 1 for Delta-like 4 over Delta-like 1. J. Biol. Chem. 288, 25477–25489 (2013).

23

Schmitt, T.M., Ciofani, M., Petrie, H.T. & Zúñiga-Pflücker, J.C. Maintenance of T cell specification and differentiation requires recurrent notch receptor-ligand interactions. J. Exp. Med. 200, 469–479 (2004).

24

Mohtashami, M. et al. Direct comparison of Dll1- and Dll4-mediated Notch activation levels shows differential lymphomyeloid lineage commitment outcomes. J. Immunol. 185, 867–876 (2010).

25

Milne, C.D., Zhang, Y. & Paige, C.J. Stromal cells attract B-cell progenitors to promote B-cell-B-cell contact and maturation. Scand. J. Immunol. 62, 67–72 (2005).

26

Varnum-Finney, B. et al. Immobilization of Notch ligand, Delta-1, is required for induction of notch signaling. J. Cell Sci. 113, 4313–4318 (2000).

27

Csaszar, E. et al. Blood stem cell fate regulation by Delta-1-mediated rewiring of IL-6 paracrine signaling. Blood 123, 650–658 (2014).

28

Hong, C., Luckey, M.A. & Park, J.H. Intrathymic IL-7: the where, when, and why of IL-7 signaling during T cell development. Semin. Immunol. 24, 151–158 (2012).

29

Frasca, D. et al. IL-11 synergizes with IL-3 in promoting the recovery of the immune system after irradiation. Int. Immunol. 8, 1651–1657 (1996).

30

Jalkanen, S. & Jalkanen, M. Lymphocyte CD44 binds the COOH-terminal heparin-binding domain of fibronectin. J. Cell Biol. 116, 817–825 (1992).

31

Petrie, H.T. Cell migration and the control of post-natal T-cell lymphopoiesis in the thymus. Nat. Rev. Immunol. 3, 859–866 (2003).

32

Crisa, L. et al. Cell adhesion and migration are regulated at distinct stages of thymic T cell development: the roles of fibronectin, VLA4, and VLA5. J. Exp. Med. 184, 215–228 (1996).

33

Kueh, H.Y. & Rothenberg, E.V. Regulatory gene network circuits underlying T cell development from multipotent progenitors. Wiley Interdiscip. Rev. Syst. Biol. Med. 4, 79–102 (2012).

34

Awong, G. et al. Human proT-cells generated in vitro facilitate hematopoietic stem cell-derived T-lymphopoiesis in vivo and restore thymic architecture. Blood 122, 4210–4219 (2013).

35

Ohishi, K., Varnum-Finney, B. & Bernstein, I.D. Delta-1 enhances marrow and thymus repopulating ability of human CD34(+)CD38(−) cord blood cells. J. Clin. Invest. 110, 1165–1174 (2002).

36

Qasim, W. et al. First clinical application of TALEN engineered universal CAR19 T cells in B–ALL. Blood 126, 2046 (2015).

37

Poirot, L. et al. Multiplex genome-edited T-cell manufacturing platform for "off-the-shelf" adoptive T-cell immunotherapies. Cancer Res. 75, 3853–3864 (2015).

38

Strowig, T. et al. Transgenic expression of human signal regulatory protein alpha in Rag2−/−gamma(c)−/− mice improves engraftment of human hematopoietic cells in humanized mice. Proc. Natl. Acad. Sci. USA 108, 13218–13223 (2011).

39

Fares, I. et al. Cord blood expansion. Pyrimidoindole derivatives are agonists of human hematopoietic stem cell self-renewal. Science 345, 1509–1512 (2014).

40

Storek, J., Gooley, T., Witherspoon, R.P., Sullivan, K.M. & Storb, R. Infectious morbidity in long-term survivors of allogeneic marrow transplantation is associated with low CD4 T cell counts. Am. J. Hematol. 54, 131–138 (1997).

41

Jacobson, C.A. et al. Immune reconstitution after double umbilical cord blood stem cell transplantation: comparison with unrelated peripheral blood stem cell transplantation. Biol. Blood Marrow Transplant. 18, 565–574 (2012).

42

Thomson, B.G. et al. Analysis of engraftment, graft-versus-host disease, and immune recovery following unrelated donor cord blood transplantation. Blood 96, 2703–2711 (2000).

43

Gehre, N. et al. A stromal cell free culture system generates mouse pro-T cells that can reconstitute T-cell compartments in vivo. Eur. J. Immunol. 45, 932–942 (2015).

44

Awong, G., La Motte-Mohs, R.N. & Zúñiga-Pflücker, J.C. Generation of pro-T cells in vitro: potential for immune reconstitution. Semin. Immunol. 19, 341–349 (2007).

45

Nazareth, E.J.P., Rahman, N., Yin, T. & Zandstra, P.W. A multi-lineage screen reveals mTORC1 inhibition enhances human pluripotent stem cell mesendoderm and blood progenitor production. Stem Cell Reports 6, 679–691 (2016).

46

Aoyama, K. et al. The interaction of the Wnt and Notch pathways modulates natural killer versus T cell differentiation. Stem Cells 25, 2488–2497 (2007).

47

Roozen, P.P.C., Brugman, M.H. & Staal, F.J.T. Differential requirements for Wnt and Notch signaling in hematopoietic versus thymic niches. Ann. NY Acad. Sci. 1266, 78–93 (2012).

48

Huijskens, M.J.A.J. et al. Technical advance: ascorbic acid induces development of double-positive T cells from human hematopoietic stem cells in the absence of stromal cells. J. Leukoc. Biol. 96, 1165–1175 (2014).

49

Janas, M.L. et al. Thymic development beyond beta-selection requires phosphatidylinositol 3-kinase activation by CXCR4. J. Exp. Med. 207, 247–261 (2010).

50

Zakrzewski, J.L. et al. Tumor immunotherapy across MHC barriers using allogeneic T-cell precursors. Nat. Biotechnol. 26, 453–461 (2008).

51

Holmes, R. & Zúñiga-Pflücker, J.C. The OP9-DL1 system: generation of T-lymphocytes from embryonic or hematopoietic stem cells in vitro. Cold Spring Harb. Protoc. 2009, pdb.prot5156 (2009).

52

Hsieh, J.J. et al. Truncated mammalian Notch1 activates CBF1/RBPJk-repressed genes by a mechanism resembling that of Epstein-Barr virus EBNA2. Mol. Cell. Biol. 16, 952–959 (1996).
Acknowledgements
The authors thank the donors and the Research Centre for Women's and Infants' Health BioBank of Mount Sinai Hospital for the human specimens used in this study and all the operators at the Sick Kids-University Health Network Flow Cytometry Facility for their technical support in cell sorting. The authors thank W. Wang and E. Piccinini for their assistance in processing fetal liver samples, T. Usenko for assistance in processing umbilical cord blood samples, J. Östblom for providing training in computational programming, C. Bauwens for assistance in editing the manuscript, J. Ma for illustrating the summary cartoon figure, and all members of the P.W.Z. laboratory for their helpful discussion. This work was supported by the Leukemia and Lymphoma Society of Canada (grant no. 493946 to P.W.Z.), the Canadian Institutes for Health Research (CIHR) (grant no. MOP-119538 to J.C.Z.-P.; grant no. 489401 and 452750 to P.W.Z.), Medicine by Design, a Canada First Research Excellence Program at the University of Toronto (grant no. C1TPA-2016-20 to J.C.Z.-P.; grant no. 499470 to P.W.Z.), and the Krembil Foundation (to J.C.Z.-P.). S.S. was supported by the CIHR Vanier Canada Graduate Scholarship and the NSERC CREATE M3 Scholarship. J.C.Z.-P. is the Canada Research Chair in Developmental Immunology. P.W.Z. is the Canada Research Chair in Stem Cell Bioengineering.
Ethics declarations
Competing interests
The authors declare no competing financial interests.
Integrated supplementary information
Supplementary information
Supplementary Figures 1–14 and Supplementary Tables 1–32 (PDF 2609 kb)
Transmitted light, 10-minute frame interval. (MOV 5149 kb)
Transmitted light, 10-minute frame interval. (MOV 5754 kb)
About this article
Cite this article
Shukla, S., Langley, M., Singh, J. et al. Progenitor T-cell differentiation from hematopoietic stem cells using Delta-like-4 and VCAM-1. Nat Methods 14, 531–538 (2017). https://doi.org/10.1038/nmeth.4258
Received:

Accepted:

Published:

Issue Date: