Abstract
Few tools exist to visualize and manipulate neurons that are targets of neuromodulators. We present iTango, a light- and ligand-gated gene expression system based on a light-inducible split tobacco etch virus protease. Cells expressing the iTango system exhibit increased expression of a marker gene in the presence of dopamine and blue-light exposure, both in vitro and in vivo. We demonstrated the iTango system in a behaviorally relevant context, by inducing expression of optogenetic tools in neurons under dopaminergic control during a behavior of interest. We thereby gained optogenetic control of these behaviorally relevant neurons. We applied the iTango system to decipher the roles of two classes of dopaminergic neurons in the mouse nucleus accumbens in a sensitized locomotor response to cocaine. Thus, the iTango platform allows for control of neuromodulatory circuits in a genetically and functionally defined manner with spatial and temporal precision.
Relevant articles
Open Access articles citing this article.
Jung Ho Hyun

,

Kenichiro Nagahama

…

Hyung-Bae Kwon

Nature Communications Open Access 12 December 2022

Yang Shen

,

Alessandro Luchetti

…

Alcino J. Silva

Molecular Brain Open Access 04 January 2022

Yuki Komoto

,

Takahito Ohshiro

…

Masateru Taniguchi

Scientific Reports Open Access 09 July 2020
Access options
Access Nature and 54 other Nature Portfolio journals
Get Nature+, our best-value online-access subscription
$29.99 per month
cancel any time
Subscribe to this journal
Receive 12 print issues and online access
$209.00 per year
only $17.42 per issue
Rent or buy this article
Get just this article for as long as you need it
$39.95
Prices may be subject to local taxes which are calculated during checkout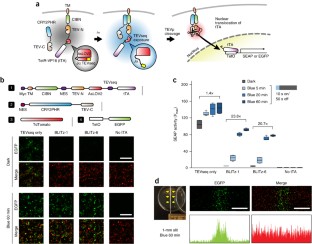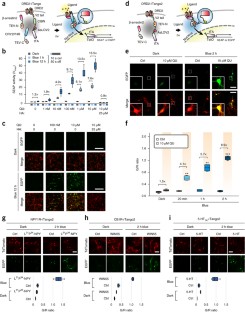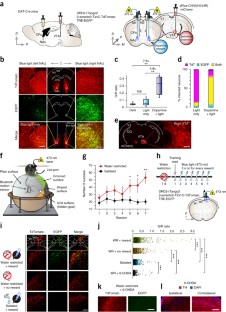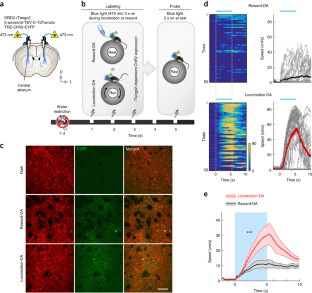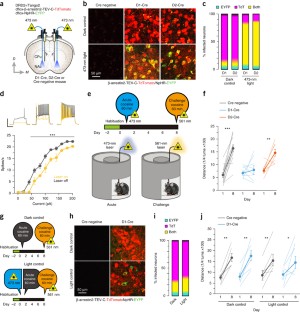 References
Barth, A.L. Visualizing circuits and systems using transgenic reporters of neural activity. Curr. Opin. Neurobiol. 17, 567–571 (2007).

Chen, T.W. et al. Ultrasensitive fluorescent proteins for imaging neuronal activity. Nature 499, 295–300 (2013).

Liu, X. et al. Optogenetic stimulation of a hippocampal engram activates fear memory recall. Nature 484, 381–385 (2012).

Okuno, H. et al. Inverse synaptic tagging of inactive synapses via dynamic interaction of Arc/Arg3.1 with CaMKIIβ. Cell 149, 886–898 (2012).

Anderson, D.J. & Adolphs, R. A framework for studying emotions across species. Cell 157, 187–200 (2014).

Fu, Y. et al. A cortical circuit for gain control by behavioral state. Cell 156, 1139–1152 (2014).

Posner, M.I. & Petersen, S.E. The attention system of the human brain. Annu. Rev. Neurosci. 13, 25–42 (1990).

Barnea, G. et al. The genetic design of signaling cascades to record receptor activation. Proc. Natl. Acad. Sci. USA 105, 64–69 (2008).

Inagaki, H.K. et al. Visualizing neuromodulation in vivo: TANGO-mapping of dopamine signaling reveals appetite control of sugar sensing. Cell 148, 583–595 (2012).

Jagadish, S., Barnea, G., Clandinin, T.R. & Axel, R. Identifying functional connections of the inner photoreceptors in Drosophila using Tango-Trace. Neuron 83, 630–644 (2014).

Kono, M. et al. Sphingosine-1-phosphate receptor 1 reporter mice reveal receptor activation sites in vivo. J. Clin. Invest. 124, 2076–2086 (2014).

Kroeze, W.K. et al. PRESTO-Tango as an open-source resource for interrogation of the druggable human GPCRome. Nat. Struct. Mol. Biol. 22, 362–369 (2015).

Eshel, N. et al. Arithmetic and local circuitry underlying dopamine prediction errors. Nature 525, 243–246 (2015).

Herrero, J.L. et al. Acetylcholine contributes through muscarinic receptors to attentional modulation in V1. Nature 454, 1110–1114 (2008).

Howe, M.W., Tierney, P.L., Sandberg, S.G., Phillips, P.E. & Graybiel, A.M. Prolonged dopamine signalling in striatum signals proximity and value of distant rewards. Nature 500, 575–579 (2013).

Marlin, B.J., Mitre, M., D'amour, J.A., Chao, M.V. & Froemke, R.C. Oxytocin enables maternal behaviour by balancing cortical inhibition. Nature 520, 499–504 (2015).

Tye, K.M. et al. Dopamine neurons modulate neural encoding and expression of depression-related behaviour. Nature 493, 537–541 (2013).

Witten, I.B. et al. Cholinergic interneurons control local circuit activity and cocaine conditioning. Science 330, 1677–1681 (2010).

Yagishita, S. et al. A critical time window for dopamine actions on the structural plasticity of dendritic spines. Science 345, 1616–1620 (2014).

Kennedy, M.J. et al. Rapid blue-light-mediated induction of protein interactions in living cells. Nat. Methods 7, 973–975 (2010).

Wehr, M.C. et al. Monitoring regulated protein-protein interactions using split TEV. Nat. Methods 3, 985–993 (2006).

Guntas, G. et al. Engineering an improved light-induced dimer (iLID) for controlling the localization and activity of signaling proteins. Proc. Natl. Acad. Sci. USA 112, 112–117 (2015).

Williams, D.J., Puhl, H.L., III & Ikeda, S.R. Rapid modification of proteins using a rapamycin-inducible tobacco etch virus protease system. PLoS One 4, e7474 (2009).

Harper, S.M., Neil, L.C. & Gardner, K.H. Structural basis of a phototropin light switch. Science 301, 1541–1544 (2003).

Djannatian, M.S., Galinski, S., Fischer, T.M. & Rossner, M.J. Studying G protein-coupled receptor activation using split-tobacco etch virus assays. Anal. Biochem. 412, 141–152 (2011).

Gray, D.C., Mahrus, S. & Wells, J.A. Activation of specific apoptotic caspases with an engineered small-molecule-activated protease. Cell 142, 637–646 (2010).

Oades, R.D. & Halliday, G.M. Ventral tegmental (A10) system: neurobiology. 1. Anatomy and connectivity. Brain Res. 434, 117–165 (1987).

Howe, M.W. & Dombeck, D.A. Rapid signalling in distinct dopaminergic axons during locomotion and reward. Nature 535, 505–510 (2016).

Creed, M., Pascoli, V.J. & Lüscher, C. Addiction therapy: refining deep brain stimulation to emulate optogenetic treatment of synaptic pathology. Science 347, 659–664 (2015).

Lobo, M.K. & Nestler, E.J. The striatal balancing act in drug addiction: distinct roles of direct and indirect pathway medium spiny neurons. Front. Neuroanat. 5, 41 (2011).

Pascoli, V., Turiault, M. & Lüscher, C. Reversal of cocaine-evoked synaptic potentiation resets drug-induced adaptive behaviour. Nature 481, 71–75 (2011).

Robinson, T.E. & Berridge, K.C. Addiction. Annu. Rev. Psychol. 54, 25–53 (2003).

Lee, D. et al. Inositol 1,4,5-trisphosphate 3-kinase A is a novel microtubule-associated protein: PKA-dependent phosphoregulation of microtubule binding affinity. J. Biol. Chem. 287, 15981–15995 (2012).

Jiang, M. & Chen, G. High Ca2+-phosphate transfection efficiency in low-density neuronal cultures. Nat. Protoc. 1, 695–700 (2006).

Stoppini, L., Buchs, P.A. & Muller, D. A simple method for organotypic cultures of nervous tissue. J. Neurosci. Methods 37, 173–182 (1991).

Woods, G. & Zito, K. Preparation of gene gun bullets and biolistic transfection of neurons in slice culture. J. Vis. Exp. (12), 675 (2008).

Oh, W.C., Hill, T.C. & Zito, K. Synapse-specific and size-dependent mechanisms of spine structural plasticity accompanying synaptic weakening. Proc. Natl. Acad. Sci. USA 110, E305–E312 (2013).

Gerfen, C.R., Paletzki, R. & Heintz, N. GENSAT BAC cre-recombinase driver lines to study the functional organization of cerebral cortical and basal ganglia circuits. Neuron 80, 1368–1383 (2013).
Acknowledgements
We thank C. Tucker (University of Colorado) for CRY2 and CIBN constructs; B. Kuhlman (University of North Carolina, Chapel Hill) for the iLID construct; B. Roth (University of North Carolina, Chapel Hill) for NPY1R, CB1R, and 5-HT1A constructs. K. Deisseroth (Stanford University) for the eNpHR-EYFP construct; R. Lefkowitz (Duke University) for the β-arrestin2 construct; S-Y. Choi (Chonnam National University) for the P2A vector; H. Zeng (Allen institute) for the TetO-EGFP construct; W. Weber (University of Freiburg) for the pSAM200 vector; and N. Gautam (Washington University in St. Louis) for the D2-YFP construct. We thank B. Lim (University of California, San Diego) for TRE-ChR2-EYFP viral production. We thank all members of the Kwon laboratory for critical discussion and support. This work was supported by funding from the Swiss National Science Foundation, the Academic Society of Geneva, the Private Foundation of the Geneva University Hospital, and a European Research Council Advanced Grant (MeSSI) (to C.L.); a Kil Chung Hee Fellowship (to D.L.); and the Max Planck Florida Institute for Neuroscience (to H.-B.K.).
Ethics declarations
Competing interests
The Max Planck Florida Institute for Neuroscience has filed a patent application that includes portions of the research described in this manuscript.
Integrated supplementary information
Supplementary information
Supplementary Figures 1–14. (PDF 3947 kb)
DNA sequences. (PDF 880 kb)
About this article
Cite this article
Lee, D., Creed, M., Jung, K. et al. Temporally precise labeling and control of neuromodulatory circuits in the mammalian brain. Nat Methods 14, 495–503 (2017). https://doi.org/10.1038/nmeth.4234
Received:

Accepted:

Published:

Issue Date:

DOI: https://doi.org/10.1038/nmeth.4234