Abstract
Gene expression is extensively regulated at the levels of mRNA stability, localization and translation. However, decoding functional RNA-regulatory features remains a limitation to understanding post-transcriptional regulation in vivo. Here, we developed RNA-element selection assay (RESA), a method that selects RNA elements on the basis of their activity in vivo and uses high-throughput sequencing to provide a quantitative measurement of their regulatory functions at near-nucleotide resolution. We implemented RESA to identify sequence elements modulating mRNA stability during zebrafish embryogenesis. RESA provides a sensitive and quantitative measure of microRNA activity in vivo and also identifies novel regulatory sequences. To uncover specific sequence requirements within regulatory elements, we developed a bisulfite-mediated nucleotide-conversion strategy for large-scale mutational analysis (RESA–bisulfite). Finally, we used the versatile RESA platform to map candidate protein–RNA interactions in vivo (RESA–CLIP).
Access options
Subscribe to Journal
Get full journal access for 1 year
$119.00
only $9.92 per issue
All prices are NET prices.
VAT will be added later in the checkout.
Tax calculation will be finalised during checkout.
Rent or Buy article
Get time limited or full article access on ReadCube.
from$8.99
All prices are NET prices.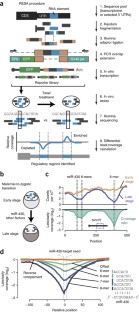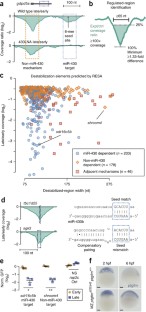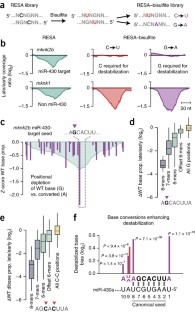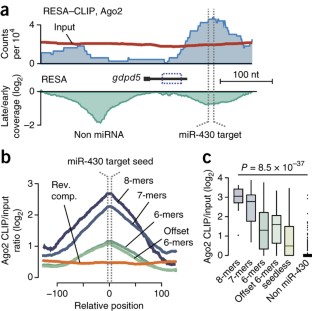 Accession codes
Primary accessions
Sequence Read Archive
References
1

Reinhart, B.J. et al. The 21-nucleotide let-7 RNA regulates developmental timing in Caenorhabditis elegans. Nature 403, 901–906 (2000).

2

Meola, N., Gennarino, V.A. & Banfi, S. microRNAs and genetic diseases. PathoGenetics 2, 7 (2009).

3

Giraldez, A.J. et al. MicroRNAs regulate brain morphogenesis in zebrafish. Science 308, 833–838 (2005).

4

Lai, E.C. & Posakony, J.W. The Bearded box, a novel 3′ UTR sequence motif, mediates negative post-transcriptional regulation of Bearded and Enhancer of split Complex gene expression. Development 124, 4847–4856 (1997).

5

Treisman, R. Transient accumulation of c-fos RNA following serum stimulation requires a conserved 5′ element and c-fos 3′ sequences. Cell 42, 889–902 (1985).

6

Piqué, M., López, J.M., Foissac, S., Guigó, R. & Méndez, R. A combinatorial code for CPE-mediated translational control. Cell 132, 434–448 (2008).

7

Mowry, K.L. & Melton, D.A. Vegetal messenger RNA localization directed by a 340-nt RNA sequence element in Xenopus oocytes. Science 255, 991–994 (1992).

8

Zubiaga, A.M., Belasco, J.G. & Greenberg, M.E. The nonamer UUAUUUAUU is the key AU-rich sequence motif that mediates mRNA degradation. Mol. Cell. Biol. 15, 2219–2230 (1995).

9

Giraldez, A.J. et al. Zebrafish MiR-430 promotes deadenylation and clearance of maternal mRNAs. Science 312, 75–79 (2006).

10

Lim, L.P. et al. Microarray analysis shows that some microRNAs downregulate large numbers of target mRNAs. Nature 433, 769–773 (2005).

11

Nielsen, C.B. et al. Determinants of targeting by endogenous and exogenous microRNAs and siRNAs. RNA 13, 1894–1910 (2007).

12

Lai, E.C. Micro RNAs are complementary to 3′ UTR sequence motifs that mediate negative post-transcriptional regulation. Nat. Genet. 30, 363–364 (2002).

13

Grimson, A. et al. MicroRNA targeting specificity in mammals: determinants beyond seed pairing. Mol. Cell 27, 91–105 (2007).

14

Bartel, D.P. MicroRNAs: target recognition and regulatory functions. Cell 136, 215–233 (2009).

15

Chi, S.W., Zang, J.B., Mele, A. & Darnell, R.B. Argonaute HITS-CLIP decodes microRNA–mRNA interaction maps. Nature 460, 479–486 (2009).

16

Hafner, M. et al. Transcriptome-wide identification of RNA-binding protein and microRNA target sites by PAR-CLIP. Cell 141, 129–141 (2010).

17

Geisberg, J.V., Moqtaderi, Z., Fan, X., Ozsolak, F. & Struhl, K. Global analysis of mRNA isoform half-lives reveals stabilizing and destabilizing elements in yeast. Cell 156, 812–824 (2014).

18

Oikonomou, P., Goodarzi, H. & Tavazoie, S. Systematic identification of regulatory elements in conserved 3′ UTRs of human transcripts. Cell Rep. 7, 281–292 (2014).

19

Rosenberg, A.B., Patwardhan, R.P., Shendure, J. & Seelig, G. Learning the sequence determinants of alternative splicing from millions of random sequences. Cell 163, 698–711 (2015).

20

Weingarten-Gabbay, S. et al. Comparative genetics: systematic discovery of cap-independent translation sequences in human and viral genomes. Science. 351, aad4939 (2016).

21

Zhao, W. et al. Massively parallel functional annotation of 3′ untranslated regions. Nat. Biotechnol. 32, 387–391 (2014).

22

Wissink, E.M., Fogarty, E.A. & Grimson, A. High-throughput discovery of post-transcriptional cis-regulatory elements. BMC Genomics 17, 177 (2016).

23

Wolter, J.M., Kotagama, K., Babb, C.S. & Mangone, M. Detection of miRNA targets in high-throughput using the 3′LIFE assay. J. Vis. Exp. e52647 (2015).

24

Yartseva, V. & Giraldez, A.J. The maternal-to-zygotic transition during vertebrate development: a model for reprogramming. Curr. Top. Dev. Biol. 113, 191–232 (2015).

25

Lee, M.T. et al. Nanog, Pou5f1 and SoxB1 activate zygotic gene expression during the maternal-to-zygotic transition. Nature 503, 360–364 (2013).

26

Bazzini, A.A., Lee, M.T. & Giraldez, A.J. Ribosome profiling shows that miR-430 reduces translation before causing mRNA decay in zebrafish. Science 336, 233–237 (2012).

27

Staton, A.A., Knaut, H. & Giraldez, A.J. Reply to: "On the robustness of germ cell migration and microRNA-mediated regulation of chemokine signaling". Nat. Genet. 45, 1266–1267 (2013).

28

Brennecke, J., Stark, A., Russell, R.B. & Cohen, S.M. Principles of microRNA-target recognition. PLoS Biol. 3, e85 (2005).

29

Vella, M.C., Choi, E.Y., Lin, S.Y., Reinert, K. & Slack, F.J. The C. elegans microRNA let-7 binds to imperfect let-7 complementary sites from the lin-41 3′UTR. Genes Dev. 18, 132–137 (2004).

30

Moreno-Mateos, M.A. et al. CRISPRscan: designing highly efficient sgRNAs for CRISPR-Cas9 targeting in vivo. Nat. Methods 12, 982–988 (2015).

31

Tuerk, C. & Gold, L. Systematic evolution of ligands by exponential enrichment: RNA ligands to bacteriophage T4 DNA polymerase. Science 249, 505–510 (1990).

32

Ellington, A.D. & Szostak, J.W. In vitro selection of RNA molecules that bind specific ligands. Nature 346, 818–822 (1990).

33

Blackwell, T.K. & Weintraub, H. Differences and similarities in DNA-binding preferences of MyoD and E2A protein complexes revealed by binding site selection. Science 250, 1104–1110 (1990).

34

Martin, K.C. & Ephrussi, A. mRNA localization: gene expression in the spatial dimension. Cell 136, 719–730 (2009).

35

Rabani, M., Kertesz, M. & Segal, E. Computational prediction of RNA structural motifs involved in post-transcriptional regulatory processes. Methods Mol. Biol. 714, 467–479 (2011).

36

Bazzini, A.A. et al. Codon identity regulates mRNA stability and translation efficiency during the maternal-to-zygotic transition. EMBO J. 35, 2087–2103 (2016).

37

Mishima, Y. & Tomari, Y. Codon usage and 3′ UTR length determine maternal mRNA stability in zebrafish. Mol. Cell 61, 874–885 (2016).

38

Presnyak, V. et al. Codon optimality is a major determinant of mRNA stability. Cell 160, 1111–1124 (2015).

39

Davis, C.A., Monnier, J.M. & Nick, H.S. A coding region determinant of instability regulates levels of manganese superoxide dismutase mRNA. J. Biol. Chem. 276, 37317–37326 (2001).

40

Wellington, C.L., Greenberg, M.E. & Belasco, J.G. The destabilizing elements in the coding region of c-fos mRNA are recognized as RNA. Mol. Cell. Biol. 13, 5034–5042 (1993).

41

Rozen, S. & Skaletsky, H. Primer3 on the WWW for general users and for biologist programmers. Methods Mol. Biol. 132, 365–386 (2000).

42

Jiang, H., Lei, R., Ding, S.W. & Zhu, S. Skewer: a fast and accurate adapter trimmer for next-generation sequencing paired-end reads. BMC Bioinformatics 15, 182 (2014).

43

Trapnell, C., Pachter, L. & Salzberg, S.L. TopHat: discovering splice junctions with RNA-Seq. Bioinformatics 25, 1105–1111 (2009).

44

Li, H. et al. The Sequence Alignment/Map format and SAMtools. Bioinformatics 25, 2078–2079 (2009).

45

Bailey, T.L. et al. MEME SUITE: tools for motif discovery and searching. Nucleic Acids Res. 37, W202–W208 (2009).

46

Thisse, C. & Thisse, B. High-resolution in situ hybridization to whole-mount zebrafish embryos. Nat. Protoc. 3, 59–69 (2008).
Acknowledgements
We thank K. Bilguvar, S. Mane, C. Castaldi and I. Tikhonova for sequencing support; H. Codore for technical assistance; A. Bazzini, P. Oikonomou and S. Tavazoie for discussions; and all the members of the Giraldez laboratory for intellectual and technical support. This research was supported by the US National Institutes of Health (R01 HD074078, GM103789, GM102251, GM101108 and GM081602), the Pew Scholars Program in the Biomedical Sciences, the March of Dimes (1-FY12-230), the Yale Scholars Program, the HHMI Faculty Scholars Program, Whitman fellowship funds provided by E.E. Just, Lucy B. Lemann, and Evelyn and Melvin Spiegel, and the H. Keffer Hartline and Edward F. MacNichol, Jr. Fellowship Fund of the Marine Biological Laboratory (Woods Hole, Massachusetts, USA) to A.J.G.; the Swiss National Science Foundation (grant P2GEP3_148600) to C.E.V.; NIH Fellowship F32 HD061194 to C.M.T.; NIH Fellowship F32 HD071697 and start-up funds from the University of Pittsburgh to M.T.L.; and NIH Training Grants T32 GM007223 and T32 HD007149, an Edward L. Tatum Fellowship (Yale University) and the Yale MRSP to V.Y.
Ethics declarations
Competing interests
The authors declare no competing financial interests.
Integrated supplementary information
Supplementary information
About this article
Cite this article
Yartseva, V., Takacs, C., Vejnar, C. et al. RESA identifies mRNA-regulatory sequences at high resolution. Nat Methods 14, 201–207 (2017). https://doi.org/10.1038/nmeth.4121
Received:

Accepted:

Published:

Issue Date: