Abstract
The mechanical properties of the cellular microenvironment and their spatiotemporal variations are thought to play a central role in sculpting embryonic tissues, maintaining organ architecture and controlling cell behavior, including cell differentiation. However, no direct in vivo and in situ measurement of mechanical properties within developing 3D tissues and organs has yet been performed. Here we introduce a technique that employs biocompatible, magnetically responsive ferrofluid microdroplets as local mechanical actuators and allows quantitative spatiotemporal measurements of mechanical properties in vivo. Using this technique, we show that vertebrate body elongation entails spatially varying tissue mechanics along the anteroposterior axis. Specifically, we find that the zebrafish tailbud is viscoelastic (elastic below a few seconds and fluid after just 1 min) and displays decreasing stiffness and increasing fluidity toward its posterior elongating region. This method opens new avenues to study mechanobiology in vivo, both in embryogenesis and in disease processes, including cancer.
Relevant articles
Open Access articles citing this article.
Aliaksandr Dzementsei

,

Younes F. Barooji

…

Lene B. Oddershede

Communications Biology Open Access 29 April 2022

Pierre-François Lenne

&

Vikas Trivedi

Nature Communications Open Access 03 February 2022

Wei Du

,

Arshia Bhojwani

&

Jimmy K. Hu

International Journal of Oral Science Open Access 05 February 2021
Access options
Subscribe to Journal
Get full journal access for 1 year
$99.00
only $8.25 per issue
All prices are NET prices.
VAT will be added later in the checkout.
Tax calculation will be finalised during checkout.
Buy article
Get time limited or full article access on ReadCube.
$32.00
All prices are NET prices.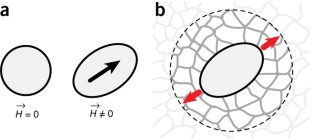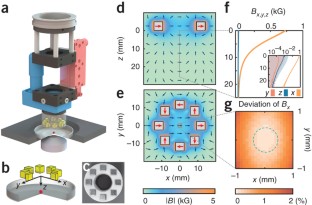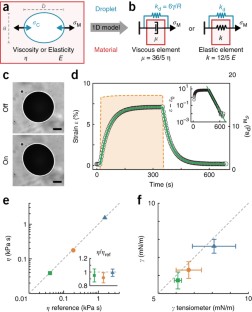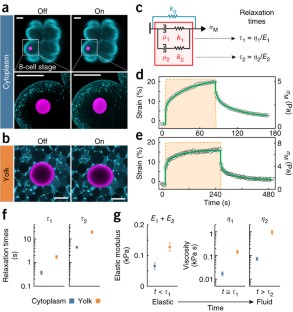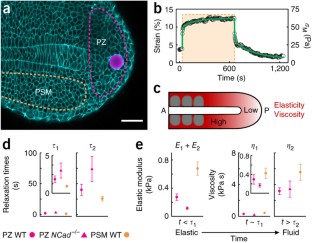 References
Thompson, D.W. On Growth and Form (Dover, 1942).

Heisenberg, C.-P. & Bellaïche, Y. Forces in tissue morphogenesis and patterning. Cell 153, 948–962 (2013).

Guillot, C. & Lecuit, T. Mechanics of epithelial tissue homeostasis and morphogenesis. Science 340, 1185–1189 (2013).

Miller, C.J. & Davidson, L.A. The interplay between cell signalling and mechanics in developmental processes. Nat. Rev. Genet. 14, 733–744 (2013).

Nelson, C.M. & Gleghorn, J.P. Sculpting organs: mechanical regulation of tissue development. Annu. Rev. Biomed. Eng. 14, 129–154 (2012).

Mammoto, T. & Ingber, D.E. Mechanical control of tissue and organ development. Development 137, 1407–1420 (2010).

Keller, R., Davidson, L.A. & Shook, D.R. How we are shaped: the biomechanics of gastrulation. Differentiation 71, 171–205 (2003).

Polacheck, W.J. & Chen, C.S. Measuring cell-generated forces: a guide to the available tools. Nat. Methods 13, 415–423 (2016).

Gonzalez-Rodriguez, D., Guevorkian, K., Douezan, S. & Brochard-Wyart, F. Soft matter models of developing tissues and tumors. Science 338, 910–917 (2012).

Sugimura, K., Lenne, P.F. & Graner, F. Measuring forces and stresses in situ in living tissues. Development 143, 186–196 (2016).

Campàs, O. A toolbox to explore the mechanics of living embryonic tissues. Semin. Cell Dev. Biol. 55, 119–130 (2016).

Zaman, M.H. et al. Migration of tumor cells in 3D matrices is governed by matrix stiffness along with cell-matrix adhesion and proteolysis. Proc. Natl. Acad. Sci. USA 103, 10889–10894 (2006).

Engler, A.J., Sen, S., Sweeney, H.L. & Discher, D.E. Matrix elasticity directs stem cell lineage specification. Cell 126, 677–689 (2006).

Guilak, F. et al. Control of stem cell fate by physical interactions with the extracellular matrix. Cell Stem Cell 5, 17–26 (2009).

Paszek, M.J. et al. Tensional homeostasis and the malignant phenotype. Cancer Cell 8, 241–254 (2005).

Balaban, N.Q. et al. Force and focal adhesion assembly: a close relationship studied using elastic micropatterned substrates. Nat. Cell Biol. 3, 466–472 (2001).

Khalilgharibi, N., Fouchard, J., Recho, P., Charras, G. & Kabla, A. The dynamic mechanical properties of cellularised aggregates. Curr. Opin. Cell Biol. 42, 113–120 (2016).

Nelson, C.M. & Bissell, M.J. Of extracellular matrix, scaffolds, and signaling: tissue architecture regulates development, homeostasis, and cancer. Annu. Rev. Cell Dev. Biol. 22, 287–309 (2006).

Johansen, P.L., Fenaroli, F., Evensen, L., Griffiths, G. & Koster, G. Optical micromanipulation of nanoparticles and cells inside living zebrafish. Nat. Commun. 7, 10974 (2016).

Almonacid, M. et al. Active diffusion positions the nucleus in mouse oocytes. Nat. Cell Biol. 17, 470–479 (2015).

Lim, C.T., Zhou, E.H. & Quek, S.T. Mechanical models for living cells--a review. J. Biomech. 39, 195–216 (2006).

Bausch, A.R., Möller, W. & Sackmann, E. Measurement of local viscoelasticity and forces in living cells by magnetic tweezers. Biophys. J. 76, 573–579 (1999).

Bambardekar, K., Clément, R., Blanc, O., Chardès, C. & Lenne, P.-F. Direct laser manipulation reveals the mechanics of cell contacts in vivo. Proc. Natl. Acad. Sci. USA 112, 1416–1421 (2015).

Wottawah, F. et al. Optical rheology of biological cells. Phys. Rev. Lett. 94, 098103 (2005).

Luu, O., David, R., Ninomiya, H. & Winklbauer, R. Large-scale mechanical properties of Xenopus embryonic epithelium. Proc. Natl. Acad. Sci. USA 108, 4000–4005 (2011).

Moore, S.W., Keller, R.E. & Koehl, M.A. The dorsal involuting marginal zone stiffens anisotropically during its convergent extension in the gastrula of Xenopus laevis. Development 121, 3131–3140 (1995).

Forgacs, G., Foty, R.A., Shafrir, Y. & Steinberg, M.S. Viscoelastic properties of living embryonic tissues: a quantitative study. Biophys. J. 74, 2227–2234 (1998).

Guevorkian, K., Colbert, M.-J., Durth, M., Dufour, S. & Brochard-Wyart, F. Aspiration of biological viscoelastic drops. Phys. Rev. Lett. 104, 218101 (2010).

Marmottant, P. et al. The role of fluctuations and stress on the effective viscosity of cell aggregates. Proc. Natl. Acad. Sci. USA 106, 17271–17275 (2009).

Zhou, J., Kim, H.Y. & Davidson, L.A. Actomyosin stiffens the vertebrate embryo during crucial stages of elongation and neural tube closure. Development 136, 677–688 (2009).

Zamir, E.A., Srinivasan, V., Perucchio, R. & Taber, L.A. Mechanical asymmetry in the embryonic chick heart during looping. Ann. Biomed. Eng. 31, 1327–1336 (2003).

Iwashita, M., Kataoka, N., Toida, K. & Kosodo, Y. Systematic profiling of spatiotemporal tissue and cellular stiffness in the developing brain. Development 141, 3793–3798 (2014).

Campàs, O. et al. Quantifying cell-generated mechanical forces within living embryonic tissues. Nat. Methods 11, 183–189 (2014).

Xu, C. & Sun, S. New forms of superparamagnetic nanoparticles for biomedical applications. Adv. Drug Deliv. Rev. 65, 732–743 (2013).

Rowghanian, P., Meinhart, C.D. & Campàs, O. Dynamics of ferrofluid drop deformations under spatially uniform magnetic fields. J. Fluid Mech. 802, 245–262 (2016).

Tsebers, A.O. Virial method of investigation of statics and dynamics of drops of magnetizable liquid. Magnetohydrodynamics 21, 19–26 (1985).

Rallison, J. The deformation of small viscous drops and bubbles in shear flows. Annu. Rev. Fluid Mech. 16, 45–66 (1984).

Sletten, E.M. & Swager, T.M. Fluorofluorophores: fluorescent fluorous chemical tools spanning the visible spectrum. J. Am. Chem. Soc. 136, 13574–13577 (2014).

Lele, Z. et al. parachute/n-cadherin is required for morphogenesis and maintained integrity of the zebrafish neural tube. Development 129, 3281–3294 (2002).

Harrington, M.J., Hong, E., Fasanmi, O. & Brewster, R. Cadherin-mediated adhesion regulates posterior body formation. BMC Dev. Biol. 7, 130 (2007).

McMillen, P. & Holley, S.A. The tissue mechanics of vertebrate body elongation and segmentation. Curr. Opin. Genet. Dev. 32, 106–111 (2015).

Foty, R.A., Forgacs, G., Pfleger, C.M. & Steinberg, M.S. Liquid properties of embryonic tissues: Measurement of interfacial tensions. Phys. Rev. Lett. 72, 2298–2301 (1994).

Ranft, J. et al. Fluidization of tissues by cell division and apoptosis. Proc. Natl. Acad. Sci. USA 107, 20863–20868 (2010).

Chaudhuri, O. et al. Hydrogels with tunable stress relaxation regulate stem cell fate and activity. Nat. Mater. 15, 326–334 (2016).

Wozniak, M.A. & Chen, C.S. Mechanotransduction in development: a growing role for contractility. Nat. Rev. Mol. Cell Biol. 10, 34–43 (2009).

Lawton, A.K. et al. Regulated tissue fluidity steers zebrafish body elongation. Development 140, 573–582 (2013).

Bénazéraf, B. et al. A random cell motility gradient downstream of FGF controls elongation of an amniote embryo. Nature 466, 248–252 (2010).

Murphy, W.L., McDevitt, T.C. & Engler, A.J. Materials as stem cell regulators. Nat. Mater. 13, 547–557 (2014).

Wei, S.C. et al. Matrix stiffness drives epithelial-mesenchymal transition and tumour metastasis through a TWIST1-G3BP2 mechanotransduction pathway. Nat. Cell Biol. 17, 678–688 (2015).

Lipfert, J., Hao, X. & Dekker, N.H. Quantitative modeling and optimization of magnetic tweezers. Biophys. J. 96, 5040–5049 (2009).

Sero-Guillaume, O.E., Zouaoui, D., Bernardin, D. & Brancher, J.P. The shape of a magnetic liquid drop. J. Fluid Mech. 241, 215–232 (1992).

Holtze, C. et al. Biocompatible surfactants for water-in-fluorocarbon emulsions. Lab Chip 8, 1632–1639 (2008).

Zimny, K. et al. Design of a fluorinated magneto-responsive material with tuneable ultrasound scattering properties. J. Mater. Chem. B Mater. Biol. Med. 2, 1285 (2014).

Aratyn-Schaus, Y., Oakes, P.W., Stricker, J., Winter, S.P. & Gardel, M.L. Preparation of complaint matrices for quantifying cellular contraction. J. Vis. Exp. e2173 (2010).

Nüsslein-Volhard, C. & Dahm, R. Zebrafish (Oxford Univ. Press, 2002).

Mosaliganti, K.R., Noche, R.R., Xiong, F., Swinburne, I.A. & Megason, S.G. ACME: automated cell morphology extractor for comprehensive reconstruction of cell membranes. PLoS Comput. Biol. 8, e1002780 (2012).
Acknowledgements
We thank D. Bothman for help with 3D printing work, O. Sandre and M. Menyo for help with fluorocarbon-based ferrofluids, E. Sletten (University of California, Los Angeles) for sharing custom-made fluorinated dyes, D. Kane and R. Warga (Western Michigan University) for providing pac/N-cadherin mutants, S. Megason (Harvard Medical School) for providing Tg(actb2:MA-Citrine) embryos, 3M for providing free samples of fluorocarbon oils, Ran Biotechnologies for help with fluorinated surfactants, and V. Mansard, T. Squires and M. Valentine for help with bulk rheology measurements. We also thank all Campàs laboratory members, the CNSI microfluidics facility and the UCSB Animal Research Center for support. The MRL Shared Experimental Facilities used for this work are supported by the MRSEC Program of the NSF under award DMR 1121053. F.S. and P.R. gratefully acknowledge financial support from the Alexander von Humboldt Foundation and Otis Williams Foundation, respectively. A.M. was funded by an EMBO Long-Term Fellowship (EMBO ALTF 509-2013). A.M. and P.R. also thank the Errett Fisher Foundation for financial support. This work was partially supported by NIH grant 1R21HD084285-01 (to O.C.) from the Eunice Kennedy Shriver National Institute of Child Health and Human Development.
Ethics declarations
Competing interests
The authors declare no competing financial interests.
Integrated supplementary information
Supplementary information
About this article
Cite this article
Serwane, F., Mongera, A., Rowghanian, P. et al. In vivo quantification of spatially varying mechanical properties in developing tissues. Nat Methods 14, 181–186 (2017). https://doi.org/10.1038/nmeth.4101
Received:

Accepted:

Published:

Issue Date:

DOI: https://doi.org/10.1038/nmeth.4101