Abstract
Although whole-organism calcium imaging in small and semi-transparent animals has been demonstrated, capturing the functional dynamics of large-scale neuronal circuits in awake behaving mammals at high speed and resolution has remained one of the main frontiers in systems neuroscience. Here we present a method based on light sculpting that enables unbiased single- and dual-plane high-speed (up to 160 Hz) calcium imaging as well as in vivo volumetric calcium imaging of a mouse cortical column (0.5 mm × 0.5 mm × 0.5 mm) at single-cell resolution and fast volume rates (3–6 Hz). We achieved this by tailoring the point-spread function of our microscope to the structures of interest while maximizing the signal-to-noise ratio using a home-built fiber laser amplifier with pulses that are synchronized to the imaging voxel speed. This enabled in vivo recording of calcium dynamics of several thousand neurons across cortical layers and in the hippocampus of awake behaving mice.
Relevant articles
Open Access articles citing this article.
Jesse K. Adams

,

Dong Yan

…

Jacob T. Robinson

Nature Biomedical Engineering Open Access 07 March 2022

F. K. Janiak

,

P. Bartel

…

T. Baden

Nature Communications Open Access 27 January 2022

Yuanlong Zhang

,

Bo Xiong

…

Qionghai Dai

Light: Science & Applications Open Access 27 July 2021
Access options
Subscribe to Journal
Get full journal access for 1 year
$99.00
only $8.25 per issue
All prices are NET prices.
VAT will be added later in the checkout.
Tax calculation will be finalised during checkout.
Buy article
Get time limited or full article access on ReadCube.
$32.00
All prices are NET prices.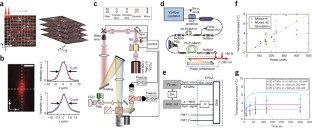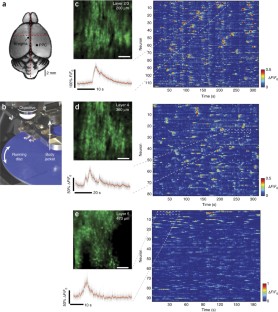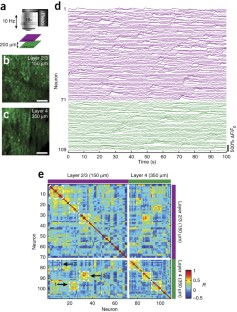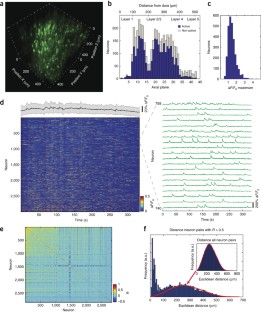 References
Chen, T.-W. et al. Ultrasensitive fluorescent proteins for imaging neuronal activity. Nature 499, 295–300 (2013).

Huisken, J., Swoger, J., Del Bene, F., Wittbrodt, J. & Stelzer, E.H. Optical sectioning deep inside live embryos by selective plane illumination microscopy. Science 305, 1007–1009 (2004).

Ahrens, M.B., Orger, M.B., Robson, D.N., Li, J.M. & Keller, P.J. Whole-brain functional imaging at cellular resolution using light-sheet microscopy. Nat. Methods 10, 413–420 (2013).

Chen, B.-C. et al. Lattice light-sheet microscopy: imaging molecules to embryos at high spatiotemporal resolution. Science 346, 1257998 (2014).

Levoy, M., Ng, R., Adams, A., Footer, M. & Horowitz, M. Light field microscopy. ACM Trans. Graph. 25, 924–934 (2006).

Prevedel, R. et al. Simultaneous whole-animal 3D imaging of neuronal activity using light-field microscopy. Nat. Methods 11, 727–730 (2014).

Bouchard, M.B. et al. Swept confocally-aligned planar excitation (SCAPE) microscopy for high speed volumetric imaging of behaving organisms. Nat. Photonics 9, 113–119 (2015).

Ahrens, M.B. et al. Brain-wide neuronal dynamics during motor adaptation in zebrafish. Nature 485, 471–477 (2012).

Denk, W., Strickler, J.H. & Webb, W.W. Two-photon laser scanning fluorescence microscopy. Science 248, 73–76 (1990).

Helmchen, F. & Denk, W. Deep tissue two-photon microscopy. Nat. Methods 2, 932–940 (2005).

Hoover, E.E. & Squier, J.A. Advances in multiphoton microscopy technology. Nat. Photonics 7, 93–101 (2013).

Mittmann, W. et al. Two-photon calcium imaging of evoked activity from L5 somatosensory neurons in vivo. Nat. Neurosci. 14, 1089–1093 (2011).

Thériault, G., Cottet, M., Castonguay, A., McCarthy, N. & De Koninck, Y. Extended two-photon microscopy in live samples with Bessel beams: steadier focus, faster volume scans, and simpler stereoscopic imaging. Front. Cell. Neurosci. 8, 139 (2014).

Botcherby, E.J. et al. Aberration-free three-dimensional multiphoton imaging of neuronal activity at kHz rates. Proc. Natl. Acad. Sci. USA 109, 2919–2924 (2012).

Grewe, B.F., Langer, D., Kasper, H., Kampa, B.M. & Helmchen, F. High-speed in vivo calcium imaging reveals neuronal network activity with near-millisecond precision. Nat. Methods 7, 399–405 (2010).

Kirkby, P.A., Srinivas Nadella, K.M.N. & Silver, R.A. A compact Acousto-Optic Lens for 2D and 3D femtosecond based 2-photon microscopy. Opt. Express 18, 13721–13745 (2010).

Kong, L. et al. Continuous volumetric imaging via an optical phase-locked ultrasound lens. Nat. Methods 12, 759–762 (2015).

Duemani Reddy, G., Kelleher, K., Fink, R. & Saggau, P. Three-dimensional random access multiphoton microscopy for functional imaging of neuronal activity. Nat. Neurosci. 11, 713–720 (2008).

Katona, G. et al. Fast two-photon in vivo imaging with three-dimensional random-access scanning in large tissue volumes. Nat. Methods 9, 201–208 (2012).

Fernández-Alfonso, T. et al. Monitoring synaptic and neuronal activity in 3D with synthetic and genetic indicators using a compact acousto-optic lens two-photon microscope. J. Neurosci. Methods 222, 69–81 (2014).

Kim, K.H. et al. Multifocal multiphoton microscopy based on multianode photomultiplier tubes. Opt. Express 15, 11658–11678 (2007).

Stirman, J.N., Smith, I.T., Kudenov, M.W. & Smith, S.L. Wide field-of-view, multi-region, two-photon imaging of neuronal activity in the mammalian brain. Nat. Biotechnol. 34, 857–862 (2016).

Cheng, A., Gonçalves, J.T., Golshani, P., Arisaka, K. & Portera-Cailliau, C. Simultaneous two-photon calcium imaging at different depths with spatiotemporal multiplexing. Nat. Methods 8, 139–142 (2011).

Yang, S.J. et al. Extended field-of-view and increased-signal 3D holographic illumination with time-division multiplexing. Opt. Express 23, 32573–32581 (2015).

Yang, W. et al. Simultaneous Multi-plane Imaging of Neural Circuits. Neuron 89, 269–284 (2016).

Mountcastle, V.B. The columnar organization of the neocortex. Brain 120, 701–722 (1997).

Oron, D., Tal, E. & Silberberg, Y. Scanningless depth-resolved microscopy. Opt. Express 13, 1468–1476 (2005).

Zhu, G., van Howe, J., Durst, M., Zipfel, W. & Xu, C. Simultaneous spatial and temporal focusing of femtosecond pulses. Opt. Express 13, 2153–2159 (2005).

Schrödel, T., Prevedel, R., Aumayr, K., Zimmer, M. & Vaziri, A. Brain-wide 3D imaging of neuronal activity in Caenorhabditis elegans with sculpted light. Nat. Methods 10, 1013–1020 (2013).

Dana, H. et al. Hybrid multiphoton volumetric functional imaging of large-scale bioengineered neuronal networks. Nat. Commun. 5, 3997 (2014).

Andrasfalvy, B.K., Zemelman, B.V., Tang, J. & Vaziri, A. Two-photon single-cell optogenetic control of neuronal activity by sculpted light. Proc. Natl. Acad. Sci. U.S.A. 107, 11981–11986 (2010).

Papagiakoumou, E. et al. Scanless two-photon excitation of channelrhodopsin-2. Nat. Methods 7, 848–854 (2010).

Rickgauer, J.P., Deisseroth, K. & Tank, D.W. Simultaneous cellular-resolution optical perturbation and imaging of place cell firing fields. Nat. Neurosci. 17, 1816–1824 (2014).

Therrien, O.D., Aubé, B., Pagès, S., Koninck, P.D. & Côté, D. Wide-field multiphoton imaging of cellular dynamics in thick tissue by temporal focusing and patterned illumination. Biomed. Opt. Express 2, 696–704 (2011).

Choi, H. et al. 3D-resolved fluorescence and phosphorescence lifetime imaging using temporal focusing wide-field two-photon excitation. Opt. Express 20, 26219–26235 (2012).

Kandel, E.R., Schwartz, J.H. & Jessell, T.M. Principles of Neural Science (McGraw-Hill, Health Professions Division, 2000).

Kalmbach, A.S. & Waters, J. Brain surface temperature under a craniotomy. J. Neurophysiol. 108, 3138–3146 (2012).

Stujenske, J.M., Spellman, T. & Gordon, J.A. Modeling the spatiotemporal dynamics of light and heat propagation for in vivo optogenetics. Cell Rep. 12, 525–534 (2015).

Podgorski, K. & Ranganathan, G. Brain heating induced by near-infrared lasers during multiphoton microscopy. J. Neurophysiol. 116, 1012–1023 (2016).

Koester, H.J., Baur, D., Uhl, R. & Hell, S.W. Ca2+ fluorescence imaging with pico- and femtosecond two-photon excitation: signal and photodamage. Biophys. J. 77, 2226–2236 (1999).

Hopt, A. & Neher, E. Highly nonlinear photodamage in two-photon fluorescence microscopy. Biophys. J. 80, 2029–2036 (2001).

Mukamel, E.A., Nimmerjahn, A. & Schnitzer, M.J. Automated analysis of cellular signals from large-scale calcium imaging data. Neuron 63, 747–760 (2009).

Pnevmatikakis, E.A. et al. Simultaneous denoising, deconvolution, and demixing of calcium imaging data. Neuron 89, 285–299 (2016).

Atlas, A.M.B. Allen Mouse Brain Atlas [Internet]., Available from: http://mouse.brain-map.org (2015).

Dombeck, D.A., Harvey, C.D., Tian, L., Looger, L.L. & Tank, D.W. Functional imaging of hippocampal place cells at cellular resolution during virtual navigation. Nat. Neurosci. 13, 1433–1440 (2010).

Kaifosh, P., Lovett-Barron, M., Turi, G.F., Reardon, T.R. & Losonczy, A. Septo-hippocampal GABAergic signaling across multiple modalities in awake mice. Nat. Neurosci. 16, 1182–1184 (2013).

Dana, H. et al. Sensitive red protein calcium indicators for imaging neural activity. eLife 5, e12727 (2016).

Rao, R.P.N. & Ballard, D.H. Predictive coding in the visual cortex: a functional interpretation of some extra-classical receptive-field effects. Nat. Neurosci. 2, 79–87 (1999).

Buonomano, D.V. & Maass, W. State-dependent computations: spatiotemporal processing in cortical networks. Nat. Rev. Neurosci. 10, 113–125 (2009).

Sompolinsky, H. Computational neuroscience: beyond the local circuit. Curr. Opin. Neurobiol. 25, xiii–xviii (2014).

Bewersdorf, J., Pick, R. & Hell, S.W. Multifocal multiphoton microscopy. Opt. Lett. 23, 655–657 (1998).

Pologruto, T.A., Sabatini, B.L. & Svoboda, K. ScanImage: flexible software for operating laser scanning microscopes. Biomed. Eng. Online 2, 13 (2003).

Chong, A., Renninger, W.H. & Wise, F.W. Properties of normal-dispersion femtosecond fiber lasers. J. Opt. Soc. Am. B 25, 140–148 (2008).

Zhu, L. et al. Generation of high fidelity 62-fs, 7-nJ pulses at 1035 nm from a net normal-dispersion Yb-fiber laser with anomalous dispersion higher-order-mode fiber. Opt. Express 21, 16255–16262 (2013).

Grüner-Nielsen, L., Jakobsen, D., Jespersen, K.G. & Pálsdóttir, B. A stretcher fiber for use in fs chirped pulse Yb amplifiers. Opt. Express 18, 3768–3773 (2010).

Fernández, A. et al. High-fidelity, 160 fs, 5 μJ pulses from an integrated Yb-fiber laser system with a fiber stretcher matching a simple grating compressor. Opt. Lett. 37, 927–929 (2012).
Acknowledgements
We thank W. Haubensak (Institute for Molecular Pathology (IMP), Vienna) and their lab members for sharing the satellite mouse facility and reagents and S. Rumpel and D. Aschauer (IMP) for providing mice during the initial tests, A. Piszczek and G. Petri for immunohistochemistry and slice imaging, G. Keller (Friedrich Miescher Institute, Basel) for sharing of red calcium indicators, L. Grüner-Nielsen for providing and optimizing the dispersion compensating fiber stretcher module, M. Colombini and the IMP workshop for manufacturing of mechanical components, P. Rupprecht for helpful discussions, G. Jaindl for technical support, and O. Olsen for reading and feedback on the manuscript. R.P. acknowledges the Vienna International Postdoctoral Program (VIPS) Program of the Austrian Federal Ministry of Science and Research and the City of Vienna and the European Commission (Marie Curie, FP7-PEOPLE-2011-IIF). A.F. acknowledges financial support by the European Union (FP7-ICT-317744). This work was supported through funding from the Vienna Science and Technology Fund (WWTF) project VRG10-11, the Human Frontiers Science Program Project RGP0041/2012, the Research Platform Quantum Phenomena and Nanoscale Biological Systems (QuNaBioS), the Institute of Molecular Pathology, the US National Institutes of Health (NIH) award 1U01NS094263-01, the Intelligence Advanced Research Projects Activity (IARPA) via Department of Interior/Interior Business Center (DoI/IBC) contract number D16PC00002. The US Government is authorized to reproduce and distribute reprints for Governmental purposes notwithstanding any copyright annotation thereon. The views and conclusions contained herein are those of the authors and should not be interpreted as necessarily representing the official policies or endorsements, either expressed or implied, of IARPA, DoI/IBC, or the US Government.
Ethics declarations
Competing interests
The authors declare no competing financial interests.
Integrated supplementary information
Supplementary information
About this article
Cite this article
Prevedel, R., Verhoef, A., Pernía-Andrade, A. et al. Fast volumetric calcium imaging across multiple cortical layers using sculpted light. Nat Methods 13, 1021–1028 (2016). https://doi.org/10.1038/nmeth.4040
Received:

Accepted:

Published:

Issue Date:

DOI: https://doi.org/10.1038/nmeth.4040