Abstract
Stable in vivo mapping and modulation of the same neurons and brain circuits over extended periods is critical to both neuroscience and medicine. Current electrical implants offer single-neuron spatiotemporal resolution but are limited by such factors as relative shear motion and chronic immune responses during long-term recording. To overcome these limitations, we developed a chronic in vivo recording and stimulation platform based on flexible mesh electronics, and we demonstrated stable multiplexed local field potentials and single-unit recordings in mouse brains for at least 8 months without probe repositioning. Properties of acquired signals suggest robust tracking of the same neurons over this period. This recording and stimulation platform allowed us to evoke stable single-neuron responses to chronic electrical stimulation and to carry out longitudinal studies of brain aging in freely behaving mice. Such advantages could open up future studies in mapping and modulating changes associated with learning, aging and neurodegenerative diseases.
Relevant articles
Open Access articles citing this article.
Yu Zhou

,

Huiran Yang

…

Xiaoling Wei

Microsystems & Nanoengineering Open Access 12 July 2023

Madison N. Wilson

,

Martin Thunemann

…

Duygu Kuzum

Nature Communications Open Access 26 December 2022
Access options
Subscribe to this journal
Receive 12 print issues and online access
$259.00 per year
only $21.58 per issue
Rent or buy this article
Prices vary by article type
from$1.95
to$39.95
Prices may be subject to local taxes which are calculated during checkout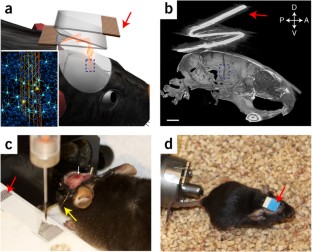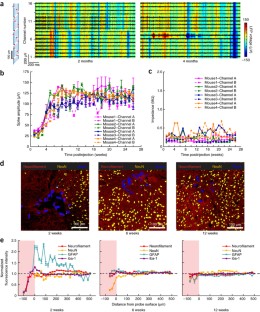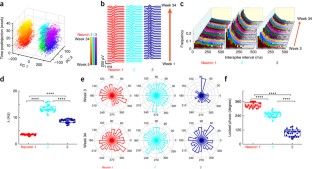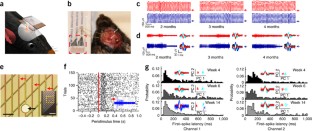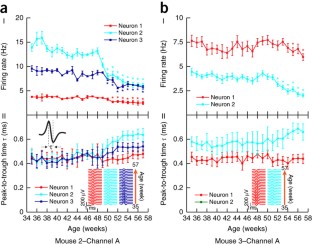 References
Yuste, R. From the neuron doctrine to neural networks. Nat. Rev. Neurosci. 16, 487–497 (2015).

Stanley, G.B. Reading and writing the neural code. Nat. Neurosci. 16, 259–263 (2013).

Cash, S.S. & Hochberg, L.R. The emergence of single neurons in clinical neurology. Neuron 86, 79–91 (2015).

Hochberg, L.R. et al. Reach and grasp by people with tetraplegia using a neurally controlled robotic arm. Nature 485, 372–375 (2012).

Shenoy, K.V. & Carmena, J.M. Combining decoder design and neural adaptation in brain-machine interfaces. Neuron 84, 665–680 (2014).

Bensmaia, S.J. & Miller, L.E. Restoring sensorimotor function through intracortical interfaces: progress and looming challenges. Nat. Rev. Neurosci. 15, 313–325 (2014).

Aflalo, T. et al. Neurophysiology. Decoding motor imagery from the posterior parietal cortex of a tetraplegic human. Science 348, 906–910 (2015).

Perge, J.A. et al. Intra-day signal instabilities affect decoding performance in an intracortical neural interface system. J. Neural Eng. 10, 036004 (2013).

Grady, C. The cognitive neuroscience of ageing. Nat. Rev. Neurosci. 13, 491–505 (2012).

Wang, M. et al. Neuronal basis of age-related working memory decline. Nature 476, 210–213 (2011).

Yeoman, M., Scutt, G. & Faragher, R. Insights into CNS ageing from animal models of senescence. Nat. Rev. Neurosci. 13, 435–445 (2012).

Stam, C.J. Modern network science of neurological disorders. Nat. Rev. Neurosci. 15, 683–695 (2014).

Kornblum, H.I. et al. In vivo imaging of neuronal activation and plasticity in the rat brain by high resolution positron emission tomography (microPET). Nat. Biotechnol. 18, 655–660 (2000).

Poldrack, R.A. & Farah, M.J. Progress and challenges in probing the human brain. Nature 526, 371–379 (2015).

Chang, E.F. Towards large-scale, human-based, mesoscopic neurotechnologies. Neuron 86, 68–78 (2015).

Oxley, T.J. et al. Minimally invasive endovascular stent-electrode array for high-fidelity, chronic recordings of cortical neural activity. Nat. Biotechnol. 34, 320–327 (2016).

Hamel, E.J., Grewe, B.F., Parker, J.G. & Schnitzer, M.J. Cellular level brain imaging in behaving mammals: an engineering approach. Neuron 86, 140–159 (2015).

Berényi, A. et al. Large-scale, high-density (up to 512 channels) recording of local circuits in behaving animals. J. Neurophysiol. 111, 1132–1149 (2014).

Scholvin, J. et al. Close-packed silicon microelectrodes for scalable spatially oversampled neural recording. IEEE Trans. Biomed. Eng. 63, 120–130 (2016).

Yamamoto, J. & Wilson, M.A. Large-scale chronically implantable precision motorized microdrive array for freely behaving animals. J. Neurophysiol. 100, 2430–2440 (2008).

Schwarz, D.A. et al. Chronic, wireless recordings of large-scale brain activity in freely moving rhesus monkeys. Nat. Methods 11, 670–676 (2014).

Polikov, V.S., Tresco, P.A. & Reichert, W.M. Response of brain tissue to chronically implanted neural electrodes. J. Neurosci. Methods 148, 1–18 (2005).

Jackson, A. & Fetz, E.E. Compact movable microwire array for long-term chronic unit recording in cerebral cortex of primates. J. Neurophysiol. 98, 3109–3118 (2007).

Voigts, J., Siegle, J.H., Pritchett, D.L. & Moore, C.I. The flexDrive: an ultra-light implant for optical control and highly parallel chronic recording of neuronal ensembles in freely moving mice. Front. Syst. Neurosci. 7, 8 (2013).

Thompson, L.T. & Best, P.J. Long-term stability of the place-field activity of single units recorded from the dorsal hippocampus of freely behaving rats. Brain Res. 509, 299–308 (1990).

Krüger, J., Caruana, F., Volta, R.D. & Rizzolatti, G. Seven years of recording from monkey cortex with a chronically implanted multiple microelectrode. Front. Neuroeng. 3, 6 (2010).

Vaidya, M. et al. Ultra-long term stability of single units using chronically implanted multielectrode arrays. Conf. Proc. IEEE Eng. Med. Biol. Soc. 2014, 4872–4875 (2014).

Dickey, A.S., Suminski, A., Amit, Y. & Hatsopoulos, N.G. Single-unit stability using chronically implanted multielectrode arrays. J. Neurophysiol. 102, 1331–1339 (2009).

Karumbaiah, L. et al. Relationship between intracortical electrode design and chronic recording function. Biomaterials 34, 8061–8074 (2013).

Kozai, T.D.Y. et al. Ultrasmall implantable composite microelectrodes with bioactive surfaces for chronic neural interfaces. Nat. Mater. 11, 1065–1073 (2012).

Kim, J. et al. Next-generation flexible neural and cardiac electrode arrays. Biomed. Eng. Lett. 4, 95–108 (2014).

Liu, J. et al. Syringe-injectable electronics. Nat. Nanotechnol. 10, 629–636 (2015).

Hong, G. et al. Syringe injectable electronics: precise targeted delivery with quantitative input/output connectivity. Nano. Lett. 15, 6979–6984 (2015).

Xie, C. et al. Three-dimensional macroporous nanoelectronic networks as minimally invasive brain probes. Nat. Mater. 14, 1286–1292 (2015).

Tyler, W.J. The mechanobiology of brain function. Nat. Rev. Neurosci. 13, 867–878 (2012).

Schmitzer-Torbert, N. & Redish, A.D. Neuronal activity in the rodent dorsal striatum in sequential navigation: separation of spatial and reward responses on the multiple T task. J. Neurophysiol. 91, 2259–2272 (2004).

Shadlen, M.N. & Newsome, W.T. The variable discharge of cortical neurons: implications for connectivity, computation, and information coding. J. Neurosci. 18, 3870–3896 (1998).

Skaggs, W.E., McNaughton, B.L., Wilson, M.A. & Barnes, C.A. Theta phase precession in hippocampal neuronal populations and the compression of temporal sequences. Hippocampus 6, 149–172 (1996).

Siapas, A.G., Lubenov, E.V. & Wilson, M.A. Prefrontal phase locking to hippocampal theta oscillations. Neuron 46, 141–151 (2005).

Khodagholy, D. et al. NeuroGrid: recording action potentials from the surface of the brain. Nat. Neurosci. 18, 310–315 (2015).

Florian, M.C. et al. A canonical to non-canonical Wnt signalling switch in haematopoietic stem-cell ageing. Nature 503, 392–396 (2013).

Grion, N., Akrami, A., Zuo, Y., Stella, F. & Diamond, M.E. Coherence between rat sensorimotor system and hippocampus is enhanced during tactile discrimination. PLoS Biol. 14, e1002384 (2016).

Colgin, L.L. Rhythms of the hippocampal network. Nat. Rev. Neurosci. 17, 239–249 (2016).

Henze, D.A. et al. Intracellular features predicted by extracellular recordings in the hippocampus in vivo. J. Neurophysiol. 84, 390–400 (2000).

Bach, M.E. et al. Age-related defects in spatial memory are correlated with defects in the late phase of hippocampal long-term potentiation in vitro and are attenuated by drugs that enhance the cAMP signaling pathway. Proc. Natl. Acad. Sci. USA 96, 5280–5285 (1999).

Cohen, J. Statistical Power Analysis for the Behavioral Sciences 2nd edn (Routledge, 1988).

Cogan, S.F. Neural stimulation and recording electrodes. Annu. Rev. Biomed. Eng. 10, 275–309 (2008).

Quiroga, R.Q., Nadasdy, Z. & Ben-Shaul, Y. Unsupervised spike detection and sorting with wavelets and superparamagnetic clustering. Neural Comput. 16, 1661–1687 (2004).

Schmitzer-Torbert, N., Jackson, J., Henze, D., Harris, K. & Redish, A.D. Quantitative measures of cluster quality for use in extracellular recordings. Neuroscience 131, 1–11 (2005).

Courtin, J. et al. Prefrontal parvalbumin interneurons shape neuronal activity to drive fear expression. Nature 505, 92–96 (2014).
Acknowledgements
We thank J. Huang for help with recording instrumentation, J. Liu and J. Tian for training in chronic surgery, S. Patel for help with data analysis and stimulation implementation, G. Guitchounts and S. Wolff for help in freely behaving mouse recording implementation and data interpretation, and C. Perez Estrada for helpful discussions. C.M.L. acknowledges support from the Air Force Office of Scientific Research, the Star Family and Fidelity Biosciences Funds, and the Harvard University Physical Sciences and Engineering Accelerator award. This work was performed in part at the Harvard University Center for Nanoscale Systems (CNS), a member of the National Nanotechnology Coordinated Infrastructure Network (NNCI), which is supported by the National Science Foundation.
Ethics declarations
Competing interests
The authors declare no competing financial interests.
Integrated supplementary information
Supplementary information
Supplementary Figures 1–14 and Supplementary Tables 1–3 (PDF 2325 kb)
This video shows a mouse with a head-mounted voltage-amplifier roaming freely in a cage with randomly positioned food pellets during recording. The frame rate is 25 frames per second (fps) and the video is played at 1× real time. The mesh electronics was injected into the somatosensory cortex and hippocampus, and bonded to the interface cable as described in the Online Methods. (MOV 4511 kb)
About this article
Cite this article
Fu, TM., Hong, G., Zhou, T. et al. Stable long-term chronic brain mapping at the single-neuron level. Nat Methods 13, 875–882 (2016). https://doi.org/10.1038/nmeth.3969
Received:

Accepted:

Published:

Issue Date:

DOI: https://doi.org/10.1038/nmeth.3969