Abstract
Double-strand DNA breaks (DSBs) continuously arise and cause mutations and chromosomal rearrangements. Here, we present DSBCapture, a sequencing-based method that captures DSBs in situ and directly maps these at single-nucleotide resolution, enabling the study of DSB origin. DSBCapture shows substantially increased sensitivity and data yield compared with other methods. Using DSBCapture, we uncovered a striking relationship between DSBs and elevated transcription within nucleosome-depleted chromatin.
Access options
Subscribe to Journal
Get full journal access for 1 year
$59.00
only $4.92 per issue
All prices are NET prices.
VAT will be added later in the checkout.
Tax calculation will be finalised during checkout.
Rent or Buy article
Get time limited or full article access on ReadCube.
from$8.99
All prices are NET prices.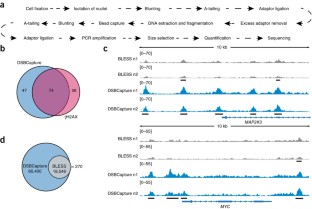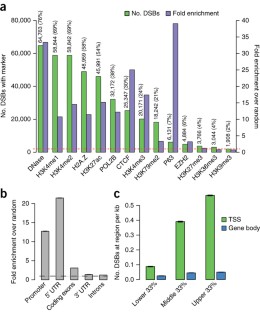 Accession codes
Primary accessions
Gene Expression Omnibus
Referenced accessions
Gene Expression Omnibus
References
1

Srivastava, M. & Raghavan, S.C. Chem. Biol. 22, 17–29 (2015).

2

Jackson, S.P. & Bartek, J. Nature 461, 1071–1078 (2009).

3

Rodriguez, R. et al. Nat. Chem. Biol. 8, 301–310 (2012).

4

Tsai, S.Q. et al. Nat. Biotechnol. 33, 187–197 (2015).

5

Crosetto, N. et al. Nat. Methods 10, 361–365 (2013).

6

Marchuk, D., Drumm, M., Saulino, A. & Collins, F.S. Nucleic Acids Res. 19, 1154 (1991).

7

Aird, D. et al. Genome Biol. 12, R18 (2011).

8

Mitra, A., Skrzypczak, M., Ginalski, K. & Rowicka, M. PLoS One 10, e0120520 (2015).

9

Aymard, F. et al. Nat. Struct. Mol. Biol. 21, 366–374 (2014).

10

Biffi, G., Tannahill, D., McCafferty, J. & Balasubramanian, S. Nat. Chem. 5, 182–186 (2013).

11

Ribeyre, C. et al. PLoS Genet. 5, e1000475 (2009).

12

Paeschke, K., Capra, J.A. & Zakian, V.A. Cell 145, 678–691 (2011).

13

Chambers, V.S. et al. Nat. Biotechnol. 33, 877–881 (2015).

14

ENCODE Project Consortium. Nature 489, 57–74 (2012).

15

Gursoy-Yuzugullu, O., Ayrapetov, M.K. & Price, B.D. Proc. Natl. Acad. Sci. USA 112, 7507–7512 (2015).

16

Storch, K. et al. Cancer Res. 70, 3925–3934 (2010).

17

Falk, M., Lukásová, E. & Kozubek, S. Biochim. Biophys. Acta 1783, 2398–2414 (2008).

18

Fong, Y.W., Cattoglio, C. & Tjian, R. Mol. Cell 52, 291–302 (2013).

19

Yang, F., Kemp, C.J. & Henikoff, S. Mutat. Res. 773, 9–15 (2015).

20

Schwer, B. et al. Proc. Natl. Acad. Sci. USA 113, 2258–2263 (2016).

21

Lensing, S.V. et al. Protocol Exchange http://dx.doi.org/10.1038/protex.2016.52 (2016).
Acknowledgements
We thank G. Legube, LBCMCP, Center for Integrative Biology (CBI), Université de Toulouse, Toulouse, France for providing U2OS AID-DIvA cells. We thank the genomic core facility at the Cancer Research UK Cambridge Institute. R.H.-H. acknowledges EMBO for support (EMBO Long-Term Fellowship to R.H.-H.). We acknowledge support from the University of Cambridge and the Cancer Research UK program. The Balasubramanian laboratory is supported by core funding from Cancer Research UK (C14303/A17197 to S.B.) and by an ERC Advanced Grant (S.B.). S.B. is a senior investigator of the Wellcome Trust.
Ethics declarations
Competing interests
The authors declare no competing financial interests.
Integrated supplementary information
Supplementary information
Supplementary Figures 1–5 and Supplementary Tables 1–4. (PDF 1441 kb)
DSBCapture_code_submitted (ZIP 2 kb)
About this article
Cite this article
Lensing, S., Marsico, G., Hänsel-Hertsch, R. et al. DSBCapture: in situ capture and sequencing of DNA breaks. Nat Methods 13, 855–857 (2016). https://doi.org/10.1038/nmeth.3960
Received:

Accepted:

Published:

Issue Date: