Abstract
RNA sequencing (RNA-seq) can be used to assemble spliced isoforms, quantify expressed genes and provide a global profile of the transcriptome. However, the size and diversity of the transcriptome, the wide dynamic range in gene expression and inherent technical biases confound RNA-seq analysis. We have developed a set of spike-in RNA standards, termed 'sequins' (sequencing spike-ins), that represent full-length spliced mRNA isoforms. Sequins have an entirely artificial sequence with no homology to natural reference genomes, but they align to gene loci encoded on an artificial in silico chromosome. The combination of multiple sequins across a range of concentrations emulates alternative splicing and differential gene expression, and it provides scaling factors for normalization between samples. We demonstrate the use of sequins in RNA-seq experiments to measure sample-specific biases and determine the limits of reliable transcript assembly and quantification in accompanying human RNA samples. In addition, we have designed a complementary set of sequins that represent fusion genes arising from rearrangements of the in silico chromosome to aid in cancer diagnosis. RNA sequins provide a qualitative and quantitative reference with which to navigate the complexity of the human transcriptome.
Relevant articles
Open Access articles citing this article.
Oguzhan Begik

,

Gregor Diensthuber

…

Eva Maria Novoa

Nature Methods Open Access 19 December 2022

Helen M. Gunter

,

Scott E. Youlten

…

Tim R. Mercer

Nature Communications Open Access 28 October 2022

David J. Wright

,

Nicola A. L. Hall

…

Wilfried Haerty

BMC Genomics Open Access 10 January 2022
Access options
Subscribe to this journal
Receive 12 print issues and online access
$259.00 per year
only $21.58 per issue
Rent or buy this article
Prices vary by article type
from$1.95
to$39.95
Prices may be subject to local taxes which are calculated during checkout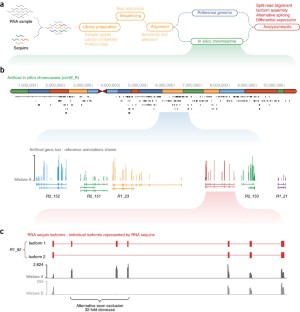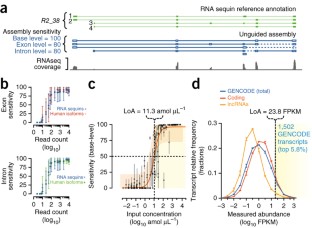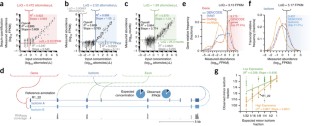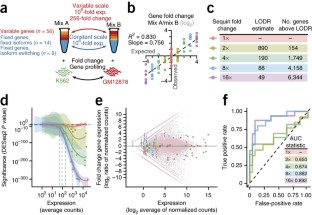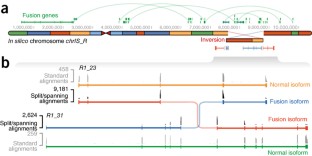 Accession codes
Primary accessions
Gene Expression Omnibus
References
Carninci, P. et al. The transcriptional landscape of the mammalian genome. Science 309, 1559–1563 (2005).

Kapranov, P., Willingham, A.T. & Gingeras, T.R. Genome-wide transcription and the implications for genomic organization. Nat. Rev. Genet. 8, 413–423 (2007).

Kratz, A. & Carninci, P. The devil in the details of RNA-seq. Nat. Biotechnol. 32, 882–884 (2014).

Cloonan, N. et al. Stem cell transcriptome profiling via massive-scale mRNA sequencing. Nat. Methods 5, 613–619 (2008).

Mortazavi, A., Williams, B.A., McCue, K., Schaeffer, L. & Wold, B. Mapping and quantifying mammalian transcriptomes by RNA-Seq. Nat. Methods 5, 621–628 (2008).

Wilhelm, B.T. & Landry, J.-R. RNA-Seq-quantitative measurement of expression through massively parallel RNA-sequencing. Methods 48, 249–257 (2009).

Martin, J.A. & Wang, Z. Next-generation transcriptome assembly. Nat. Rev. Genet. 12, 671–682 (2011).

Mercer, T.R. et al. Targeted sequencing for gene discovery and quantification using RNA CaptureSeq. Nat. Protoc. 9, 989–1009 (2014).

Vijay, N., Poelstra, J.W., Künstner, A. & Wolf, J.B.W. Challenges and strategies in transcriptome assembly and differential gene expression quantification. A comprehensive in silico assessment of RNA-seq experiments. Mol. Ecol. 22, 620–634 (2013).

Tarazona, S., García-Alcalde, F., Dopazo, J., Ferrer, A. & Conesa, A. Differential expression in RNA-seq: a matter of depth. Genome Res. 21, 2213–2223 (2011).

Li, S. et al. Multi-platform assessment of transcriptome profiling using RNA-seq in the ABRF next-generation sequencing study. Nat. Biotechnol. 32, 915–925 (2014).

Li, S. et al. Detecting and correcting systematic variation in large-scale RNA sequencing data. Nat. Biotechnol. 32, 888–895 (2014).

Lahens, N.F. et al. IVT-seq reveals extreme bias in RNA sequencing. Genome Biol. 15, R86 (2014).

Rehrauer, H., Opitz, L., Tan, G., Sieverling, L. & Schlapbach, R. Blind spots of quantitative RNA-seq: the limits for assessing abundance, differential expression, and isoform switching. BMC Bioinformatics 14, 370 (2013).

Chen, K. et al. The overlooked fact: fundamental need for spike-in control for virtually all genome-wide analyses. Mol. Cell Biol. 36, 662–667 (2015).

Munro, S.A. et al. Assessing technical performance in differential gene expression experiments with external spike-in RNA control ratio mixtures. Nat. Commun. 5, 5125 (2014).

Jiang, L. et al. Synthetic spike-in standards for RNA-seq experiments. Genome Res. 21, 1543–1551 (2011).

Baker, S.C. et al. The External RNA Controls Consortium: a progress report. Nat. Methods 2, 731–734 (2005).

Conesa, A. et al. A survey of best practices for RNA-seq data analysis. Genome Biol. 17, 13 (2016).

Harrow, J. et al. GENCODE: the reference human genome annotation for The ENCODE Project. Genome Res. 22, 1760–1774 (2012).

Kim, D. et al. TopHat2: accurate alignment of transcriptomes in the presence of insertions, deletions and gene fusions. Genome Biol. 14, R36 (2013).

Pertea, M. et al. StringTie enables improved reconstruction of a transcriptome from RNA-seq reads. Nat. Biotechnol. 33, 290–295 (2015).

Burset, M. & Guigó, R. Evaluation of gene structure prediction programs. Genomics 34, 353–367 (1996).

Djebali, S. et al. Landscape of transcription in human cells. Nature 489, 101–108 (2012).

Clark, M.B. et al. Quantitative gene profiling of long noncoding RNAs with targeted RNA sequencing. Nat. Methods 12, 339–342 (2015).

Steijger, T. et al. Assessment of transcript reconstruction methods for RNA-seq. Nat. Methods 10, 1177–1184 (2013).

Armbruster, D.A. & Pry, T. Limit of blank, limit of detection and limit of quantitation. Clin. Biochem. Rev. 29, S49–S52 (2008).

Anders, S., Reyes, A. & Huber, W. Detecting differential usage of exons from RNA-seq data. Genome Res. 22, 2008–2017 (2012).

Wang, E.T. et al. Alternative isoform regulation in human tissue transcriptomes. Nature 456, 470–476 (2008).

Risso, D., Ngai, J., Speed, T.P. & Dudoit, S. Normalization of RNA-seq data using factor analysis of control genes or samples. Nat. Biotechnol. 32, 896–902 (2014).

Love, M.I., Huber, W. & Anders, S. Moderated estimation of fold change and dispersion for RNA-seq data with DESeq2. Genome Biol. 15, 550 (2014).

Trapnell, C. et al. Differential analysis of gene regulation at transcript resolution with RNA-seq. Nat. Biotechnol. 31, 46–53 (2013).

Mitelman, F., Johansson, B. & Mertens, F. The impact of translocations and gene fusions on cancer causation. Nat. Rev. Cancer 7, 233–245 (2007).

Mertens, F., Johansson, B., Fioretos, T. & Mitelman, F. The emerging complexity of gene fusions in cancer. Nat. Rev. Cancer 15, 371–381 (2015).

Stransky, N., Cerami, E., Schalm, S., Kim, J.L. & Lengauer, C. The landscape of kinase fusions in cancer. Nat. Commun. 5, 4846 (2014).

Tembe, W.D. et al. Open-access synthetic spike-in mRNA-seq data for cancer gene fusions. BMC Genomics 15, 824 (2014).

Dobin, A. et al. STAR: ultrafast universal RNA-seq aligner. Bioinformatics 29, 15–21 (2013).

Naumann, S., Reutzel, D., Speicher, M. & Decker, H.-J. Complete karyotype characterization of the K562 cell line by combined application of G-banding, multiplex-fluorescence in situ hybridization, fluorescence in situ hybridization, and comparative genomic hybridization. Leuk. Res. 25, 313–322 (2001).

Maher, C.A. et al. Chimeric transcript discovery by paired-end transcriptome sequencing. Proc. Natl. Acad. Sci. USA 106, 12353–12358 (2009).

Zhao, W. et al. Comparison of RNA-Seq by poly (A) capture, ribosomal RNA depletion, and DNA microarray for expression profiling. BMC Genomics 15, 419 (2014).

SEQC/MAQC-III Consortium. A comprehensive assessment of RNA-seq accuracy, reproducibility and information content by the Sequencing Quality Control Consortium. Nat. Biotechnol. 32, 903–914 (2014).

Rapaport, F. et al. Comprehensive evaluation of differential gene expression analysis methods for RNA-seq data. Genome Biol. 14, R95 (2013).

Engström, P.G. et al. Systematic evaluation of spliced alignment programs for RNA-seq data. Nat. Methods 10, 1185–1191 (2013).

Van Keuren-Jensen, K., Keats, J.J. & Craig, D.W. Bringing RNA-seq closer to the clinic. Nat. Biotechnol. 32, 884–885 (2014).

Byron, S.A., Van Keuren-Jensen, K.R., Engelthaler, D.M., Carpten, J.D. & Craig, D.W. Translating RNA sequencing into clinical diagnostics: opportunities and challenges. Nat. Rev. Genet. 17, 257–271 (2016).

Deveson, I.W. et al. Representing genetic variation with synthetic DNA standards. Nat. Methods http://dx.doi.org/10.1038/nmeth.3957 (2016).

Altschul, S.F., Gish, W., Miller, W., Myers, E.W. & Lipman, D.J. Basic local alignment search tool. J. Mol. Biol. 215, 403–410 (1990).

Martin, M. Cutadapt removes adapter sequences from high-throughput sequencing reads. EMBnet.journal 17, 10–12 (2011).

Langmead, B. & Salzberg, S.L. Fast gapped-read alignment with Bowtie 2. Nat. Methods 9, 357–359 (2012).

Li, H. et al. The Sequence Alignment/Map format and SAMtools. Bioinformatics 25, 2078–2079 (2009).

Trapnell, C. et al. Transcript assembly and quantification by RNA-Seq reveals unannotated transcripts and isoform switching during cell differentiation. Nat. Biotechnol. 28, 511–515 (2010).

Robinson, J.T. et al. Integrative genomics viewer. Nat. Biotechnol. 29, 24–26 (2011).

Schafer, S. et al. Alternative splicing signatures in RNA-seq data: percent spliced in (PSI). Curr. Protoc. Hum. Genet. 87, 11.16.11–11.16.14 (2015).

Quinlan, A.R. & Hall, I.M. BEDTools: a flexible suite of utilities for comparing genomic features. Bioinformatics 26, 841–842 (2010).

Anders, S., Pyl, P.T. & Huber, W. HTSeq—a Python framework to work with high-throughput sequencing data. Bioinformatics 31, 166–169 (2015).
Acknowledgements
The authors would like to thank the following funding sources: Australian National Health and Medical Research Council (NHMRC) Australia Fellowship (1062470 to T.R.M. and 1062606 to W.Y.C.). S.A.H. and I.W.D. are supported by Australian Postgraduate Award scholarships. The contents of the published material are solely the responsibility of the administering institution, a participating institution or individual authors and do not reflect the views of NHMRC. The authors would also like to thank D. Thomson and M. Smith (Garvan Institute of Medical Research) for helpful discussions during manuscript preparation.
Ethics declarations
Competing interests
Garvan Institute of Medical Research has filed a patent application (PCT/AU2015/050797) on some techniques described in this study.
Integrated supplementary information
Supplementary information
About this article
Cite this article
Hardwick, S., Chen, W., Wong, T. et al. Spliced synthetic genes as internal controls in RNA sequencing experiments. Nat Methods 13, 792–798 (2016). https://doi.org/10.1038/nmeth.3958
Received:

Accepted:

Published:

Issue Date:

DOI: https://doi.org/10.1038/nmeth.3958