Abstract
Drug sensitivity and resistance are conventionally quantified by IC50 or Emax values, but these metrics are highly sensitive to the number of divisions taking place over the course of a response assay. The dependency of IC50 and Emax on division rate creates artefactual correlations between genotype and drug sensitivity, while obscuring valuable biological insights and interfering with biomarker discovery. We derive alternative small molecule drug-response metrics that are insensitive to division number. These are based on estimation of the magnitude of drug-induced growth rate inhibition (GR) using endpoint or time-course assays. We show that GR50 and GRmax are superior to conventional metrics for assessing the effects of small molecule drugs in dividing cells. Moreover, adopting GR metrics requires only modest changes in experimental protocols. We expect GR metrics to improve the study of cell signaling and growth using small molecules and biologics and to facilitate the discovery of drug-response biomarkers and the identification of drugs effective against specific patient-derived tumor cells.
Relevant articles
Open Access articles citing this article.
Sean M. Gross

,

Farnaz Mohammadi

…

Laura M. Heiser

Nature Communications Open Access 10 June 2023

Cai-Feng Lin

,

Zhi-Wen Chen

…

Shi Chen

BMC Cancer Open Access 08 June 2023

Theodora A. Constantin

,

Anabel Varela-Carver

…

Charlotte L. Bevan

British Journal of Cancer Open Access 19 April 2023
Access options
Subscribe to this journal
Receive 12 print issues and online access
$259.00 per year
only $21.58 per issue
Rent or buy this article
Prices vary by article type
from$1.95
to$39.95
Prices may be subject to local taxes which are calculated during checkout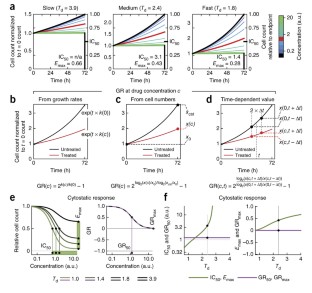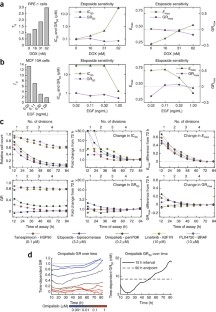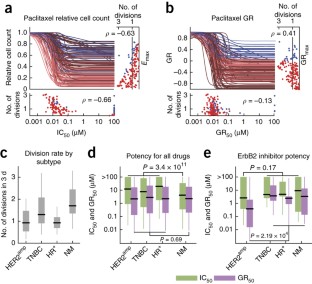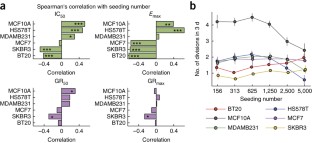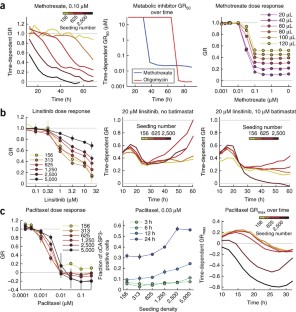 Accession codes
Primary accessions
Gene Expression Omnibus
References
Barretina, J. et al. The Cancer Cell Line Encyclopedia enables predictive modelling of anticancer drug sensitivity. Nature 483, 603–607 (2012).

Garnett, M.J. et al. Systematic identification of genomic markers of drug sensitivity in cancer cells. Nature 483, 570–575 (2012).

Heiser, L.M. et al. Subtype and pathway specific responses to anticancer compounds in breast cancer. Proc. Natl. Acad. Sci. USA 109, 2724–2729 (2012).

Schenone, M., Dancč ík, V., Wagner, B.K. & Clemons, P.A. Target identification and mechanism of action in chemical biology and drug discovery. Nat. Chem. Biol. 9, 232–240 (2013).

Cravatt, B.F. & Gottesfeld, J.M. Chemical biology meets biological chemistry minireview series. J. Biol. Chem. 285, 11031–11032 (2010).

Fallahi-Sichani, M., Honarnejad, S., Heiser, L.M., Gray, J.W. & Sorger, P.K. Metrics other than potency reveal systematic variation in responses to cancer drugs. Nat. Chem. Biol. 9, 708–714 (2013).

Sebaugh, J.L. Guidelines for accurate EC50/IC50 estimation. Pharm. Stat. 10, 128–134 (2011).

Rees, M.G. et al. Correlating chemical sensitivity and basal gene expression reveals mechanism of action. Nat. Chem. Biol. 12, 109–116 (2016).

Seashore-Ludlow, B. et al. Harnessing connectivity in a large-scale small-molecule sensitivity dataset. Cancer Discov. 5, 1210–1223 (2015).

Errington, T.M. et al. An open investigation of the reproducibility of cancer biology research. eLife 3, e04333 (2014).

Haibe-Kains, B. et al. Inconsistency in large pharmacogenomic studies. Nature 504, 389–393 (2013).

Safikhani, Z. et al. Revisiting inconsistency in large pharmacogenomic studies. Preprint at http://dx.doi.org/10.1101/026153 (2015).

The Cancer Cell Line Encyclopedia Consortium & the Genomics of Drug Sensitivity in Cancer Consortium. Pharmacogenomic agreement between two cancer cell line data sets. Nature 528, 84–87 (2015).

O'Connor, P.M. et al. Characterization of the p53 tumor suppressor pathway in cell lines of the National Cancer Institute anticancer drug screen and correlations with the growth-inhibitory potency of 123 anticancer agents. Cancer Res. 57, 4285–4300 (1997).

Serrano, M., Lin, A.W., McCurrach, M.E., Beach, D. & Lowe, S.W. Oncogenic ras provokes premature cell senescence associated with accumulation of p53 and p16INK4a. Cell 88, 593–602 (1997).

Michaloglou, C. et al. BRAFE600-associated senescence-like cell cycle arrest of human naevi. Nature 436, 720–724 (2005).

Muranen, T. et al. Inhibition of PI3K/mTOR leads to adaptive resistance in matrix-attached cancer cells. Cancer Cell 21, 227–239 (2012).

Chabner, B.A., Allegra, C.J., Curt, G.A. & Calabresi, P. in The Pharmacological Basis of Therapeutics 9th edn. (eds. Hardman, J. & Limbird, L.) Ch. 51 (McGraw-Hill, 1996).

Baguley, B.C. et al. Resistance mechanisms determining the in vitro sensitivity to paclitaxel of tumour cells cultured from patients with ovarian cancer. Eur. J. Cancer 31A, 230–237 (1995).

Caplow, M., Shanks, J. & Ruhlen, R. How taxol modulates microtubule disassembly. J. Biol. Chem. 269, 23399–23402 (1994).

Rouzier, R. et al. Breast cancer molecular subtypes respond differently to preoperative chemotherapy. Clin. Cancer Res. 11, 5678–5685 (2005).

Shi, J., Orth, J.D. & Mitchison, T. Cell type variation in responses to antimitotic drugs that target microtubules and kinesin-5. Cancer Res. 68, 3269–3276 (2008).

Gascoigne, K.E. & Taylor, S.S. Cancer cells display profound intra- and interline variation following prolonged exposure to antimitotic drugs. Cancer Cell 14, 111–122 (2008).

Konecny, G.E. et al. Activity of the dual kinase inhibitor lapatinib (GW572016) against HER-2-overexpressing and trastuzumab-treated breast cancer cells. Cancer Res. 66, 1630–1639 (2006).

Moasser, M.M., Basso, A., Averbuch, S.D. & Rosen, N. The tyrosine kinase inhibitor ZD1839 (″Iressa″) inhibits HER2-driven signaling and suppresses the growth of HER2-overexpressing tumor cells. Cancer Res. 61, 7184–7188 (2001).

Chauffert, B. et al. New insights into the kinetic resistance to anticancer agents. Cytotechnology 27, 225–235 (1998).

Dimanche-Boitrel, M.T., Garrido, C. & Chauffert, B. Kinetic resistance to anticancer agents. Cytotechnology 12, 347–356 (1993).

Garrido, C. et al. Circumvention of confluence-dependent resistance in a human multi-drug-resistant colon-cancer cell line. Int. J. Cancer 61, 873–879 (1995).

Fang, Y., Sullivan, R. & Graham, C.H. Confluence-dependent resistance to doxorubicin in human MDA-MB-231 breast carcinoma cells requires hypoxia-inducible factor-1 activity. Exp. Cell Res. 313, 867–877 (2007).

Sorby, M. & Ostman, A. Protein-tyrosine phosphatase-mediated decrease of epidermal growth factor and platelet-derived growth factor receptor tyrosine phosphorylation in high cell density cultures. J. Biol. Chem. 271, 10963–10966 (1996).

Kim, J.H., Kushiro, K., Graham, N.A. & Asthagiri, A.R. Tunable interplay between epidermal growth factor and cell-cell contact governs the spatial dynamics of epithelial growth. Proc. Natl. Acad. Sci. USA 106, 11149–11153 (2009).

Curto, M., Cole, B.K., Lallemand, D., Liu, C.H. & McClatchey, A.I. Contact-dependent inhibition of EGFR signaling by Nf2/Merlin. J. Cell Biol. 177, 893–903 (2007).

Kaplan, P.L., Anderson, M. & Ozanne, B. Transforming growth factor(s) production enables cells to grow in the absence of serum: an autocrine system. Proc. Natl. Acad. Sci. USA 79, 485–489 (1982).

Sero, J.E. et al. Cell shape and the microenvironment regulate nuclear translocation of NF-κB in breast epithelial and tumor cells. Mol. Syst. Biol. 11, 790 (2015).

Orth, J.D. et al. Analysis of mitosis and antimitotic drug responses in tumors by in vivo microscopy and single-cell pharmacodynamics. Cancer Res. 71, 4608–4616 (2011).

Yuan, H. et al. Use of reprogrammed cells to identify therapy for respiratory papillomatosis. N. Engl. J. Med. 367, 1220–1227 (2012).

Crystal, A.S. et al. Patient-derived models of acquired resistance can identify effective drug combinations for cancer. Science 346, 1480–1486 (2014).

Nam, H.S. & Benezra, R. High levels of Id1 expression define B1 type adult neural stem cells. Cell Stem Cell 5, 515–526 (2009).

Hockemeyer, D. et al. Efficient targeting of expressed and silent genes in human ESCs and iPSCs using zinc-finger nucleases. Nat. Biotechnol. 27, 851–857 (2009).

Boehm, J.S. et al. Integrative genomic approaches identify IKBKE as a breast cancer oncogene. Cell 129, 1065–1079 (2007).

Soumillon, M., Cacchiarelli, D., Semrau, S., van Oudenaarden, A. & Mikkelsen, T.S. Characterization of directed differentiation by high-throughput single-cell RNA-Seq. Preprint at http://biorxiv.org/content/early/2014/03/05/003236 (2014).

Trapnell, C. et al. Differential gene and transcript expression analysis of RNA-seq experiments with TopHat and Cufflinks. Nat. Protoc. 7, 562–578 (2012).

Subramanian, A. et al. Gene set enrichment analysis: a knowledge-based approach for interpreting genome-wide expression profiles. Proc. Natl. Acad. Sci. USA 102, 15545–15550 (2005).
Acknowledgements
This work was funded by grants U54-HL127365 and P50-GM107618 to P.K.S. and by a fellowship from the Swiss National Science Foundation (P300P3_147876) to M.H. We thank M. Soumillon for expression profiling, J. Chen (Department of Systems Biology, Harvard Medical School, Boston, Massachusetts, USA) for the modified RPE-1 cells and A. Palmer, M. Eisenstein, and G. Berriz for help with the manuscript.
Ethics declarations
Competing interests
The authors declare no competing financial interests.
Integrated supplementary information
Supplementary information
About this article
Cite this article
Hafner, M., Niepel, M., Chung, M. et al. Growth rate inhibition metrics correct for confounders in measuring sensitivity to cancer drugs. Nat Methods 13, 521–527 (2016). https://doi.org/10.1038/nmeth.3853
Received:

Accepted:

Published:

Issue Date:

DOI: https://doi.org/10.1038/nmeth.3853