Abstract
To enable the detection of expression signatures specific to individual cells, we developed PLAYR (proximity ligation assay for RNA), a method for highly multiplexed transcript quantification by flow and mass cytometry that is compatible with standard antibody staining. When used with mass cytometry, PLAYR allowed for the simultaneous quantification of more than 40 different mRNAs and proteins. In primary cells, we quantified multiple transcripts, with the identity and functional state of each analyzed cell defined on the basis of the expression of a separate set of transcripts or proteins. By expanding high-throughput deep phenotyping of cells beyond protein epitopes to include RNA expression, PLAYR opens a new avenue for the characterization of cellular metabolism.
Relevant articles
Open Access articles citing this article.
Yingfeng Tao

,

Xiaoliu Zhou

…

Gang Cao

Nature Communications Open Access 27 January 2023

Andreia Peixoto

,

Andreia Miranda

…

José Alexandre Ferreira

Journal of Experimental & Clinical Cancer Research Open Access 15 April 2022

Pan Zhang

,

Xiang Li

…

Hui Yang

Stem Cell Research & Therapy Open Access 29 January 2022
Access options
Subscribe to Journal
Get full journal access for 1 year
$99.00
only $8.25 per issue
All prices are NET prices.
VAT will be added later in the checkout.
Tax calculation will be finalised during checkout.
Buy article
Get time limited or full article access on ReadCube.
$32.00
All prices are NET prices.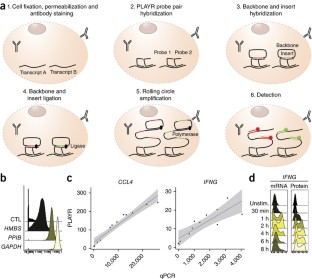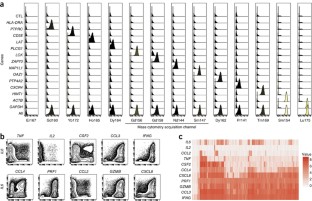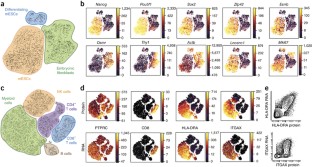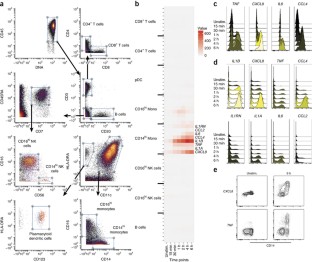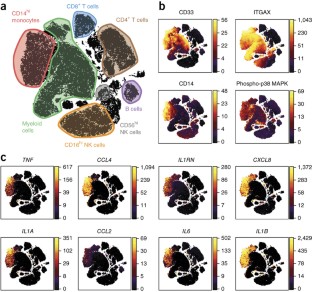 References
Jaitin, D.A. et al. Massively parallel single-cell RNA-seq for marker-free decomposition of tissues into cell types. Science 343, 776–779 (2014).

Hashimshony, T., Wagner, F., Sher, N. & Yanai, I. CEL-Seq: single-cell RNA-Seq by multiplexed linear amplification. Cell Rep. 2, 666–673 (2012).

Islam, S. et al. Highly multiplexed and strand-specific single-cell RNA 5′ end sequencing. Nat. Protoc. 7, 813–828 (2012).

Islam, S. et al. Quantitative single-cell RNA-seq with unique molecular identifiers. Nat. Methods 11, 163–166 (2014).

Ramsköld, D. et al. Full-length mRNA-seq from single-cell levels of RNA and individual circulating tumor cells. Nat. Biotechnol. 30, 777–782 (2012).

Sasagawa, Y. et al. Quartz-Seq: a highly reproducible and sensitive single-cell RNA sequencing method, reveals non-genetic gene-expression heterogeneity. Genome Biol. 14, R31 (2013).

Shalek, A.K. et al. Single-cell transcriptomics reveals bimodality in expression and splicing in immune cells. Nature 498, 236–240 (2013).

Wu, A.R. et al. Quantitative assessment of single-cell RNA-sequencing methods. Nat. Methods 11, 41–46 (2014).

Deng, Q., Ramsköld, D., Reinius, B. & Sandberg, R. Single-cell RNA-seq reveals dynamic, random monoallelic gene expression in mammalian cells. Science 343, 193–196 (2014).

Picelli, S. et al. Full-length RNA-seq from single cells using Smart-seq2. Nat. Protoc. 9, 171–181 (2014).

Tang, F., Lao, K. & Surani, M.A. Development and applications of single-cell transcriptome analysis. Nat. Methods 8, S6–S11 (2011).

Fan, H.C., Fu, G.K. & Fodor, S.P.A. Expression profiling. Combinatorial labeling of single cells for gene expression cytometry. Science 347, 1258367 (2015).

Dvinge, H. et al. Sample processing obscures cancer-specific alterations in leukemic transcriptomes. Proc. Natl. Acad. Sci. USA 111, 16802–16807 (2014).

Grün, D. & van Oudenaarden, A. Design and analysis of single-cell sequencing experiments. Cell 163, 799–810 (2015).

Bauman, J.G., Bayer, J.A. & van Dekken, H. Fluorescent in-situ hybridization to detect cellular RNA by flow cytometry and confocal microscopy. J. Microsc. 157, 73–81 (1990).

Patterson, B.K. et al. Detection of HIV-1 DNA and messenger RNA in individual cells by PCR-driven in situ hybridization and flow cytometry. Science 260, 976–979 (1993).

Belloc, F. & Durrieu, F. Detection of mRNA species by flow cytometry. Methods Cell Biol. 42, 59–69 (1994).

Borzì, R.M. et al. A fluorescent in situ hybridization method in flow cytometry to detect HIV-1 specific RNA. J. Immunol. Methods 193, 167–176 (1996).

Lalli, E., Gibellini, D., Santi, S. & Facchini, A. In situ hybridization in suspension and flow cytometry as a tool for the study of gene expression. Anal. Biochem. 207, 298–303 (1992).

Just, T., Burgwald, H. & Broe, M.K. Flow cytometric detection of EBV (EBER snRNA) using peptide nucleic acid probes. J. Virol. Methods 73, 163–174 (1998).

Larsson, C., Grundberg, I., Söderberg, O. & Nilsson, M. In situ detection and genotyping of individual mRNA molecules. Nat. Methods 7, 395–397 (2010).

Weibrecht, I. et al. In situ detection of individual mRNA molecules and protein complexes or post-translational modifications using padlock probes combined with the in situ proximity ligation assay. Nat. Protoc. 8, 355–372 (2013).

Player, A.N., Shen, L.P., Kenny, D., Antao, V.P. & Kolberg, J.A. Single-copy gene detection using branched DNA (bDNA) in situ hybridization. J. Histochem. Cytochem. 49, 603–612 (2001).

Porichis, F. et al. High-throughput detection of miRNAs and gene-specific mRNA at the single-cell level by flow cytometry. Nat. Commun. 5, 5641 (2014).

Bendall, S.C. et al. Single-cell mass cytometry of differential immune and drug responses across a human hematopoietic continuum. Science 332, 687–696 (2011).

Lin, Y., Sohn, C.H., Dalal, C.K., Cai, L. & Elowitz, M.B. Combinatorial gene regulation by modulation of relative pulse timing. Nature 527, 54–58 (2015).

Chubb, J.R., Trcek, T., Shenoy, S.M. & Singer, R.H. Transcriptional pulsing of a developmental gene. Curr. Biol. 16, 1018–1025 (2006).

Cai, L., Friedman, N. & Xie, X.S. Stochastic protein expression in individual cells at the single molecule level. Nature 440, 358–362 (2006).

Fredriksson, S. et al. Protein detection using proximity-dependent DNA ligation assays. Nat. Biotechnol. 20, 473–477 (2002).

Söderberg, O. et al. Direct observation of individual endogenous protein complexes in situ by proximity ligation. Nat. Methods 3, 995–1000 (2006).

Lizardi, P.M. et al. Mutation detection and single-molecule counting using isothermal rolling-circle amplification. Nat. Genet. 19, 225–232 (1998).

Leuchowius, K.-J. et al. Parallel visualization of multiple protein complexes in individual cells in tumor tissue. Mol. Cell. Proteomics 12, 1563–1571 (2013).

Untergasser, A. et al. Primer3—new capabilities and interfaces. Nucleic Acids Res. 40, e115 (2012).

Jurka, J. et al. Repbase Update, a database of eukaryotic repetitive elements. Cytogenet. Genome Res. 110, 462–467 (2005).

O'Gorman, W.E. et al. Single-cell systems-level analysis of human Toll-like receptor activation defines a chemokine signature in patients with systemic lupus erythematosus. J. Allergy Clin. Immunol. 136, 1326–1336 (2015).

Newell, E.W., Sigal, N., Bendall, S.C., Nolan, G.P. & Davis, M.M. Cytometry by time-of-flight shows combinatorial cytokine expression and virus-specific cell niches within a continuum of CD8+ T cell phenotypes. Immunity 36, 142–152 (2012).

Amir, el-A.D. et al. viSNE enables visualization of high dimensional single-cell data and reveals phenotypic heterogeneity of leukemia. Nat. Biotechnol. 31, 545–552 (2013).

DeForge, L.E. & Remick, D.G. Kinetics of TNF, IL-6, and IL-8 gene expression in LPS-stimulated human whole blood. Biochem. Biophys. Res. Commun. 174, 18–24 (1991).

Agarwal, S., Piesco, N.P., Johns, L.P. & Riccelli, A.E. Differential expression of IL-1 beta, TNF-alpha, IL-6, and IL-8 in human monocytes in response to lipopolysaccharides from different microbes. J. Dent. Res. 74, 1057–1065 (1995).

Irish, J.M. et al. Single cell profiling of potentiated phospho-protein networks in cancer cells. Cell 118, 217–228 (2004).

Gaudillière, B. et al. Clinical recovery from surgery correlates with single-cell immune signatures. Sci. Transl. Med. 6, 255ra131 (2014).

Jaye, D.L., Bray, R.A., Gebel, H.M., Harris, W.A.C. & Waller, E.K. Translational applications of flow cytometry in clinical practice. J. Immunol. 188, 4715–4719 (2012).

Kaleem, Z. et al. Flow cytometric analysis of acute leukemias. Diagnostic utility and critical analysis of data. Arch. Pathol. Lab. Med. 127, 42–48 (2003).

Picelli, S. et al. Smart-seq2 for sensitive full-length transcriptome profiling in single cells. Nat. Methods 10, 1096–1098 (2013).

Schulte, R. et al. Index sorting resolves heterogeneous murine hematopoietic stem cell populations. Exp. Hematol. 43, 803–811 (2015).

Wilson, N.K. et al. Combined single-cell functional and gene expression analysis resolves heterogeneity within stem cell populations. Cell Stem Cell 16, 712–724 (2015).

Angelo, M. et al. Multiplexed ion beam imaging of human breast tumors. Nat. Med. 20, 436–442 (2014).

Wernig, M. et al. A drug-inducible transgenic system for direct reprogramming of multiple somatic cell types. Nat. Biotechnol. 26, 916–924 (2008).

Krutzik, P.O. & Nolan, G.P. Intracellular phospho-protein staining techniques for flow cytometry: monitoring single cell signaling events. Cytometry A 55, 61–70 (2003).

Zunder, E.R. et al. Palladium-based mass tag cell barcoding with a doublet-filtering scheme and single-cell deconvolution algorithm. Nat. Protoc. 10, 316–333 (2015).
Acknowledgements
We thank L. Lanier (UCSF, San Francisco, California, USA) for providing the NKL cell line, and A. Trejo and A. Jager for technical assistance. A.P.F. is supported by a Fellowship for Prospective Researchers from the Swiss National Science Foundation, an EMBO Long-Term Fellowship and a Marie Curie International Outgoing Fellowship. P.F.G. is a Howard Hughes Medical Institute Fellow of the Life Sciences Research Foundation. F.-A.B. is supported by a Human Frontier Science Program Long-Term Fellowship. This work was supported by the US National Institutes of Health (grants U19 AI057229, 1U19AI100627, R01CA184968, 1R33CA183654-01, R33CA183692, 1R01GM10983601, 1R21CA183660, 1R01NS08953301, OPP1113682, 5UH2AR067676, 1R01CA19665701 and R01HL120724 to G.P.N.), US Department of Defense Congressionally Directed Medical Research Programs (grants OC110674 and 11491122 to G.P.N.), the Northrop-Grumman Corporation (G.P.N.) and the Rachford & Carlotta A. Harris Endowed Chair (G.P.N.).
Ethics declarations
Competing interests
G.P.N. has a personal financial interest in the company Fluidigm, the manufacturer of the mass cytometer used in this study.
Integrated supplementary information
Supplementary information
Supplementary Figures 1–7 (PDF 917 kb)
PLAYR probes and backbone-insert systems (XLSX 90 kb)
PLAYR Design software for probe design (ZIP 72 kb)
About this article
Cite this article
Frei, A., Bava, FA., Zunder, E. et al. Highly multiplexed simultaneous detection of RNAs and proteins in single cells. Nat Methods 13, 269–275 (2016). https://doi.org/10.1038/nmeth.3742
Received:

Accepted:

Published:

Issue Date:

DOI: https://doi.org/10.1038/nmeth.3742