Abstract
Plant synthetic biology promises immense technological benefits, including the potential development of a sustainable bio-based economy through the predictive design of synthetic gene circuits. Such circuits are built from quantitatively characterized genetic parts; however, this characterization is a significant obstacle in work with plants because of the time required for stable transformation. We describe a method for rapid quantitative characterization of genetic plant parts using transient expression in protoplasts and dual luciferase outputs. We observed experimental variability in transient-expression assays and developed a mathematical model to describe, as well as statistical normalization methods to account for, this variability, which allowed us to extract quantitative parameters. We characterized >120 synthetic parts in Arabidopsis and validated our method by comparing transient expression with expression in stably transformed plants. We also tested >100 synthetic parts in sorghum (Sorghum bicolor) protoplasts, and the results showed that our method works in diverse plant groups. Our approach enables the construction of tunable gene circuits in complex eukaryotic organisms.
This is a preview of subscription content
Access options
Subscribe to Journal
Get full journal access for 1 year
$119.00
only $9.92 per issue
All prices are NET prices.
VAT will be added later in the checkout.
Tax calculation will be finalised during checkout.
Buy article
Get time limited or full article access on ReadCube.
$32.00
All prices are NET prices.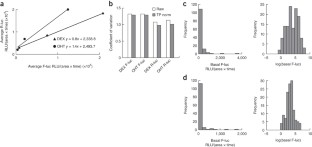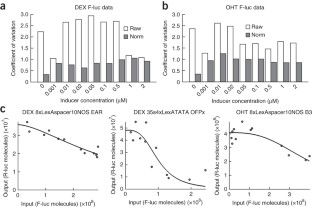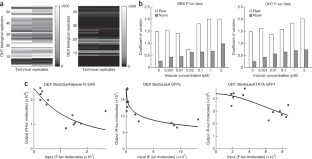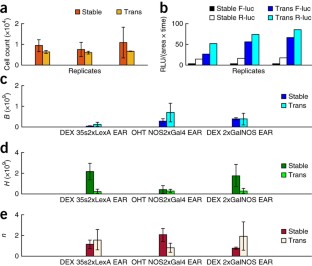 References
Kiani, S. et al. CRISPR transcriptional repression devices and layered circuits in mammalian cells. Nat. Methods 11, 723–726 (2014).

Rinaudo, K. et al. A universal RNAi-based logic evaluator that operates in mammalian cells. Nat. Biotechnol. 25, 795–801 (2007).

Gardner, T.S., Cantor, C.R. & Collins, J.J. Construction of a genetic toggle switch in Escherichia coli. Nature 403, 339–342 (2000).

You, L., Cox, R.S. III, Weiss, R. & Arnold, F.H. Programmed population control by cell-cell communication and regulated killing. Nature 428, 868–871 (2004).

Steeves, T.A. & Sussex, I.M. Patterns in Plant Development 2nd edn. (Cambridge Univ. Press, 1989).

Lucks, J.B., Qi, L., Whitaker, W.R. & Arkin, A.P. Toward scalable parts families for predictable design of biological circuits. Curr. Opin. Microbiol. 11, 567–573 (2008).

Slusarczyk, A.L., Lin, A. & Weiss, R. Foundations for the design and implementation of synthetic genetic circuits. Nat. Rev. Genet. 13, 406–420 (2012).

Kim, J., Klein, P.G. & Mullet, J.E. Synthesis and turnover of photosystem II reaction center protein D1. Ribosome pausing increases during chloroplast development. J. Biol. Chem. 269, 17918–17923 (1994).

Asai, T. et al. MAP kinase signalling cascade in Arabidopsis innate immunity. Nature 415, 977–983 (2002).

Mewes, H.W. et al. Overview of the yeast genome. Nature 387, 7–65 (1997).

Klein, R.M., Wolf, E.D., Wu, R. & Sanford, J.C. High-velocity microprojectiles for delivering nucleic acids into living cells. Nature 327, 70–73 (1987).

Giniger, E., Varnum, S.M. & Ptashne, M. Specific DNA-binding of Gal4, a positive regulatory protein of yeast. Cell 40, 767–774 (1985).

Schnarr, M., Oertelbuchheit, P., Kazmaier, M. & Grangerschnarr, M. DNA-binding properties of the LexA repressor. Biochimie 73, 423–431 (1991).

Wang, S., Chang, Y., Guo, J. & Chen, J.-G. Arabidopsis Ovate Family Protein 1 is a transcriptional repressor that suppresses cell elongation. Plant J. 50, 858–872 (2007).

Wang, S. et al. Arabidopsis ovate family proteins, a novel transcriptional repressor family, control multiple aspects of plant growth and development. PLoS One 6, e23896 (2011).

Ikeda, M. & Ohme-Takagi, M. A novel group of transcriptional repressors in Arabidopsis. Plant Cell Physiol. 50, 970–975 (2009).

Ohta, M., Matsui, K., Hiratsu, K., Shinshi, H. & Ohme-Takagi, M. Repression domains of class II ERF transcriptional repressors share an essential motif for active repression. Plant Cell 13, 1959–1968 (2001).

Odell, J.T., Nagy, F. & Chua, N. Identification of DNA sequences required for activity of the cauliflower mosaic virus 35S promoter. Nature 313, 810–812 (1985).

Sanger, M., Daubert, S. & Goodman, R. Characteristics of a strong promoter from figwort mosaic virus: comparison with the analogous 35S promoter from cauliflower mosaic virus and the regulated mannopine synthase promoter. Plant Mol. Biol. 14, 433–443 (1990).

Shaw, C.H., Carter, G. & Watson, M. A functional map of the nopaline synthase promoter. Nucleic Acids Res. 12, 7831–7846 (1984).

Aoyama, T. & Chua, N. A glucocorticoid-mediated transcriptional induction system in transgenic plants. Plant J. 11, 605–612 (1997).

Zuo, J., Niu, Q. & Chua, N. An estrogen receptor-based transactivator XVE mediates highly inducible gene expression in transgenic plants. Plant J. 24, 265–273 (2000).

Alon, U. An Introduction to Systems Biology: Design Principles of Biological Circuits (Chapman & Hall/CRC, 2007).

Mascarenhas, D., Mettler, I., Pierce, D. & Lowe, H. Intron-mediated enhancement of heterologous gene expression in maize. Plant Mol. Biol. 15, 913–920 (1990).

Padidam, M. & Cao, Y. Elimination of transcriptional interference between tandem genes in plant cells. Biotechniques 31, 328–330, 332–324 (2001).

Depicker, A., Stachel, S., Dhaese, P., Zambryski, P. & Goodman, H.M. Nopaline synthase: transcript mapping and DNA sequence. J. Mol. Appl. Genet. 1, 561–573 (1982).

Engler, C., Gruetzner, R., Kandzia, R. & Marillonnet, S. Golden gate shuffling: a one-pot DNA shuffling method based on type IIs restriction enzymes. PLoS One 4, e5553 (2009).

Antunes, M.S. et al. A synthetic de-greening gene circuit provides a reporting system that is remotely detectable and has a re-set capacity. Plant Biotechnol. J. 4, 605–622 (2006).

Samalova, M., Brzobohaty, B. & Moore, I. pOp6/LhGR: a stringently regulated and highly responsive dexamethasone-inducible gene expression system for tobacco. Plant J. 41, 919–935 (2005).

Sakuma, Y. et al. Functional analysis of an Arabidopsis transcription factor, DREB2A, involved in drought-responsive gene expression. Plant Cell 18, 1292–1309 (2006).

Yoo, S.D., Cho, Y.H. & Sheen, J. Arabidopsis mesophyll protoplasts: a versatile cell system for transient gene expression analysis. Nat. Protoc. 2, 1565–1572 (2007).

Clough, S.J. & Bent, A.F. Floral dip: a simplified method for Agrobacterium-mediated transformation of Arabidopsis thaliana. Plant J. 16, 735–743 (1998).
Acknowledgements
We thank D. McCarthy for valuable help in preparing the manuscript. Financial support from the US Department of Energy (Advanced Research Projects Agency–Energy 2012 grant DE-AR0000311) and the US Department of Defense (Defense Threat Reduction Agency grant W911NF-09-10526) is gratefully acknowledged.
Ethics declarations
Competing interests
J.I.M. is founder and president of the small startup company Phytodetectors, Inc.
Integrated supplementary information
Supplementary information
Supplementary Figures 1–10, Supplementary Tables 1 and 2, and Supplementary Notes 1–11 (PDF 2501 kb)
About this article
Cite this article
Schaumberg, K., Antunes, M., Kassaw, T. et al. Quantitative characterization of genetic parts and circuits for plant synthetic biology. Nat Methods 13, 94–100 (2016). https://doi.org/10.1038/nmeth.3659
Received:

Accepted:

Published:

Issue Date:

DOI: https://doi.org/10.1038/nmeth.3659