Abstract
Photoacoustic tomography (PAT) of genetically encoded probes allows for imaging of targeted biological processes deep in tissues with high spatial resolution; however, high background signals from blood can limit the achievable detection sensitivity. Here we describe a reversibly switchable nonfluorescent bacterial phytochrome for use in multiscale photoacoustic imaging, BphP1, with the most red-shifted absorption among genetically encoded probes. BphP1 binds a heme-derived biliverdin chromophore and is reversibly photoconvertible between red and near-infrared light-absorption states. We combined single-wavelength PAT with efficient BphP1 photoswitching, which enabled differential imaging with substantially decreased background signals, enhanced detection sensitivity, increased penetration depth and improved spatial resolution. We monitored tumor growth and metastasis with ∼100-μm resolution at depths approaching 10 mm using photoacoustic computed tomography, and we imaged individual cancer cells with a suboptical-diffraction resolution of ∼140 nm using photoacoustic microscopy. This technology is promising for biomedical studies at several scales.
Access options
Subscribe to Journal
Get full journal access for 1 year
$119.00
only $9.92 per issue
All prices are NET prices.
VAT will be added later in the checkout.
Tax calculation will be finalised during checkout.
Rent or Buy article
Get time limited or full article access on ReadCube.
from$8.99
All prices are NET prices.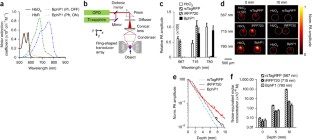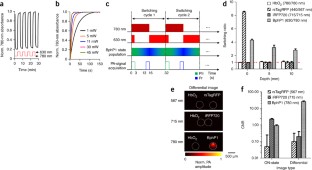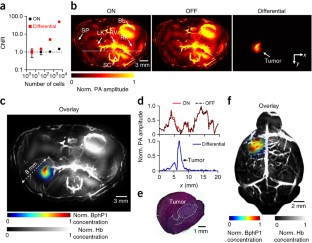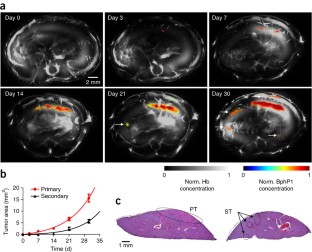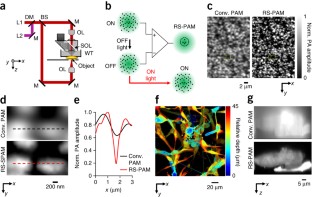 References
1

Ntziachristos, V. Going deeper than microscopy: the optical imaging frontier in biology. Nat. Methods 7, 603–614 (2010).

2

Weissleder, R. & Pittet, M.J. Imaging in the era of molecular oncology. Nature 452, 580–589 (2008).

3

Rice, W.L., Shcherbakova, D.M., Verkhusha, V.V. & Kumar, A.T.N. In vivo tomographic imaging of deep-seated cancer using fluorescence lifetime contrast. Cancer Res. 75, 1236–1243 (2015).

4

Wang, L.V. & Hu, S. Photoacoustic tomography: in vivo imaging from organelles to organs. Science 335, 1458–1462 (2012).

5

Brecht, H.P. et al. Whole-body three-dimensional optoacoustic tomography system for small animals. J. Biomed. Opt. 14, 064007 (2009).

6

Kruger, R.A., Lam, R.B., Reinecke, D.R., Del Rio, S.P. & Doyle, R.P. Photoacoustic angiography of the breast. Med. Phys. 37, 6096–6100 (2010).

7

de la Zerda, A., Kim, J.W., Galanzha, E.I., Gambhir, S.S. & Zharov, V.P. Advanced contrast nanoagents for photoacoustic molecular imaging, cytometry, blood test and photothermal theranostics. Contrast Media Mol. Imaging 6, 346–369 (2011).

8

Luke, G.P., Yeager, D. & Emelianov, S.Y. Biomedical applications of photoacoustic imaging with exogenous contrast agents. Ann. Biomed. Eng. 40, 422–437 (2012).

9

Kircher, M.F. et al. A brain tumor molecular imaging strategy using a new triple-modality MRI-photoacoustic-Raman nanoparticle. Nat. Med. 18, 829–834 (2012).

10

Wang, X. et al. Noninvasive laser-induced photoacoustic tomography for structural and functional in vivo imaging of the brain. Nat. Biotechnol. 21, 803–806 (2003).

11

Zhang, H.F., Maslov, K., Stoica, G. & Wang, L.H.V. Functional photoacoustic microscopy for high-resolution and noninvasive in vivo imaging. Nat. Biotechnol. 24, 848–851 (2006).

12

Razansky, D. et al. Multispectral opto-acoustic tomography of deep-seated fluorescent proteins in vivo. Nat. Photonics 3, 412–417 (2009).

13

Krumholz, A., Shcherbakova, D.M., Xia, J., Wang, L.V. & Verkhusha, V.V. Multicontrast photoacoustic in vivo imaging using near-infrared fluorescent proteins. Sci. Rep. 4, 3939 (2014).

14

Stiel, A.C. et al. High-contrast imaging of reversibly switchable fluorescent proteins via temporally unmixed multispectral optoacoustic tomography. Opt. Lett. 40, 367–370 (2015).

15

Jathoul, A.P. et al. Deep in vivo photoacoustic imaging of mammalian tissues using a tyrosinase-based genetic reporter. Nat. Photonics 9, 239–246 (2015).

16

Piatkevich, K.D., Subach, F.V. & Verkhusha, V.V. Engineering of bacterial phytochromes for near-infrared imaging, sensing, and light-control in mammals. Chem. Soc. Rev. 42, 3441–3452 (2013).

17

Weissleder, R. & Ntziachristos, V. Shedding light onto live molecular targets. Nat. Med. 9, 123–128 (2003).

18

Giraud, E. & Vermeglio, A. Bacteriophytochromes in anoxygenic photosynthetic bacteria. Photosynth. Res. 97, 141–153 (2008).

19

Auldridge, M.E. & Forest, K.T. Bacterial phytochromes: more than meets the light. Crit. Rev. Biochem. Mol. Biol. 46, 67–88 (2011).

20

Shcherbakova, D.M. & Verkhusha, V.V. Near-infrared fluorescent proteins for multicolor in vivo imaging. Nat. Methods 10, 751–754 (2013).

21

Subach, F.V. et al. Red fluorescent protein with reversibly photoswitchable absorbance for photochromic FRET. Chem. Biol. 17, 745–755 (2010).

22

Pletnev, S., Subach, F.V., Dauter, Z., Wlodawer, A. & Verkhusha, V.V. A structural basis for reversible photoswitching of absorbance spectra in red fluorescent protein rsTagRFP. J. Mol. Biol. 417, 144–151 (2012).

23

Xia, J. et al. Whole-body ring-shaped confocal photoacoustic computed tomography of small animals in vivo. J. Biomed. Opt. 17, 050506 (2012).

24

Lai, P., Xu, X. & Wang, L.V. Dependence of optical scattering from Intralipid in gelatin-gel based tissue-mimicking phantoms on mixing temperature and time. J. Biomed. Opt. 19, 35002 (2014).

25

Piatkevich, K.D., Subach, F.V. & Verkhusha, V.V. Far-red light photoactivatable near-infrared fluorescent proteins engineered from a bacterial phytochrome. Nat. Commun. 4, 2153 (2013).

26

Yan, Y., Marriott, M.E., Petchprayoon, C. & Marriott, G. Optical switch probes and optical lock-in detection (OLID) imaging microscopy: high-contrast fluorescence imaging within living systems. Biochem. J. 433, 411–422 (2011).

27

Toh, K.C., Stojkovic, E.A., van Stokkum, I.H., Moffat, K. & Kennis, J.T. Proton-transfer and hydrogen-bond interactions determine fluorescence quantum yield and photochemical efficiency of bacteriophytochrome. Proc. Natl. Acad. Sci. USA 107, 9170–9175 (2010).

28

Habuchi, S. et al. Reversible single-molecule photoswitching in the GFP-like fluorescent protein Dronpa. Proc. Natl. Acad. Sci. USA 102, 9511–9516 (2005).

29

Yao, J. et al. Reversibly switchable fluorescence microscopy with enhanced resolution and image contrast. J. Biomed. Opt. 19, 086018 (2014).

30

Yao, J., Wang, L., Li, C., Zhang, C. & Wang, L.V. Photoimprint photoacoustic microscopy for three-dimensional label-free subdiffraction imaging. Phys. Rev. Lett. 112, 014302 (2014).

31

Deliolanis, N.C. et al. Deep-tissue reporter-gene imaging with fluorescence and optoacoustic tomography: a performance overview. Mol. Imaging Biol. 16, 652–660 (2014).

32

Ntziachristos, V. & Razansky, D. Molecular imaging by means of multispectral optoacoustic tomography (MSOT). Chem. Rev. 110, 2783–2794 (2010).

33

Xia, J. & Wang, L.V. Small-animal whole-body photoacoustic tomography: a review. IEEE Trans. Biomed. Eng. 61, 1380–1389 (2014).

34

Devor, A. et al. The challenge of connecting the dots in the BRAIN. Neuron 80, 270–274 (2013).

35

Chaffer, C.L. & Weinberg, R.A. A perspective on cancer cell metastasis. Science 331, 1559–1564 (2011).

36

Couzin-Frankel, J. Cancer immunotherapy. Science 342, 1432–1433 (2013).

37

Xu, M. & Wang, L.V. Universal back-projection algorithm for photoacoustic computed tomography. Phys. Rev. E 71, 016706 (2005).

38

Anastasio, M.A. et al. Half-time image reconstruction in thermoacoustic tomography. IEEE Trans. Med. Imaging 24, 199–210 (2005).
Acknowledgements
We thank E. Giraud (Institute for Research and Development, Marseille, France) for the RpBphP1 gene, A. Krumholz and J. Shi for technical support, J. Ballard for reading of the manuscript, and Alafi Neuroimaging Laboratory for bright-field microscopy. This work was sponsored by the US National Institutes of Health (NIH) (grants DP1 EB016986 (NIH Director's Pioneer Award), R01 CA186567 (NIH Director's Transformative Research Award), U01 NS090579 (BRAIN Initiative), R01 EB016963 and S10 RR026922 to L.V.W.; grants GM073913, GM108579 and CA164468 to V.V.V.), the EU 7th Framework Programme (grant ERC-2013-ADG-340233 to V.V.V.) and the Neuroscience Blueprint Center (Core grant NS057105 to Alafi Neuroimaging Laboratory).
Ethics declarations
Competing interests
L.V.W. has a financial interest in Endra, Inc., and Microphotoacoustics, Inc., although these companies did not support this work.
Integrated supplementary information
Supplementary information
About this article
Cite this article
Yao, J., Kaberniuk, A., Li, L. et al. Multiscale photoacoustic tomography using reversibly switchable bacterial phytochrome as a near-infrared photochromic probe. Nat Methods 13, 67–73 (2016). https://doi.org/10.1038/nmeth.3656
Received:

Accepted:

Published:

Issue Date: