Abstract
The diverse progenitors that give rise to the human neocortex have been difficult to characterize because progenitors, particularly radial glia (RG), are rare and are defined by a combination of intracellular markers, position and morphology. To circumvent these problems, we developed Fixed and Recovered Intact Single-cell RNA (FRISCR), a method for profiling the transcriptomes of individual fixed, stained and sorted cells. Using FRISCR, we profiled primary human RG that constitute only 1% of the midgestation cortex and classified them as ventricular zone−enriched RG (vRG) that express ANXA1 and CRYAB, and outer subventricular zone−localized RG (oRG) that express HOPX. Our study identified vRG and oRG markers and molecular profiles, an essential step for understanding human neocortical progenitor development. FRISCR allows targeted single-cell profiling of any tissues that lack live-cell markers.
Relevant articles
Open Access articles citing this article.
Amos C. Lee

,

Yongju Lee

…

Sunghoon Kwon

Nature Communications Open Access 09 May 2022

Norman L. Lehman

,

Nathalie Spassky

…

Akshitkumar M. Mistry

Nature Communications Open Access 19 April 2022

Ruo Han Huang

,

Le Xin Wang

…

Wen Gao

Biomarker Research Open Access 11 December 2021
Access options
Subscribe to this journal
Receive 12 print issues and online access
$259.00 per year
only $21.58 per issue
Rent or buy this article
Prices vary by article type
from$1.95
to$39.95
Prices may be subject to local taxes which are calculated during checkout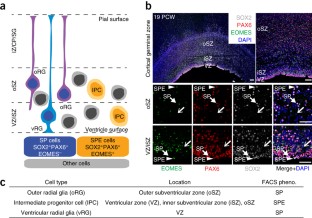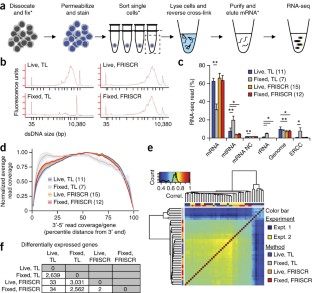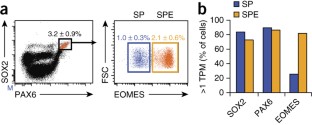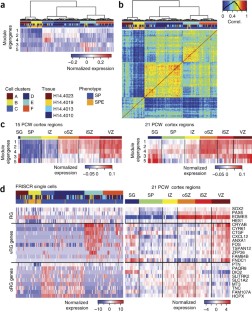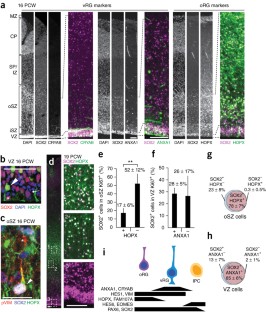 Accession codes
Primary accessions
Gene Expression Omnibus
References
Betizeau, M. et al. Precursor diversity and complexity of lineage relationships in the outer subventricular zone of the primate. Neuron 80, 442–457 (2013).

Borrell, V. & Reillo, I. Emerging roles of neural stem cells in cerebral cortex development and evolution. Dev. Neurobiol. 72, 955–971 (2012).

Dehay, C., Kennedy, H. & Kosik, K.S. The outer subventricular zone and primate-specific cortical complexification. Neuron 85, 683–694 (2015).

Florio, M. & Huttner, W.B. Neural progenitors, neurogenesis and the evolution of the neocortex. Development 141, 2182–2194 (2014).

Lui, J.H., Hansen, D.V. & Kriegstein, A.R. Development and evolution of the human neocortex. Cell 146, 18–36 (2011).

Rakic, P. Evolution of the neocortex: a perspective from developmental biology. Nat. Rev. Neurosci. 10, 724–735 (2009).

Fietz, S.A. et al. OSVZ progenitors of human and ferret neocortex are epithelial-like and expand by integrin signaling. Nat. Neurosci. 13, 690–699 (2010).

Hansen, D.V., Lui, J.H., Parker, P.R. & Kriegstein, A.R. Neurogenic radial glia in the outer subventricular zone of human neocortex. Nature 464, 554–561 (2010).

Geschwind, D.H. & Rakic, P. Cortical evolution: judge the brain by its cover. Neuron 80, 633–647 (2013).

Fietz, S.A. et al. Transcriptomes of germinal zones of human and mouse fetal neocortex suggest a role of extracellular matrix in progenitor self-renewal. Proc. Natl. Acad. Sci. USA 109, 11836–11841 (2012).

Miller, J.A. et al. Transcriptional landscape of the prenatal human brain. Nature 508, 199–206 (2014).

Florio, M. et al. Human-specific gene ARHGAP11B promotes basal progenitor amplification and neocortex expansion. Science 347, 1465–1470 (2015).

Johnson, M.B. et al. Single-cell analysis reveals transcriptional heterogeneity of neural progenitors in human cortex. Nat. Neurosci. 18, 637–646 (2015).

Hrvatin, S., Deng, F., O'Donnell, C.W., Gifford, D.K. & Melton, D.A. MARIS: method for analyzing RNA following intracellular sorting. PLoS ONE 9, e89459 (2014).

Klemm, S. et al. Transcriptional profiling of cells sorted by RNA abundance. Nat. Methods 11, 549–551 (2014).

Molyneaux, B.J. et al. DeCoN: genome-wide analysis of in vivo transcriptional dynamics during pyramidal neuron fate selection in neocortex. Neuron 85, 275–288 (2015).

Pan, Y., Ouyang, Z., Wong, W.H. & Baker, J.C. A new FACS approach isolates hESC derived endoderm using transcription factors. PLoS ONE 6, e17536 (2011).

Pechhold, S. et al. Transcriptional analysis of intracytoplasmically stained, FACS-purified cells by high-throughput, quantitative nuclease protection. Nat. Biotechnol. 27, 1038–1042 (2009).

Yang, L., Duff, M.O., Graveley, B.R., Carmichael, G.G. & Chen, L.L. Genomewide characterization of non-polyadenylated RNAs. Genome Biol. 12, R16 (2011).

Picelli, S. et al. Smart-seq2 for sensitive full-length transcriptome profiling in single cells. Nat. Methods 10, 1096–1098 (2013).

Pollen, A.A. et al. Low-coverage single-cell mRNA sequencing reveals cellular heterogeneity and activated signaling pathways in developing cerebral cortex. Nat. Biotechnol. 32, 1053–1058 (2014).

Zhang, B. & Horvath, S. A general framework for weighted gene co-expression network analysis. Stat. Appl. Genet. Mol. Biol. 4, 17 (2005).

Smart, I.H., Dehay, C., Giroud, P., Berland, M. & Kennedy, H. Unique morphological features of the proliferative zones and postmitotic compartments of the neural epithelium giving rise to striate and extrastriate cortex in the monkey. Cereb. Cortex 12, 37–53 (2002).

Mühlfriedel, S., Kirsch, F., Gruss, P., Stoykova, A. & Chowdhury, K. A roof plate-dependent enhancer controls the expression of Homeodomain only protein in the developing cerebral cortex. Dev. Biol. 283, 522–534 (2005).

Macaulay, I.C. et al. G&T-seq: parallel sequencing of single-cell genomes and transcriptomes. Nat. Methods 12, 519–522 (2015).

Bushkin, Y. et al. Profiling T cell activation using single-molecule fluorescence in situ hybridization and flow cytometry. J. Immunol. 194, 836–841 (2015).

Lui, J.H. et al. Radial glia require PDGFD-PDGFRbeta signalling in human but not mouse neocortex. Nature 515, 264–268 (2014).

Pollen, A.A. et al. Molecular identity of human outer radial glia during cortical development. Cell 163, 55–67 (2015).

De Toni, A. et al. Regulation of survival in adult hippocampal and glioblastoma stem cell lineages by the homeodomain-only protein HOP. Neural Dev. 3, 13 (2008).

Shin, J. et al. Single-cell RNA-seq with waterfall reveals molecular cascades underlying adult neurogenesis. Cell Stem Cell 17, 360–372 (2015).

Takeda, N. et al. Hopx expression defines a subset of multipotent hair follicle stem cells and a progenitor population primed to give rise to K6+ niche cells. Development 140, 1655–1664 (2013).

Takeda, N. et al. Interconversion between intestinal stem cell populations in distinct niches. Science 334, 1420–1424 (2011).

Yamashita, K., Katoh, H. & Watanabe, M. The homeobox only protein homeobox (HOPX) and colorectal cancer. Int. J. Mol. Sci. 14, 23231–23243 (2013).

Katoh, H. et al. Epigenetic silencing of HOPX promotes cancer progression in colorectal cancer. Neoplasia 14, 559–571 (2012).

Jain, R. et al. Heart development. Integration of Bmp and Wnt signaling by Hopx specifies commitment of cardiomyoblasts. Science 348, aaa6071 (2015).

Chenn, A. & Walsh, C.A. Regulation of cerebral cortical size by control of cell cycle exit in neural precursors. Science 297, 365–369 (2002).

Gertz, C.C., Lui, J.H., LaMonica, B.E., Wang, X. & Kriegstein, A.R. Diverse behaviors of outer radial glia in developing ferret and human cortex. J. Neurosci. 34, 2559–2570 (2014).

Noctor, S.C., Martinez-Cerdeno, V., Ivic, L. & Kriegstein, A.R. Cortical neurons arise in symmetric and asymmetric division zones and migrate through specific phases. Nat. Neurosci. 7, 136–144 (2004).

Li, B. & Dewey, C.N. RSEM: accurate transcript quantification from RNA-Seq data with or without a reference genome. BMC Bioinformatics 12, 323 (2011).

Langmead, B., Trapnell, C., Pop, M. & Salzberg, S.L. Ultrafast and memory-efficient alignment of short DNA sequences to the human genome. Genome Biol. 10, R25 (2009).

Li, H. A statistical framework for SNP calling, mutation discovery, association mapping and population genetical parameter estimation from sequencing data. Bioinformatics 27, 2987–2993 (2011).

Faul, F., Erdfelder, E., Lang, A.G. & Buchner, A.G. *Power 3: a flexible statistical power analysis program for the social, behavioral, and biomedical sciences. Behav. Res. Methods 39, 175–191 (2007).
Acknowledgements
We thank the Allen Institute founders, P.G. Allen and J. Allen, for their vision, encouragement and support, A. Bernard and E. Lein for assistance with specimen procurement, J. Phillips for technical core support and leadership, A.-R. Krostag for assistance in SmartSeq2 methods, Y. Wang and WiCell, the sources of the H1 hESCs, C. Thompson for program management, B. Tasic, T. Nguyen and V. Menon for technical and scientific assistance, J. Miller for assistance in analysis of BrainSpan Atlas of the Developing Human Brain, and T. Bakken for assistance with the National Institutes of Health (NIH) Blueprint Non-Human Primate Atlas. Human primary samples were received from the "Laboratory of Developmental Biology", supported by NIH award 5R24HD000836 from the Eunice Kennedy Shriver National Institute of Child Health and Human Development. S.J., A.M.D. and S.R. were supported in part by the NIH Directors Pioneer award 5DP1MH099906-03 and National Science Foundation grant PHY-0952766.
Ethics declarations
Competing interests
The authors have filed a provisional patent for the Fixed and Recovered Intact Single-cell RNA (FRISCR) method, US Serial No. 62/140,438.
Integrated supplementary information
Supplementary information
About this article
Cite this article
Thomsen, E., Mich, J., Yao, Z. et al. Fixed single-cell transcriptomic characterization of human radial glial diversity. Nat Methods 13, 87–93 (2016). https://doi.org/10.1038/nmeth.3629
Received:

Accepted:

Published:

Issue Date:

DOI: https://doi.org/10.1038/nmeth.3629