Abstract
Metabolic systems are often the first networks to respond to environmental changes, and the ability to monitor metabolite dynamics is key for understanding these cellular responses. Because monitoring metabolome changes is experimentally tedious and demanding, dynamic data on time scales from seconds to hours are scarce. Here we describe real-time metabolome profiling by direct injection of living bacteria, yeast or mammalian cells into a high-resolution mass spectrometer, which enables automated monitoring of about 300 compounds in 15–30-s cycles over several hours. We observed accumulation of energetically costly biomass metabolites in Escherichia coli in carbon starvation–induced stationary phase, as well as the rapid use of these metabolites upon growth resumption. By combining real-time metabolome profiling with modeling and inhibitor experiments, we obtained evidence for switch-like feedback inhibition in amino acid biosynthesis and for control of substrate availability through the preferential use of the metabolically cheaper one-step salvaging pathway over costly ten-step de novo purine biosynthesis during growth resumption.
Access options
Subscribe to Journal
Get full journal access for 1 year
$259.00
only $21.58 per issue
All prices are NET prices.
VAT will be added later in the checkout.
Rent or Buy article
Get time limited or full article access on ReadCube.
from$8.99
All prices are NET prices.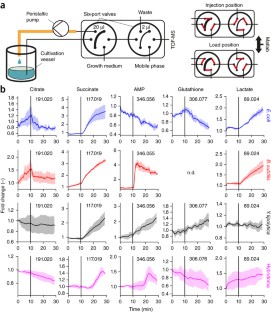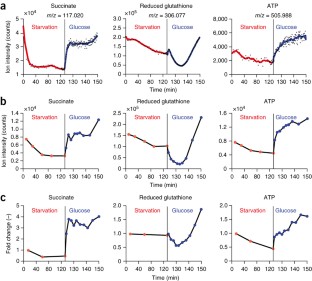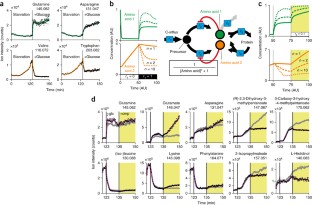 References
1

Buescher, J.M. et al. Global network reorganization during dynamic adaptations of Bacillus subtilis metabolism. Science 335, 1099–1103 (2012).

2

Chen, R. et al. Personal omics profiling reveals dynamic molecular and medical phenotypes. Cell 148, 1293–1307 (2012).

3

Link, H., Kochanowski, K. & Sauer, U. Systematic identification of allosteric protein-metabolite interactions that control enzyme activity in vivo. Nat. Biotechnol. 31, 357–361 (2013).

4

Xu, Y.-F., Amador-Noguez, D., Reaves, M.L., Feng, X.-J. & Rabinowitz, J.D. Ultrasensitive regulation of anapleurosis via allosteric activation of PEP carboxylase. Nat. Chem. Biol. 8, 562–568 (2012).

5

Doucette, C.D., Schwab, D.J., Wingreen, N.S. & Rabinowitz, J.D. α-Ketoglutarate coordinates carbon and nitrogen utilization via enzyme I inhibition. Nat. Chem. Biol. 7, 894–901 (2011).

6

Chubukov, V., Gerosa, L., Kochanowski, K. & Sauer, U. Coordination of microbial metabolism. Nat. Rev. Microbiol. 12, 327–340 (2014).

7

Yanes, O. et al. Metabolic oxidation regulates embryonic stem cell differentiation. Nat. Chem. Biol. 6, 411–417 (2010).

8

Jain, M. et al. Metabolite profiling identifies a key role for glycine in rapid cancer cell proliferation. Science 336, 1040–1044 (2012).

9

Fuhrer, T., Heer, D., Begemann, B. & Zamboni, N. High-throughput, accurate mass metabolome profiling of cellular extracts by flow injection-time-of-flight mass spectrometry. Anal. Chem. 83, 7074–7080 (2011).

10

Potrykus, K. & Cashel, M. (p)ppGpp: still magical? Annu. Rev. Microbiol. 62, 35–51 (2008).

11

Navarro Llorens, J.M., Tormo, A. & Martínez-García, E. Stationary phase in gram-negative bacteria. FEMS Microbiol. Rev. 34, 476–495 (2010).

12

Taymaz-Nikerel, H. et al. Changes in substrate availability in Escherichia coli lead to rapid metabolite, flux and growth rate responses. Metab. Eng. 16, 115–129 (2013).

13

Brauer, M.J. et al. Conservation of the metabolomic response to starvation across two divergent microbes. Proc. Natl. Acad. Sci. USA 103, 19302–19307 (2006).

14

Yoshida, H., Yamamoto, H., Uchiumi, T. & Wada, A. RMF inactivates ribosomes by covering the peptidyl transferase centre and entrance of peptide exit tunnel. Genes Cells 9, 271–278 (2004).

15

Bujara, M., Schümperli, M., Pellaux, R., Heinemann, M. & Panke, S. Optimization of a blueprint for in vitro glycolysis by metabolic real-time analysis. Nat. Chem. Biol. 7, 271–277 (2011).

16

Orth, J.D. et al. A comprehensive genome-scale reconstruction of Escherichia coli metabolism—2011. Mol. Syst. Biol. 7, 535 (2011).

17

Rabinowitz, J.D. & Kimball, E. Acidic acetonitrile for cellular metabolome extraction from Escherichia coli. Anal. Chem. 79, 6167–6173 (2007).

18

Buescher, J.M., Moco, S., Sauer, U. & Zamboni, N. Ultrahigh performance liquid chromatography-tandem mass spectrometry method for fast and robust quantification of anionic and aromatic metabolites. Anal. Chem. 82, 4403–4412 (2010).

19

Chiang, B.-Y. et al. Protein S-thiolation by Glutathionylspermidine (Gsp): the role of Escherichia coli Gsp synthetASE/amidase in redox regulation. J. Biol. Chem. 285, 25345–25353 (2010).

20

Reeve, C.A., Bockman, A.T. & Matin, A. Role of protein degradation in the survival of carbon-starved Escherichia coli and Salmonella typhimurium. J. Bacteriol. 157, 758–763 (1984).

21

Yuan, J., Fowler, W.U., Kimball, E., Lu, W. & Rabinowitz, J.D. Kinetic flux profiling of nitrogen assimilation in Escherichia coli. Nat. Chem. Biol. 2, 529–530 (2006).

22

Akashi, H. & Gojobori, T. Metabolic efficiency and amino acid composition in the proteomes of Escherichia coli and Bacillus subtilis. Proc. Natl. Acad. Sci. USA 99, 3695–3700 (2002).

23

Milo, R., Jorgensen, P., Moran, U., Weber, G. & Springer, M. BioNumbers—the database of key numbers in molecular and cell biology. Nucleic Acids Res. 38, D750–D753 (2010).

24

Goyal, S., Yuan, J., Chen, T., Rabinowitz, J.D. & Wingreen, N.S. Achieving optimal growth through product feedback inhibition in metabolism. PLoS Comput. Biol. 6, e1000802 (2010).

25

Koshland, D.E. Switches, thresholds and ultrasensitivity. Trends Biochem. Sci. 12, 225–229 (1987).

26

Pérez-Arellano, I., Rubio, V. & Cervera, J. Dissection of Escherichia coli glutamate 5-kinase: functional impact of the deletion of the PUA domain. FEBS Lett. 579, 6903–6908 (2005).

27

Rinas, U., Hellmuth, K., Kang, R., Seeger, A. & Schlieker, H. Entry of Escherichia coli into stationary phase is indicated by endogenous and exogenous accumulation of nucleobases. Appl. Environ. Microbiol. 61, 4147–4151 (1995).

28

Deo, S.S., Tseng, W.C., Saini, R., Coles, R.S. & Athwal, R.S. Purification and characterization of Escherichia coli xanthine-guanine phosphoribosyltransferase produced by plasmid pSV2gpt. Biochim. Biophys. Acta 839, 233–239 (1985).

29

Zhou, G., Charbonneau, H., Colman, R.F. & Zalkin, H. Identification of sites for feedback regulation of glutamine 5-phosphoribosylpyrophosphate amidotransferase by nucleotides and relationship to residues important for catalysis. J. Biol. Chem. 268, 10471–10481 (1993).

30

Fridman, A. et al. Cell cycle regulation of purine synthesis by phosphoribosyl pyrophosphate and inorganic phosphate. Biochem. J. 454, 91–99 (2013).

31

Skaper, S.D., Willis, R.C. & Seegmiller, J.E. Intracellular 5-phosphoribosyl-1-pyrophosphate: decreased availability during glutamine limitation. Science 193, 587–588 (1976).

32

Shimaoka, M., Takenaka, Y., Kurahashi, O., Kawasaki, H. & Matsui, H. Effect of amplification of desensitized purF and prs on inosine accumulation in Escherichia coli. J. Biosci. Bioeng. 103, 255–261 (2007).

33

Madar, D. et al. Promoter activity dynamics in the lag phase of Escherichia coli. BMC Syst. Biol. 7, 136 (2013).

34

Itzkovitz, S., Blat, I.C., Jacks, T., Clevers, H. & van Oudenaarden, A. Optimality in the development of intestinal crypts. Cell 148, 608–619 (2012).

35

Baba, T. et al. Construction of Escherichia coli K-12 in-frame, single-gene knockout mutants: the Keio collection. Mol. Syst. Biol. 2, 2006.0008 (2006).

36

Christen, S. & Sauer, U. Intracellular characterization of aerobic glucose metabolism in seven yeast species by 13C flux analysis and metabolomics. FEMS Yeast Res. 11, 263–272 (2011).

37

Canelas, A.B. et al. Integrated multilaboratory systems biology reveals differences in protein metabolism between two reference yeast strains. Nat. Commun. 1, 145 (2010).
Acknowledgements
We thank T. Hwa, M. Basan and M. Zampieri for discussions and D. Karst and M. Morbidelli (Institute of Chemical and Bioengineering, ETH Zurich, Zurich, Switzerland) for providing hybridoma cell cultures.
Ethics declarations
Competing interests
The authors declare no competing financial interests.
Integrated supplementary information
Supplementary information
About this article
Cite this article
Link, H., Fuhrer, T., Gerosa, L. et al. Real-time metabolome profiling of the metabolic switch between starvation and growth. Nat Methods 12, 1091–1097 (2015). https://doi.org/10.1038/nmeth.3584
Received:

Accepted:

Published:

Issue Date: