Abstract
Localization-based super-resolution techniques open the door to unprecedented analysis of molecular organization. This task often involves complex image processing adapted to the specific topology and quality of the image to be analyzed. Here we present a segmentation framework based on Voronoï tessellation constructed from the coordinates of localized molecules, implemented in freely available and open-source SR-Tesseler software. This method allows precise, robust and automatic quantification of protein organization at different scales, from the cellular level down to clusters of a few fluorescent markers. We validated our method on simulated data and on various biological experimental data of proteins labeled with genetically encoded fluorescent proteins or organic fluorophores. In addition to providing insight into complex protein organization, this polygon-based method should serve as a reference for the development of new types of quantifications, as well as for the optimization of existing ones.
This is a preview of subscription content
Access options
Subscribe to Journal
Get full journal access for 1 year
$119.00
only $9.92 per issue
All prices are NET prices.
VAT will be added later in the checkout.
Tax calculation will be finalised during checkout.
Buy article
Get time limited or full article access on ReadCube.
$32.00
All prices are NET prices.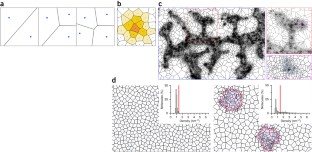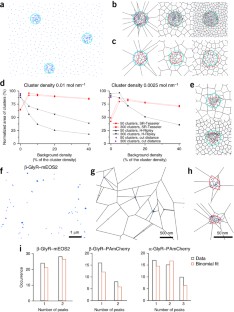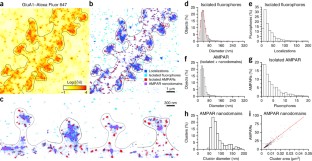 References
Betzig, E. et al. Imaging intracellular fluorescent proteins at nanometer resolution. Science 313, 1642–1645 (2006).

Hess, S.T., Girirajan, T.P. & Mason, M.D. Ultra-high resolution imaging by fluorescence photoactivation localization microscopy. Biophys. J. 91, 4258–4272 (2006).

Rust, M.J., Bates, M. & Zhuang, X. Sub-diffraction-limit imaging by stochastic optical reconstruction microscopy (STORM). Nat. Methods 3, 793–795 (2006).

Heilemann, M. et al. Subdiffraction-resolution fluorescence imaging with conventional fluorescent probes. Angew. Chem. Int. Edn. Engl. 47, 6172–6176 (2008).

Folling, J. et al. Fluorescence nanoscopy by ground-state depletion and single-molecule return. Nat. Methods 5, 943–945 (2008).

Klein, T., Proppert, S. & Sauer, M. Eight years of single-molecule localization microscopy. Histochem. Cell Biol. 141, 561–575 (2014).

Sage, D. et al. Quantitative evaluation of software packages for single-molecule localization microscopy. Nat. Methods 12, 717–724 (2015).

Ripley, B.D. Modelling spatial patterns. J. R. Stat. Soc. B 39, 172–212 (1977).

Scarselli, M., Annibale, P. & Radenovic, A. Cell type–specific β2-adrenergic receptor clusters identified using photoactivated localization microscopy are not lipid raft related, but depend on actin cytoskeleton integrity. J. Biol. Chem. 287, 16768–16780 (2012).

Muranyi, W., Malkusch, S., Müller, B., Heilemann, M. & Kräusslich, H.-G. Super-resolution microscopy reveals specific recruitment of HIV-1 envelope proteins to viral assembly sites dependent on the envelope c-terminal tail. PLoS Pathog. 9, e1003198 (2013).

Sengupta, P. et al. Probing protein heterogeneity in the plasma membrane using PALM and pair correlation analysis. Nat. Methods 8, 969–975 (2011).

Ester, M., Kriegel, H.-P., Jörg, S. & Xu, X. A density-based algorithm for discovering clusters in large spatial databases with noise. Proc. 2nd International Conference on Knowledge Discovery and Data Mining 226–231 (1996).

Endesfelder, U. et al. Multiscale spatial organization of RNA polymerase in Escherichia coli. Biophys. J. 105, 172–181 (2013).

Nan, X. et al. Single-molecule superresolution imaging allows quantitative analysis of RAF multimer formation and signaling. Proc. Natl. Acad. Sci. USA 110, 18519–18524 (2013).

Li, W. et al. Single protein molecule detection by glass nanopores. ACS Nano 7, 4129–4134 (2013).

Deschout, H., Shivanandan, A., Annibale, P., Scarselli, M. & Radenovic, A. Progress in quantitative single-molecule localization microscopy. Histochem. Cell Biol. 142, 5–17 (2014).

Baddeley, D., Cannell, M.B. & Soeller, C. Visualization of localization microscopy data. Microsc. Microanal. 16, 64–72 (2010).

Okabe, A., Boots, B. & Sugihara, K. Spatial Tessellations: Concepts and Applications of Voronoi Diagrams (John Wiley & Sons, 1992).

Garrido, S., Moreno, L., Abderrahim, M. & Martin, F. Path planning for mobile robot navigation using Voronoi diagram and fast marching. in Proc. International Conference on Intelligent Robots and Systems 2376–2381 (IEEE, 2006).

Alliez, P., Colin de Verdière, E., Devillers, O. & Isenburg, M. Isotropic surface remeshing. Proc. Shape Modeling International 49–58 (IEEE Computer Society, 2003).

Beheiry, M.E. & Dahan, M. ViSP: representing single-particle localizations in three dimensions. Nat. Methods 10, 689–690 (2013).

Baddeley, D. et al. Optical single-channel resolution imaging of the ryanodine receptor distribution in rat cardiac myocytes. Proc. Natl. Acad. Sci. USA 106, 22275–22280 (2009).

Fortune, S. A sweepline algorithm for Voronoï diagram. Proc. Second Annual Symposium on Computational Geometry 313–322 (ACM, 1986).

Nair, D. et al. Super-resolution imaging reveals that AMPA receptors inside synapses are dynamically organized in nanodomains regulated by PSD95. J. Neurosci. 33, 13204–13224 (2013).

Rossier, O. et al. Integrins β1 and β3 exhibit distinct dynamic nanoscale organizations inside focal adhesions. Nat. Cell Biol. 14, 1057–1067 (2012).

Schneider, C.A., Rasband, W.S. & Eliceiri, K.W. NIH Image to ImageJ: 25 years of image analysis. Nat. Methods 9, 671–675 (2012).

Williamson, D.J. et al. Pre-existing clusters of the adaptor Lat do not participate in early T cell signaling events. Nat. Immunol. 12, 655–662 (2011).

Owen, D.M., Williamson, D.J., Magenau, A. & Gaus, K. Sub-resolution lipid domains exist in the plasma membrane and regulate protein diffusion and distribution. Nat. Commun. 3, 1256 (2012).

Durisic, N., Laparra-Cuervo, L., Sandoval-Alvarez, A., Borbely, J.S. & Lakadamyali, M. Single-molecule evaluation of fluorescent protein photoactivation efficiency using an in vivo nanotemplate. Nat. Methods 11, 156–162 (2014).

Annibale, P., Vanni, S., Scarselli, M., Rothlisberger, U. & Radenovic, A. Identification of clustering artifacts in photoactivated localization microscopy. Nat. Methods 8, 527–528 (2011).

Macgillavry, H.D., Song, Y., Raghavachari, S. & Blanpied, T.A. Nanoscale scaffolding domains within the postsynaptic density concentrate synaptic AMPA receptors. Neuron 78, 615–622 (2013).

Fukata, Y. et al. Local palmitoylation cycles define activity-regulated postsynaptic subdomains. J. Cell Biol. 202, 145–161 (2013).

Hosy, E., Butler, C. & Sibarita, J.B. Organization and dynamics of AMPA receptors inside synapses—nano-organization of AMPA receptors and main synaptic scaffolding proteins revealed by super-resolution imaging. Curr. Opin. Chem. Biol. 20, 120–126 (2014).

Giannone, G. et al. Dynamic superresolution imaging of endogenous proteins on living cells at ultra-high density. Biophys. J. 99, 1303–1310 (2010).

Kiskowski, M.A., Hancock, J.F. & Kenworthy, A.K. On the use of Ripley's K-function and its derivatives to analyze domain size. Biophys. J. 97, 9 (2009).

Samet, H. The Quadtree and related hierarchical data structures. ACM Comput. Surv. 16, 187–260 (1984).

Lee, S.-H., Shin, J.Y., Lee, A. & Bustamante, C. Counting single photoactivatable fluorescent molecules by photoactivated localization microscopy (PALM). Proc. Natl. Acad. Sci. USA 109, 17436–17441 (2012).

Puchner, E.M., Walter, J.M., Kasper, R., Huang, B. & Lim, W.A. Counting molecules in single organelles with superresolution microscopy allows tracking of the endosome maturation trajectory. Proc. Natl. Acad. Sci. USA 110, 16015–16020 (2013).

Thompson, R.E., Larson, D.R. & Webb, W.W. Precise nanometer localization analysis for individual fluorescent probes. Biophys. J. 82, 2775–2783 (2002).
Acknowledgements
We thank D. Nair and K. Haas for the GluA1-mEOS2 and GPI-mEOS2 acquisitions, G. Giannone and O. Rossier for the integrin-β3−mEOS2 PALM data and M. Lakadamyali for providing GlyR data and feedback on the manuscript. This work was supported by the Ministère de l'Enseignement Supérieur et de la Recherche (ANR NanoDom, Labex BRAIN and ANR-10-INBS-04 France-BioImaging), the European Research Council (ERC; grant nano-dyn-syn to D.C.), the Centre National de la Recherche Scientifique, the Conseil Régional d'Aquitaine and the Institut National de la Santé et de la Recherche Médicale.
Ethics declarations
Competing interests
The authors declare no competing financial interests.
Integrated supplementary information
Supplementary information
Supplementary Figures 1–4 (PDF 1280 kb)
SR-Tesseler software (ZIP 20052 kb)
About this article
Cite this article
Levet, F., Hosy, E., Kechkar, A. et al. SR-Tesseler: a method to segment and quantify localization-based super-resolution microscopy data. Nat Methods 12, 1065–1071 (2015). https://doi.org/10.1038/nmeth.3579
Received:

Accepted:

Published:

Issue Date:

DOI: https://doi.org/10.1038/nmeth.3579