Abstract
Reconstituting tissues from their cellular building blocks facilitates the modeling of morphogenesis, homeostasis and disease in vitro. Here we describe DNA-programmed assembly of cells (DPAC), a method to reconstitute the multicellular organization of organoid-like tissues having programmed size, shape, composition and spatial heterogeneity. DPAC uses dissociated cells that are chemically functionalized with degradable oligonucleotide 'Velcro', allowing rapid, specific and reversible cell adhesion to other surfaces coated with complementary DNA sequences. DNA-patterned substrates function as removable and adhesive templates, and layer-by-layer DNA-programmed assembly builds arrays of tissues into the third dimension above the template. DNase releases completed arrays of organoid-like microtissues from the template concomitant with full embedding in a variety of extracellular matrix (ECM) gels. DPAC positions subpopulations of cells with single-cell spatial resolution and generates cultures several centimeters long. We used DPAC to explore the impact of ECM composition, heterotypic cell-cell interactions and patterns of signaling heterogeneity on collective cell behaviors.
Relevant articles
Open Access articles citing this article.
Adam J. Stevens

,

Andrew R. Harris

…

Wendell A. Lim

Nature Open Access 12 December 2022

Sisi Jia

,

Siew Cheng Phua

…

Rebecca Schulman

Nature Communications Open Access 30 September 2021

Michal Walczak

,

Ryan A. Brady

…

Lorenzo Di Michele

Nature Communications Open Access 06 August 2021
Access options
Subscribe to this journal
Receive 12 print issues and online access
$209.00 per year
only $17.42 per issue
Rent or buy this article
Get just this article for as long as you need it
$39.95
Prices may be subject to local taxes which are calculated during checkout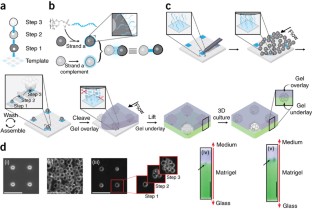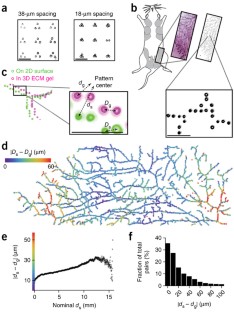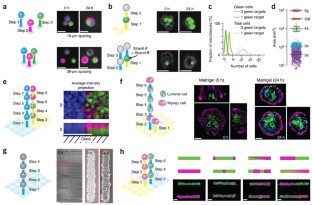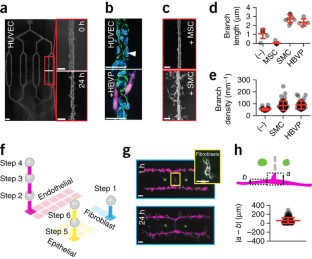 References
Sasai, Y. Cytosystems dynamics in self-organization of tissue architecture. Nature 493, 318–326 (2013).

Nelson, C.M. & Bissell, M.J. Of extracellular matrix, scaffolds, and signaling: tissue architecture regulates development, homeostasis, and cancer. Annu. Rev. Cell Dev. Biol. 22, 287–309 (2006).

Bissell, M.J., Rizki, A. & Mian, I.S. Tissue architecture: the ultimate regulator of breast epithelial function. Curr. Opin. Cell Biol. 15, 753–762 (2003).

Schmeichel, K.L. & Bissell, M.J. Modeling tissue-specific signaling and organ function in three dimensions. J. Cell Sci. 116, 2377–2388 (2003).

Lancaster, M.A. & Knoblich, J.A. Organogenesis in a dish: modeling development and disease using organoid technologies. Science 345, 1247125 (2014).

van de Wetering, M. et al. Prospective derivation of a living organoid biobank of colorectal cancer patients. Cell 161, 933–945 (2015).

Shamir, E.R. & Ewald, A.J. Three-dimensional organotypic culture: experimental models of mammalian biology and disease. Nat. Rev. Mol. Cell Biol. 15, 647–664 (2014).

Albrecht, D.R., Underhill, G.H., Wassermann, T.B., Sah, R.L. & Bhatia, S.N. Probing the role of multicellular organization in three-dimensional microenvironments. Nat. Methods 3, 369–375 (2006).

Nelson, C.M., Vanduijn, M.M., Inman, J.L., Fletcher, D.A. & Bissell, M.J. Tissue geometry determines sites of mammary branching morphogenesis in organotypic cultures. Science 314, 298–300 (2006).

Stevens, K.R. et al. InVERT molding for scalable control of tissue microarchitecture. Nat. Commun. 4, 1847 (2013).

Liu, J.S., Farlow, J.T., Paulson, A.K., LaBarge, M.A. & Gartner, Z.J. Programmed cell-to-cell variability in Ras activity triggers emergent behaviors during mammary epithelial morphogenesis. Cell Rep. 2, 1461–1470 (2012).

Leung, C.T. & Brugge, J.S. Outgrowth of single oncogene-expressing cells from suppressive epithelial environments. Nature 482, 410–413 (2012).

Boghaert, E. et al. Host epithelial geometry regulates breast cancer cell invasiveness. Proc. Natl. Acad. Sci. USA 109, 19632–19637 (2012).

Murphy, S.V. & Atala, A. 3D bioprinting of tissues and organs. Nat. Biotechnol. 32, 773–785 (2014).

Hsiao, S.C. et al. Direct cell surface modification with DNA for the capture of primary cells and the investigation of myotube formation on defined patterns. Langmuir 25, 6985–6991 (2009).

Gartner, Z.J. & Bertozzi, C.R. Programmed assembly of 3-dimensional microtissues with defined cellular connectivity. Proc. Natl. Acad. Sci. USA 106, 4606–4610 (2009).

Selden, N.S. et al. Chemically programmed cell adhesion with membrane-anchored oligonucleotides. J. Am. Chem. Soc. 134, 765–768 (2012).

Bailey, R.C., Kwong, G.A., Radu, C.G., Witte, O.N. & Heath, J.R. DNA-encoded antibody libraries: a unified platform for multiplexed cell sorting and detection of genes and proteins. J. Am. Chem. Soc. 129, 1959–1967 (2007).

Teramura, Y., Chen, H. & Kawamoto, T. Control of cell attachment through polyDNA hybridization. Biomaterials 31, 2229–2235 (2010).

Birch, H.M. & Clayton, J. Cell biology: close-up on cell biology. Nature 446, 937–940 (2007).

Xu, J. et al. Microfabricated "Biomolecular Ink Cartridges"—surface patterning tools (SPTs) for the printing of multiplexed biomolecular arrays. Sens. Actuators B Chem. 113, 1034–1041 (2006).

Weber, R.J., Liang, S.I., Selden, N.S., Desai, T.A. & Gartner, Z.J. Efficient targeting of fatty-acid modified oligonucleotides to live cell membranes through stepwise assembly. Biomacromolecules 15, 4621–4626 (2014).

Debnath, J., Muthuswamy, S.K. & Brugge, J.S. Morphogenesis and oncogenesis of MCF-10A mammary epithelial acini grown in three-dimensional basement membrane cultures. Methods 30, 256–268 (2003).

Nguyen-Ngoc, K.-V. et al. ECM microenvironment regulates collective migration and local dissemination in normal and malignant mammary epithelium. Proc. Natl. Acad. Sci. USA 109, E2595–E2604 (2012).

Laird, A.K. Dynamics of tumor growth. Br. J. Cancer 13, 490–502 (1964).

Chi, X. et al. Ret-dependent cell rearrangements in the Wolffian duct epithelium initiate ureteric bud morphogenesis. Dev. Cell 17, 199–209 (2009).

Lecaudey, V., Cakan-Akdogan, G., Norton, W.H.J. & Gilmour, D. Dynamic Fgf signaling couples morphogenesis and migration in the zebrafish lateral line primordium. Development 135, 2695–2705 (2008).

Ghabrial, A.S. & Krasnow, M.A. Social interactions among epithelial cells during tracheal branching morphogenesis. Nature 441, 746–749 (2006).

Shaw, A.T. et al. Sprouty-2 regulates oncogenic K-ras in lung development and tumorigenesis. Genes Dev. 21, 694–707 (2007).

Slattum, G., Gu, Y., Sabbadini, R. & Rosenblatt, J. Autophagy in oncogenic K-Ras promotes basal extrusion of epithelial cells by degrading S1P. Curr. Biol. 24, 19–28 (2014).

Chung, K. et al. Structural and molecular interrogation of intact biological systems. Nature 497, 332–337 (2013).

Jain, R.K. Molecular regulation of vessel maturation. Nat. Med. 9, 685–693 (2003).

Bhatia, S.N. & Ingber, D.E. Microfluidic organs-on-chips. Nat. Biotechnol. 32, 760–772 (2014).

Yang, J. et al. Reconstruction of functional tissues with cell sheet engineering. Biomaterials 28, 5033–5043 (2007).

L'Heureux, N., Pâquet, S., Labbé, R., Germain, L. & Auger, F.A. A completely biological tissue-engineered human blood vessel. FASEB J. 12, 47–56 (1998).

Dawson, P.J., Wolman, S.R., Tait, L., Heppner, G.H. & Miller, F.R. MCF10AT: a model for the evolution of cancer from proliferative breast disease. Am. J. Pathol. 148, 313–319 (1996).

Stampfer, M.R., LaBarge, M.A. & Garbe, J.C. in Cell and Molecular Biology of Breast Cancer (ed. Schatten, H.) Ch. 15, 323–361 (Humana, 2013).

Qi, Y., Wang, J.K.T., McMillian, M. & Chikaraishi, D.M. Characterization of a CNS cell line, CAD, in which morphological differentiation is initiated by serum deprivation. J. Neurosci. 17, 1217–1225 (1997).
Acknowledgements
The authors thank K. Monahan (University of California, San Francisco) for providing CAD cells, B. Boldajipour and the members of the Krummel lab (University of California, San Francisco) for providing bone marrow dendritic cells, J. Liu (University of California, San Francisco) for sharing MCF10A and derivative cell lines expressing H2B-fluorescent proteins, C. Mosher for technical help with the Nano eNabler, and M. Riel-Mehan for help with illustration. This work was supported by the Department of Defense Breast Cancer Research Program (W81XWH-10-1-1023 and W81XWH-13-1-0221 to Z.J.G.); US National Institutes of Health common fund (DP2 HD080351-01 to Z.J.G.); Sidney Kimmel Foundation; US National Science Foundation (MCB-1330864 to Z.J.G.); and University of California, San Francisco, Program in Breakthrough Biomedical Research. Z.J.G. is supported by the University of California, San Francisco, Center for Systems and Synthetic Biology (National Institute of General Medical Sciences Systems Biology Center grant P50 GM081879). A.C. was supported by the US Department of Defense through the National Defense Science and Engineering program.
Ethics declarations
Competing interests
A provisional patent application has been filed on the basis of this work. Z.J.G. is a member of the scientific advisory board of Adheren, a company that is commercializing cell-tethering technology.
Integrated supplementary information
Supplementary information
Supplementary Figures 1–5, Supplementary Tables 1 and 2 (PDF 2176 kb)
In step 1, cells attach to strand A. In step 2, cells attach to strand B. In step 3, cells assemble onto the cells from step 1. Playback is 8x real-time speed. (MP4 8907 kb)
About this article
Cite this article
Todhunter, M., Jee, N., Hughes, A. et al. Programmed synthesis of three-dimensional tissues. Nat Methods 12, 975–981 (2015). https://doi.org/10.1038/nmeth.3553
Received:

Accepted:

Published:

Issue Date:

DOI: https://doi.org/10.1038/nmeth.3553