Abstract
Molecular machines or macromolecular complexes are supramolecular assemblies of biomolecules with a variety of functions. Structure determination of these complexes in a purified state is often tedious owing to their compositional complexity and the associated relative structural instability. To improve the stability of macromolecular complexes in vitro, we present a generic method that optimizes the stability, homogeneity and solubility of macromolecular complexes by sparse-matrix screening of their thermal unfolding behavior in the presence of various buffers and small molecules. The method includes the automated analysis of thermal unfolding curves based on a biophysical unfolding model for complexes. We found that under stabilizing conditions, even large multicomponent complexes reveal an almost ideal two-state unfolding behavior. We envisage an improved biochemical understanding of purified macromolecules as well as a substantial boost in successful macromolecular complex structure determination by both X-ray crystallography and cryo-electron microscopy.
Relevant articles
Open Access articles citing this article.
Kim Remans

,

Mario Lebendiker

…

Ario de Marco

Microbial Cell Factories Open Access 07 April 2022

Wenguang G. Liang

,

Juwina Wijaya

…

Wei-Jen Tang

Nature Communications Open Access 05 April 2022

Samoil Sekulovski

,

Pascal Devant

…

Simon Trowitzsch

Nature Communications Open Access 28 September 2021
Access options
Subscribe to this journal
Receive 12 print issues and online access
$259.00 per year
only $21.58 per issue
Rent or buy this article
Prices vary by article type
from$1.95
to$39.95
Prices may be subject to local taxes which are calculated during checkout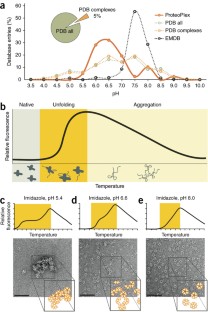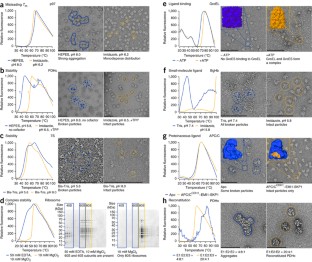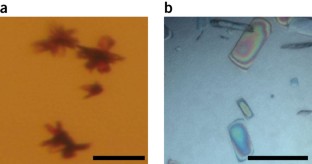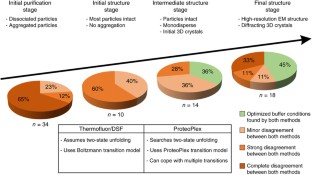 References
Rigaut, G. et al. A generic protein purification method for protein complex characterization and proteome exploration. Nat. Biotechnol. 17, 1030–1032 (1999).

Berger, I., Fitzgerald, D.J. & Richmond, T.J. Baculovirus expression system for heterologous multiprotein complexes. Nat. Biotechnol. 22, 1583–1587 (2004).

Forler, D. et al. An efficient protein complex purification method for functional proteomics in higher eukaryotes. Nat. Biotechnol. 21, 89–92 (2003).

Gavin, A.C. et al. Proteome survey reveals modularity of the yeast cell machinery. Nature 440, 631–636 (2006).

Vijayachandran, L.S. et al. Robots, pipelines, polyproteins: enabling multiprotein expression in prokaryotic and eukaryotic cells. J. Struct. Biol. 175, 198–208 (2011).

Manjasetty, B.A., Turnbull, A.P., Panjikar, S., Bussow, K. & Chance, M.R. Automated technologies and novel techniques to accelerate protein crystallography for structural genomics. Proteomics 8, 612–625 (2008).

Bai, X.-C., McMullan, G. & Scheres, S.H.W. How cryo-EM is revolutionizing structural biology. Trends Biochem. Sci. 40, 49–57 (2015).

Cheng, Y. Single-particle cryo-EM at crystallographic resolution. Cell 161, 450–457 (2015).

Mueller, M., Jenni, S. & Ban, N. Strategies for crystallization and structure determination of very large macromolecular assemblies. Curr. Opin. Struct. Biol. 17, 572–579 (2007).

Boivin, S., Kozak, S. & Meijers, R. Optimization of protein purification and characterization using Thermofluor screens. Protein Expr. Purif. 91, 192–206 (2013).

Kopec, J. & Schneider, G. Comparison of fluorescence and light scattering based methods to assess formation and stability of protein–protein complexes. J. Struct. Biol. 175, 216–223 (2011).

Niesen, F.H., Berglund, H. & Vedadi, M. The use of differential scanning fluorimetry to detect ligand interactions that promote protein stability. Nat. Protoc. 2, 2212–2221 (2007).

Henry, A.J.M. & Meier, C. Thermofluur method. Patent application WO2010109204 A1 (2010).

Klotz, I.M. Comparison of molecular structures of proteins: helix content; distribution of apolar residues. Arch. Biochem. Biophys. 138, 704–706 (1970).

Rhodes, G. Crystallography Made Crystal Clear (Academic Press, 2002).

Chandrasekhar, K. et al. Active-site changes in the pyruvate dehydrogenase multienzyme complex E1 apoenzyme component from Escherichia coli observed at 2.32 Å resolution. Acta Crystallogr. D Biol. Crystallogr. 62, 1382–1386 (2006).

Bates, D.L., Danson, M.J., Hale, G., Hooper, E.A. & Perham, R.N. Self-assembly and catalytic activity of the pyruvate dehydrogenase multienzyme complex of Escherichia coli. Nature 268, 313–316 (1977).

Chari, A. et al. An assembly chaperone collaborates with the SMN complex to generate spliceosomal SnRNPs. Cell 135, 497–509 (2008).

Kim, Y.E., Hipp, M.S., Bracher, A., Hayer-Hartl, M. & Hartl, F.U. Molecular chaperone functions in protein folding and proteostasis. Annu. Rev. Biochem. 82, 323–355 (2013).

Lieb, B. et al. Red blood with blue-blood ancestry: intriguing structure of a snail hemoglobin. Proc. Natl. Acad. Sci. USA 103, 12011–12016 (2006).

Frye, J.J. et al. Electron microscopy structure of human APC/CCDH-1–EMI1 reveals multimodal mechanism of E3 ligase shutdown. Nat. Struct. Mol. Biol. 20, 827–835 (2013).

Gao, Y.G. et al. The structure of the ribosome with elongation factor G trapped in the posttranslocational state. Science 326, 694–699 (2009).

Davies, J.M., Brunger, A.T. & Weis, W.I. Improved structures of full-length p97, an AAA ATPase: implications for mechanisms of nucleotide-dependent conformational change. Structure 16, 715–726 (2008).

Zhang, R. et al. Structure of a key intermediate of the SMN complex reveals Gemin2's crucial function in snRNP assembly. Cell 146, 384–395 (2011).

Grimm, C. et al. Structural basis of assembly chaperone- mediated snRNP formation. Mol. Cell 49, 692–703 (2013).

Monecke, T. et al. Crystal structure of the nuclear export receptor CRM1 in complex with Snurportin1 and RanGTP. Science 324, 1087–1091 (2009).

Schröder-Tittmann, K. et al. Alternating sites reactivity is a common feature of thiamin diphosphate-dependent enzymes as evidenced by isothermal titration calorimetry studies of substrate binding. Biochemistry 52, 2505–2507 (2013).
Acknowledgements
We thank H. Oster and J. Barclay for providing access to their RT-PCR machine, and W. Liu for graphical design advice. Further we acknowledge the numerous groups that provided complexes for analysis. We also thank U. Steuerwald and J. Wawrzinek of the Crystallization Facility of the Max Planck Institute for Biophysical Chemistry for assistance in crystallization screening. We thank H.W. Rémigy (FEI company) for fruitful discussions. A. Buchberger (University of Würzburg) is acknowledged for the kind gift of p97 expression plasmids. The plasmid pGS523, which encodes the E1, E2 and E3 components of E. coli PDHc, was kindly provided by J. Guest (University of Sheffield). This work was supported by Deutsche Forschungsgemeinschaft SFB 860 (TP A05 to H.S.). A.C. is an associated member of SFB 860. This work was further funded by a DFG grant to A.C. (CH 1098/1-1) and an Instruct pilot project grant to H.S. and A.C., as part of the European Strategy Forum on research Infrastructures (ESFRI) and supported by national member subscriptions. D.H. is a recipient of a PhD scholarship from the Boehringer Ingelheim Fonds. D.H. was supported by the PhD program "Molecular Biology" – International Max Planck Research School at the Georg August University Göttingen.
Ethics declarations
Competing interests
A.C., D.H., J.-M.K. and H.S. have filed a patent application (WO2013034160 A1: "Methods for analyzing biological macromolecular complexes and use thereof") and are currently developing a relevant product in cooperation with FEI Company.
Integrated supplementary information
Supplementary information
Supplementary Figures 1–8, Supplementary Tables 1–4 and Supplementary Note (PDF 2693 kb)
About this article
Cite this article
Chari, A., Haselbach, D., Kirves, JM. et al. ProteoPlex: stability optimization of macromolecular complexes by sparse-matrix screening of chemical space. Nat Methods 12, 859–865 (2015). https://doi.org/10.1038/nmeth.3493
Received:

Accepted:

Published:

Issue Date:

DOI: https://doi.org/10.1038/nmeth.3493