Abstract
Innovative imaging methods help to investigate the complex relationship between brain activity and behavior in freely moving animals. Functional ultrasound (fUS) is an imaging modality suitable for recording cerebral blood volume (CBV) dynamics in the whole brain but has so far been used only in head-fixed and anesthetized rodents. We designed a fUS device for tethered brain imaging in freely moving rats based on a miniaturized ultrasound probe and a custom-made ultrasound scanner. We monitored CBV changes in rats during various behavioral states such as quiet rest, after whisker or visual stimulations, and in a food-reinforced operant task. We show that fUS imaging in freely moving rats could efficiently decode brain activity in real time.
Access options
Subscribe to Journal
Get full journal access for 1 year
$119.00
only $9.92 per issue
All prices are NET prices.
VAT will be added later in the checkout.
Tax calculation will be finalised during checkout.
Rent or Buy article
Get time limited or full article access on ReadCube.
from$8.99
All prices are NET prices.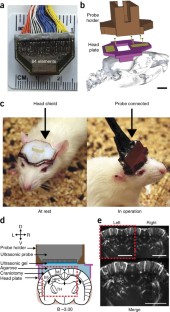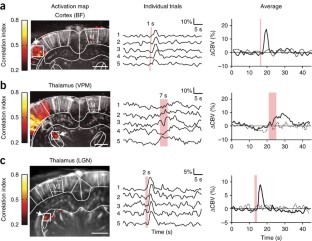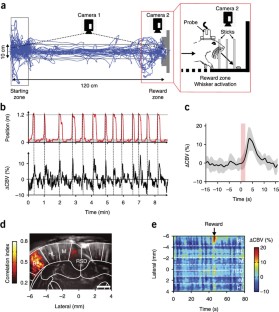 References
1

Hartmann, D.A., Underly, R.G., Watson, A.N. & Shih, A.Y. A murine toolbox for imaging the neurovascular unit. Microcirculation 22, 168–182 (2015).

2

Picciotto, M.R. & Wickman, K. Using knockout and transgenic mice to study neurophysiology and behavior. Physiol. Rev. 78, 1131–1163 (1998).

3

Ferezou, I., Bolea, S. & Petersen, C.C. Visualizing the cortical representation of whisker touch: voltage-sensitive dye imaging in freely moving mice. Neuron 50, 617–629 (2006).

4

Dombeck, D.A., Khabbaz, A.N., Collman, F., Adelman, T.L. & Tank, D.W. Imaging large-scale neural activity with cellular resolution in awake, mobile mice. Neuron 56, 43–57 (2007).

5

Flusberg, B.A. et al. High-speed, miniaturized fluorescence microscopy in freely moving mice. Nat. Methods 5, 935–938 (2008).

6

Sawinski, J. et al. Visually evoked activity in cortical cells imaged in freely moving animals. Proc. Natl. Acad. Sci. USA 106, 19557–19562 (2009).

7

Sullivan, M.R., Nimmerjahn, A., Sarkisov, D.V., Helmchen, F. & Wang, S.S. In vivo calcium imaging of circuit activity in cerebellar cortex. J. Neurophysiol. 94, 1636–1644 (2005).

8

Helmchen, F., Fee, M.S., Tank, D.W. & Denk, W. A miniature head-mounted two-photon microscope. high-resolution brain imaging in freely moving animals. Neuron 31, 903–912 (2001).

9

Miao, P., Lu, H., Liu, Q., Li, Y. & Tong, S. Laser speckle contrast imaging of cerebral blood flow in freely moving animals. J. Biomed. Opt. 16, 090502 (2011).

10

Levy, H., Ringuette, D. & Levi, O. Rapid monitoring of cerebral ischemia dynamics using laser-based optical imaging of blood oxygenation and flow. Biomed. Opt. Express 3, 777–791 (2012).

11

Holzer, M. et al. in Conf. Proc. IEEE Eng. Med. Biol. Soc. 29–32 (IEEE, 2006).

12

Macé, E. et al. Functional ultrasound imaging of the brain. Nat. Methods 8, 662–664 (2011).

13

Urban, A. et al. Chronic assessment of cerebral hemodynamics during rat forepaw electrical stimulation using functional ultrasound imaging. Neuroimage 101, 138–149 (2014).

14

Montaldo, G., Tanter, M., Bercoff, J., Benech, N. & Fink, M. Coherent plane-wave compounding for very high frame rate ultrasonography and transient elastography. IEEE Trans. Ultrason. Ferroelectr. Freq. Control 56, 489–506 (2009).

15

Mace, E. et al. Functional ultrasound imaging of the brain: theory and basic principles. IEEE Trans. Ultrason. Ferroelectr. Freq. Control 60, 492–506 (2013).

16

Liu, J.V. et al. fMRI in the awake marmoset: somatosensory-evoked responses, functional connectivity, and comparison with propofol anesthesia. Neuroimage 78, 186–195 (2013).

17

Rayshubskiy, A. et al. Direct, intraoperative observation of ∼0.1 Hz hemodynamic oscillations in awake human cortex: implications for fMRI. Neuroimage 87, 323–331 (2014).

18

Du, C., Volkow, N.D., Koretsky, A.P. & Pan, Y. Low-frequency calcium oscillations accompany deoxyhemoglobin oscillations in rat somatosensory cortex. Proc. Natl. Acad. Sci. USA 111, E4677–E4686 (2014).

19

Lund, R.D., Lund, J.S. & Wise, R.P. The organization of the retinal projection to the dorsal lateral geniculate nucleus in pigmented and albino rats. J. Comp. Neurol. 158, 383–403 (1974).

20

Schulz, D. et al. Simultaneous assessment of rodent behavior and neurochemistry using a miniature positron emission tomograph. Nat. Methods 8, 347–352 (2011).

21

Metz, C.E. Basic principles of ROC analysis. Semin. Nucl. Med. 8, 283–298 (1978).

22

Mayhew, J.E. et al. Cerebral vasomotion: a 0.1-Hz oscillation in reflected light imaging of neural activity. Neuroimage 4, 183–193 (1996).

23

Bergonzi, K.M., Bauer, A.Q., Wright, P.W. & Culver, J.P. Mapping functional connectivity using cerebral blood flow in the mouse brain. J. Cereb. Blood Flow Metab. 35, 367–370 (2015).

24

Alves, K.Z. et al. In vivo endoluminal ultrasound biomicroscopic imaging in a mouse model of colorectal cancer. Acad. Radiol. 20, 90–98 (2013).

25

Bakardjian, H., Tanaka, T. & Cichocki, A. Optimization of SSVEP brain responses with application to eight-command Brain-Computer Interface. Neurosci. Lett. 469, 34–38 (2010).

26

Van Camp, N., Verhoye, M., De Zeeuw, C.I. & Van der Linden, A. Light stimulus frequency dependence of activity in the rat visual system as studied with high-resolution BOLD fMRI. J. Neurophysiol. 95, 3164–3170 (2006).

27

Fox, M.D. & Raichle, M.E. Spontaneous fluctuations in brain activity observed with functional magnetic resonance imaging. Nat. Rev. Neurosci. 8, 700–711 (2007).
Acknowledgements
We thank the Ecole Normale Supérieure de Lyon for its financial support of the 4th year study project of C. Dussaux. We thank L. Zamfirov and S. Raja for computer-assisted design and technical help with the fm-fUS implant. We also thank the Phenobrain platform of the "Centre de Psychiatrie & Neuroscience" for animal care. This work was supported by a grant from Agence Nationale de la Recherche, Paris.
Ethics declarations
Competing interests
The authors declare no competing financial interests.
Integrated supplementary information
Supplementary information
About this article
Cite this article
Urban, A., Dussaux, C., Martel, G. et al. Real-time imaging of brain activity in freely moving rats using functional ultrasound. Nat Methods 12, 873–878 (2015). https://doi.org/10.1038/nmeth.3482
Received:

Accepted:

Published:

Issue Date: