Abstract
Many protein interactions are mediated by small linear motifs interacting specifically with defined families of globular domains. Quantifying the specificity of a motif requires measuring and comparing its binding affinities to all its putative target domains. To this end, we developed the high-throughput holdup assay, a chromatographic approach that can measure up to 1,000 domain-motif equilibrium binding affinities per day. After benchmarking the approach on 210 PDZ-peptide pairs with known affinities, we determined the affinities of two viral PDZ-binding motifs derived from human papillomavirus E6 oncoproteins for 209 PDZ domains covering 79% of the human 'PDZome'. We obtained sharply sequence-dependent binding profiles that quantitatively describe the PDZome recognition specificity of each motif. This approach, applicable to many categories of domain-ligand interactions, has wide potential for quantifying the specificities of interactomes.
Access options
Subscribe to Journal
Get full journal access for 1 year
$259.00
only $21.58 per issue
All prices are NET prices.
VAT will be added later in the checkout.
Rent or Buy article
Get time limited or full article access on ReadCube.
from$8.99
All prices are NET prices.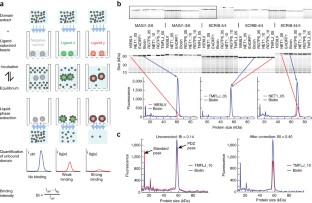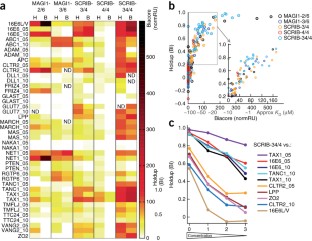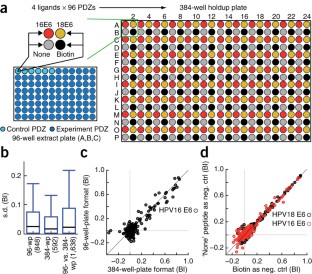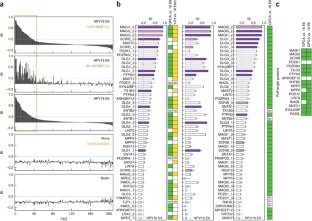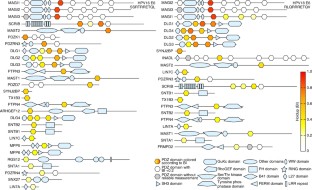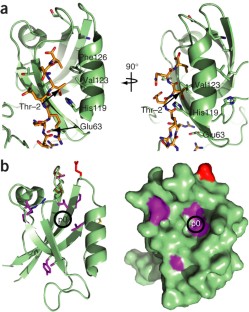 References
1

Nash, P.D. Why modules matter. FEBS Lett. 586, 2572–2574 (2012).

2

Diella, F. et al. Understanding eukaryotic linear motifs and their role in cell signaling and regulation. Front. Biosci. 13, 6580–6603 (2008).

3

Lievens, S., Eyckerman, S., Lemmens, I. & Tavernier, J. Large-scale protein interactome mapping: strategies and opportunities. Expert Rev. Proteomics 7, 679–690 (2010).

4

Tonikian, R. et al. Bayesian modeling of the yeast SH3 domain interactome predicts spatiotemporal dynamics of endocytosis proteins. PLoS Biol. 7, e1000218 (2009).

5

Jadwin, J.A., Ogiue-Ikeda, M. & Machida, K. The application of modular protein domains in proteomics. FEBS Lett. 586, 2586–2596 (2012).

6

Doyle, D.A. et al. Crystal structures of a complexed and peptide-free membrane protein-binding domain: molecular basis of peptide recognition by PDZ. Cell 85, 1067–1076 (1996).

7

Luck, K., Charbonnier, S. & Travé, G. The emerging contribution of sequence context to the specificity of protein interactions mediated by PDZ domains. FEBS Lett. 586, 2648–2661 (2012).

8

Nourry, C., Grant, S.G. & Borg, J.P. PDZ domain proteins: plug and play! Sci. STKE 2003, RE7 (2003).

9

Iden, S. & Collard, J.G. Crosstalk between small GTPases and polarity proteins in cell polarization. Nat. Rev. Mol. Cell Biol. 9, 846–859 (2008).

10

Javier, R.T. & Rice, A.P. Emerging theme: cellular PDZ proteins as common targets of pathogenic viruses. J. Virol. 85, 11544–11556 (2011).

11

Charbonnier, S., Zanier, K., Masson, M. & Travé, G. Capturing protein-protein complexes at equilibrium: the holdup comparative chromatographic retention assay. Protein Expr. Purif. 50, 89–101 (2006).

12

Luck, K. et al. Putting into practice domain-linear motif interaction predictions for exploration of protein networks. PLoS ONE 6, e25376 (2011).

13

Stiffler, M.A. et al. PDZ domain binding selectivity is optimized across the mouse proteome. Science 317, 364–369 (2007).

14

Kranjec, C. & Banks, L. A systematic analysis of human papillomavirus (HPV) E6 PDZ substrates identifies MAGI-1 as a major target of HPV type 16 (HPV-16) and HPV-18 whose loss accompanies disruption of tight junctions. J. Virol. 85, 1757–1764 (2011).

15

Zanier, K. et al. Solution structure analysis of the HPV16 E6 oncoprotein reveals a self-association mechanism required for E6-mediated degradation of p53. Structure 20, 604–617 (2012).

16

Atchley, W.R., Zhao, J., Fernandes, A.D. & Drüke, T. Solving the protein sequence metric problem. Proc. Natl. Acad. Sci. USA 102, 6395–6400 (2005).

17

Belotti, E. et al. The human PDZome: a gateway to PDZ mediated functions. Mol. Cell. Proteomics 12, 2587–2603 (2013).

18

Cassonnet, P. et al. Benchmarking a luciferase complementation assay for detecting protein complexes. Nat. Methods 8, 990–992 (2011).

19

Beroukhim, R. et al. The landscape of somatic copy-number alteration across human cancers. Nature 463, 899–905 (2010).

20

Zaric, J. et al. Identification of MAGI1 as a tumor-suppressor protein induced by cyclooxygenase-2 inhibitors in colorectal cancer cells. Oncogene 31, 48–59 (2012).

21

Lee, S.J. et al. MAGI-3 competes with NHERF-2 to negatively regulate LPA2 receptor signaling in colon cancer cells. Gastroenterology 140, 924–934 (2011).

22

Valiente, M. et al. Binding of PTEN to specific PDZ domains contributes to PTEN protein stability and phosphorylation by microtubule-associated serine/threonine kinases. J. Biol. Chem. 280, 28936–28943 (2005).

23

Kotelevets, L. et al. Implication of the MAGI-1b/PTEN signalosome in stabilization of adherens junctions and suppression of invasiveness. FASEB J. 19, 115–117 (2005).

24

Ellenbroek, S.I., Iden, S. & Collard, J.G. Cell polarity proteins and cancer. Semin. Cancer Biol. 22, 208–215 (2012).

25

Roberts, S., Delury, C. & Marsh, E. The PDZ protein discs-large (DLG): the 'Jekyll and Hyde' of the epithelial polarity proteins. FEBS J. 279, 3549–3558 (2012).

26

Ong, D.C. et al. LARG at chromosome 11q23 has functional characteristics of a tumor suppressor in human breast and colorectal cancer. Oncogene 28, 4189–4200 (2009).

27

Thomas, M. & Banks, L. PDZRN3/LNX3 is a novel target of human papillomavirus type 16 (HPV-16) and HPV-18 E6. J. Virol. 89, 1439–1444 (2015).

28

Hu, H. et al. A map of WW domain family interactions. Proteomics 4, 643–655 (2004).

29

Landgraf, C. et al. Protein interaction networks by proteome peptide scanning. PLoS Biol. 2, E14 (2004).

30

Kaushansky, A. et al. Quantifying protein-protein interactions in high throughput using protein domain microarrays. Nat. Protoc. 5, 773–790 (2010).

31

Babault, N. et al. Peptides targeting the PDZ domain of PTPN4 are efficient inducers of glioblastoma cell death. Structure 19, 1518–1524 (2011).

32

Perkins, J.R., Diboun, I., Dessailly, B.H., Lees, J.G. & Orengo, C. Transient protein-protein interactions: structural, functional, and network properties. Structure 18, 1233–1243 (2010).

33

Gerber, D., Maerkl, S.J. & Quake, S.R. An in vitro microfluidic approach to generating protein-interaction networks. Nat. Methods 6, 71–74 (2009).

34

Hause, R.J. Jr. et al. Comprehensive binary interaction mapping of SH2 domains via fluorescence polarization reveals novel functional diversification of ErbB receptors. PLoS ONE 7, e44471 (2012).

35

Velázquez Campoy, A. & Freire, E. ITC in the post-genomic era...? Priceless. Biophys. Chem. 115, 115–124 (2005).

36

Rich, R.L. & Myszka, D.G. Advances in surface plasmon resonance biosensor analysis. Curr. Opin. Biotechnol. 11, 54–61 (2000).

37

Weiser, A.A. et al. SPOT synthesis: reliability of array-based measurement of peptide binding affinity. Anal. Biochem. 342, 300–311 (2005).

38

Tropea, J.E., Cherry, S., Nallamsetty, S., Bignon, C. & Waugh, D.S. A generic method for the production of recombinant proteins in Escherichia coli using a dual hexahistidine-maltose-binding protein affinity tag. Methods Mol. Biol. 363, 1–19 (2007).

39

Nominé, Y. et al. A strategy for optimizing the monodispersity of fusion proteins: application to purification of recombinant HPV E6 oncoprotein. Protein Eng. 14, 297–305 (2001).

40

Vincentelli, R. et al. High-throughput protein expression screening and purification in Escherichia coli. Methods 55, 65–72 (2011).

41

Saez, N.J. & Vincentelli, R. High-throughput expression screening and purification of recombinant proteins in E. coli. Methods Mol. Biol. 1091, 33–53 (2014).

42

Fournane, S. et al. Surface plasmon resonance analysis of the binding of high-risk mucosal HPV E6 oncoproteins to the PDZ1 domain of the tight junction protein MAGI-1. J. Mol. Recognit. 24, 511–523 (2011).

43

Charbonnier, S. et al. The structural and dynamic response of MAGI-1 PDZ1 with noncanonical domain boundaries to the binding of human papillomavirus E6. J. Mol. Biol. 406, 745–763 (2011).

44

Vogelstein, B. et al. Cancer genome landscapes. Science 339, 1546–1558 (2013).
Acknowledgements
This work was supported by institutional support from CNRS, Université de Strasbourg, Infrastructures Biologie Santé et Agronomie (Ibisa) and grants from the Association pour la Recherche contre le Cancer (ARC) (no. 3171), Agence Nationale de la Recherche (ANR-MIME-2007 EPI-HPV-3D), US National Institutes of Health (NIH grant R01CA134737), Ligue contre le Cancer and Alsace contre le Cancer. K.L. was supported by grants of Région Alsace and ARC. J. Poirson was supported by a grant of the Ligue Régionale contre le Cancer. J.-P.B. is supported in part by grants from La Ligue Contre le Cancer, Institut paoli-Calmettes, Cancéropôle PACA and SIRIC (INCa-DGOS-Inserm 6038). J.-P.B. is supported as a scholar of Institut Universitaire de France. We thank the CCSB (Harvard University) for kindly providing clones of the human ORFeome, and T. Rolland, M.A. Delsuc, D. Altschuh, B. Kieffer, A. Dejaegere and all members of the "Oncoproteins" team for helpful discussions and advice.
Ethics declarations
Competing interests
The authors declare no competing financial interests.
Integrated supplementary information
Supplementary information
About this article
Cite this article
Vincentelli, R., Luck, K., Poirson, J. et al. Quantifying domain-ligand affinities and specificities by high-throughput holdup assay. Nat Methods 12, 787–793 (2015). https://doi.org/10.1038/nmeth.3438
Received:

Accepted:

Published:

Issue Date: