Abstract
Noncoding RNAs play diverse roles throughout biology and exhibit broad functional capacity. To investigate and harness these capabilities, we developed clustered regularly interspaced short palindromic repeats (CRISPR)-Display (CRISP-Disp), a targeted localization method that uses Cas9 to deploy large RNA cargos to DNA loci. We demonstrate that functional RNA domains up to at least 4.8 kb long can be inserted in CRISPR guide RNA at multiple points, allowing the construction of Cas9 complexes with protein-binding cassettes, artificial aptamers, pools of random sequences and natural long noncoding RNAs. A unique feature of CRISP-Disp is the multiplexing of distinct functions at multiple targets, limited only by the availability of functional RNA motifs. We anticipate the use of CRISP-Disp for ectopically targeting functional RNAs and ribonucleoprotein (RNP) complexes to genomic loci.
Access options
Subscribe to Journal
Get full journal access for 1 year
$259.00
only $21.58 per issue
All prices are NET prices.
VAT will be added later in the checkout.
Rent or Buy article
Get time limited or full article access on ReadCube.
from$8.99
All prices are NET prices.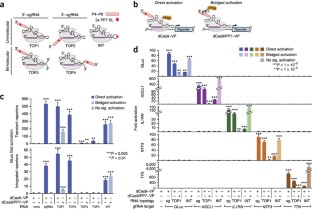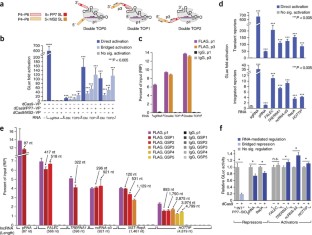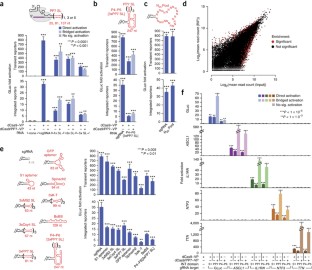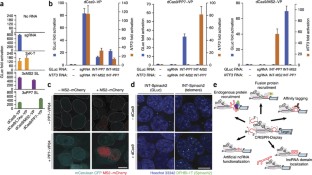 References
1

Cech, T.R. & Steitz, J.A. The noncoding RNA revolution—trashing old rules to forge new ones. Cell 157, 77–94 (2014).

2

Rinn, J.L. & Chang, H.Y. Genome regulation by long noncoding RNAs. Annu. Rev. Biochem. 81, 145–166 (2012).

3

Ulitsky, I. & Bartel, D.P. lincRNAs: genomics, evolution, and mechanisms. Cell 154, 26–46 (2013).

4

Minks, J., Baldry, S.E., Yang, C., Cotton, A.M. & Brown, C.J. XIST-induced silencing of flanking genes is achieved by additive action of repeat a monomers in human somatic cells. Epigenetics Chromatin 6, 23 (2013).

5

Sauvageau, M. et al. Multiple knockout mouse models reveal lincRNAs are required for life and brain development. eLife 2, e01749 (2013).

6

Bassett, A.R. et al. Considerations when investigating lncRNA function in vivo. eLife 3, e03058 (2014).

7

Walker, S.C., Good, P.D., Gipson, T.A. & Engelke, D.R. The dual use of RNA aptamer sequences for affinity purification and localization studies of RNAs and RNA-protein complexes. Methods Mol. Biol. 714, 423–444 (2011).

8

Tome, J.M. et al. Comprehensive analysis of RNA-protein interactions by high-throughput sequencing–RNA affinity profiling. Nat. Methods 11, 683–688 (2014).

9

Ausländer, S. et al. A general design strategy for protein-responsive riboswitches in mammalian cells. Nat. Methods 11, 1154–1160 (2014).

10

Liang, J.C., Bloom, R.J. & Smolke, C.D. Engineering biological systems with synthetic RNA molecules. Mol. Cell 43, 915–926 (2011).

11

Carothers, J.M., Goler, J.A., Juminaga, D. & Keasling, J.D. Model-driven engineering of RNA devices to quantitatively program gene expression. Science 334, 1716–1719 (2011).

12

Delebecque, C.J., Lindner, A.B., Silver, P.A. & Aldaye, F.A. Organization of intracellular reactions with rationally designed RNA assemblies. Science 333, 470–474 (2011).

13

Song, W., Strack, R.L., Svensen, N. & Jaffrey, S.R. Plug-and-play fluorophores extend the spectral properties of Spinach. J. Am. Chem. Soc. 136, 1198–1201 (2014).

14

Garneau, J.E. et al. The CRISPR/Cas bacterial immune system cleaves bacteriophage and plasmid DNA. Nature 468, 67–71 (2010).

15

Jinek, M. et al. A programmable dual-RNA-guided DNA endonuclease in adaptive bacterial immunity. Science 337, 816–821 (2012).

16

Sternberg, S.H., Redding, S., Jinek, M., Greene, E.C. & Doudna, J.A. DNA interrogation by the CRISPR RNA-guided endonuclease Cas9. Nature 507, 62–67 (2014).

17

Hsu, P.D., Lander, E.S. & Zhang, F. Development and applications of CRISPR-Cas9 for genome engineering. Cell 157, 1262–1278 (2014).

18

Chen, B. et al. Dynamic imaging of genomic loci in living human cells by an optimized CRISPR/Cas system. Cell 155, 1479–1491 (2013).

19

Nissim, L., Perli, S.D., Fridkin, A., Perez-Pinera, P. & Lu, T.K. Multiplexed and programmable regulation of gene networks with an integrated RNA and CRISPR/Cas toolkit in human cells. Mol. Cell 54, 698–710 (2014).

20

Ryan, O.W. et al. Selection of chromosomal DNA libraries using a multiplex CRISPR system. eLife 3, e03703 (2014).

21

Gilbert, L.A. et al. Genome-Scale CRISPR-mediated control of gene repression and activation. Cell 159, 647–661 (2014).

22

Citorik, R.J., Mimee, M. & Lu, T.K. Sequence-specific antimicrobials using efficiently delivered RNA-guided nucleases. Nat. Biotechnol. 32, 1141–1145 (2014).

23

Briner, A.E. et al. Guide RNA functional modules direct Cas9 activity and orthogonality. Mol. Cell 56, 333–339 (2014).

24

Wright, A.V. et al. Rational design of a split-Cas9 enzyme complex. Proc. Natl. Acad. Sci. USA 112, 2984–2989 (2015).

25

Zalatan, J.G. et al. Engineering complex synthetic transcriptional programs with CRISPR RNA scaffolds. Cell 160, 339–350 (2015).

26

Konermann, S. et al. Genome-scale transcriptional activation by an engineered CRISPR-Cas9 complex. Nature 517, 583–588 (2015).

27

Gilbert, L.A. et al. CRISPR-mediated modular RNA–guided regulation of transcription in eukaryotes. Cell 154, 442–451 (2013).

28

Maeder, M.L. et al. CRISPR RNA-guided activation of endogenous human genes. Nat. Methods 10, 977–979 (2013).

29

Perez-Pinera, P. et al. RNA-guided gene activation by CRISPR-Cas9-based transcription factors. Nat. Methods 10, 973–976 (2013).

30

Zhang, F. et al. Efficient construction of sequence-specific TAL effectors for modulating mammalian transcription. Nat. Biotechnol. 29, 149–153 (2011).

31

Chao, J.A., Patskovsky, Y., Almo, S.C. & Singer, R.H. Structural basis for the coevolution of a viral RNA-protein complex. Nat. Struct. Mol. Biol. 15, 103–105 (2008).

32

Ran, F.A. et al. Double nicking by RNA-guided CRISPR Cas9 for enhanced genome editing specificity. Cell 154, 1380–1389 (2013).

33

Chavez, A. et al. Highly efficient Cas9-mediated transcriptional programming. Nat. Methods 12, 326–328 (2015).

34

Mayer, C., Neubert, M. & Grummt, I. The structure of NoRC-associated RNA is crucial for targeting the chromatin remodelling complex NoRC to the nucleolus. EMBO Rep. 9, 774–780 (2008).

35

Ørom, U.A. et al. Long noncoding RNAs with enhancer-like function in human cells. Cell 143, 46–58 (2010).

36

Wang, K.C. et al. A long noncoding RNA maintains active chromatin to coordinate homeotic gene expression. Nature 472, 120–124 (2011).

37

Saito, H. et al. Synthetic translational regulation by an L7Ae-kink-turn RNP switch. Nat. Chem. Biol. 6, 71–78 (2010).

38

Sternberg, S.H., Haurwitz, R.E. & Doudna, J.A. Mechanism of substrate selection by a highly specific CRISPR endoribonuclease. RNA 18, 661–672 (2012).

39

Cong, L., Zhou, R., Kuo, Y.C., Cunniff, M. & Zhang, F. Comprehensive interrogation of natural TALE DNA-binding modules and transcriptional repressor domains. Nat. Commun. 3, 968 (2012).

40

LeCuyer, K.A., Behlen, L.S. & Uhlenbeck, O.C. Mutants of the bacteriophage MS2 coat protein that alter its cooperative binding to RNA. Biochemistry 34, 10600–10606 (1995).

41

Kelley, D.R., Hendrickson, D.G., Tenen, D. & Rinn, J.L. Transposable elements modulate human RNA abundance and splicing via specific RNA-protein interactions. Genome Biol. 15, 537 (2014).

42

Zhao, S. & Fernald, R.D. Comprehensive algorithm for quantitative real-time polymerase chain reaction. J. Comput. Biol. 12, 1047–1064 (2005).

43

Kim, D. et al. TopHat2: accurate alignment of transcriptomes in the presence of insertions, deletions and gene fusions. Genome Biol. 14, R36 (2013).

44

Trapnell, C. et al. Differential analysis of gene regulation at transcript resolution with RNA-seq. Nat. Biotechnol. 31, 46–53 (2013).

45

Shechner, D.M. & Bartel, D.P. The structural basis of RNA-catalyzed RNA polymerization. Nat. Struct. Mol. Biol. 18, 1036–1042 (2011).

46

Rosner, M. & Hengstschlager, M. Detection of cytoplasmic and nuclear functions of mTOR by fractionation. Methods Mol. Biol. 821, 105–124 (2012).

47

Bhatt, D.M. et al. Transcript dynamics of proinflammatory genes revealed by sequence analysis of subcellular RNA fractions. Cell 150, 279–290 (2012).

48

Anders, S. & Huber, W. Differential expression analysis for sequence count data. Genome Biol. 11, R106 (2010).
Acknowledgements
We thank L. Cong and F. Zhang for TALE plasmids and advice on reporter construct design; Y. Sancak, C. Fulco, S. Donovan and M. Morse for their general technical assistance; G. Kenty for his help with luminometry; D. Hendrickson and D. Tenen for their RIP expertise; C. Gerhardinger and C. Daly for their support with deep sequencing; and M. Tabebordbar, J. LaVecchio, S. Ionescu and M. Sauvageau for their assistance with FACS. We are grateful to all members of the Rinn laboratory for their thoughtful discussions and critiques. This work was supported by US National Institutes of Health grant P01GM099117.
Ethics declarations
Competing interests
The authors declare competing financial interests. D.M.S. and J.L.R. have filed for patents concerning the design and expression of extended sgRNAs to expand the repertoire of dCas9 function.
Integrated supplementary information
Supplementary information
Supplementary Figures 1–14, Supplementary Tables 1–6 and Supplementary Notes 1–3 (PDF 5084 kb)
About this article
Cite this article
Shechner, D., Hacisuleyman, E., Younger, S. et al. Multiplexable, locus-specific targeting of long RNAs with CRISPR-Display. Nat Methods 12, 664–670 (2015). https://doi.org/10.1038/nmeth.3433
Received:

Accepted:

Published:

Issue Date: