Abstract
Identifying genes involved in biological processes is critical for understanding the molecular building blocks of life. We used engineered CRISPR (clustered regularly interspaced short palindromic repeats) to efficiently mutate specific loci in zebrafish (Danio rerio) and screen for genes involved in vertebrate biological processes. We found that increasing CRISPR efficiency by injecting optimized amounts of Cas9-encoding mRNA and multiplexing single guide RNAs (sgRNAs) allowed for phenocopy of known mutants across many phenotypes in embryos. We performed a proof-of-concept screen in which we used intersecting, multiplexed pool injections to examine 48 loci and identified two new genes involved in electrical-synapse formation. By deep sequencing target loci, we found that 90% of the genes were effectively screened. We conclude that CRISPR can be used as a powerful reverse genetic screening strategy in vivo in a vertebrate system.
Relevant articles
Open Access articles citing this article.
Zayana M. Al-Dahmani

,

Xiaogang Li

…

Harry van Goor

Scientific Reports Open Access 15 July 2022

Yun-Jin Jiang

,

Cathy Shen-Jang Fann

…

Shuu-Jiun Wang

The Journal of Headache and Pain Open Access 29 March 2022

Jason R. Nielson

,

Anjali K. Nath

…

Randall T. Peterson

Scientific Reports Open Access 23 March 2022
Access options
Subscribe to Journal
Get full journal access for 1 year
$99.00
only $8.25 per issue
All prices are NET prices.
VAT will be added later in the checkout.
Tax calculation will be finalised during checkout.
Buy article
Get time limited or full article access on ReadCube.
$32.00
All prices are NET prices.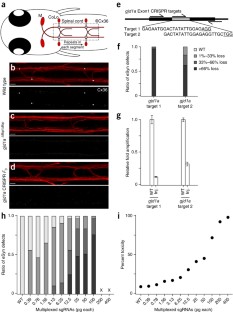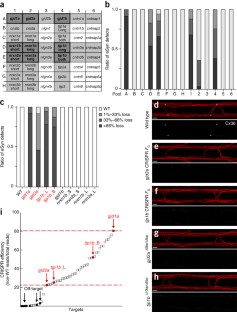 Accession codes
Primary accessions
BioProject
Sequence Read Archive
References
Chang, N. et al. Genome editing with RNA-guided Cas9 nuclease in zebrafish embryos. Cell Res. 23, 465–472 (2013).

Hwang, W.Y. et al. Efficient genome editing in zebrafish using a CRISPR-Cas system. Nat. Biotechnol. 31, 227–229 (2013).

Hsu, P.D., Lander, E.S. & Zhang, F. Development and applications of CRISPR-Cas9 for genome engineering. Cell 157, 1262–1278 (2014).

Peng, Y. et al. Making designer mutants in model organisms. Development 141, 4042–4054 (2014).

Jinek, M. et al. A programmable dual-RNA-guided DNA endonuclease in adaptive bacterial immunity. Science 337, 816–821 (2012).

Jao, L.-E., Wente, S.R. & Chen, W. Efficient multiplex biallelic zebrafish genome editing using a CRISPR nuclease system. Proc. Natl. Acad. Sci. USA 110, 13904–13909 (2013).

Sung, Y.H. et al. Highly efficient gene knockout in mice and zebrafish with RNA-guided endonucleases. Genome Res. 24, 125–131 (2014).

Rohrschneider, M.R., Elsen, G.E. & Prince, V.E. Zebrafish Hoxb1a regulates multiple downstream genes including prickle1b. Dev. Biol. 309, 358–372 (2007).

Jessen, J.R. et al. Zebrafish trilobite identifies new roles for Strabismus in gastrulation and neuronal movements. Nat. Cell Biol. 4, 610–615 (2002).

Satou, C. et al. Functional role of a specialized class of spinal commissural inhibitory neurons during fast escapes in zebrafish. J. Neurosci. 29, 6780–6793 (2009).

Pereda, A.E. Electrical synapses and their functional interactions with chemical synapses. Nat. Rev. Neurosci. 15, 250–263 (2014).

Rash, J.E. et al. Molecular and functional asymmetry at a vertebrate electrical synapse. Neuron 79, 957–969 (2013).

Wang, T., Wei, J.J., Sabatini, D.M. & Lander, E.S. Genetic screens in human cells using the CRISPR-Cas9 system. Science 343, 80–84 (2014).

Craig, A.M. & Kang, Y. Neurexin-neuroligin signaling in synapse development. Curr. Opin. Neurobiol. 17, 43–52 (2007).

Xiao, A. et al. Chromosomal deletions and inversions mediated by TALENs and CRISPR/Cas in zebrafish. Nucleic Acids Res. 41, e141 (2013).

Hsu, P.D. et al. DNA targeting specificity of RNA-guided Cas9 nucleases. Nat. Biotechnol. 31, 827–832 (2013).

Gagnon, J.A. et al. Efficient mutagenesis by Cas9 protein-mediated oligonucleotide insertion and large-scale assessment of single-guide RNAs. PLoS One 9, e98186 (2014).

Howe, K. et al. The zebrafish reference genome sequence and its relationship to the human genome. Nature 496, 498–503 (2013).

Kelly, A. & Hurlstone, A.F. The use of RNAi technologies for gene knockdown in zebrafish. Brief Funct. Genomics 10, 189–196 (2011).

Schulte-Merker, S. & Stainier, D.Y.R. Out with the old, in with the new: reassessing morpholino knockdowns in light of genome editing technology. Development 141, 3103–3104 (2014).

Hruscha, A. et al. Efficient CRISPR/Cas9 genome editing with low off-target effects in zebrafish. Development 140, 4982–4987 (2013).

Twigg, S.R.F. et al. Cellular interference in craniofrontonasal syndrome: males mosaic for mutations in the X-linked EFNB1 gene are more severely affected than true hemizygotes. Hum. Mol. Genet. 22, 1654–1662 (2013).

Shalem, O. et al. Genome-scale CRISPR-Cas9 knockout screening in human cells. Science 343, 84–87 (2014).

Bassett, A.R., Tibbit, C., Ponting, C.P. & Liu, J.-L. Highly efficient targeted mutagenesis of Drosophila with the CRISPR/Cas9 system. Cell Rep. 4, 220–228 (2013).

Lo, T.-W. et al. Precise and heritable genome editing in evolutionarily diverse nematodes using TALENs and CRISPR/Cas9 to engineer insertions and deletions. Genetics 195, 331–348 (2013).

Nakayama, T. et al. Cas9-based genome editing in Xenopus tropicalis. Methods Enzymol. 546, 355–375 (2014).

Yen, S.-T. et al. Somatic mosaicism and allele complexity induced by CRISPR/Cas9 RNA injections in mouse zygotes. Dev. Biol. 393, 3–9 (2014).

Yu, C., Zhang, Y., Yao, S. & Wei, Y. A PCR based protocol for detecting indel mutations induced by TALENs and CRISPR/Cas9 in zebrafish. PLoS One 9, e98282 (2014).

Pan, L. et al. Rapid identification and recovery of ENU-induced mutations with next-generation sequencing and paired-end low-error analysis. BMC Genomics 16, 1263 (2015).

Breese, M.R. & Liu, Y. NGSUtils: a software suite for analyzing and manipulating next-generation sequencing datasets. Bioinformatics 29, 494–496 (2013).

Güell, M., Yang, L. & Church, G.M. Genome editing assessment using CRISPR Genome Analyzer (CRISPR-GA). Bioinformatics 30, 2968–2970 (2014).

Kimmel, C.B., Ballard, W.W., Kimmel, S.R., Ullmann, B. & Schilling, T.F. Stages of embryonic development of the zebrafish. Dev. Dyn. 203, 253–310 (1995).

Higashijima, S., Hotta, Y. & Okamoto, H. Visualization of cranial motor neurons in live transgenic zebrafish expressing green fluorescent protein under the control of the islet-1 promoter/enhancer. J. Neurosci. 20, 206–218 (2000).

Schindelin, J. et al. Fiji: an open-source platform for biological-image analysis. Nat. Methods 9, 676–682 (2012).
Acknowledgements
We thank R. Garcia for superb animal care, the Moens lab for discussion and editing, J. Spiewak and the Parichy lab at the University of Washington for slc24a5 mutant embryos, S. Peterson and the Postlethwait lab at the University of Oregon for advice on sgRNA cloning, and I. Phelps and D. Doherty for help and access to the MiSeq machine. Funding was provided by the National Institutes of Health (R01HD076585 and R21NS076950 to C.B.M. and K99NS085035 to A.C.M.).
Ethics declarations
Competing interests
The authors declare no competing financial interests.
Integrated supplementary information
Supplementary information
About this article
Cite this article
Shah, A., Davey, C., Whitebirch, A. et al. Rapid reverse genetic screening using CRISPR in zebrafish. Nat Methods 12, 535–540 (2015). https://doi.org/10.1038/nmeth.3360
Received:

Accepted:

Published:

Issue Date:

DOI: https://doi.org/10.1038/nmeth.3360